How to change partition size in Windows Server 2012 (R2)?
All disk partitions are created when building the server, the partition size may not meed your needs after a period of time. The typical issue is system C drive running out of free space En wordt volledig. The free space in database drive is also very likely using up. It cannot be better if you can change the size of the drive that is lack of free space. By this way, you can fix this issue quickly without restarting from scratch. In this article I'll show you how to change partition size in Windows Server 2012.
To do this, you may either try Server 2012 built-in Disk Management console or 3rd-party software. Comparing with Windows built-in utility, 3rd party software is much more powerful.
Resize under built-in Disk Management
To change the size of a drive, there are two options in Disk Management – Shrink Volume and Extend Volume.
Shrink Volume is used to reduce the size of a partition, conversely Extend Volume is used to increase the size of partitions.
1. Reduce partition size
Stap 1: open windows server 2012 Schijfbeheer (Klik met de rechtermuisknop op Windows linksonder in het bureaubladen selecteer vervolgens Schijfbeheer).
Stap 2: Klik met de rechtermuisknop het station dat u wilt verkleinen en selecteer "volume verkleinen".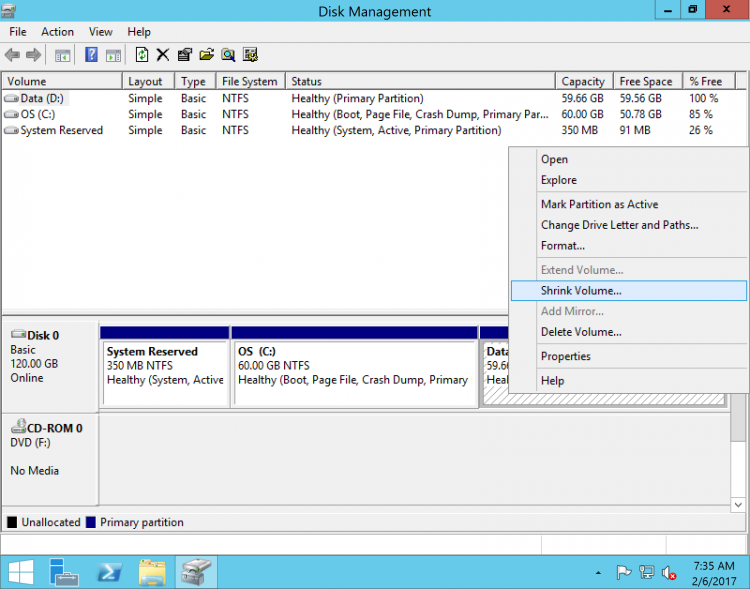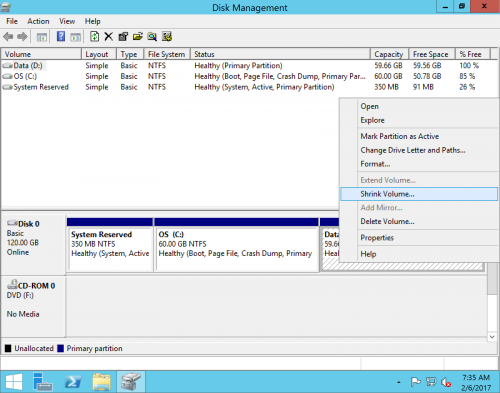 Step 3: Enter the amount of space to shrink. The default amount is all available space. Click Shrink to continue.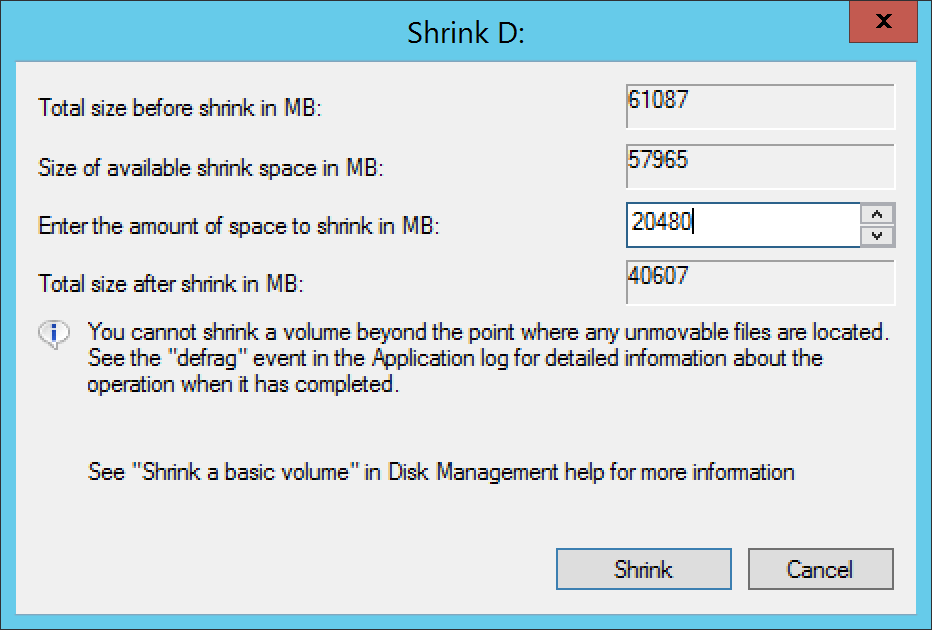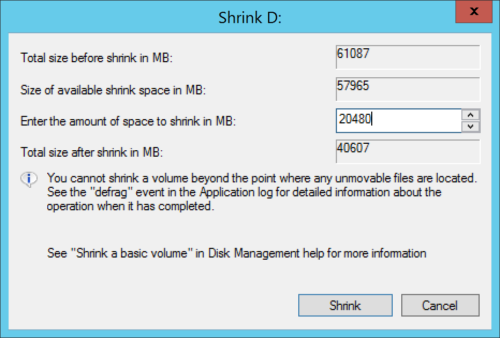 Partition size of the data drive D: reduced to 39.66GB from 59.66GB.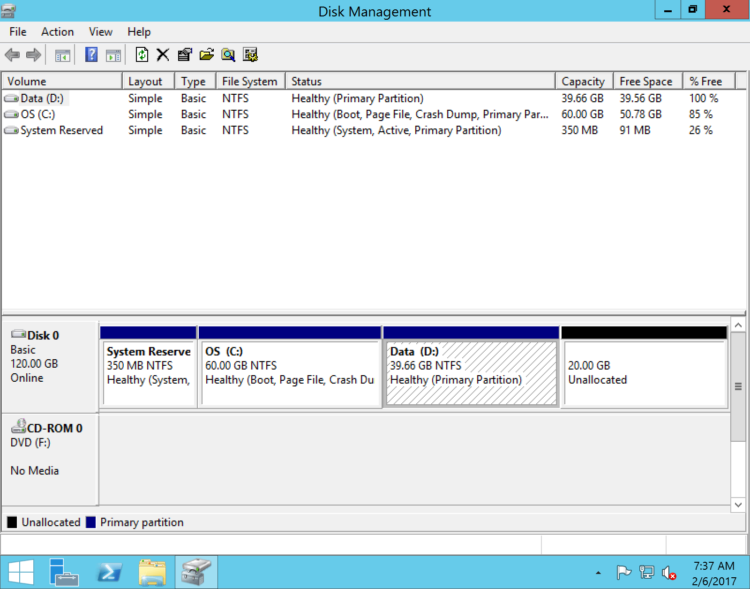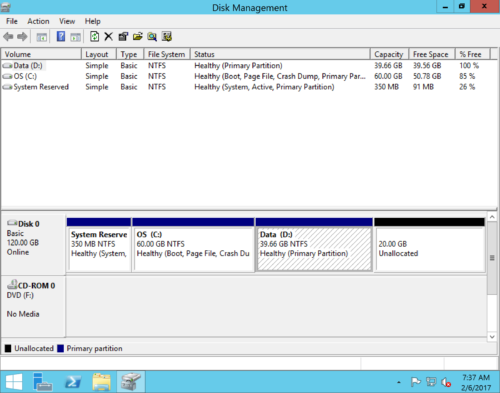 2. Increase partition size
Stap 1: Right-click drive C: and select "Extend Volume…"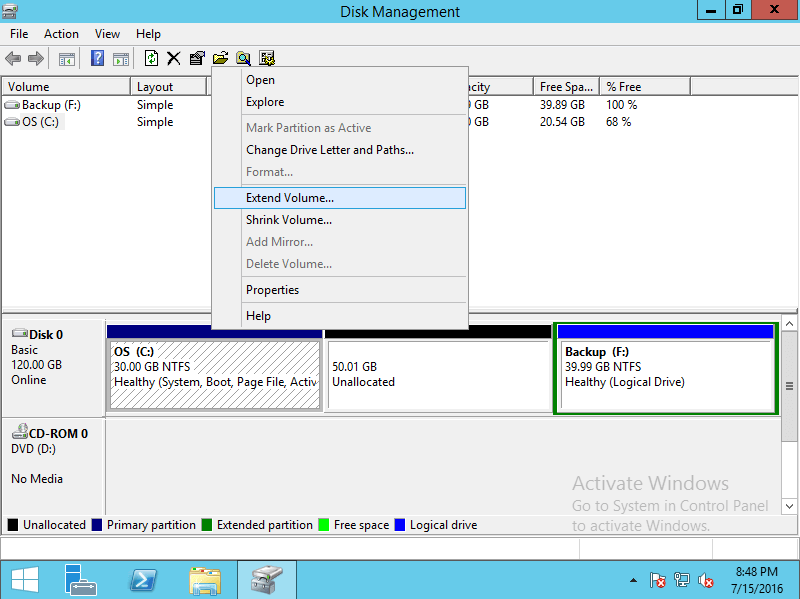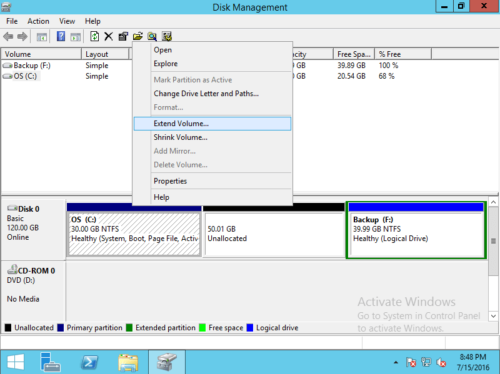 Extend Volume Wizard will be launched, click Next to continue.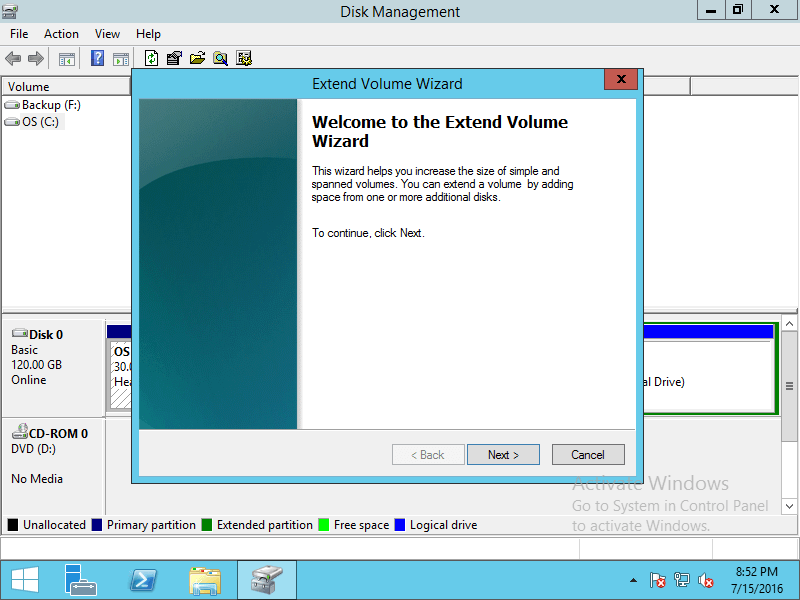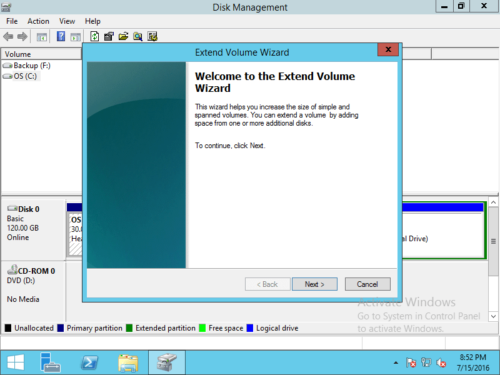 Step 2: Select the available Unallocated space and click Next to continue.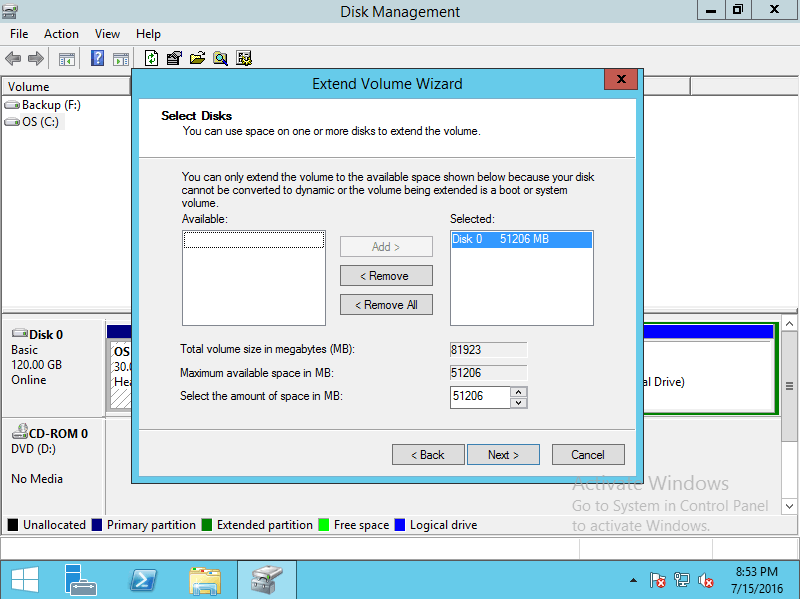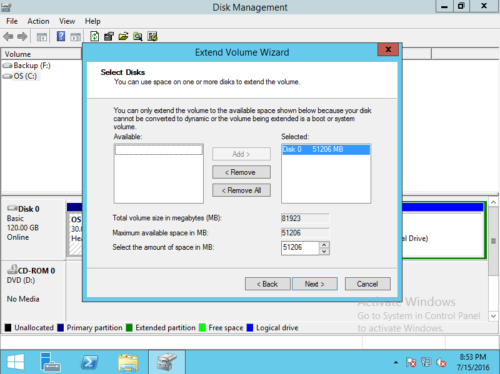 Step 3: Confirm the operation, click Finish to proceed.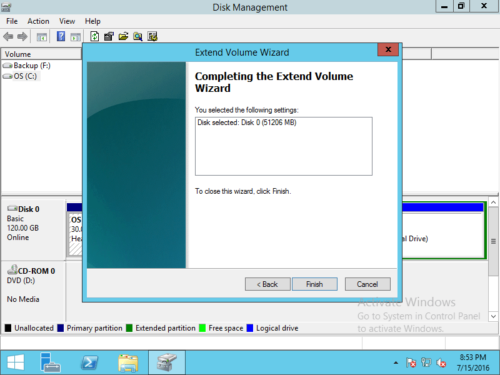 In a short time, the size of partition C increased.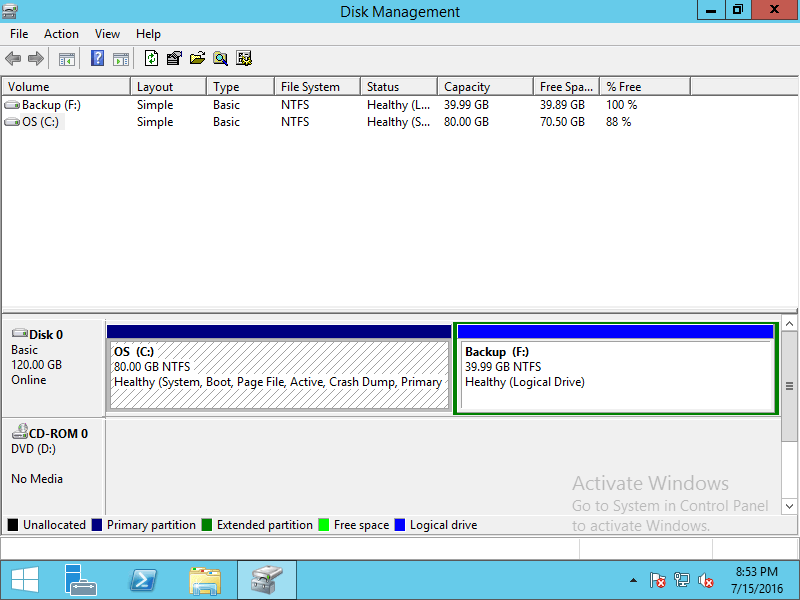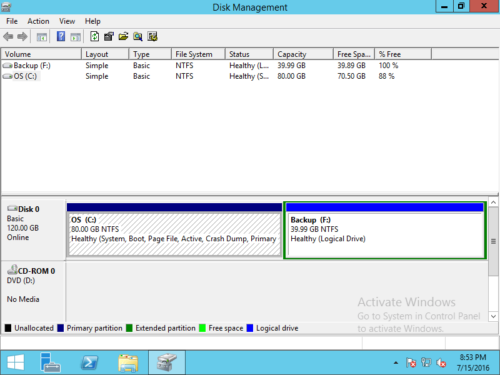 However, both Shrink Volume and Extend Volume are used for separate partition, that is to say, you cannot uitbreiden C-schijf by shrinking other drives. To do this, you need 3rd-party software such as Partition Magic server.
Verandering partitie grootte met partitie software
Comparing with built-in Disk Management, server partition software is much powerful and easier to use. To change size of a partition, you just need to drag and move, steps:
Stap 1: Downloaden NIUBI Partition Editor , klik met de rechtermuisknop D: drive en selecteer " Resize/Move Volume ".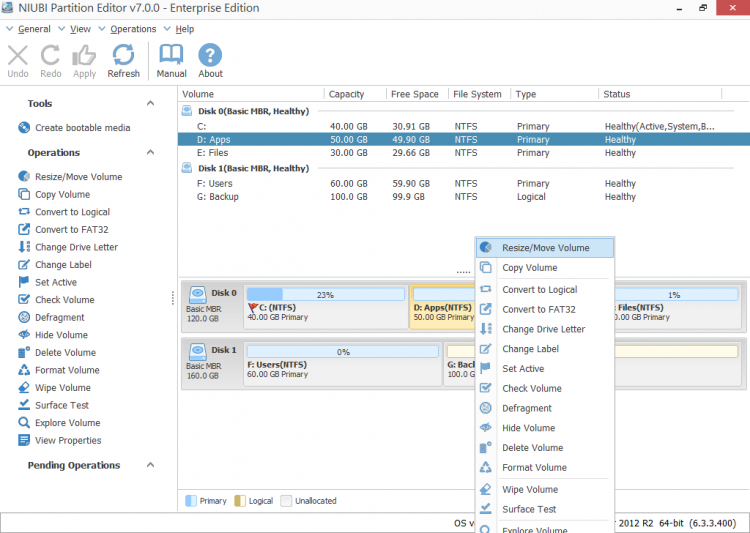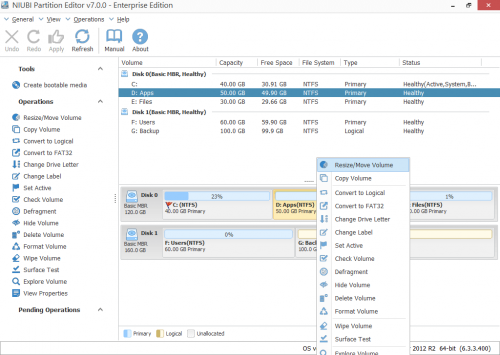 Stap 2: Sleep in het pop-upvenster de linker rand rechts om vrije niet-toegewezen ruimte te genereren.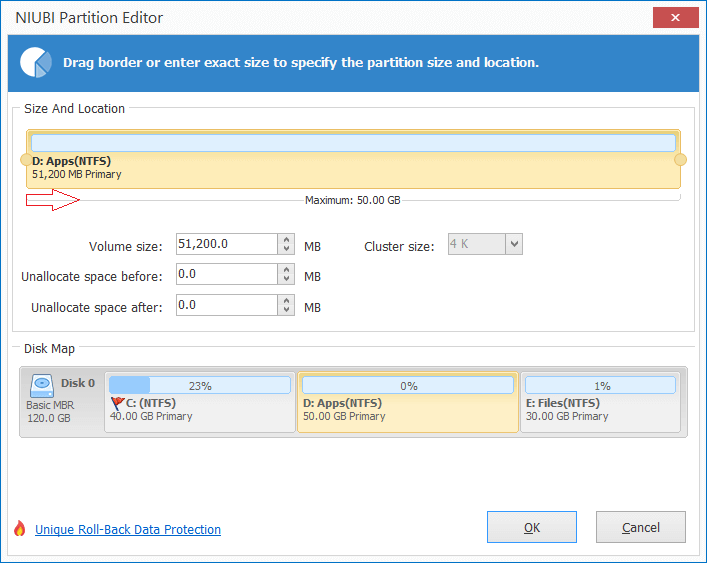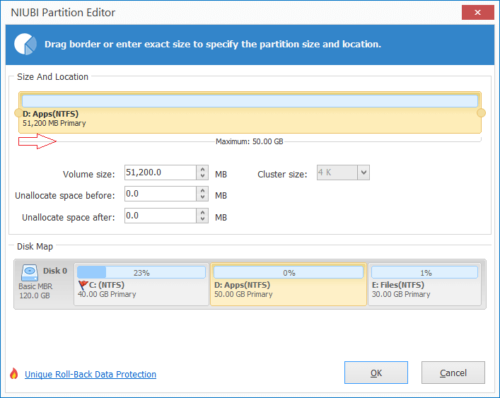 U ook een waarde voor de niet-toegewezen ruimte rechtstreeks invoeren.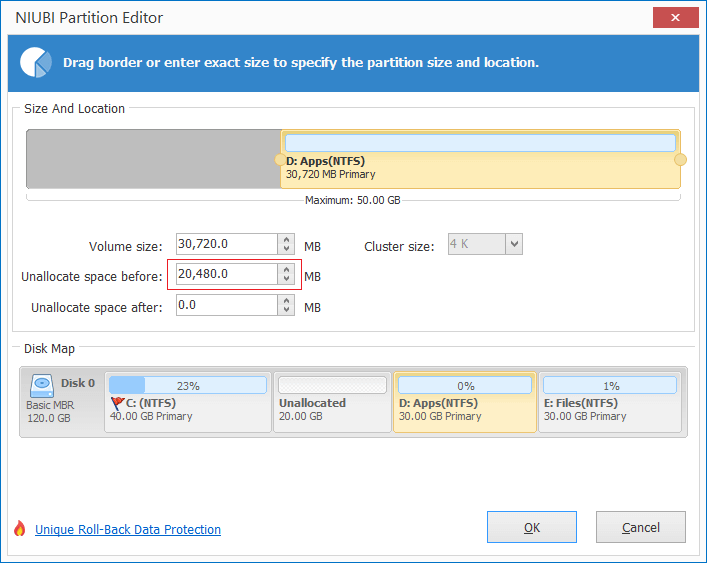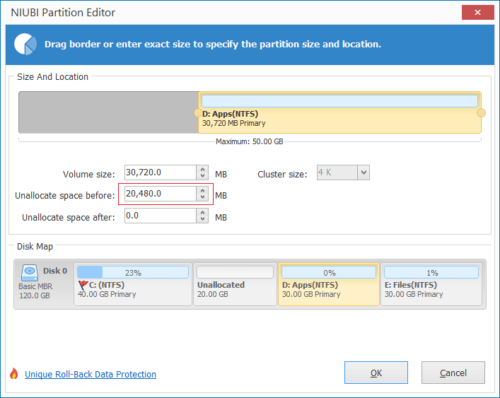 Klik o.k. en terug naar het belangrijkste venster, waar u 20gb niet toegewezen ruimte zult zien die achter C: aandrijving wordt gecreërd.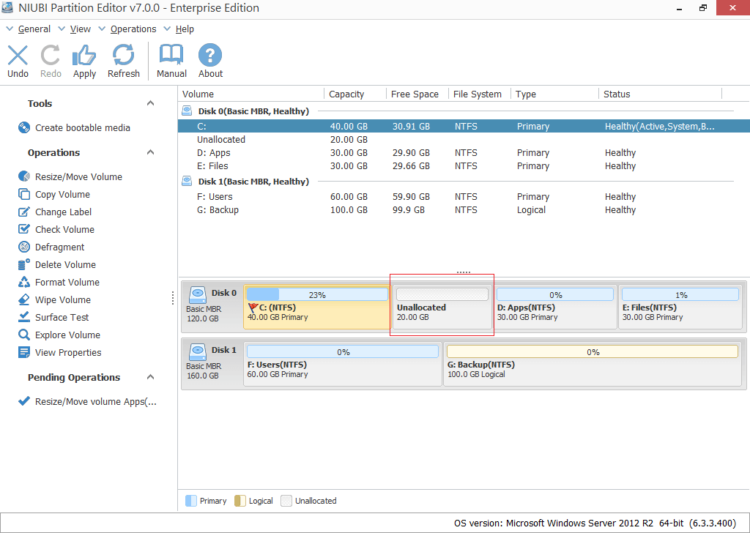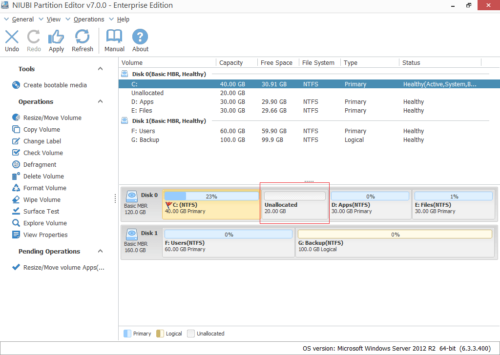 Stap 3: Sleep de rechter rand rechts om de niet-toegewezen ruimte te houden.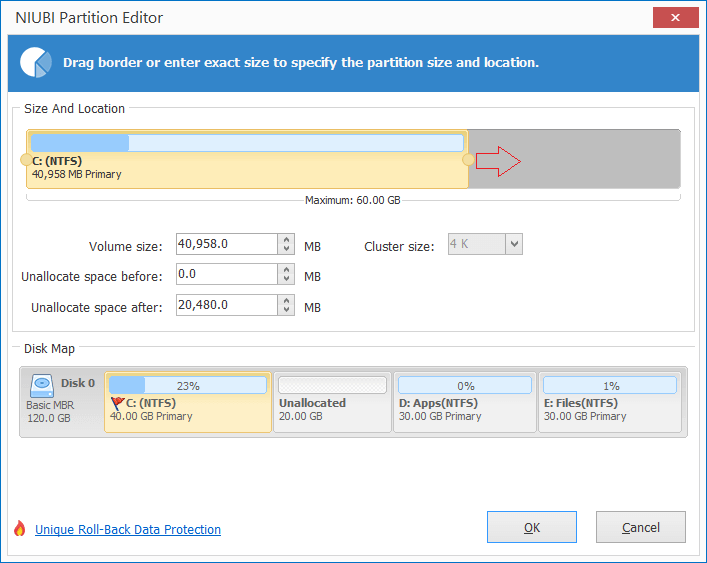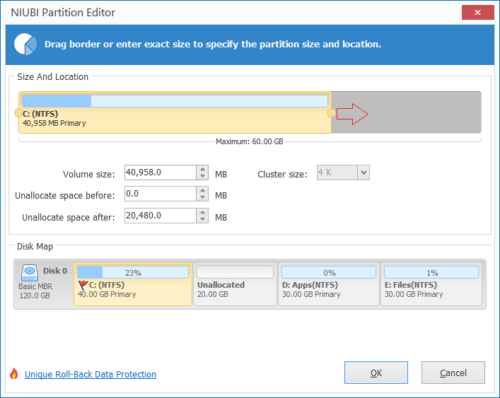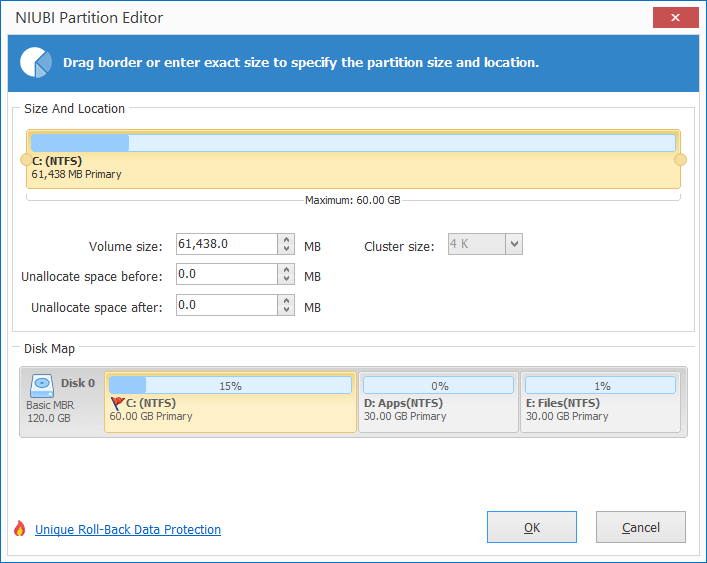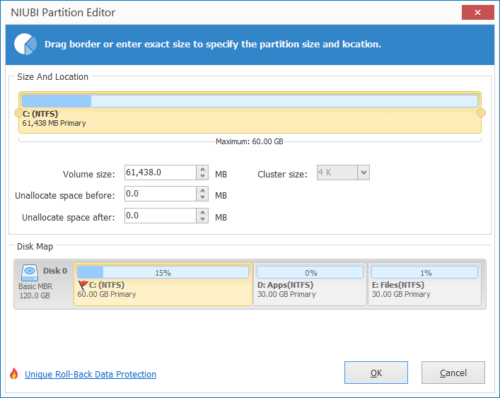 Step 4: Click OK and back to the main window, where you'll see C drive extended to 60GB by robbing 20GB free space from D. Press Apply on top left to execute, done!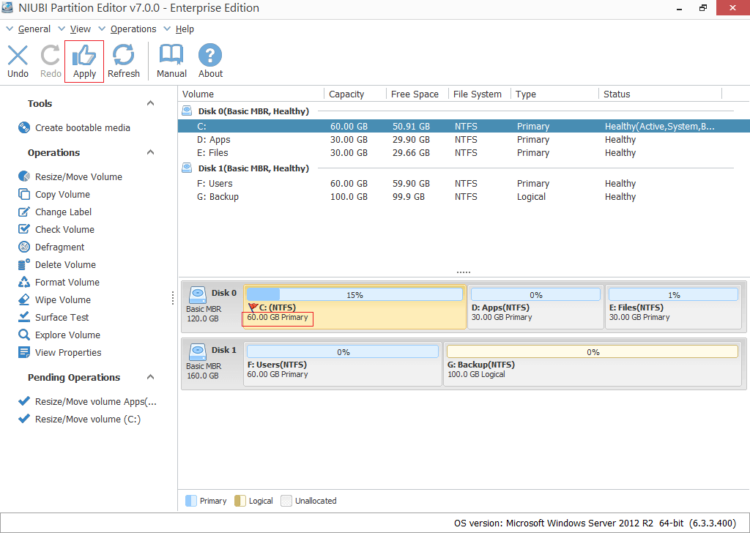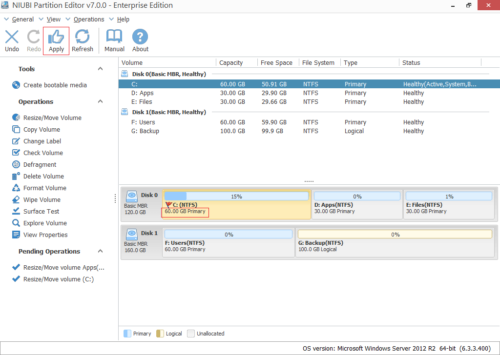 If there is not enough free space in the adjacent D drive, you can also get free space from the non-adjacent drive E.
This software is compatible with all kinds of hardware RAID, such as RAID 0, RAID 1, RAID 5, RAID 10, VMware, Hyper-V, HDD and USB disks.