Create bootable USB/CD/DVD to manage partition
Bootable CD, DVD or USB disc allows you partitioning disk drives without installing to the computer that you need to repartition, especially useful for server administrators that cannot install third party applications to production server.
Creating a bootable media (ISO file, USB flash drive or CD/DVD) based on Windows PE (Windows Pre-installation Environment) can load an operating system and run the program under the system. It is very useful to troubleshoot computer problems and recover data when the native system fails to boot. Windows PE Bootable media enables you to start a computer for the purposes of deployment and recovery. It boots directly into memory, which lets you remove the Windows PE media after the computer boots. Once you have booted into Windows PE, you can reformat or modify the hard drive and then copy the Windows PE source files to the hard drive.
Partition Magic ISO or bootable USB/CD/DVD?
Norton PartitionMagic 8.0.5 is the last version released under Symantec on May 5, 2004. It supports Windows XP, but not well with XP sp2 or XP sp3. PartitionMagic does NOT support Windows Vista and later editions.
However, many people still search by Google or ask the tech guys whether there is Partition Magic ISO for download, or if is possible to build PartitionMagic bootable CD/DVD/USB disc. Yes you can but don't do this! The Partition Magic portable version solved the problem that cannot install to Windows 10/8/7/Vista, but boot manager and some file system are not supported. System and partitions are very likely to be damaged.
Actually, there is better choice than PartitionMagic nowadays.
Partition Magic alternative
Search the safest partition software by Google and you'll find NIUBI Partition Editor, which is special, safe and powerful. What does it do?
Repartition Disk Drive
Resize, move, split and merge existing volumes safely and easily, extend NTFS partition without reboot.

Partition Management
Set Active, Copy, Create, Delete, Format, Explore partition. Change drive letter and partition label, etc.

System Optimization
Partition defragment. Scan bad sectors. Fix file system error. Initialize new disk, view disk/partition properties.

Convert Disk/Partition
Convert NTFS partition to FAT32, Convert partition between Primary and Logical. Convert MBR disk to GPT. .

Protect Data Security
Set read-only attribute to disk. Hide partition. Wipe disk/partition/Unallocated space to erase sensitive data.

Bootable Media
Build bootable CD, DVD, USB disc to do disk partition management without Operating System.

Why NPE is the safest partition software?
With the built-in innovation 1 Second Rollback technology, NIUBI Partition Editor can automatically roll back the laptop, desktop or server to original status in ONE second, if any software error or hardware issue occur while repartitioning disk drive. If it happens, nothing will be changed, so the computer or server could recover without damage rapidly.
This unique technology is useful and important to both personal computer and server for protecting data and fast recovering. In addition, it is 30% to 300% faster than any other tools because of its special file-moving algorithm.
How to create Partition Editor bootable CD/DVD?
Step1: Download and launch the partition magic software, click "Create bootable media" on top left.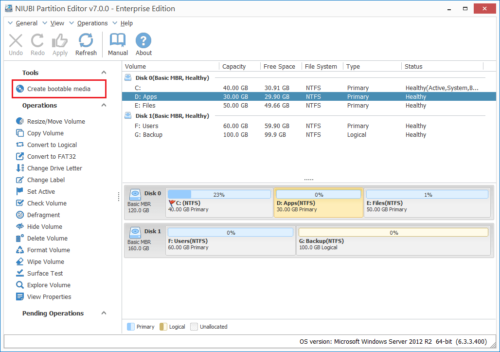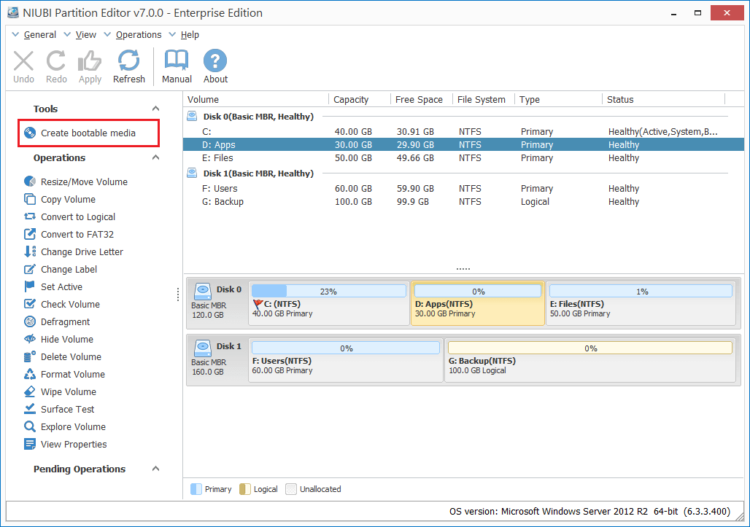 Step2: Create Bootable Media Wizard will be started.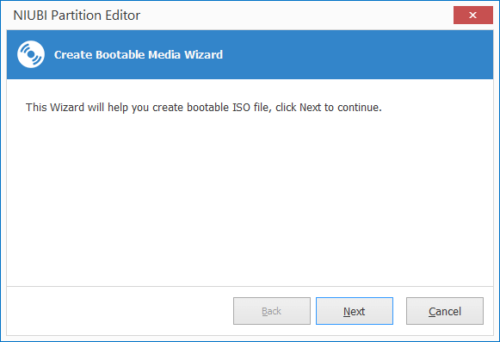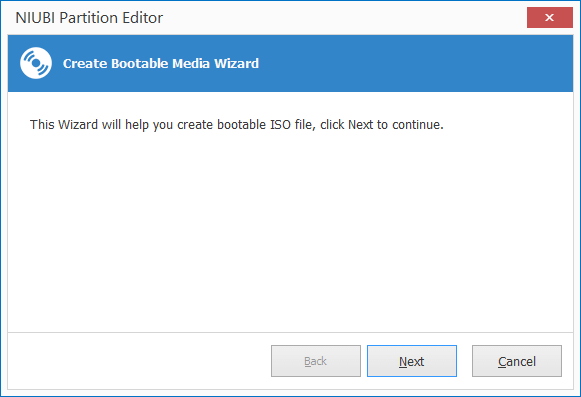 Step 3: Simply click Next or use default location (Desktop), or click Browse to select another output location.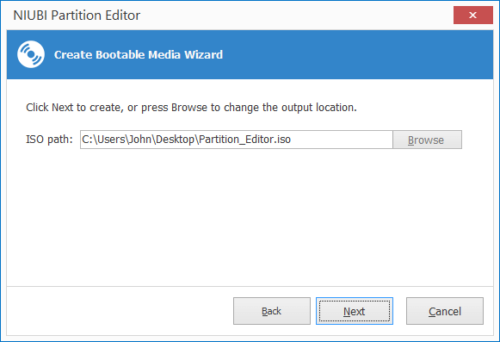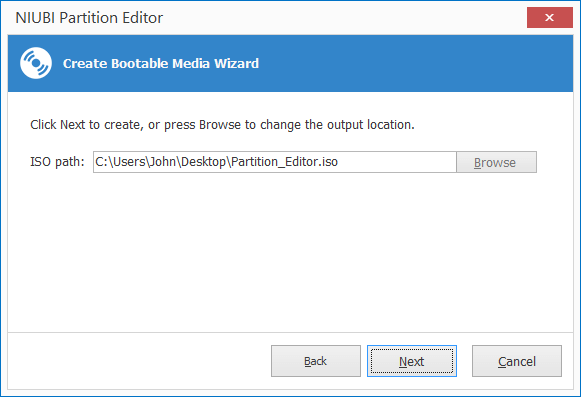 Wait for several minutes, the ISO file will be generated.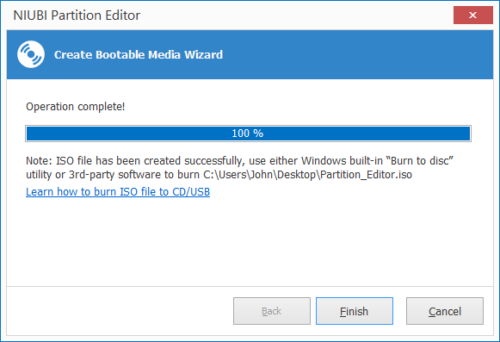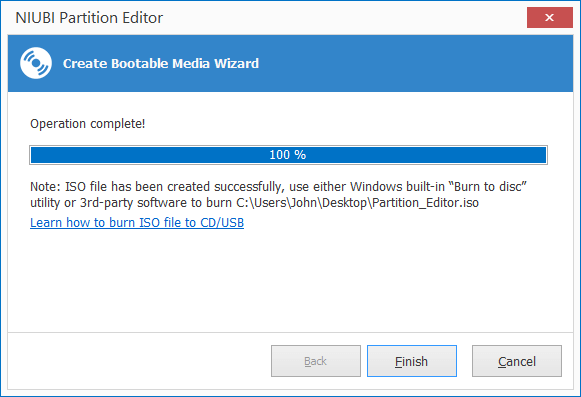 Step 4: You may use Windows built-in Burn to Disc utility or 3rd-party software to burn this ISO. If you know how to do this, just ignore the next steps.
CD/DVD should be blank. All data in rewritable DVD and USB disk will be covered, please remember to back up the files before creating.
Step 5: Insert CD/DVD into your DVD-R(W), right click Partition_Editor.iso and select Burn disk image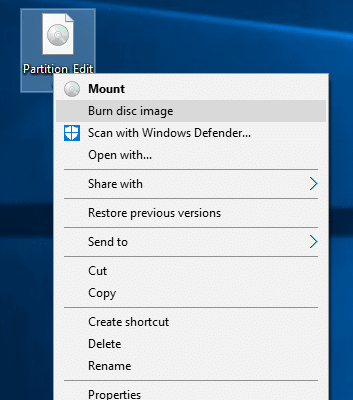 Step 6: Select your DVD-R(W) device and click Burn to start burning.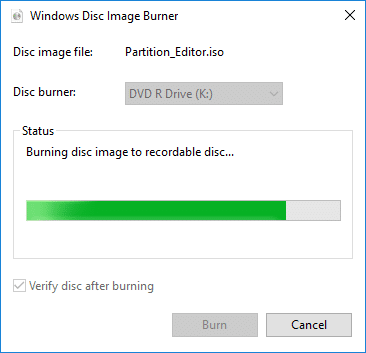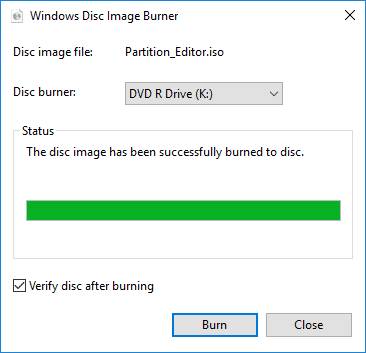 Now Partition Editor bootable CD/DVD is created. Note: To boot from the CD/DVD, you need to enter BIOS and change CD/DVD as the first boot device..
If you want to create partition magic bootable USB disk, follow the steps here.
[kkstarratings]
Last updated on: