Technician Edition

Provide profitable technical services to unlimited companies and individuals.
Ready for Windows 10 and Server 2016
90-day money back guaranteed
24*7 live chat support.
Buy Now ($699)
Partition Management Toolbox for IT Technicians.
If you provide technical service to multiple clients/companies, Partition Magic Server Technician Edition is the best choice. It is especially designed for IT service provider, technicians and consultants to provide professional technical services to their clients.
This valuable and cost-effective edition allows using on desktops, workstations and servers regardless of network size or architecture. It covers all the features of Unlimited Edition and includes free lifetime upgrade service.
Complete management features means tons of satisfied customers.
One time buy, free upgrade to every latest version lifetime.
90day money back guaranteed & 24*7 live chat support.
Change existing partition size non-destructively.
What to do when there is not enough free space in system C drive or a data partition, waste a long time to start from scratch? NO! Our product helps you extend partition by taking free space from another one directly.
Resize partition without losing data or reinstalling Windows.
Extend NTFS system partition without rebooting.
Preview the resizing operations before proceed to avoid mistake.
Besides the traditional method to resize partition, our product provides two unique feature "Allocate Free Space" and "Extend Partition Wizard", which make partitioning much easier.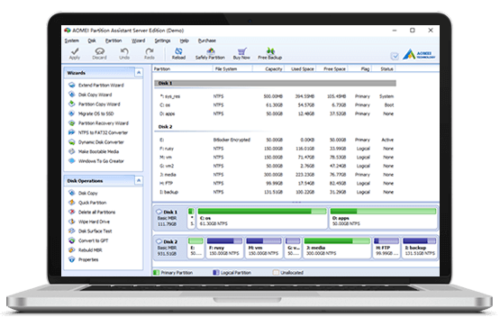 Allocate Free Space feature allows directly transfer a part of unused disk space from one partition to another, only by one-click, you could rearrange the size of the partition on a disk.
Extend Partition Wizard feature is specially designed as a step-by-step guide to extend partition. You can extend system drive or a data partition with the free space in one or several data partitions.
Merge Partition feature is used to combine two smaller partitions into a larger one. All files in a partition will be transferred to a folder of another partition automatically.
Split Partition feature is used to divide a large partition to smaller ones. All files remain in original partition and the new drives are blank.
Disk Partition Backup & Migration
Migrating system or data partition to another storage device can be slow and painful, but with "Migrate OS to SSD" feature, it becomes much easier.
Migrate OS to Solid State Drive (SSD).
Migrate OS to other traditional hard disk drives (HDD).
Automatically align partitions to optimize system performance.
Allows booting OS on target disk when completing migration.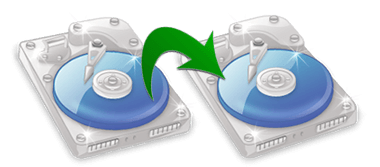 Disk Copy Wizard feature help you clone entire disk to back up data or replace disk without reinstalling Operating System.
Supports to copy a smaller or larger disk.
Supports copy between physical disk and RAID virtual disk.
Ability to change target partition size while copying.
Supports fast file-to-file copy or complete sector-to-sector copy.
Partition Copy Wizard helps you back up or transfer data in a partition fast and easily.
Supports copying to a smaller or larger disk.
Supports copy between physical disk and RAID virtual disk.
Ability to change target partition size while copying.
Supports fast file-to-file copy or complete sector-to-sector copy.
Operating Systems
Windows Server 2016/2012/2008/2003
Windows Small Business Server 2011/2008/2003
Windows 10/8.1/8/7/Vista/XP
All editions, both 32 & 64 bit
Disk Styles and Types
Master Boot Record (MBR) Disk
GUID Partition Table (GPT) Disk
Compatible with GPT/UEFI Boot
Compatible with Dynamic Disk
File Systems
NTFS
FAT32/FAT16
exFAT/ReFS *
Ext2/Ext3/Ext4 *
Other file systems *
* Display as RAW partition and perform a sector-by-sector backup mode.
Storage Devices
All storage devices of IDE, SATA, iSCSI, SCSI, IEEE1394.
Traditional hard disk (HDD), solid-state drives (SSD) and SSHD.
Full support all hardware RAID, such as RAID 0/1/5/10, etc.
Support USB 3.0/2.0/1.0 disks.
Support MBR disk and GPT disk including 16TB+.
Support up to 128 disks in one system.
Removable device such as PC card, thumb drives, memory card.
Support virtual disk partition in VMware and Hyper-V
Support UEFI/EFI boot.