Technician Edition

Best profitable Partition Manager for IT Technicians
1 license for unlimited companies and individuals.
Unique Roll-Back Protection technology to ensure 100% data safety.
30% – 300% faster than ANY other tools.

Download

Partition Management Toolbox for IT Technicians.
If you provide technical service to multiple clients/companies, NIUBI Partition Editor Technician Edition is the best choice. It is especially designed for IT service provider, technicians and consultants to provide profitable technical services to clients.
This valuable and cost-effective edition allows using on desktops, workstations and servers regardless of network size or architecture. It covers all the features of Enterprise Edition and includes free lifetime upgrade service.
The built-in Roll-Back Protection technology is able to roll back the computer/server to the status before resizing automatically and rapidly, even if powerful failure or any hardware issue occurred. This partition software is 30% – 300% faster than ANY other tools, because of the optimized file-moving algorithm. Data safety and time are most important to you and your clients!
Complete management features means tons of satisfied customers.
Lifetime upgrade to every latest version 100% free.
90day money back guaranteed & 24*7 live chat support.
Change existing partition size non-destructively.
What to do when there is not enough free space in system C: drive, waste a whole weekend to start from scratch? NO! Our product helps you extend partition by taking free space from another one directly.
Roll-Back technology to protect OS and data intact!.
Extend NTFS partition without rebooting.

30% – 300%

faster than ANY other tools.
Easy to use with simple GUI.
Data safety and time are most important to you and your clients!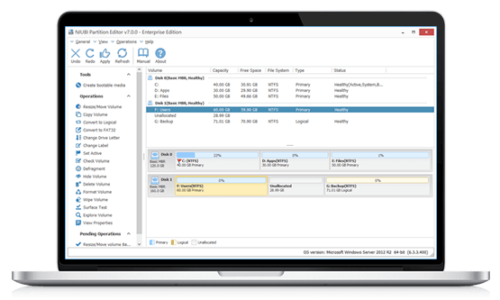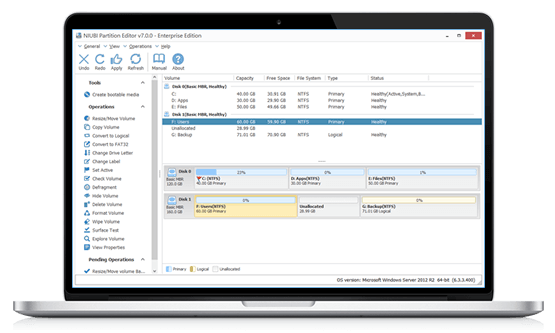 With Resize/Move Volume feature, you can easily combine two smaller partitions into a larger one.
By Resize/Move Volume feature, you can also split a large partition into smaller one, all files remain in original partition.
Disk Partition Backup & Migration
Copy Volume helps completely clone a single partition to backup or migrate data.
Supports copying to smaller or larger disk.
Supports fast file-to-file copy.
Supports copy between physical disk and RAID virtual disk.
Ability to change target partition size while copying.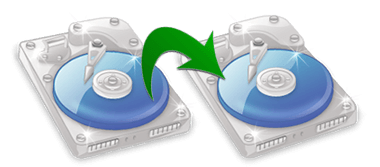 $699
Technician Edition
All functions
Roll-Back data protection
Cancel-at-Well technology
Resize partition 30% - 300% faster
Bootable CD/DVD/USB disc
Windows 10/8/7/Vista/XP
Windows Server 2016/2012/2008/2003 (R2)
Windows SBS 2011/2008/2003
Lifetime free upgrade
1 license for unlimited companies and individuals
Provide profitable tech service to clients
Register and use by 1 technician
Buy Now
$799
Technician Ultimate
All functions
Roll-Back data protection
Cancel-at-Well technology
Resize partition 30% - 300% faster
Bootable CD/DVD/USB disc
Windows 10/8/7/Vista/XP
Windows Server 2016/2012/2008/2003 (R2)
Windows SBS 2011/2008/2003
Lifetime free upgrade
1 license for unlimited companies and individuals
Provide profitable tech service to clients
Register and use by unlimited technician
Buy Now