Server Edition

Unique 1 Second Roll-Back Data Protection Technology
to ensure 100% data safety.
30% – 300% faster than ANY other tools.
Support all types of HDD/RAID, VMware/Hyper-V, USB disk and cards.
Download

 Reliable Disk Partition Manager for Windows servers.
NIUBI Partition Editor Server Edition is compatible with Windows Server 2016/2012/2008/2003 and Windows Small Business Server (SBS) 2011/2008/2003 (x86 and x64). All types of hard disk drive, VMware, Hyper-V, all type of hardware RAID array are all supported.
This magic partition software helps you extend C drive, change partition size, split and merge partitions to optimize disk space usage, keeping Operating System and all files intact. This server partition manager is not only a partition resizer, but also a toolkit to do complete disk partition management to improve server performance.
Built-in Roll-Back data protection technology to ensure 100% data safety.
Extend NTFS system partition without rebooting.
Resize partition

30% – 300% faster

than ANY other tools.
The choices of many Fortune 500, governments and universities.
24*7 live chat support and 90-day money back guarantee.
Change partition size directly and safely.
What to do when there is not enough free space in system C: drive, waste a whole weekend to start from scratch? NO! Our product helps you extend partition by taking free space from another one directly.
Roll-Back technology to protect OS and data intact!.
Extend NTFS partition without rebooting.

30% – 300%

faster than ANY other tools.
Easy to use with simple GUI.
Data safety and time are most important!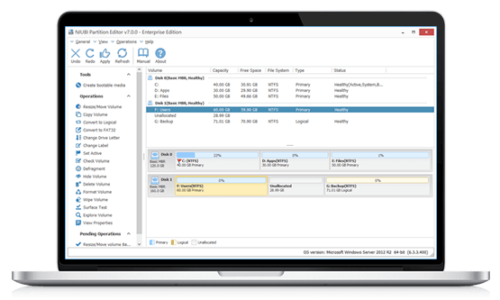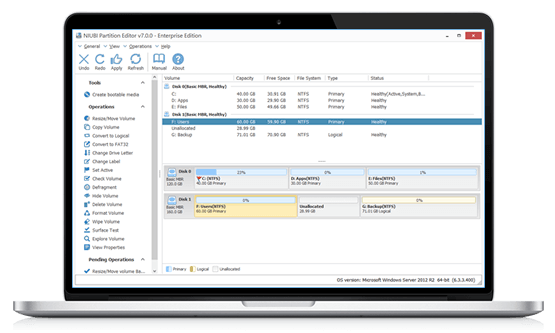 With Resize/Move Volume feature, you can easily combine two smaller partitions into a larger one.
By Resize/Move Volume feature, you can also split a large partition into smaller one, all files remain in original partition.
Partition Backup & Migration
Copy Volume helps completely clone a single partition to backup or migrate data.
Supports copying to smaller or larger disk.
Supports fast file-to-file copy.
Supports copy between physical disk and RAID virtual disk.
Ability to change target partition size while copying.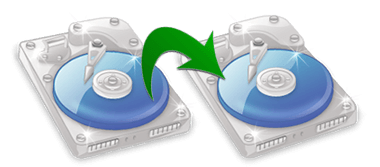 What customer say?
Over 42,000,000 users' choice

Have any questions?
Support is ready for you 24*7, contact us via live chat or send message directly.