Partition Magic Server software - Partition Assistant Server Edition
There is no official partition magic server edition from Symantec for Windows Server 2003, 2008. As the most popluar server partition manager software, Partition Assistant Server edition is your best choice.
Partition Assistant Server edition is an all-in-one disk partition management toolkit that helps you optimize server disk space usage and improve server performance. Comparing with Partition Magic, Aomei Partition Assistant Server edition supports more operating systems, it is compatible with Windows Server 2008/2003 and Small Business Server (SBS) 2011/2008/2003 32 and 64-bit, besides, Windows 7/Vista/XP are all supported.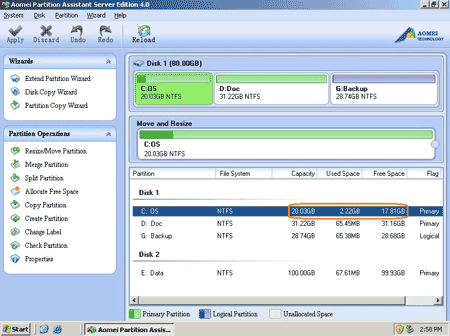 This partition magic server features are brough together: Partition Manager, Disk Copy Wizard, Extend Partition Wizard and 1-step reallocate free space. It is able to resize partition, split and merge partitions, shrink and extend partition without losing data. Convert between Logical and Primary partition, create, delete, format, hide, set Active partition and much more.
Supported Storage
Hard disk drive (HDD) with IDE, SCSI and SATA interfaces
Solid state drives (SSD)
External FireWire (IEEE-1394) hard disk
All types of SCSI, IDE and SATA RAID controllers
All hardware RAID levels, such as RAID 0, RAID 1, RAID 5, RAID 10, etc
Hyper-V, Virtualbox, VMware virtual machines
Removable USB drive, memory card, memory stick, etc
MBR (up to 2TB) and GPT (up to 4TB) disk
Partition Assistant Unlimited edition allows unlimited installation and usage within your company or organization to save cost and time.