Partition Manager
for Windows Server and PC
Best partition manager software for Windows Server and PC
Partition manager software is the program that do disk partition management such as create new volume, delete, format partition. Better than Windows built-in Disk Management, partition manager software can do advanced management such as resize existing disk partition, copy, set Active, convert disk partition type, etc. A good partition manager software is useful and help you manage disk partition easily. However, to most of people, it is a bit difficult to find out which one is good. Here I'll introduce the best free partition manager and server partition manager on Windows platform.

Free partition manager for Windows PC
As the most popular free partition manager for Windows PC, NIUBI Partition Editor Free Edition is powerful and easy to use. It supports Windows 10/8/7/Vista/XP both 32 and 64 bit. It provides basic partition management to create, delete, format partition, change drive letter, etc. Advanced management to resize/move existing partition without data loss, copy, hide, set active, convert, defrag, check partition and much more.
This free partition software is 100% free for home users, no ads or bundles. Free to use
Server partition manager for Windows Server
To manage server disk partitions, NIUBI Partition Editor Server Edition is highly recommended by many professional editors such as from SOFTPEDIA, CNET, PCWORD. This server partition manager is compatible with Windows Server 2016/2012/2008/2003 (R2), Small Business Server 2011/2008/2003 and Home Server. Local/removable hard disk with any interface, VMware/Hyper-V, all types of hardware RAID with any RAID controller are all supported.
Better than other tools, NIUBI Partition Editor Server is integrated unique 1 Second Roll-Back technology. It is able to automatically roll back to the status before resizing in ONE second if any software or hardware issue occur during resizing. It is the only server partition software that can ensure 100% system and data safety.
Furthermore, the unique file-moving algorithm helps resize partition 30% to 300% faster than any other tools. Data safety and time are most important to a server. Download
What does partition manger do?
Partition Resizer
Resize existing partitions safely and easily. Extend NTFS partition without rebooting.
System Optimization
Partition defragment, Fix file system error, Scan bad sectors, Initialize disk, view disk/partition properties.
Bootable Media
Create bootable CD/DVD/USB disc to do disk partition management without installing.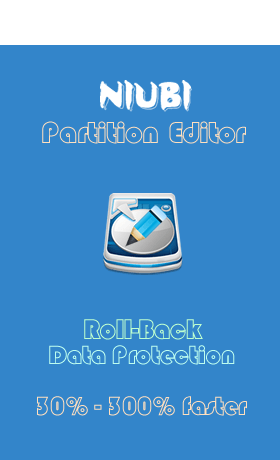 Partition Management
Create, Delete, Format, Explorer, Copy partition. Change partition label, Change drive letter, Set Active partition.
Disk Partition Conversion
Convert GPT disk to MBR, Convert Logical partition from/to Primary, Convert NTFS partition to FAT32.
Data Security
Hide partition, Set read-only attribute, wipe disk, partition, Unallocated to prevent recovering.
Why this partition manager is best?
Enhanced Data Protection
The ONLY program integrated 1 Second Roll-Back to ensure 100% data safety while resizing.
Extremely Fast
Unique file-moving algorithm helps resize partition 30% to 300% faster than ANY other tools.
Extend Volume Online
Expand NTFS partition without rebooting computer to reduce offline time.
Virtual mode
To avoid mistake, all operations are listed in virtual mode before executing.
All-in-One Solution
Most of your disk partition maintenance requirements can be fulfilled.
Multiple Storage Supported
Hard disk, Hyper-V/VMware, USB disk, memory cards, all types of hardware RAID are all supported.
Advanced partition manager for both server and PC
NIUBI Partition Editor Enterprise Edition is specially designed for medium and large organizations. As the most popular enterprise disk partition management utility, it is used by many universities, governments and Fortune 500 companies. This partition manager can be installed on unlimited serves and PCs in a company (regardless of locations) to save time and cost.
If you are IT technical service provider, NPE Technician Edition is the best choice. It can be used to provide profitable service to unlimited companies and individuals. In addition, this partition manager toolkit is lifetime upgrade service included. 100% freely upgrade to all latest version to enjoy new features. Besides the powerful features, the Roll-Back data protection and fast resizing ability will help you a lot.
[kkstarratings]
Last updated on: