How to resize partition in Windows Server 2008 R2
Windows Server 2008 R2 is built on Windows NT 6.1, the same core operating system used with the client-oriented Windows 7. It is the first 64-bit-only operating system release from Microsoft. Version enhancements include new functionality for Active Directory, new virtualization and management features, version 7.5 of IIS (the Web server), and support for up to 256 logical processors. Windows Server 2008 R2 includes seven editions: Foundation, Standard, Enterprise, Datacenter, Web, HPC Server and Itanium.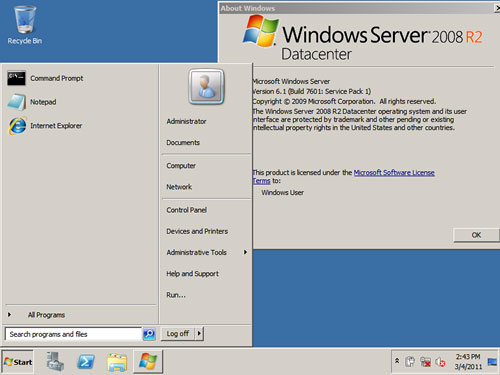 Windows Server 2008 R2 has many advantages than prevous server editions, however, the same with old editions, Windows 2008 R2 system and data drive also runs out of free space because of Windows updates, applications installation and growing data of SQL, Exchange Server, etc. Experienced administrators know the fast and easy way to solve this problem is by resizing partitions. Then are there any differences or is it harder to resize Server 2008 "R2" partitions?
Windows Server 2008R2 resize partition under disk management
From Windows Vista, Microsoft improved the ability of Disk Management and added "Shrink Volume", "Extend Volume" to resize partition in a way. In Windows Server 2008 R2, there is no improvement and there are still many limitations resizing partition with these features.
To shrink a partition, right click this partition and select "Shrink Volume".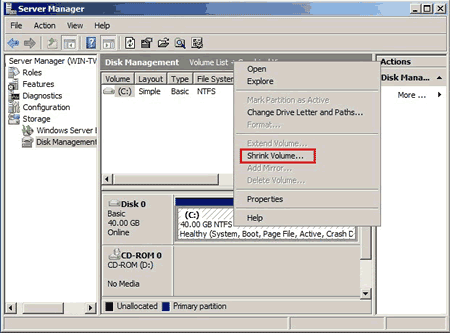 To extend a volume, right click this drive and select "Extend Volume", and then follow the next steps.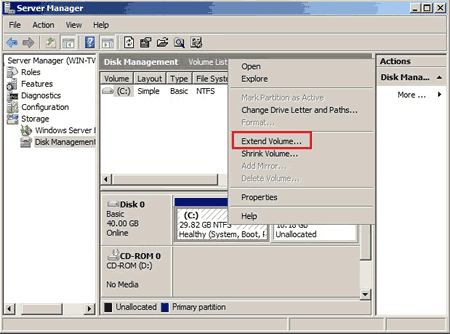 To extend the system C drive, there must be next contiguous free "Unallocated" space, otherwise, extend volume feature is grayed out. This is the key shortage resizing Server 2008 r2 partition under disk management.
Resize Windows 2008 R2 partitions with diskpart commands
As there is no shrink and extend features in Server 2003 disk management, to change partition size with Windows tool, diskpart is the only choice. Diskpart commands in Windows 2008 R2 has the some limitation: you cannot extend the system partition by shrinking a data drive, so forget it.
Resize Server 2008 R2 partition with partition software
Partition Magic is the first and most famous partition software that is able to resize partitions without data loss, however, on October, 2011, Symantec officially stated they no longer offer Norton Partition Magic. As partition magic alternative, Partition Assistant Server helps you resize Server 2008R2 partitions easily.
To help you resize partition much more easily, this server partition software provides several ways to resize Windows server partitions.
"Resize Partition" - shrink a data drive and get free "Unallocated" space from it, and then extend system or other data drive with the free space.
"Allocate Free Space" - easiest way, just select which drives to shrink and extend.
"Extend Partition Wizard" - best choice if you cannot get plenty of free space from one partition, this feature helps you shrink more or all drives at the same time.
If there is only one partition in a disk or you cannot get free space from all other partitions on the same hard disk, there is still solution to resize Windows 2008 R2 partition. "Disk Copy Wizard" helps you clone this hard disk to another larger one, so you can resize any partitions with the extra disk space. This feature could be used as backup or data migration utility, too.
As a partitioning software, the most aspect is not how easy it is, but reliable, as nobody wants to see system failure or data loss after resizing partitions. This partition magic server software integrates Enhanced Data Protection technology to keep data intact, it is also able to extend NTFS partition without rebooting, furthermore, "Partition Recovery Wizard" feature added to the new version to ensure 100% data security.
Download trial to check out or purchase full version to resize Windows Server 2008R2 partitions now.