How to make system partition (C drive) bigger?
Many people ask if it is possible to make C drive bigger directly without recreating partitions and starting over. The answer is yes, but to do this, there must be Unallocated space or unused free space in other drives. Either Unallocated or unused space should be in the same disk of system C drive. No partitioning utility can resize partitions beyond 2 physical hard disks. In this article I'll show you how to make system partition larger with Windows built-in utility and 3rd party software.
Comparing with Windows built-in utility, 3rd-party software is much powerful and easier to use, here we go.
Make C: drive bigger in Windows Server 2003/XP
In the old version Windows XP and Server 2003, there is no GUI function, the only choice to make C: drive larger is diskpart command.
Boot from Windows installation CD/DVD and open command line, type diskpart and press 'Enter'.
Type "list volume" to display the existing volumes on the computer.
Type "select volume X", X is the number or drive letter of C drive.
Type extend.
This operation workable based on the conditions:
Run diskpart command from bootable CD/DVD. (data drives can be extended in Windows command prompt)
Only when there is adjacent Unallocated space behind, you can expand C: drive.
So diskpart command is not the best choice to enlarge C drive, to do this, I recommend 3rd-party software.
Make system partition larger in Windows 10/8/7
In Windows 10/8/7, Microsoft provide GUI function to extend a drive, which is much easier to use, and you can extend system partition in Windows without bootable CD.
Open Disk Management console.
Right click the system partition and click "Extend Volume".
Finish the Extend Volume Wizard
However, the same with diskpart command, to extend the system partition, there must be adjacent Unallocated space. If you have make a data drive smaller with Shrink Volume function, you'll find that Extend Volume is greyed out when right click the system partition, so it cannot make C drive bigger except deleting the adjacent data drive.
There are no such limitations by using 3rd-party software such as from Partition Magic Server.
Make C drive larger in all Windows versions
This software is compatible with Windows Server 2016/2012/2008/2003 (R2) and Windows 10/8/7/Vista/XP. all kinds of hardware RAID, VMware, Hyper-V, HDD and USB disks are all supported.
Steps to make C drive bigger:
Step 1: Download NIUBI Partition Editor, right click D: drive and select "Resize/Move Volume".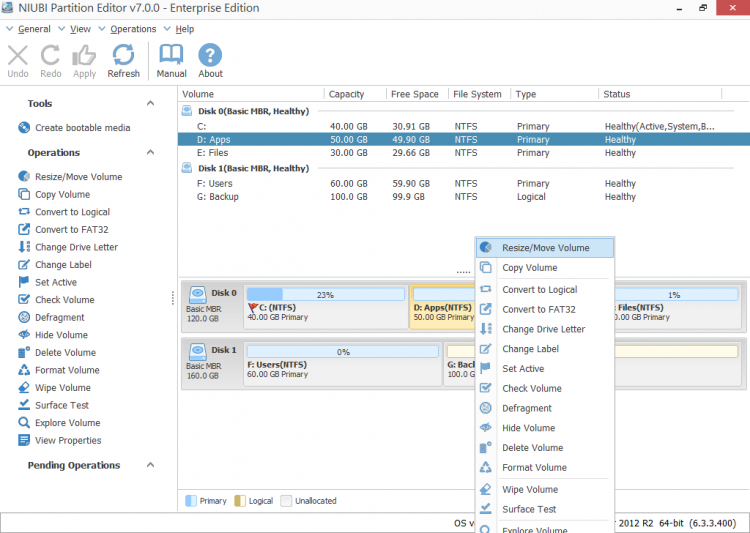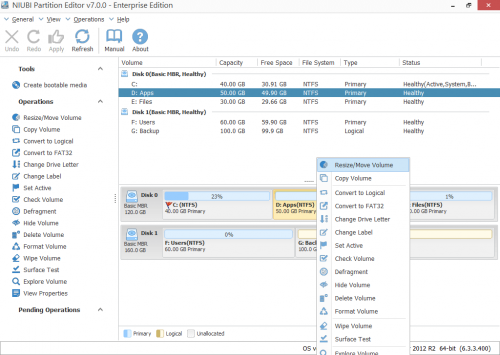 Step 2: In the pop-up window, drag the left border rightwards to generate free Unallocated space.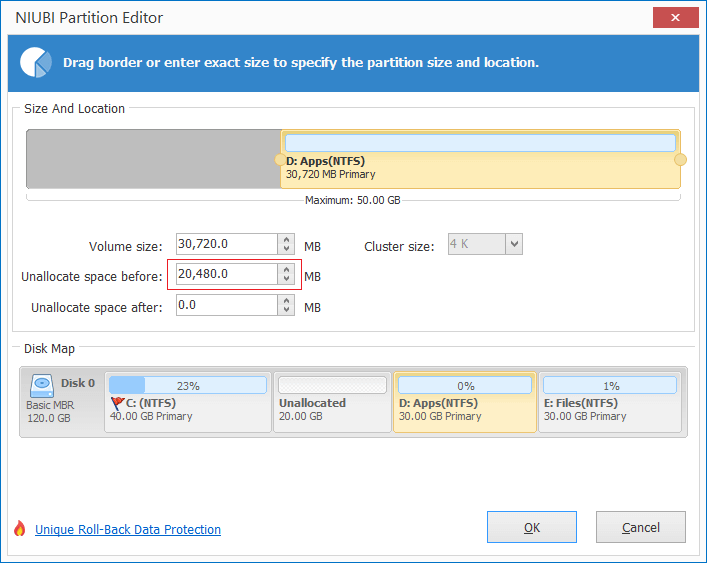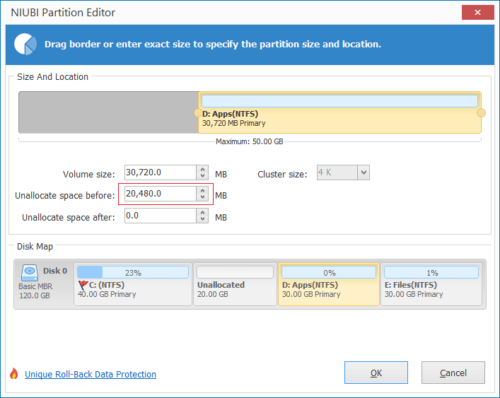 Click OK and back to the main window, where 20GB Unallocated space created behind C: drive.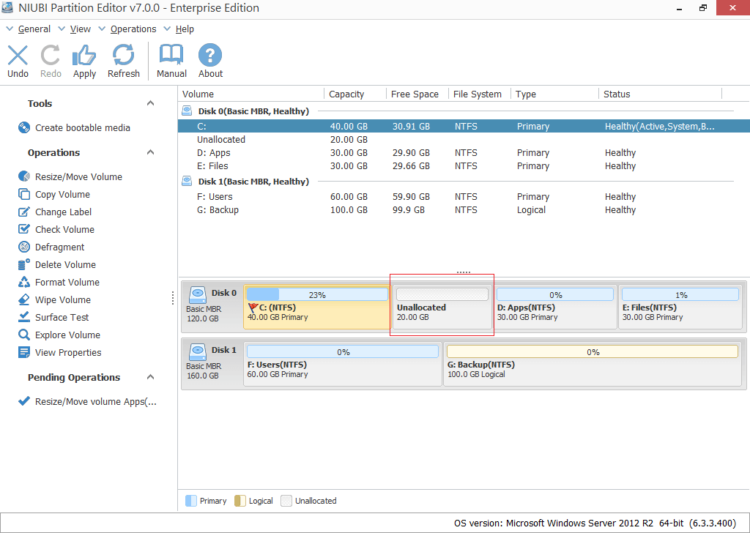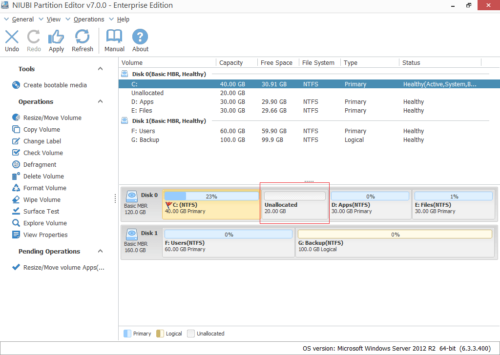 Step 3: Right click C drive and select "Resize/Move Volume" again, in the pop-up window, drag the right border rightwards to hold the Unallocated space.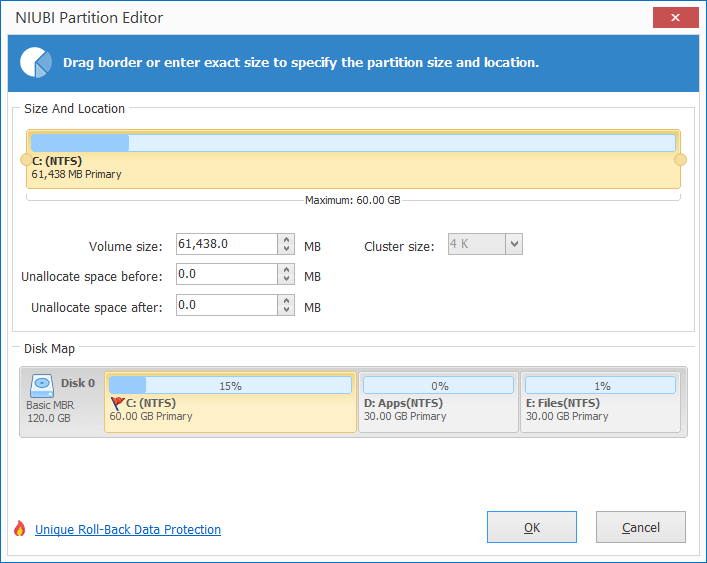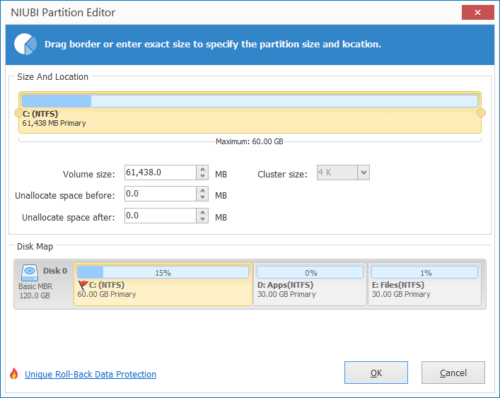 Step 4: Click OK and back to the main window, where C drive extended to 60GB by robbing 20GB free space from D. Press Apply on top left to execute, done!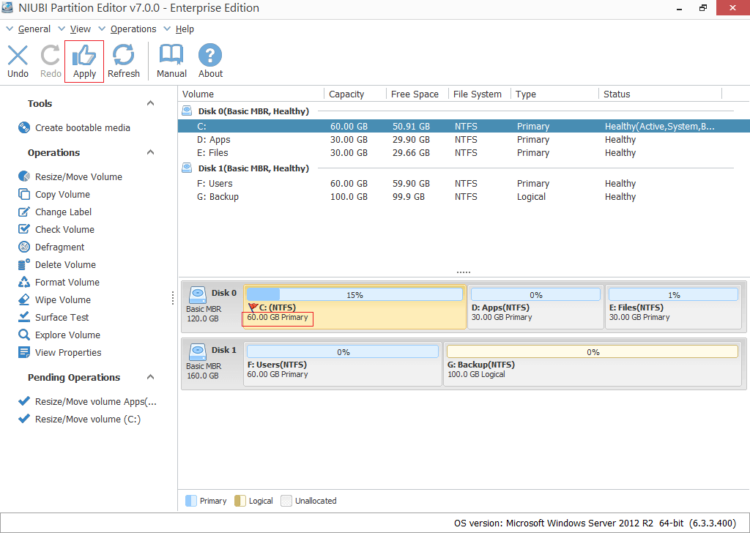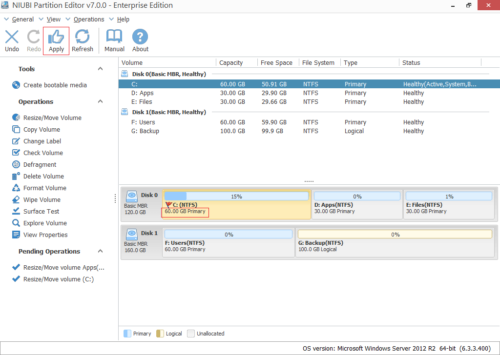 This partition software integrated unique Roll-Back protection technology, which is able to roll back the server to the status before resizing automatically and rapidly, even if power failure or any other hardware issue occur, so you don't need to worry about Operating System and data safety. Furthermore, it is 30% – 300% faster than ANY other tools, because of its unique file-moving algorithm.
Video guide to make system C drive bigger