Partition Magic
Full introduction
Full introduction of Partition Magic
Partition Magic is very famous software and you'll see many blogs and forum topics about it. Many people have heard or used it, but few people know the details. In this article, you'll see everything about Partition Magic, including its history, features, limitations and alternatives.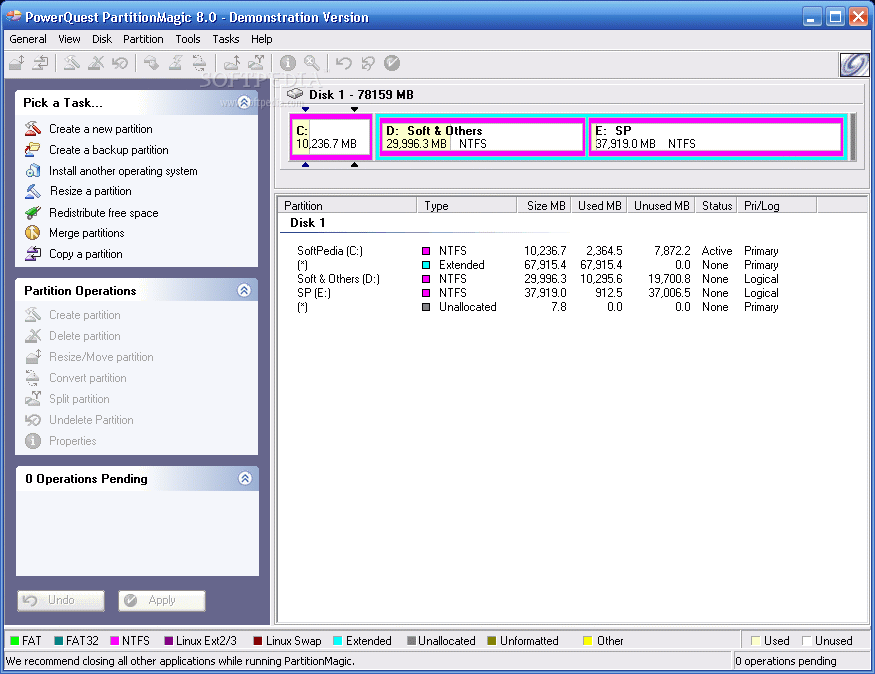 What is Partition Magic
PartitionMagic is utility software for hard disk drive partitioning, it runs on Microsoft Windows operating systems including Windows 2000 and Windows XP, but the application is incompatible with Windows Vista and later versions. PartitionMagic can resize NTFS, FAT16/32 partitions without data loss, copy and move partitions. It also has various other features such as convert between FAT16, FAT32 and NTFS, modify the cluster size and merge adjacent NTFS and FAT partitions. PartitionMagic is the first commercial product that allows advanced disk partition management on Windows platform.
What is PowerQuest Partition Magic
PartitionMagic is originally made by PowerQuest, a software company that produced utility software, which is focus on management of computer data storage. From the first release version 3.0 to the last release 8.0 before acquired by Symantec, the correct software name is "PowerQuest PartitionMagic".
What is Norton Partition Magic
On December 5, 2003, Powerquest was acquired by Symantec. On May 5, 2004, PartitionMagic 8.0.5 was released under Symantec and the software name was changed to "Norton PartitionMagic".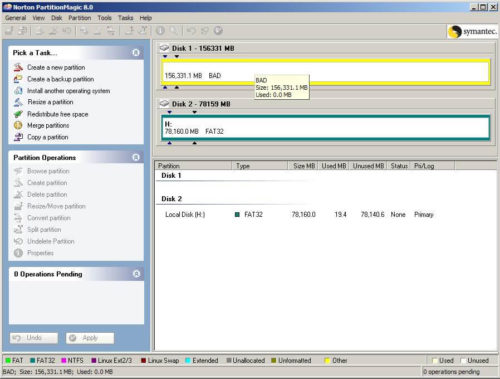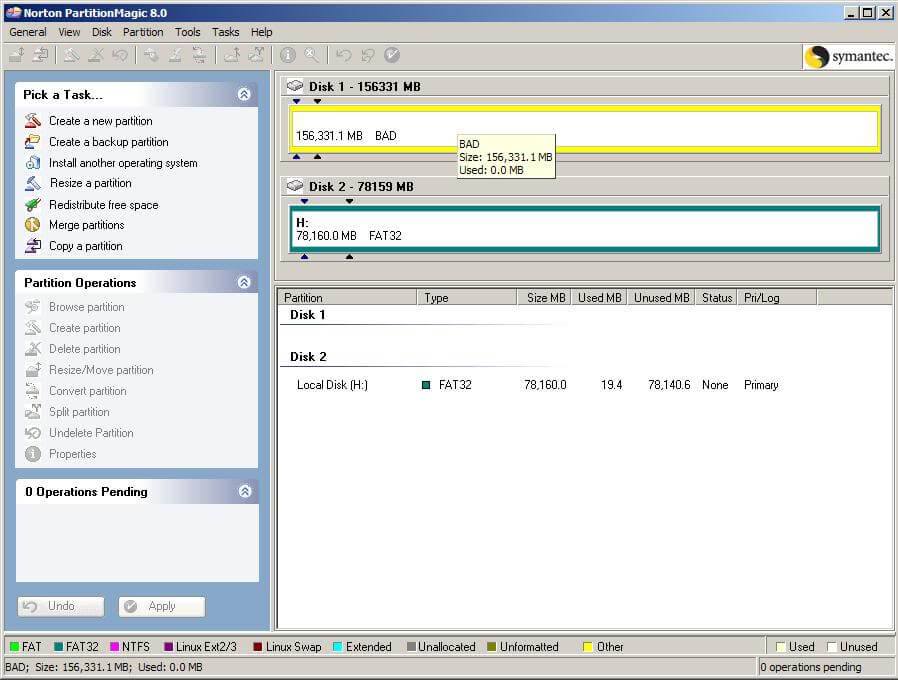 What is Symantec Partition Magic
Symantect cooperation acquired PowerQuest, so some people began to call Symantec Partition Magic. Actually, there is NO such software name, Symantec changed the software name to Norton PartitionMagic. Another common mistake is also related to product name: the server edition of PartitionMagic is Server Magic instead of PartitionMagic Server.
PartitionMagic version history
1997 – PartitionMagic 3.0 released under Powerquest. (The original version of PartitionMagic)
1999 – PartitionMagic 4.0 released under Powerquest.
Apr.2000 – PartitionMagic 5.0 released under Powerquest.
Dec.2000 – PartitionMagic 6.0 released under Powerquest.
2001 – PartitionMagic 7.0 released under Powerquest.
2002 – PartitionMagic 8.0 released under Powerquest.
December 5, 2003 – Symantec acquired Powerquest.
May 5, 2004 – PartitionMagic 8.0.5 released under Symantec. (no more release from then on.)
On December 8, 2009, the Symantec website states, "Sorry, we no longer offer Norton Partition Magic."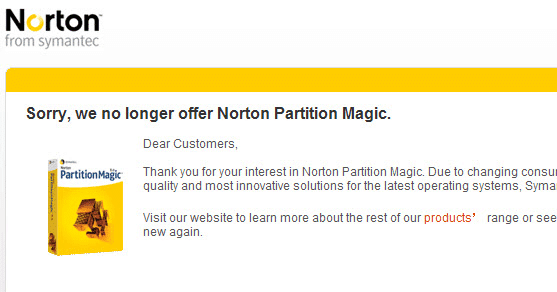 PartitionMagic features
Create, resize, move, merge, split, copy partitions
Divides hard drive into two or more partitions
Runs multiple operating systems on the same PC
BootMagic™ makes it easy to switch between operating systems
Guides you through the partitioning process
Easy to find, copy and paste files in both Windows and Linux partitions
Create and modify partitions up to 300GB*
Supports USB 2.0, USB 1.1, and FireWire external drives
Supports and converts partitions among FAT, FAT32, NTFS, Ext2, and Ext3 file systems
Enlarge an NTFS partition without restarting computer
Resize NTFS system clusters to the most effective size
PartitionMagic limitations
It has somewhat limited support for ext2 and ext3 partitions.
It does not support Windows Vista, Windows 7, 8, 10.
Server Magic is not compatible with Windows Server 2008 and later versions.
ParitionMagic does support Windows XP, however it may not support well on XP sp2 or XP sp3, since the XP sp2/sp3 were later released and Symantec did not offer any update to Partition Magic.
PartitionMagic portable or bootable media?
Yes, you can create PartitionMagic portable or bootable media, but do NOT repartition the drive that has Windows Vista and later versions, because the boot manager is different with Windows 2000 or XP. In addition, do NOT repartition the drive that is formatted as ExFAT or in GPT disk.
To do these operations, you need alternative of PartitionMagic.
Partition Magic Alternative
There are many partition software that are very similar with PartitionMagic, including free and commercial, Windows based or Linux based. Among these Partition Magic alternatives, NIUBI Partition Editor is recommended. PowerQuest PartitionMagic is first program that can do advanced partition management and NIUBI Partition Editor is the first program that can ensure 100% system and data intact while repartitioning.
Comparing with other partition magic similar software, NIUBI Partition Editor has unique technologies and advantages, for example:
It is integrated with innovative 1 Second Rollback technology to ensure system and data intact. It automatically reverts the computer to original status if anything goes wrong, in that case, computer can back online without modification or damage in a short time.
Hot-Resize technology helps resize partition on the fly.
Unique file-moving algorithm helps resize disk partition 30% to 300% faster.
Working in Virtual mode and real disk partition won't be modified until you click Apply to confirm.
Cancel-at-will technology allows you cancelling the ongoing operations without losing data, so you won't lose control during the whole process.
What's Inside
of NIUBI Partition Editor
Resize Volumes
Resize, move, merge and split disk partitions safely and easily. Extend NTFS partition without rebooting.
Partition Management
Create, Delete, Format, Explorer, Copy partition. Change partition label and drive letter, Set Active partition, etc.
Convert disk partition
Convert MBR disk to GPT, Convert Logical partition from/to Primary, Convert NTFS partition to FAT32.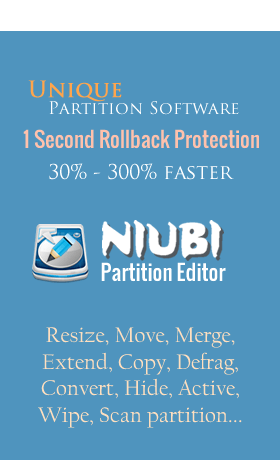 System Optimization
Partition defragment, Fix file system error, Scan bad sectors, Initialize disk, view disk/partition properties.
Data Security
Hide partition, Set read-only attribute, wipe disk/partition/Unallocated space to prevent recovering.
Bootable Media
Create bootable CD/DVD/USB disk to do disk partition management without Operating System.
Partition Magic alternative for PC
To Windows 10, 8, 7, Vista and XP (both 32 & 64 bit) home computer users, NIUBI Partition Editor Free Edition is 100% free and 100% clean without any bundled ADs or plugins. Furthermore, the vendor provides the same free support. The only limitation is: 1 Second Rollback technology and bootable media builder is not included.
PartitionMagic for Windows Server
Forget PartitionMagic or Server Magic if you use Windows Server 2008 and later editions. NIUBI Partition Editor provide Server Edition and Enterprise Edition for you. For small business, NPE Server Edition can be registered on 2 servers to save cost, NPE Enterprise Edition can be registered on unlimited computers and servers regardless of locations. Both editions are compatible with Windows Server 2019, 2016, 2012, 2008, 2003 (R2) and Small Business Server 2012, 2011, 2008 and 2003. All types of hard disk drives, all types of hardware RAID arrays, VMware/Hyper-V virtual machines, USB disk and memory cards are all supported.
[kkstarratings]
Last updated on: