How to resize Server 2003 partition safely?
Though the latest Windows Server 2016 has been released for a period of time, it seems that some companies are still running Windows Server 2003, because recently some people ask me if is possible to resize Server 2003 partition without losing data or reinstalling Windows. So in this article, I'll introduce how to resize volume on Windows Server 2003 (R2).



Why resize partition in Windows 2003 Server
All the size of the hard disk partitions are carefully allocated while building the Server. However, things are changing and the scheduled size may not always meet your needs, especially for the System C: drive, no matter how big it is, you'll be amazed at how quickly application/Windows update installs, browser caches, and temporary files eating up your free space and clutter your system.
Originally, you have to backup the system and all files, delete partitions, recreate larger C drive and restore everything. What a time-consuming and annoying work. Your whole happy weekend will be wasted. New computer technology make things much easier, nowadays, you can resize Server 2003 partition directly, without so much annoying works, much faster and easier.
Which tool to resize Server 2003 partitions
There are two choice: Windows built-in Diskpart command line and 3rd-party software. Diskpart common is difficult to use and has many limitations, it is not the best choice. However, some people insist on using Windows utility, so in this article I also introduces resize partition with Server 2003 diskpart command prompt.
Resize partition with diskpart command line
Step 1: Press Windows and R key to run command prompt, type diskpart.exe.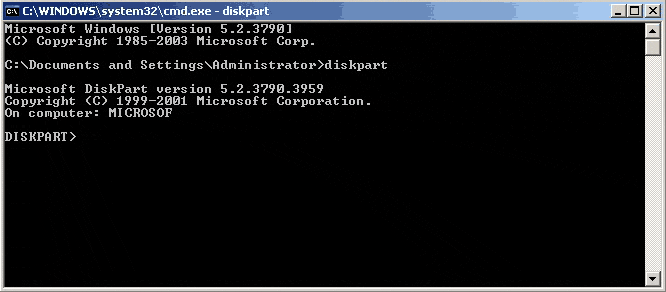 Step 2: Type "list volume" to display the existing volumes in this computer.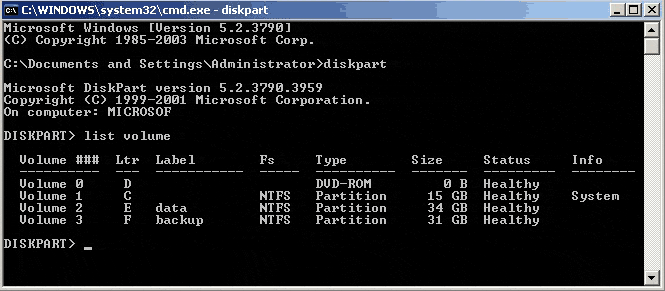 Step 3: Type "select volume X", X is the number or drive letter of the partition that you want to extend.
Step 4: Type extend [size=n] [disk=n] [noerr].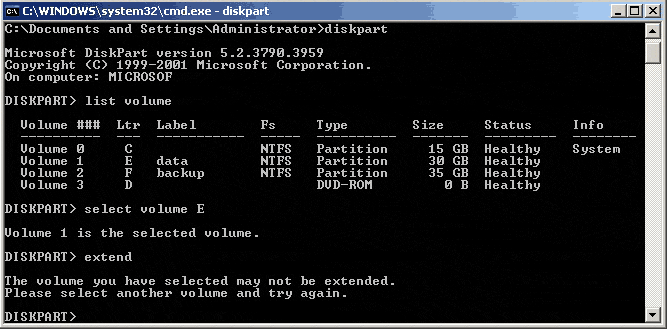 As there is no Unallocated space behind partition E, you cannot extend this partition. To show the result, I delete Partition F and try Extend again.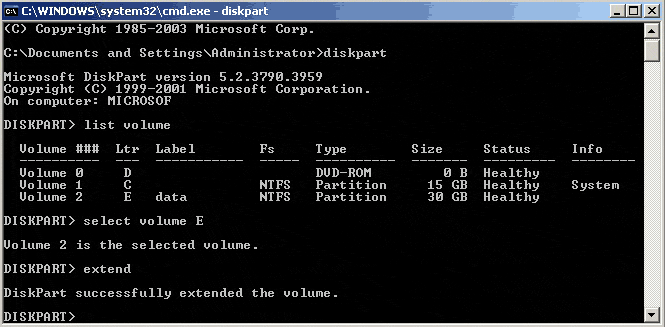 Now, Partition E can be extended with the Unallocated space that deleted from Partition F. Check again under Disk Management: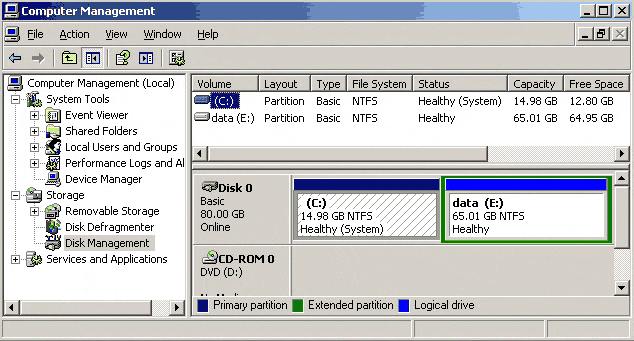 The following describes the parameters:
size=n
The space, in megabytes (MB), to add to the current partition. If you do not specify a size, the disk will be extended using all the next contiguous unallocated space.
disk=n
The dynamic disk on which to extend the volume. Space equal to size=n is allocated on the disk. If no disk is specified, the volume is extended on the current disk.
noerr
For scripting only. When an error is thrown, this parameter specifies that Diskpart continue to process commands as if the error did not occur. Without the noerr parameter, an error causes Diskpart to exit with an error code.
Limitations of Diskpart command
The system volume can only be extended by running Diskpart.exe from a command line by bootable CD.
Only when you delete a data partition and get some Unallocated space, you can extend the system C drive.
Only when there is adjacent Unallocated space on the right side, you can extend a volume.
Incorrect operations lead to data loss and the operations cannot be undone.
Is there a better way to resize partition in Windows 2003 Server without so many limitations? Yes, use 3rd-party server partition software.
Resize Server 2003 partition with partition software
Download
Partition Editor Server, you'll see all connected disk partitions, as well as capacity and free space of each volume.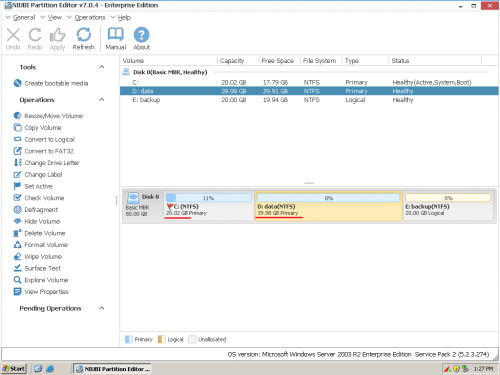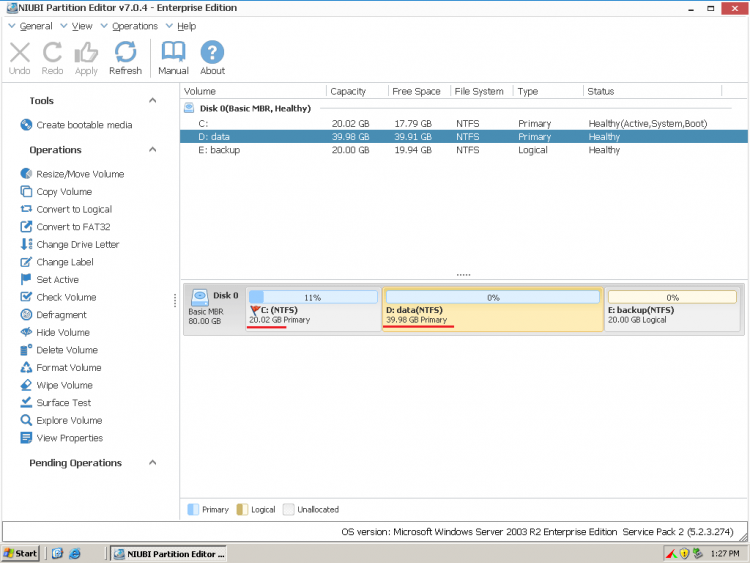 Step 1: Right click D and select "Resize/Move Volume", in the pop-up window, drag left border rightwards to shrink it.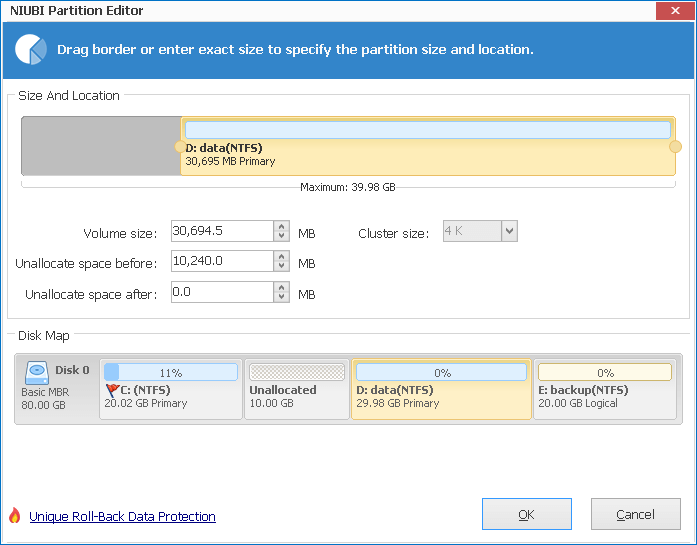 Click OK, 10GB Unallocated space generated behind C: drive.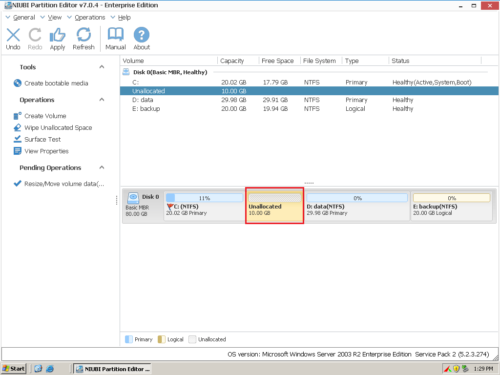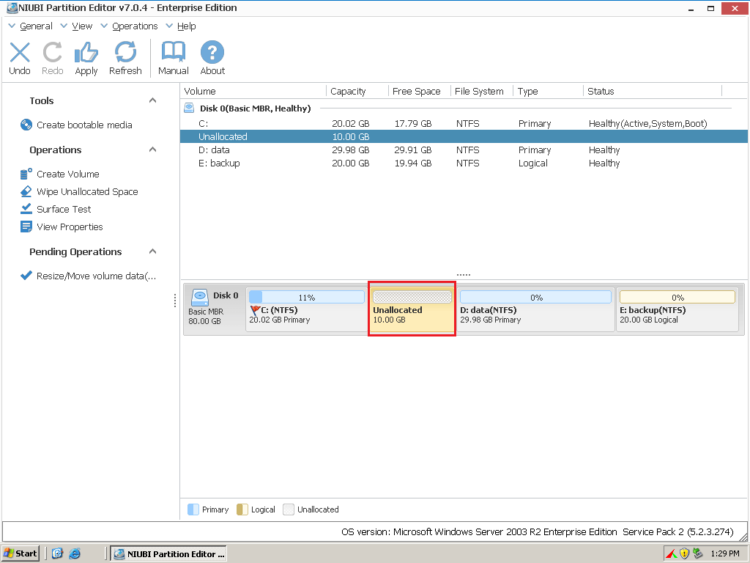 Step 2: Right click C and resize "Resize/Move Volume" again. In the pop-up window, drag the right border rightwards to hold the Unallocated space.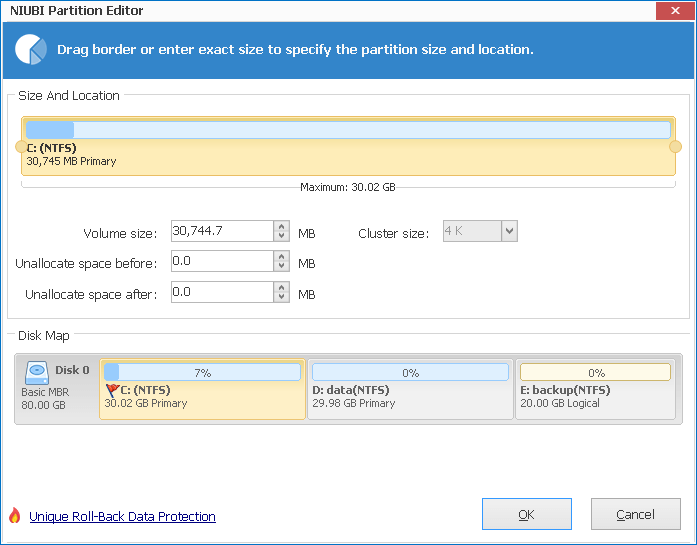 Step 3: Click OK, C drive increased to 30.02GB by getting 10GB free space from D, click Apply on top left to execute, done.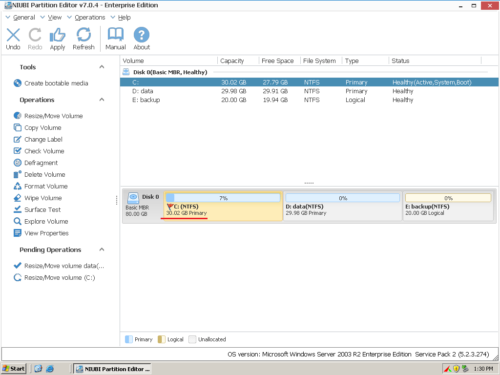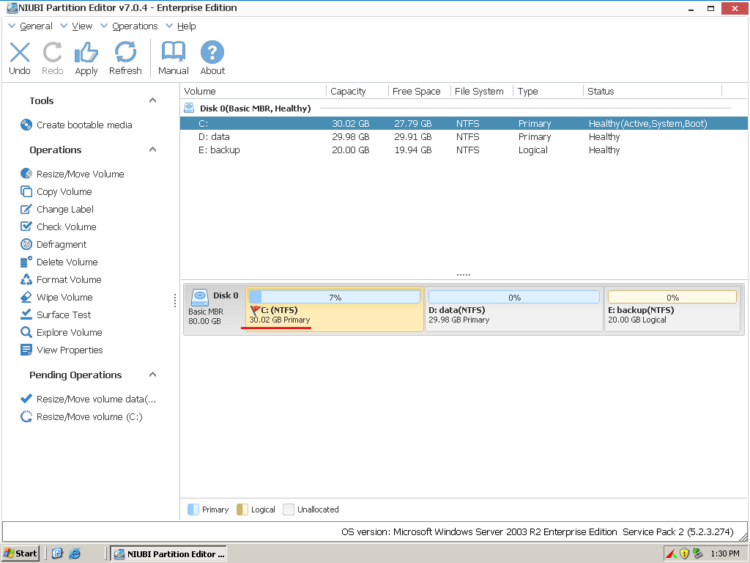 If there is not enough free space in the adjacent volume, you can get free space from any other volumes in the same disk. Watch the video how to resize Server 2003 partitions.
NIUBI Partition Editor is the only program that can ensure 100% data safety, because the built-in Roll-Back Protection technology can roll back the server to the status before resizing automatically and in a flash, if any software error or hardware issue occurred during resize partition. So Operating System and data always keep intact. Furthermore, its unique file-moving algorithm helps resize Server 2003 partition 30% to 300% faster than any other tools.