How to solve C: drive running out of space problem?
Many computer users have encountered the problem that the C drive running out of space and Windows pop up an alert with "Low Disk Space". This problem is very normal for Windows XP users, as the hard disk drive is very small when you build this system.
Actually, no matter you use Windows XP/Vista/7/8/10 or Windows Server 2016/2012/2008/2003, you are very likely to encounter this problem sooner or later, because:
Windows updates continuously save to C drive.
Temp files and caches are save to C drive by default.
All applications install to C drive by default.
Some files still write to C drive even if you set to install applications to data drives.
The symptom of C drive out of space
It is dangerous if the system C: drive is running out of space, but nobody will notice how much free space left every day, so Microsoft create some alert.
Windows XP and Server 2003 displays the low disk space warning – "You are running out of disk space on Local Disk (C:). To free space on this drive by deleting old or unnecessary files, click here."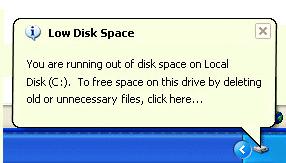 In Windows Vista and later editions, this drive that is running low will be shown red bar instead of default blue in "My Computer" as below:

The risk of C drive running out of space
No matter you are PC or Windows Server users, you should try to solve this problem as fast as possible, as it will do damage to your computer:
System runs much slower.
No space to install critical Windows updates.
System may be crash if there is extremely low on disk space.
How to fix the low disk space issue?
Free up space
The first thing you should do is freeing up space with Windows built-in Cleanup utility.
After doing this, you'll reclaim some free space, however it may cost long time to complete this task.
If you cannot reclaim large amount of free space, try to expand the drive that is running low.
Expand drive
Expand drive means increase this drive by taking unused space from other data drives, Operating System and all data keep intact, just change partition size. Partition resizing is the fastest and easiest way to fix C drive running out of space issue.
How to extend partition to fix C drive running out of disk space?
Extend C drive with free partition manager
For Windows 10/8/7/Vista/XP users, there is free partition manager software that can help increase C drive space easily.
Step 1: Download NIUBI Partition Editor Free, right click the adjacent volume D and select "Resize/Move Volume".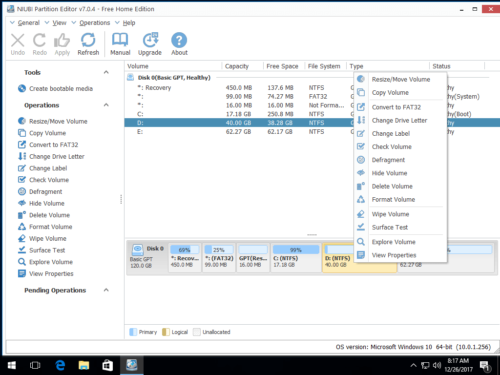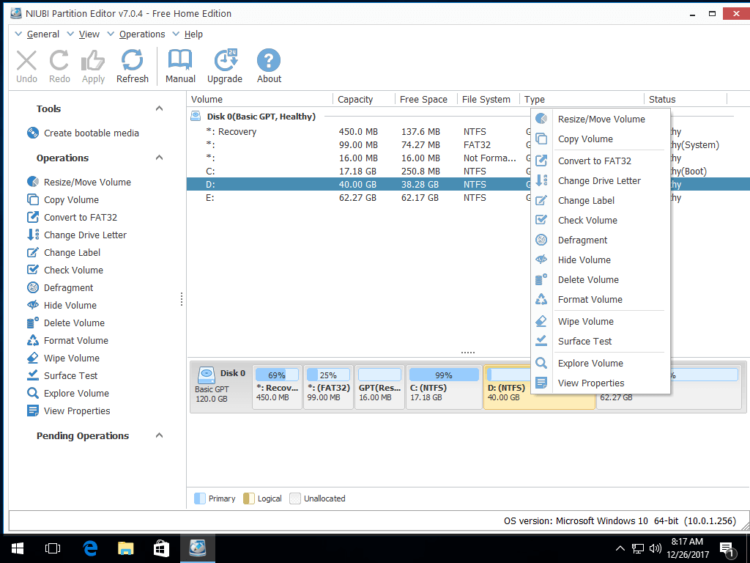 Drag left border rightwards in the pop-up window.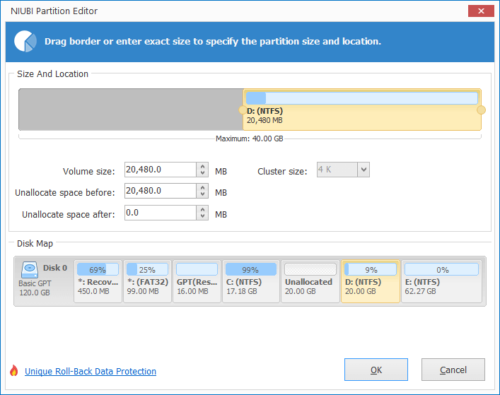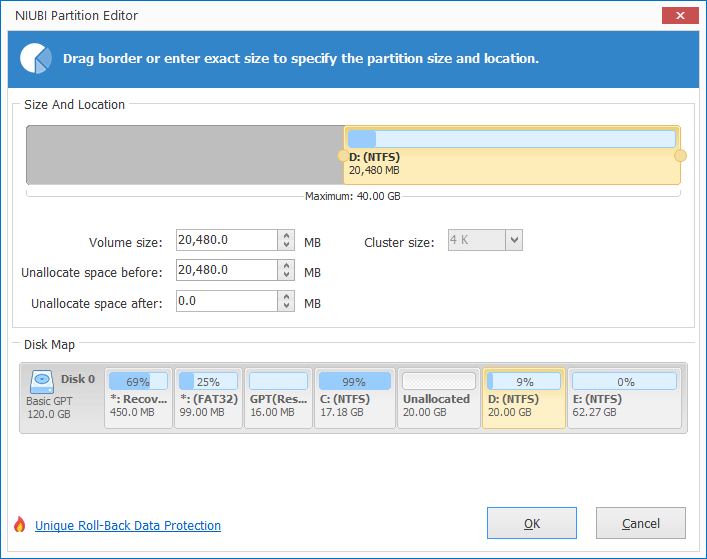 Click OK and 20GB Unallocated space generated behind C drive.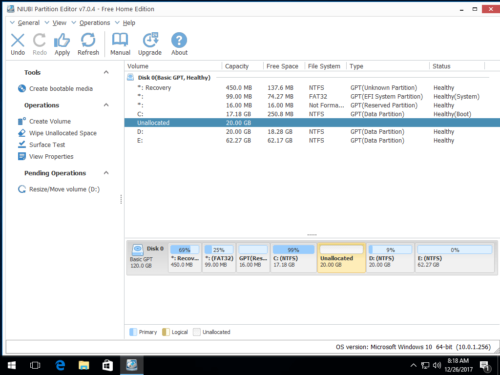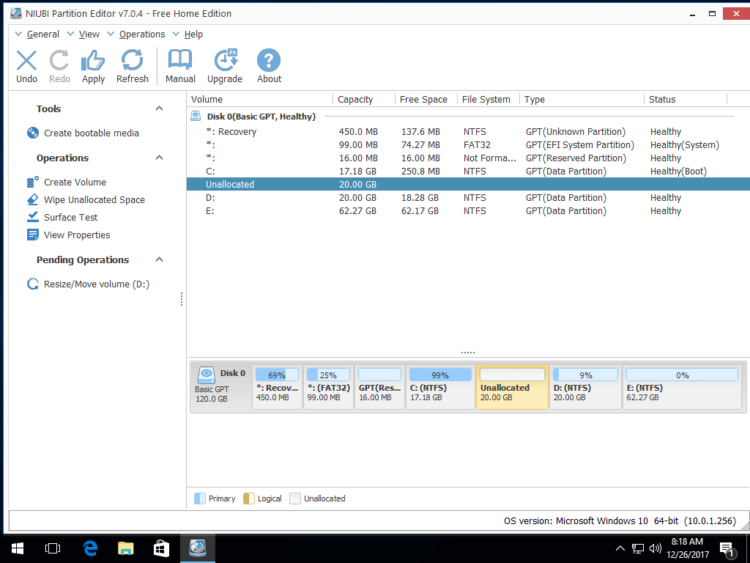 Step 2: Right click C drive and select "Resize/Move Volume" again. Drag right border rightwards to hold the Unallocated space in the pop-up window.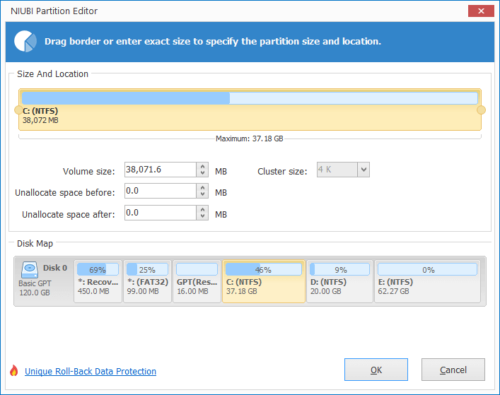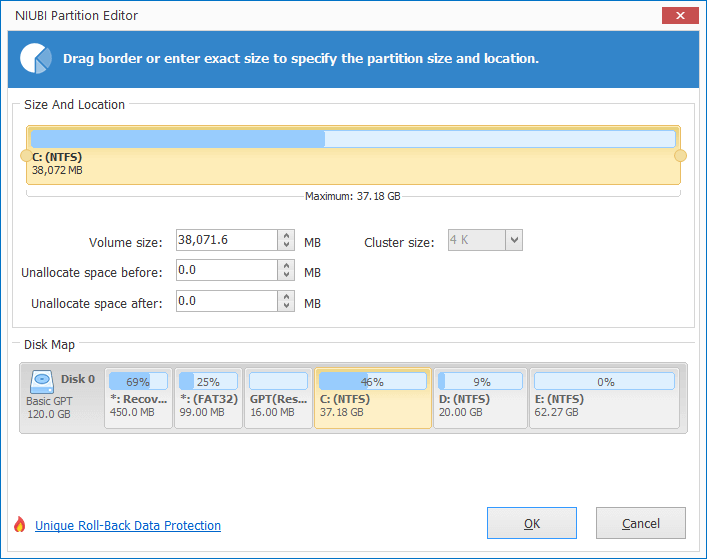 Step 3: Click OK and C drive free space increased 20GB by getting from D, click Apply on top left to execute, done.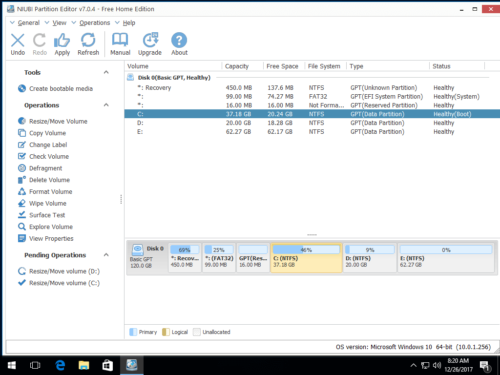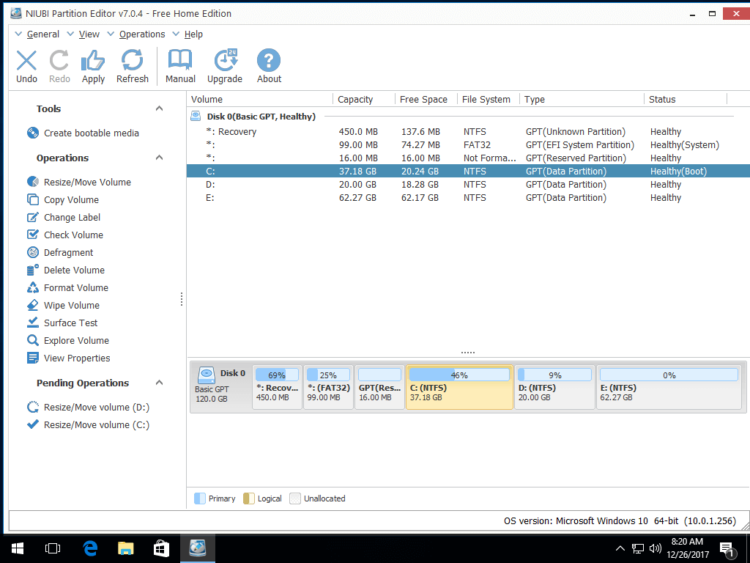 If there is not plenty of free space in D, simply get from other volumes in the same disk.
Video guide to expand C drive without data loss
(Full screen is recommended)
Summary and caution
It is not difficult to fix the drive running out of free space issue, however, two points you should pay attention:
When you free up disk space, use Windows built-in Cleanup utility, I do not suggest use 3rd party tool or delete files manually, because it may cause data loss.
Select a reliable program to expand partitions, because a bad one may cause system failure or drive corruption. NIUBI Partition Editor is the only software that integrated Roll-Back technology to ensure 100% data safety while resizing partition. It is very important for both personal computers and Windows servers. Learn More