Free Windows 7 Partition Magic Software
Microsoft Windows 10 has been released for such a long time, but many people still use Windows 7. The same with Previous Windows XP, in Windows 7 you'll encounter the problem that system C: drive running out of space. To solve this problem, the fastest and easiest way is resizing partition. Shrink a data volume to get free space and then add into C drive. This is the reason why many people search Partition Magic for Windows 7 by Google. What a pity, on December 8, 2009, the Symantec website officially stated: "Sorry, we no longer offer Norton Partition Magic."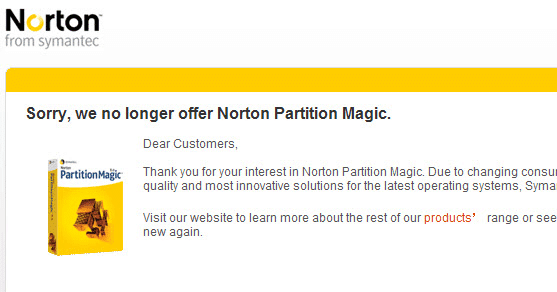 Norton Partition Magic is the most famous software in disk management field, but on May 5, 2004, the last edition of Partition Magic 8.0.5 was released, so it is not compatible with Windows 7. Recently, some people said that they cannot install Partition Magic on Windows 7, so they ask me if it is possible to resize partition on Windows 7 by creating Partition Magic bootable disc, or is there other way to run Partition Magic for Windows 7 64 bit.
Actually, you can build Partition Magic bootable disc and boot on Windows 7, but do NOT use it to resize or change the system partition, because the old Partition Magic cannot handle new boot manager in Windows 7. However, there is free alternative of Partition Magic for Windows 7, which is similar but much more powerful, such as NIUBI Partition Editor Free.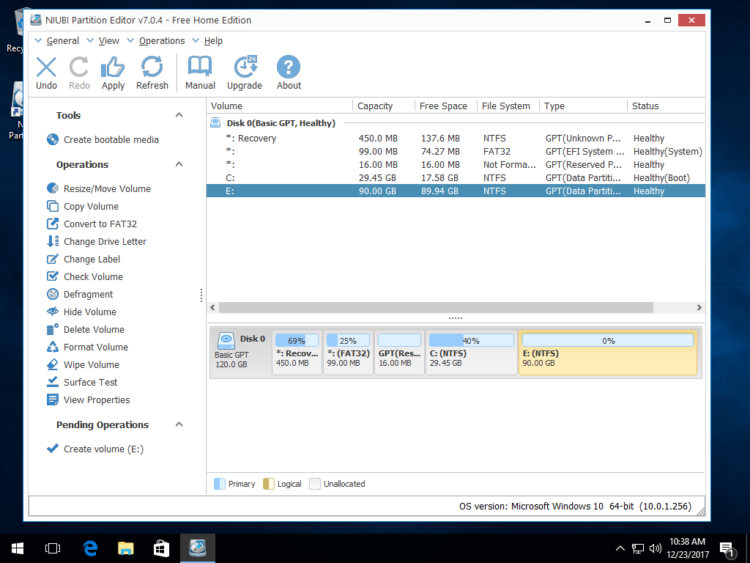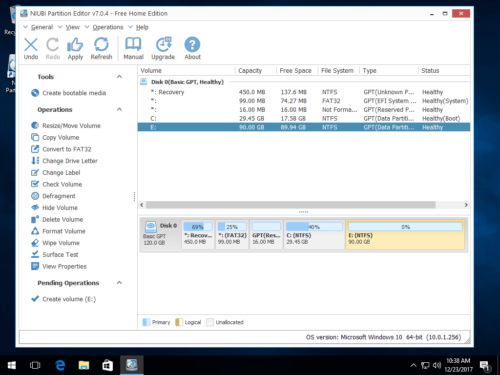 Common hard disk partition problem
1. When you installing Windows 7, you may forgot to create more partitions, so there is only C drive in entire disk. As we know, it is not a good idea to use single C drive and put everything into it. You'd better create separate partition for applications and data files.
2. Another typical issue on Windows 7 is that C drive becomes full and it shows red in "My Computer". Meanwhile, there is plenty of free space in other volumes such as D.

3. Some people want to create new volumes but failed, because there are already 4 Primary partitions in this disk.
These problem can be solved easily by this free partition software.
Windows 7 partition magic feature
In Windows Disk Management snap-in, you can do some basic management such as create, delete and format partitions. In Windows 7, Microsoft added new functions – Shrink Volume and Extend Volume, making it is similar with Partition Magic in some part. However, the functions are limited. In technical forums, some Windows 7 users try to expand C by shrinking D but failed because of Extend Volume grayed out. From Microsoft explanation, only when there is adjacent Unallocated space on the right side of this partition, "Extend Volume" feature is available.
To do this, you need professional partition magic software for Windows 7.
Comparison Partition Editor Free with Disk Management
| | | |
| --- | --- | --- |
| Features | NIUBI Partition Editor Free | Windows 7 Disk Management |
| Extend/Shrink NTFS partition | | |
| Create, delete, format partition | | |
| Change drive letter | | |
| Extend/Shrink FAT partition | | |
| Resize, move partition | | |
| Copy, convert, defrag, wipe, hide, set Active partition | | |
| Check volume, surfact test, change status, set read-only attribute…Learn More | | |
How to resize volume on Windows 7
Why NIUBI Partition Editor is best Partition Magic alternative for Windows 7
Enhanced Data Protection
NIUBI Partition Editor is the ONLY program that can ensure 100% data safety while resizing volumes.

Extremely Fast
Unique file-moving algorithm helps resize partition 30% to 300% faster than ANY other tools.

Extend NTFS Partition Online
Expand NTFS partition without rebooting computer to reduce offline time.

Virtual mode
To avoid mistake, all operations are listed in virtual mode before executing.

All-in-One Solution
Most of your disk partition maintenance requirements can be fulfilled.

Multiple Storage Supported
Hard disk, Hyper-V/VMware, USB disk, memory cards, all types of hardware RAID are all supported.

There are other Partition Magic alternative in the market including free and commercial, but NIUBI Partition Editor is the only one program that is integrated 1 Second Rollback Protection technology to ensure 100% system and data intact while re-partitioning. Data means everything to all of us.