How to add disk space to C drive in Windows Server 2012 (R2)?
When there is not enough free space in system C drive, you can add disk space to C: drive by taking unused space from other data partitions. In this article, I'll give detailed steps how to do this in Windows Server 2012 without losing data. Before doing this, 3 points you should know:
1. Back up before any operations to a server
Some software indicates 100% data secure, but to me, there is no 100%. Even if the software is carefully designed, hardware issue such as bad sectors, power off while partitioning will cause data loss.
2. Select reliable partitioning software
Nobody wants to see system failure or data loss after resizing disk partitions, even if you have backup. A reliable software helps you repartition safely and easily, here I recommend the one from Partition Magic Server. It is able to resize partition, shrink and extend, split and merge, copy and convert partitions non-destructively. Extend NTFS partition without rebooting (close the running applications before starting the program). Local and removable hard disk, USB disc, memory cards, all types of hardware RAID, VMware and Hyper-V supported, the most important, it is safe.
3. Only partitions in same HDD can be resized
No partitioning software can add disk space to a partition by taking free space from another physical hard disk. Open Server 2012 Disk Management snap-in, you'll see all disk and inside partitions.
Steps to add space to C: drive
Step 1: Download NIUBI Partition Editor, right click D: drive and select "Resize/Move Volume".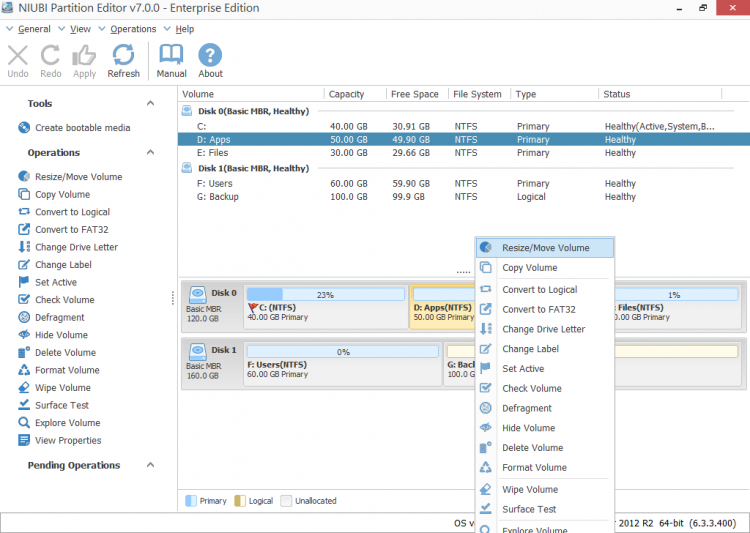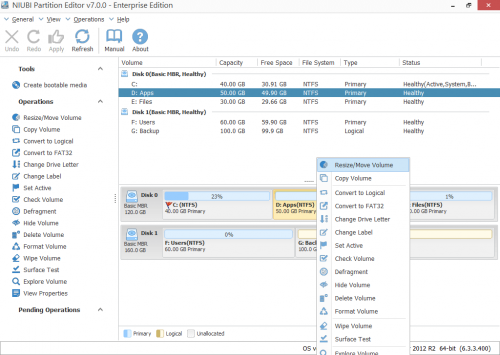 Step 2: In the pop-up window, drag the left border rightwards to generate free Unallocated space.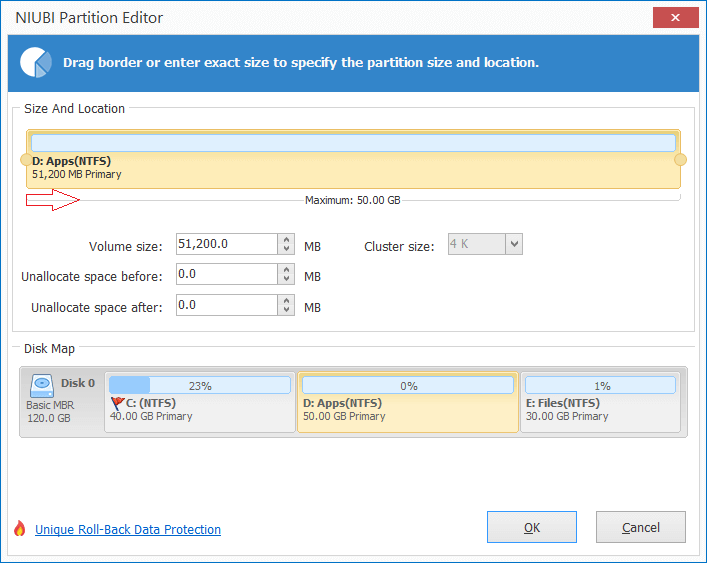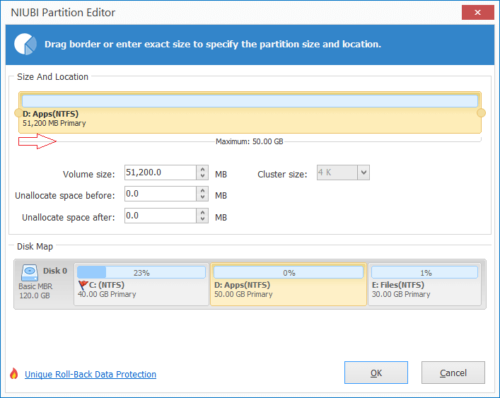 You may also input a value for the Unallocated space directly.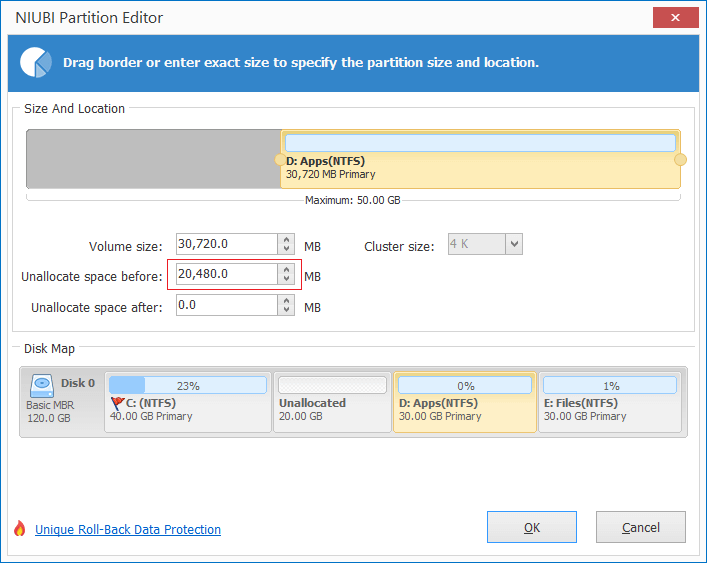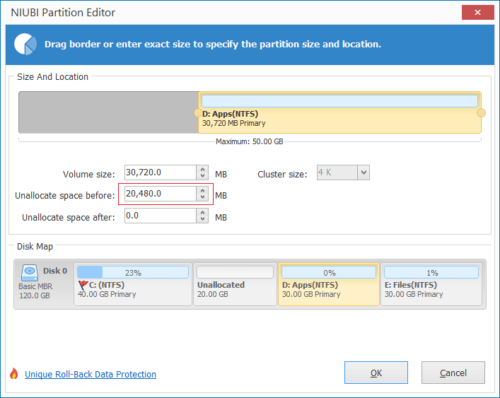 Click OK and back to the main window, where you'll see 20GB Unallocated space created behind C: drive.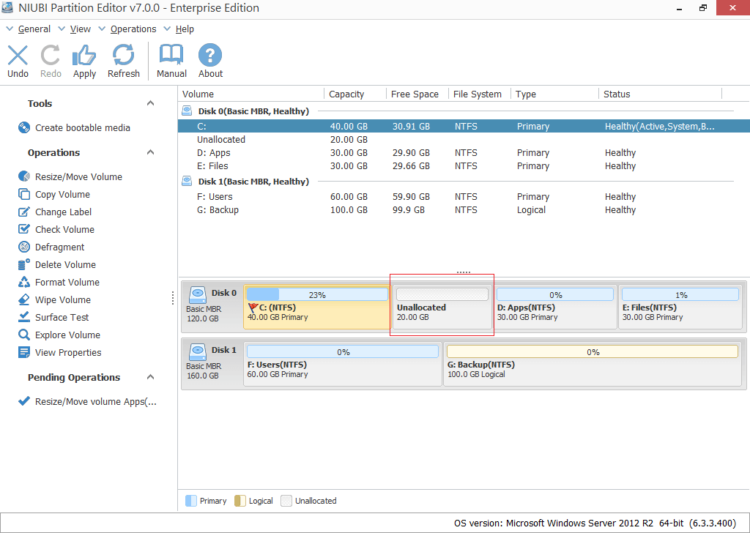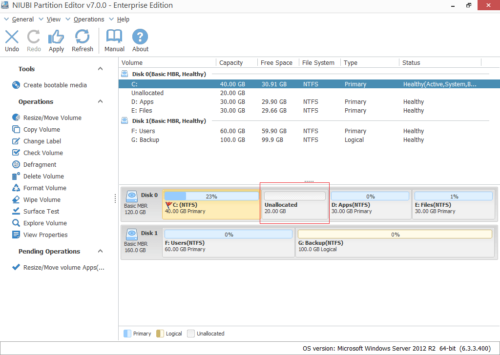 Step 3: Drag the right border rightwards to hold the Unallocated space.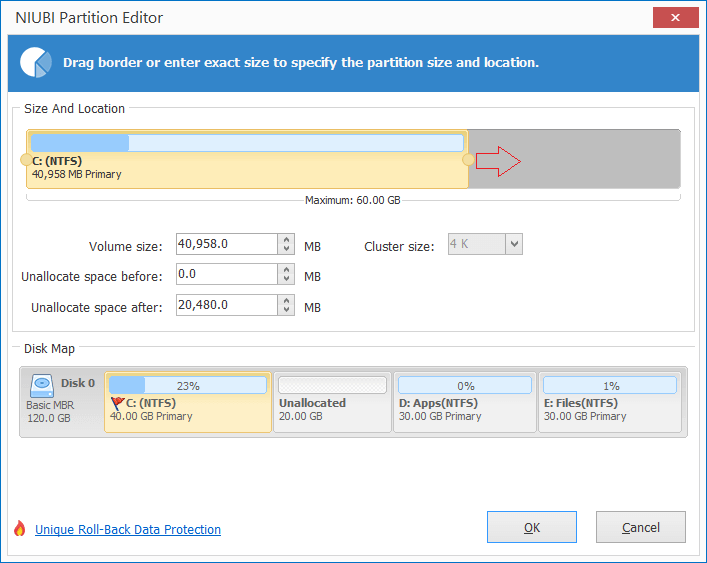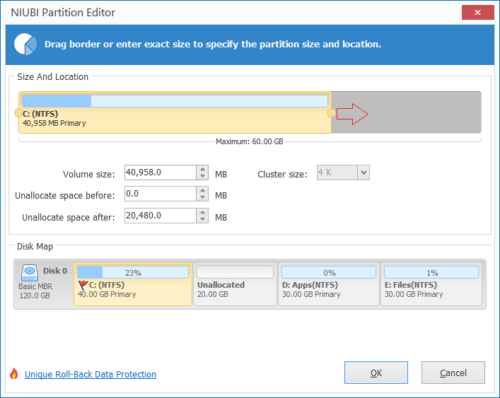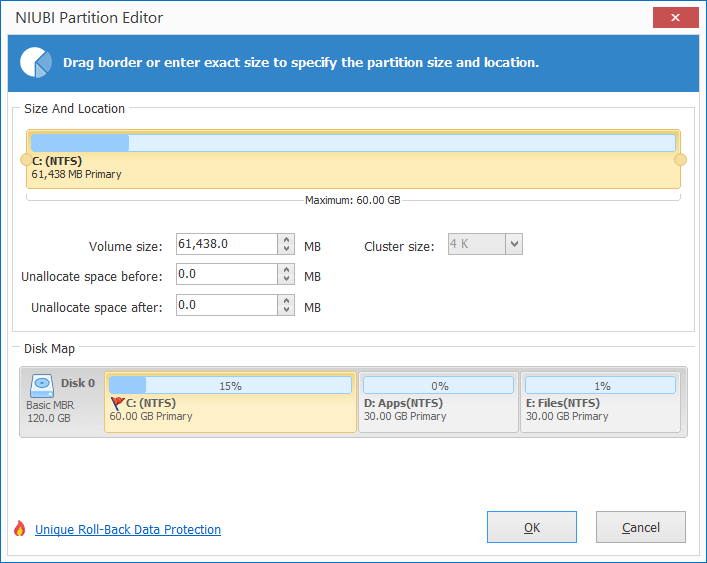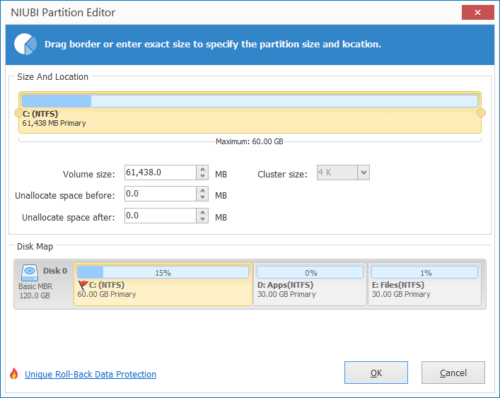 Step 4: Click OK and back to the main window, where you'll see C drive extended to 60GB by robbing 20GB free space from D. Press Apply on top left to execute, done!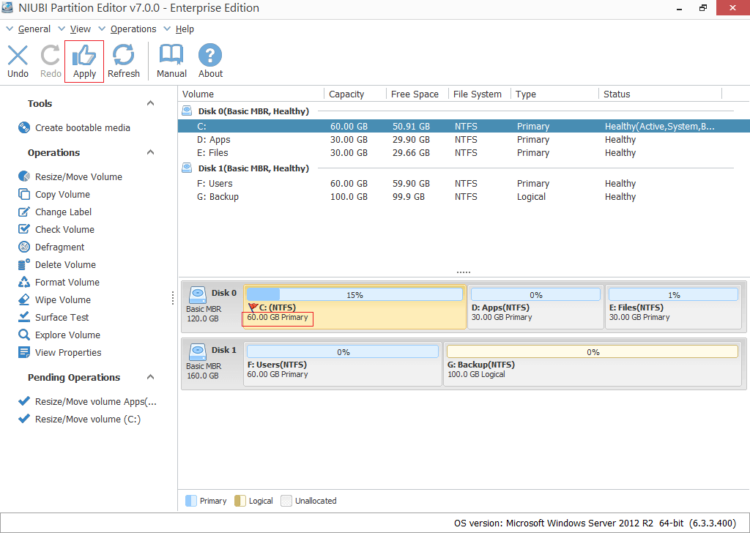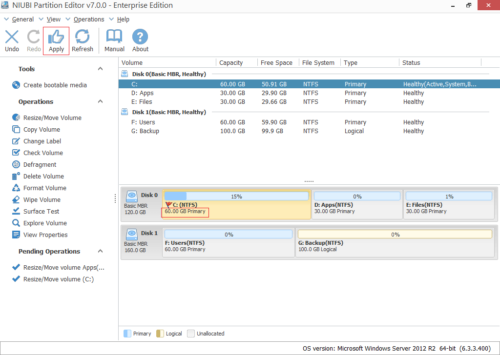 If there is not enough free space in the adjacent D drive, you can also get free space from the non-adjacent drive E, check the video how to add free space from E to C.
Video guide to add free space to C drive in Server 2012
(Recommend full screen by clicking the square at bottom right of this video)
Better than other tools, NIUBI Partition Editor integrated unique Roll-Back protection technology, which is able to roll back the server to the status before resizing rapidly and automatically, if power failure or any other hardware issue occurred. So it is recommended as the safest partition software, furthermore, it is 30% – 300% faster than any other tools, because of its unique file-moving algorithm.