How to fix Windows Server 2016 C drive full issue
The same with other versions, many people find that Windows Server 2016 C: drive is getting full automatically. Because many types of files are saving to C drive contiguously. Of course C drive is filling up sooner or later. It causes many problem if C drive becomes full in Server 2016, such as:
No free space to install critical update.
System stuck and runs much slower if little free space left.
System reboot unexpectedly and even crash.
So you'd better do something when C drive is full in Windows 2016 server as fast as possible. Many people don't know what to do to fix this issue. Searching by Google, you may find many methods, but in fact only 2 important methods are needed.
Method 1 – Clean up disk when C drive is filling up
As I said above, there are many types of files are saving to C drive. These files include junk and unnecessary files. You can remove these files from C drive to reclaim disk space. If you never did this before, you may get over 10GB free space. Even if you cannot get plenty of free space, your server could keep running in the right way. This is the first step to help fix Windows Server 2016 C drive full issue.
To clean up C drive in Server 2016, you may try Windows built-in Disk Cleanup utility or 3rd party optimization software. In most cases, Windows Disk Cleanup can accomplish this task well. It is able to delete most of junk and unnecessary files fast and safely.
How to fix C drive full in Windows Server 2016 by cleaning up disk:
Press Windows + R keys together, type cleanmgr and press Enter.
Select C: drive in the drop-down list and click OK.
In the pop-up window, click the check-boxes in front of the files. (All types of files can be removed safely, but you'd better read the description of each file in advance.)

Confirm to delete.
To get more free space, repeat step 1 and click "Clean up system files" in step 3.
If you cannot get over 20GB free space or if C drive was created small, you'd better move more free space from other partitions. Otherwise, C drive will become full again shortly.
Method 2 – Move free space from other partition
Partition size is allocated while building the server, but you can change partition size without losing data. With safe partition software, you can shrink the data partition(s) to release free space and then add to C drive. After doing this, Operating system, programs and anything else keeps the same with before. You'd better expand C drive as large as possible.
To resize partition and increase C drive space, you'd better make a backup in advance and run safest partition software. Better than other tools, NIUBI Partition Editor has Virtual Mode, Cancel-at-well, 1-Second Rollback and Hot Clone technologies to protect system and data. It is much faster because of special file-moving algorithm. In addition, it can extend partition in Windows without rebooting server.
How to fix Windows Server 2016 C drive full by moving free space:
Step 1. Download and install NIUBI Partition Editor, right click D: drive (the contiguous partition) and select "Resize/Move Volume".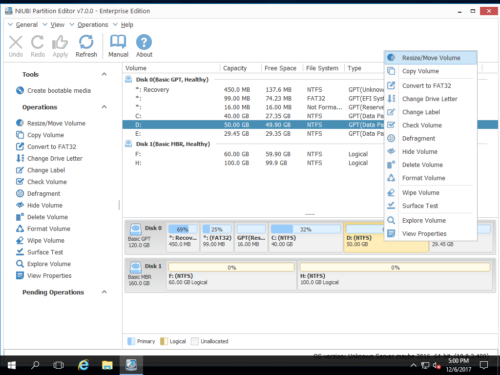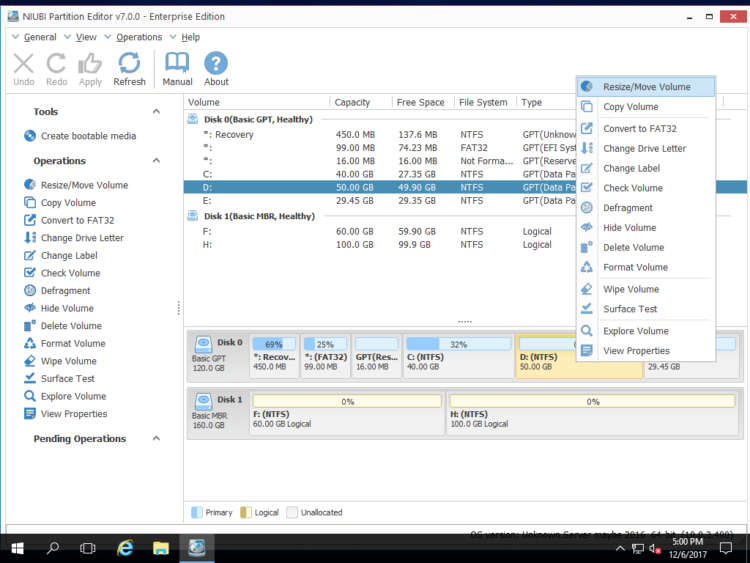 Step 2: In the pop-up window, drag left border rightwards to shrink this partition and release free space on the left.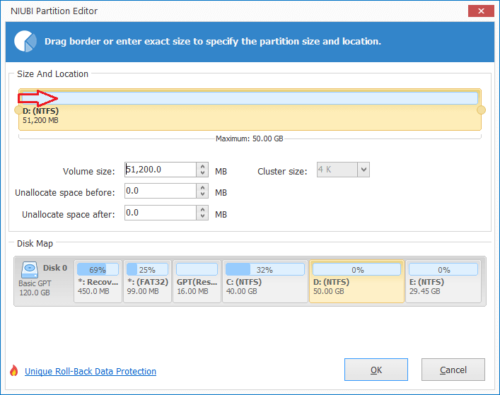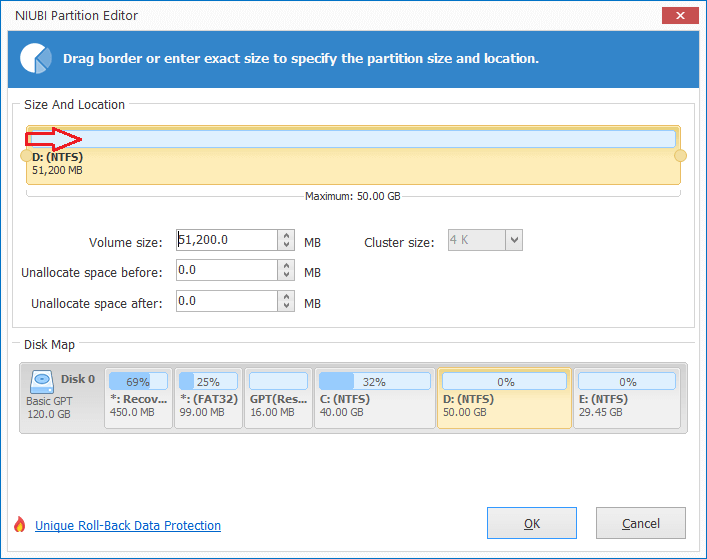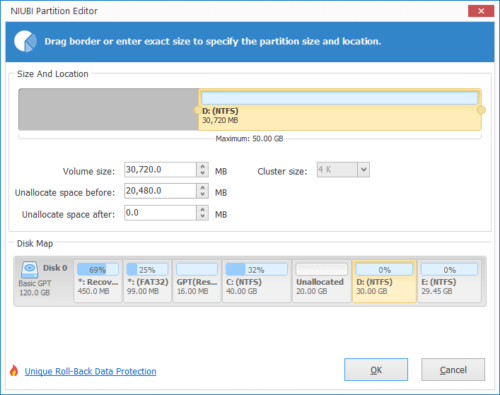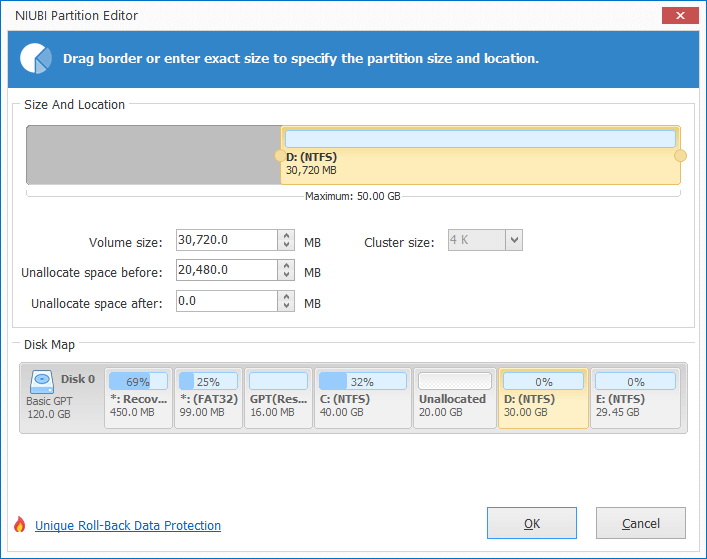 Step 3: Right click C: drive and select "Resize/Move Volume" again. In the pop-up window, drag the right border rightwards to hold this Unallocated space.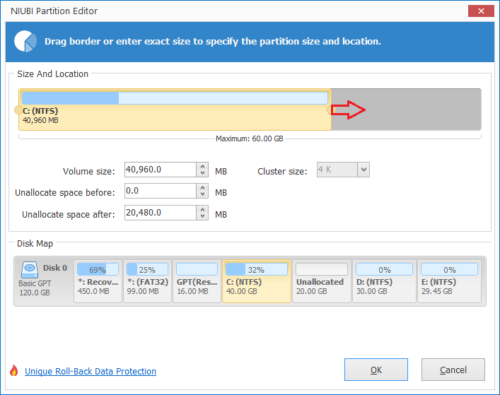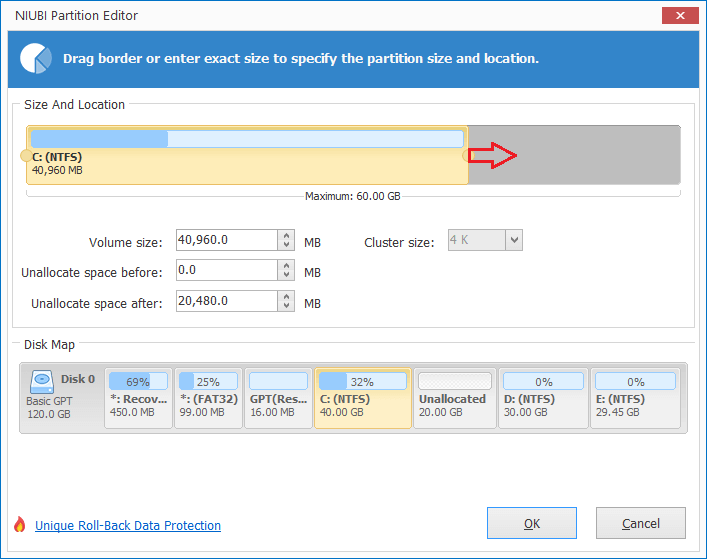 Step 4: Click OK and back to the main window, free space is added from D to C drive. Click Apply on top left to execute, done. (Real disk partitions won't be modified until click Apply to take effect.)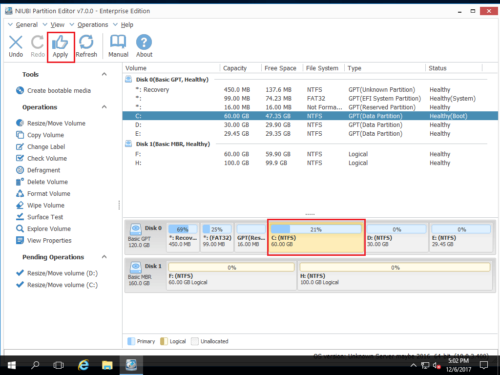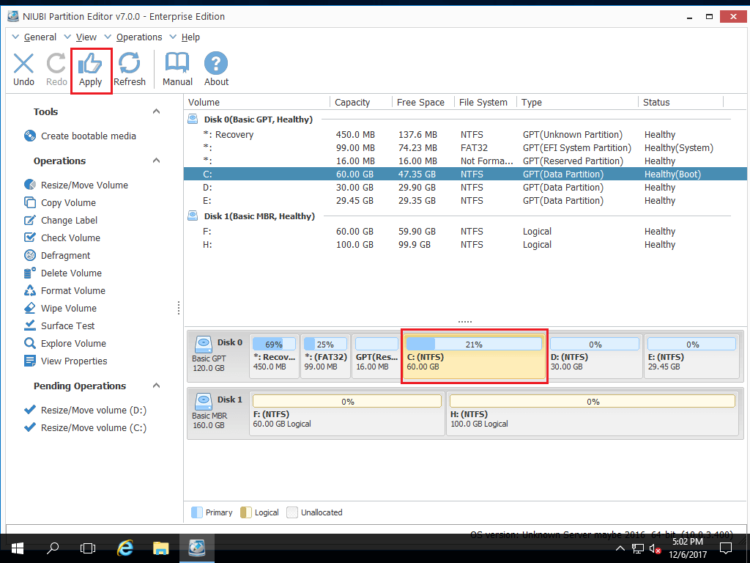 If there's not plenty of free space in the adjacent partition, you can shrink any nonadjacent volume on the same disk, follow the steps in the video:
In Summary
When the system C: drive is full in Windows Server 2016, try to clean up disk and increase C drive free space as fast as possible. If you installed many programs in C drive, try to change the output path to other partition. Also, change the download folder out of C drive. Because new junk files are keeping generated, remember to run Windows native Disk Cleanup monthly.
Besides shrinking, moving and extending partition in Server 2003/2008/2012/2016/2019/2022, NIUBI Partition Editor helps you do many other disk/partition management operations.