How to increase C drive space in Windows Server 2016?
The same with all previous Windows Operating System, after running Windows Server 2016 for a period of time, C drive is running out of space. Because Windows services and applications write files into C drive continuously, as well as System Restore points, Shadow Copies, temporary files, browser cache, all types of logs and many types of other files can eat up the free space in C drive easily. To keep the server running smoothly, you should fix this issue ASAP, otherwise, the server maybe stuck or crash. In this situation, the best idea is increasing C drive free space. To do this, there are 2 options: free up disk space and extend C drive with partition software. In this article, I'll give detailed steps how to increase C: drive free space in Windows Server 2016.
Option 1: Increase space by freeing up
Windows Server 2016 provide built-in Disk Cleanup utility to free up disk space. By using this tool, you can delete unused file to reclaim disk space, so the free space in C drive will be increased. This is especially useful for the server that never did this. To free up space, I always suggest Windows Cleanup, because it is safe and able to clean many types of unused files. There is potential risk of losing data if use 3rd-party software or deleting manually. If you delete the files that you are not familiar with, it may system corruption.
It is very easy to reclaim free space with Windows Cleanup:
Open Windows Explorer, right click C drive and select "Properties".
Click "Disk Cleanup"
In next window, select the files you want to clean.
Confirm the deleting operation.
Switch to More Options tab to uninstall program or delete System Restore/Shadow Copy files. (this step is optional)
Generally speaking, it costs several minutes to complete this task. If 'Disk Cleanup' reclaims plenty of free space, glad to stop here. Otherwise, you'd better continue Option 2, because if there is not plenty of free space in C drive, you'll see C drive Red and low disk space alert in short time.
Option 2: Increase free space by resizing
If there is existing Unallocated space or free space in other volume, you can transfer into C drive to increase space. It is very easy and fast, too.
Increase C drive in Server 2016 DM
Windows Server 2016 built-in Disk Management (DM) has the ability to shrink and extend volume. However, it is limited, only when there is adjacent Unallocated space at right side of C drive, you can expand C drive. Otherwise, jump to the next paragraph.
Right click Windows on bottom left to open Disk Management.
Right-click C drive and select "Extend Volume…"
Click Next to continue the Extend Volume Wizard.
Select the available Unallocated space and click Next.
Confirm the operation and click "Finish" to proceed.
Decrease and increase space with partition software
It is much easier to use partition software, and no such limitation, so you can get free space from any other volumes in the same disk and add into C drive.
Steps to increase C drive space on Windows Server 2016:
Step 1. Download and install NIUBI Partition Editor Server, right click volume D and select "Resize/Move Volume".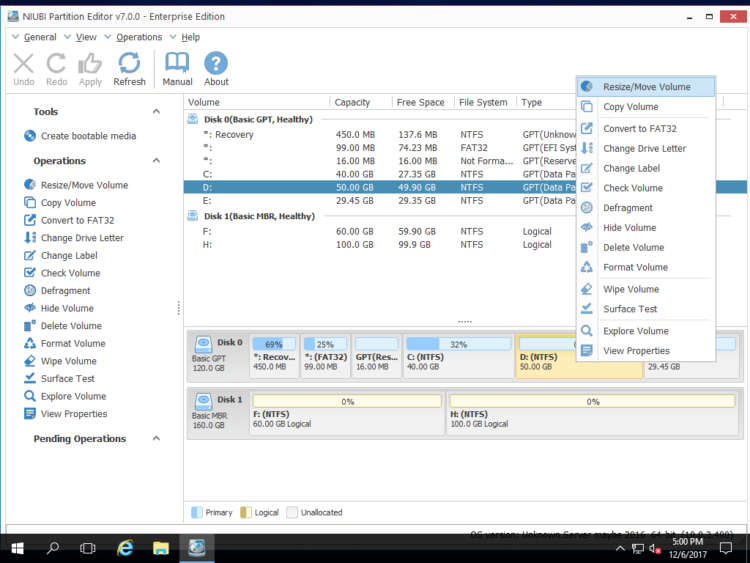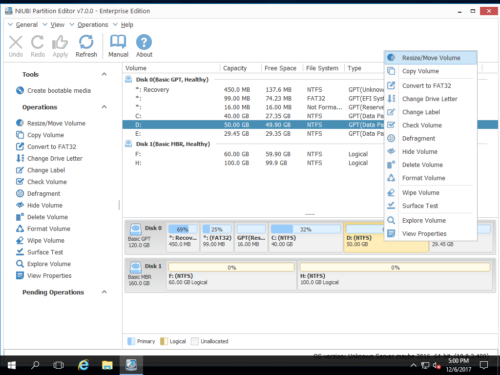 Step 2: Drag left border rightwards to take free space out.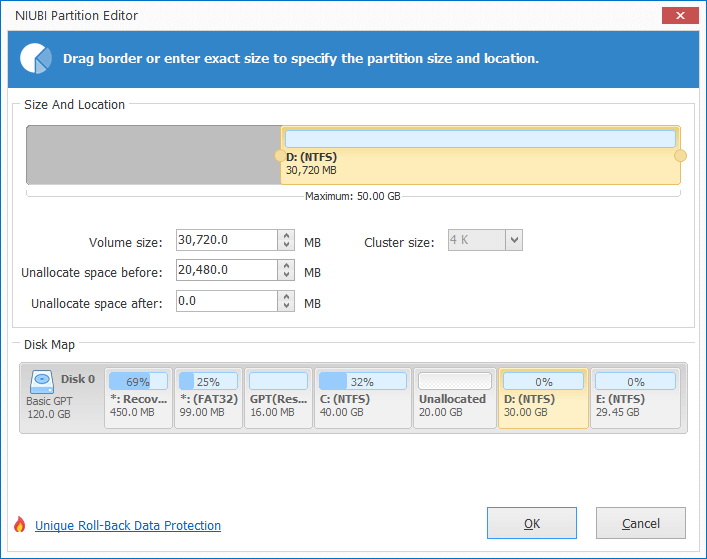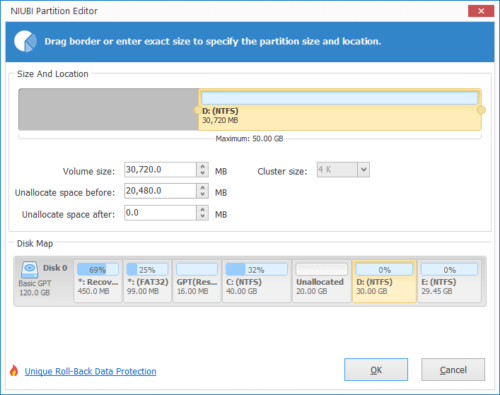 Unallocated space will be created behind C: drive.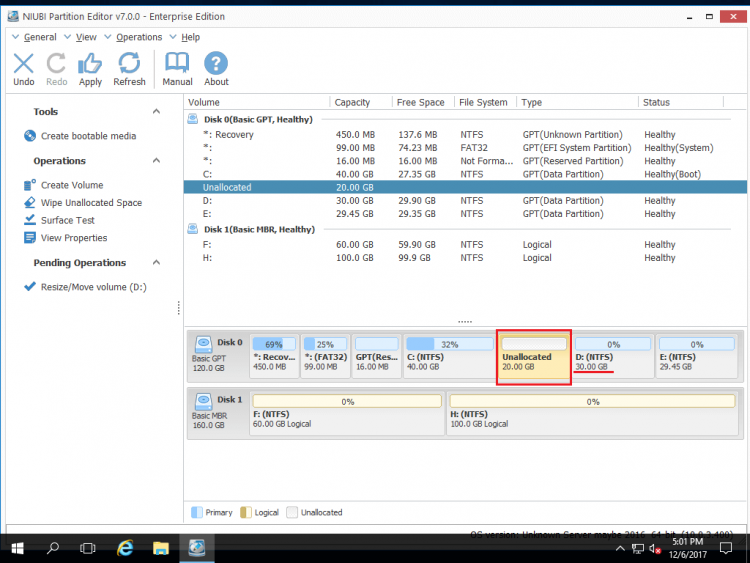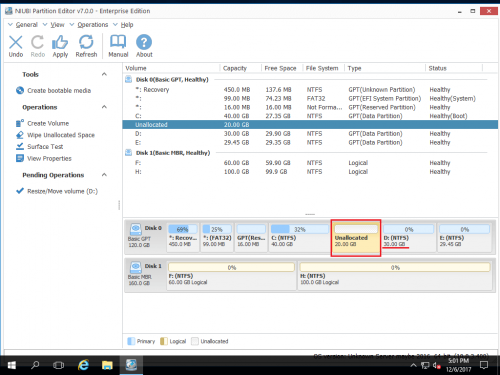 Step 3: Right click C drive and select "Resize/Move Volume" again. In the pop-up window, drag the right border rightwards to hold the Unallocated space.

Step 4: Click OK, C drive free space will be increased by adding the Unallocated. Click Apply on top left to execute, done.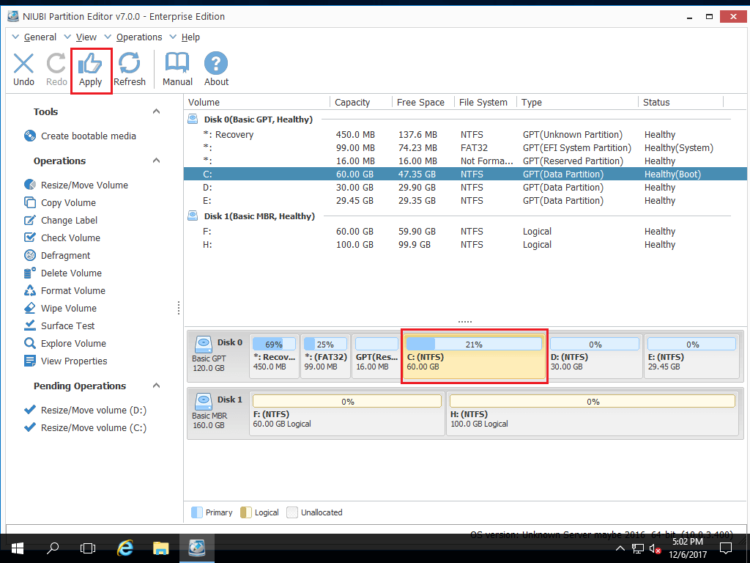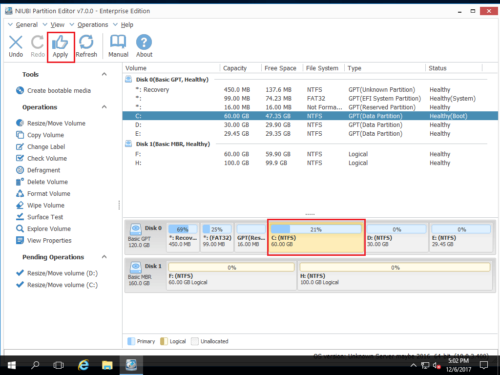 Is it easy to increase C drive space on Windows 2016 Server?
Why NIUBI Partition Editor is recommended?
As the fastest server partition software, its built-in Roll-Back protection technology is able to roll back the server to status before resizing, if any hardware issue such as power failure occur during resizing. So Operating System and data always keep intact. Besides, its unique file-moving algorithm helps resize partition 30% – 300% faster than other tools. Data safety and time are most important to a server.