How to fix C drive red and low disk space issue in Windows Server 2016?
When the system C: drive running low on disk space, it becomes red if you open My Computer or Explorer. More and more people that runs Server 2016 feedback such problem and ask what cause C drive becomes red. So I write this article to answer this question and introduce the way how to fix low disk space on Windows Server 2016 with ease.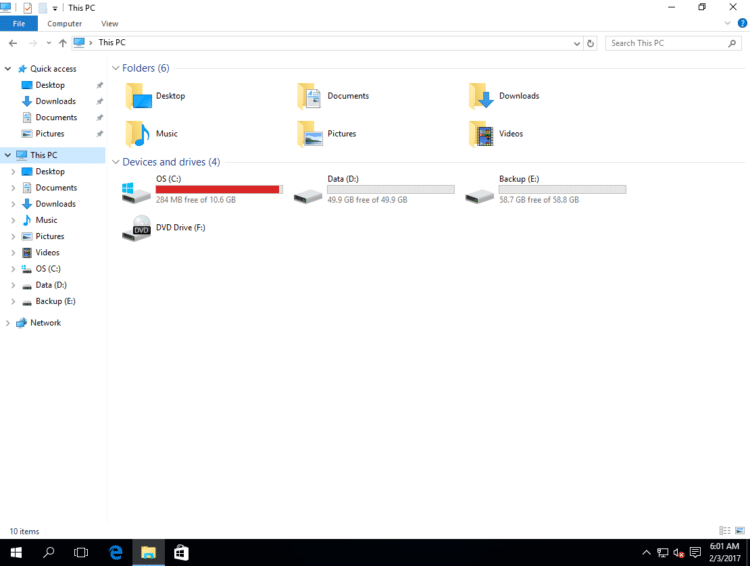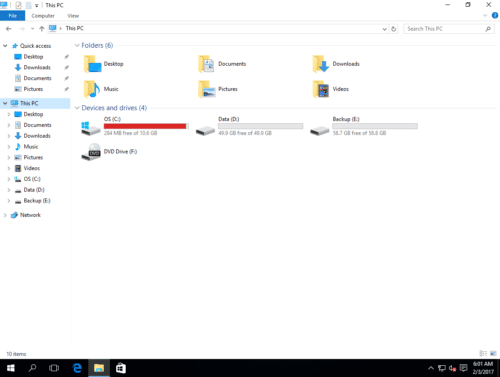 Why C drive becomes red?
From Windows 7, Microsoft added this feature – the drive that has less than 10% free space marked as red instead of original blue bar. This special design is used to warn people to fix this issue as fast as possible. Because it will cause many problem if the free space of C drive is running low, such as: no space to install Updates, system runs much slower, reboot unexpectedly or even crash.
What to do when low disk space in Windows Server 2016
Generally speaking, two steps can solve this problem in Windows Server 2016:
In most cases, you'll regain free space more or less after step1. If you retrieved large amount of free space, congratulations and ignore step2, otherwise, you have to continue. If you created the C drive too small, I suggest you continue step2 even if you can get free space by cleaning up disk, because you'll see the red C drive bar and low free disk space issue in a near future. You'll be amazed how quickly the free space is eaten up by Windows Updates, applications, temporary files, restore points, etc.
Additional point
To reduce the probability of low disk space on Server 2016, you'd better do the operations:
Create larger C drive, but do not create single C drive and put everything into it.
Create a separate partition to install applications.
Change default output location of Windows services and application to other volume
Run Windows Cleanup regularly.
How to free up disk space
To free up disk space in Windows Server 2016, the only tool I suggest to use is Windows built-in Cleanup utility, because it is able to clean up many types of files, such as Temporary Internet Files, files in Recycle Bin, Temporary files, Log files, Thumbnails and Windows Error Report files. I do not suggest delete files manually or with 3rd-party software, because some people reported mess-up after using these software.
Open My Computer
Right click the drive that has low disk space
Click Properties
Click Disk Cleanup in the pop-up window
Select the files/folders you want to clean and press OK, done.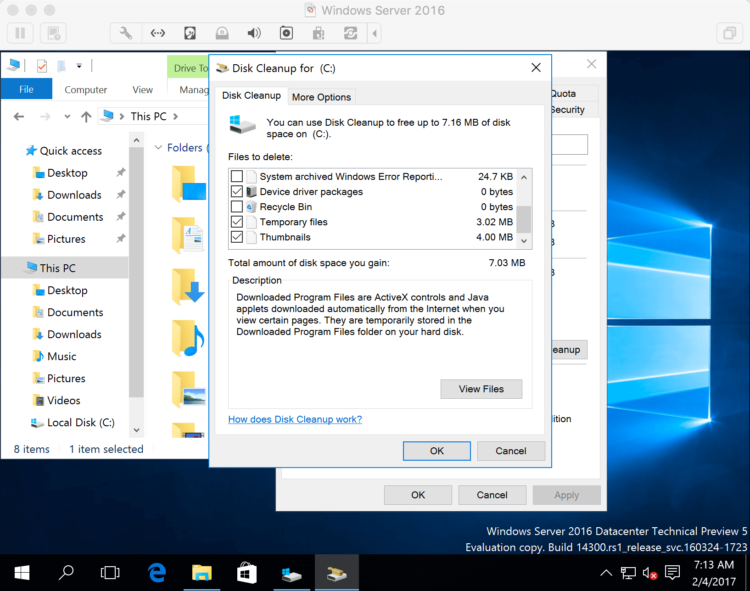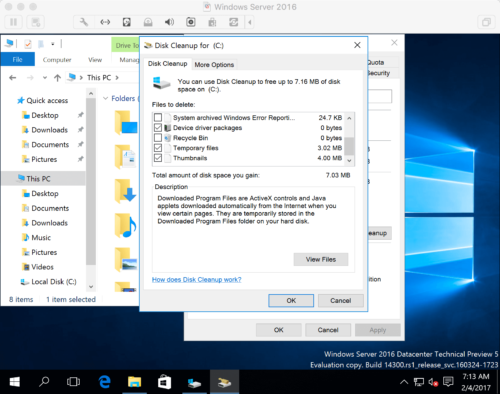 In addition, you may switch to the More Options tab, where you can uninstall unused programs and delete System Restore/Shadow Copy files (usually in large size)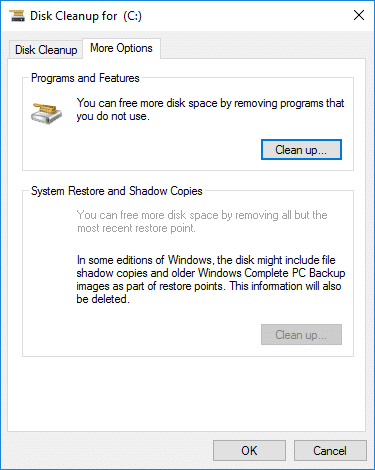 If you cannot reclaim large amount of space, or C drive was created too small, you'd better expand C drive to increase its free space, otherwise, you'll see C drive red and low disk space issue in near future.
Note: not every partition software can be used to resize or expand disk partitions. A bad designed program may cause data loss or system boot failure.
How to enlarge C drive?
With partition software it is very easy to complete, it helps get free space from other partitions and add into C: drive.
Step 1. Download and install NIUBI Partition Editor, right click volume D and select "Resize/Move Volume".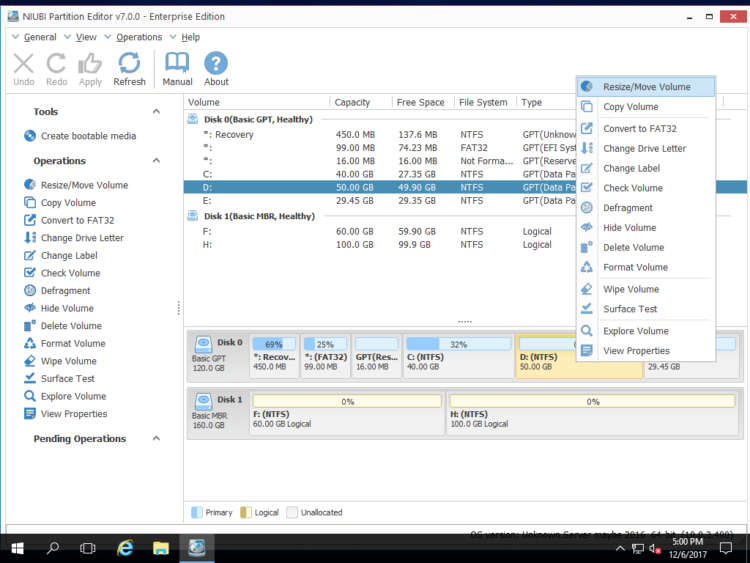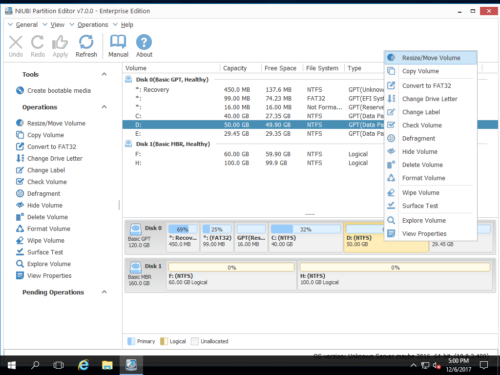 Step 2: In the pop-up window, drag left border rightwards to take free space out from D.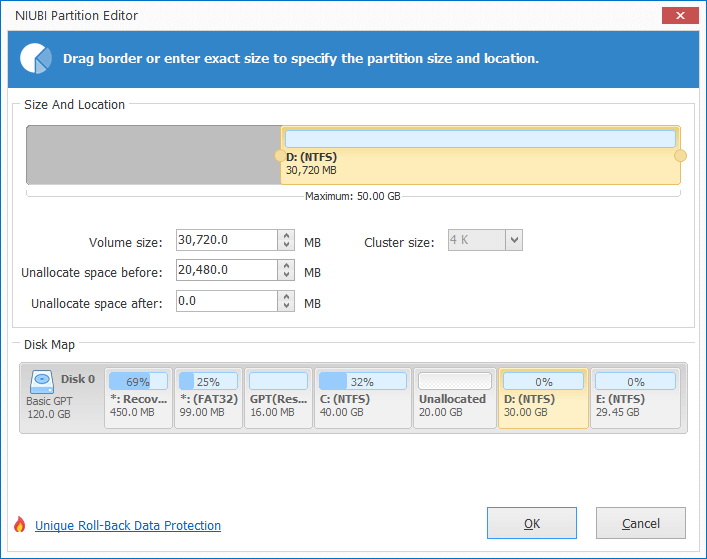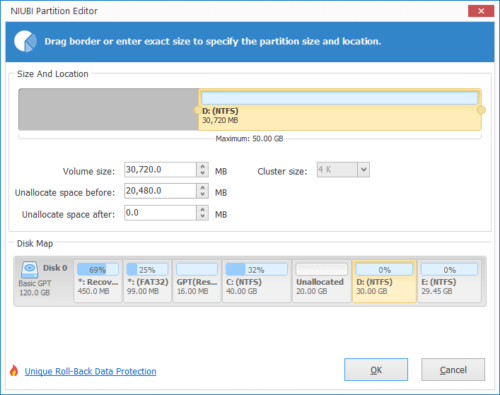 Click OK and back to the main window, 20GB Unallocated space created behind C: drive.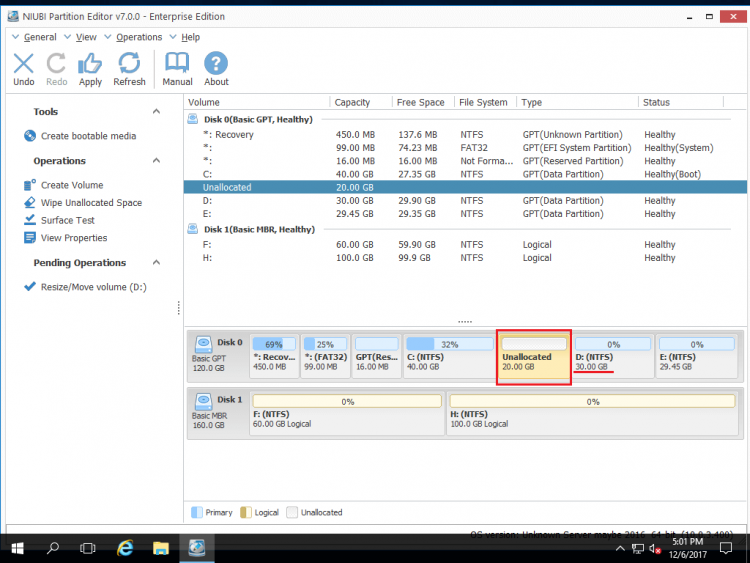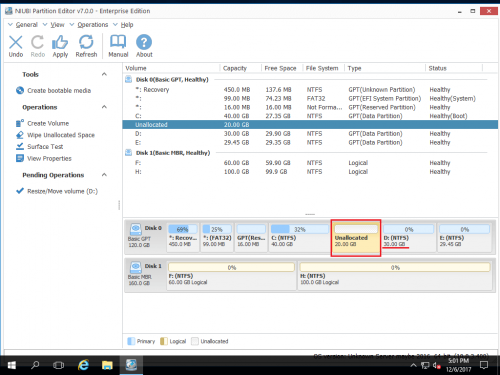 Step 3: Right click C drive and select "Resize/Move Volume" again. In the pop-up window, drag the right border rightwards to hold the Unallocated space.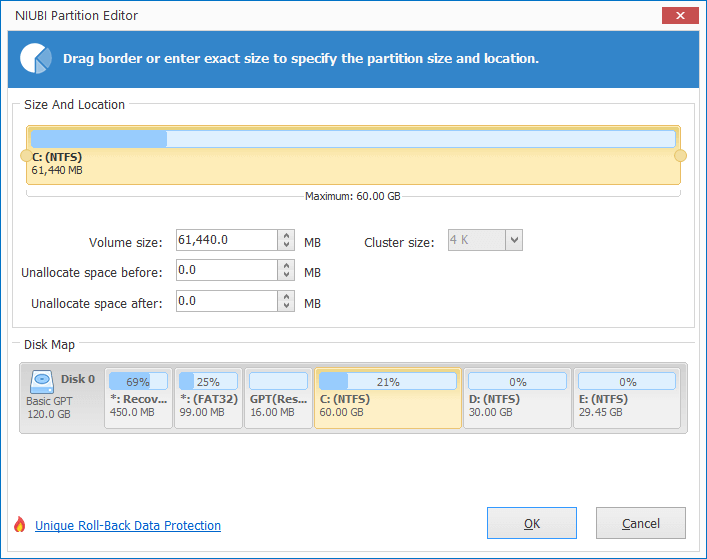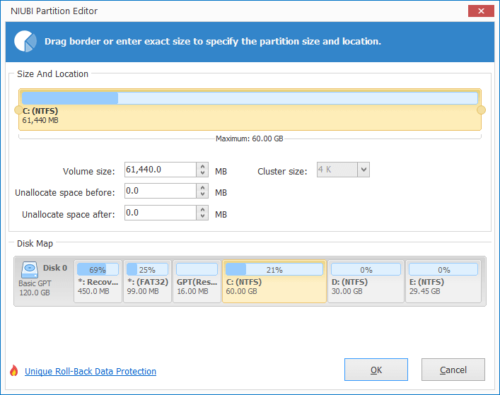 Step 4: Click OK and back to the main window, C drive increased to 60GB by adding the Unallocated space. Click Apply on top left to execute, done.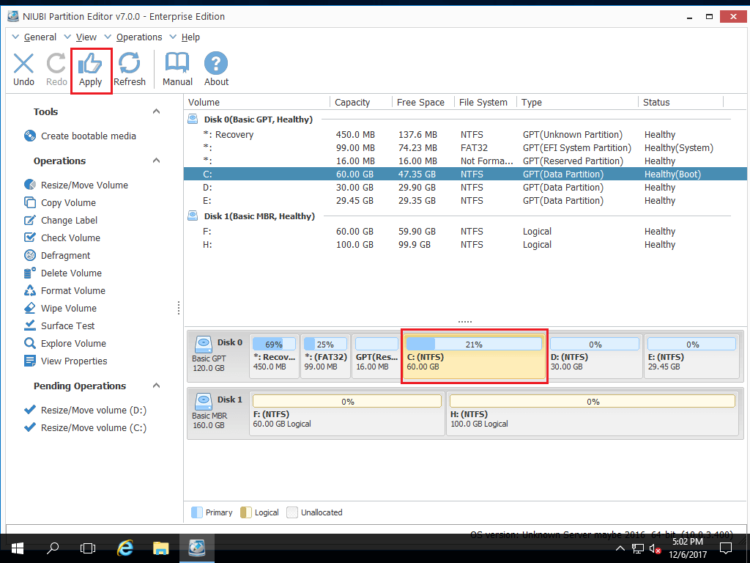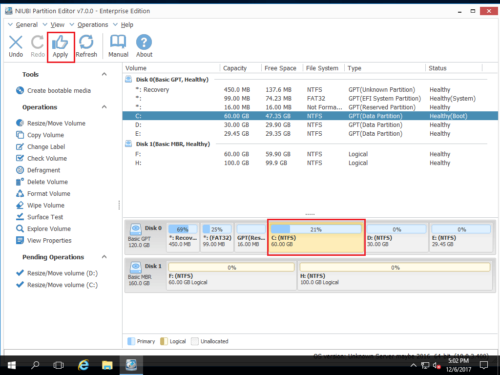 If there is not enough free space in the adjacent partition D, you can get from any other drives in the same disk.
NIUBI Partition Editor integrated unique Roll-Back protection technology, which can ensure 100% data safety. Because it is able to roll back the server the status before resizing automatically and rapidly, even if power failure or other issue occurred during resizing. So it is recommended as the safest partition software for server. Besides, it is 30% – 300% faster than other tools because of its unique file-moving algorithm.
In summary
When Windows Server 2016 running low disk space and C drive shows red bar, try to reclaim disk space with Windows built-in Cleanup as fast as possible, and then increase C drive free space.