Server partition manager software for Windows Server
Looking for Partition Manager Server that works on Windows 2003 Server (R2)? In this article, I'll introduce the widely-used Server 2003 partition Manager software for Windows Server 2003 (32 & 64 bit).
What does Windows Server 2003 partition Manager do?
Generally speaking, you need Server 2003 partition Manager to optimize the usage of your Windows server hard disk space. A typical example is that the system C drive running out of space, so you need to merge, resize or extend your Server partitions without losing data to fix this problem.
With the advanced features of Windows Server 2003 partition Manager, you can maximize the Server's performance, for example, Create, Format, Delete, Copy, Wipe, Hide, set Active partition, Defrag, Check partition and much more.
Partition Manager Server 2003
NIUBI Partition Editor Server is a magic ALL-IN-ONE server partition software for Windows Server 2003, 2008, 2011, 2012, 2016 both 32 and 64 bit. It performs basic partition management operations to create, delete, format partition, change drive letter, etc. Advanced management to resize/move existing partition without data loss, copy, hide, set active, convert, defrag, check partition and much more.
The unique and most important features of this Server 2003 Partition Manager:
1 Second RollBack protection – it is able to automatically roll back the server to the status before resizing in ONE second, if any software error or hardware issue including power failure occur during resizing operation. It is the Only partition software that can ensure 100% system and data intact, so no longer to worry about data safety.
Unique file-moving algorithm – in some situations the partition software should move files especially when shrinking volume D, the unique file-moving algorithm helps resize partition 30% to 300% faster than any other tools, so it save much time.
Cancel at will – with this unique technology, you can cancel any executing operations without losing data. Most of other utilities won't allow or cause data loss if you cancel resizing when it executed over 50%.
Hot Resize – you can extend NTFS partition in Windows without reboot to reduce server offline time.
Virtual Mode – to avoid mistake, all operations before clicking Apply only work in virtual mode, you can preview, cancel and redo any steps.
Because of its data protection and fast resizing ability, stability, easy to use and powerful features, NIUBI Partition Editor Server is recommended as the best server partition software by many professional editors.
How to repartition 2003 Server with this partition manager
Download
Partition Editor Server, you'll see all connected disk partitions, as well as capacity and free space of each volume.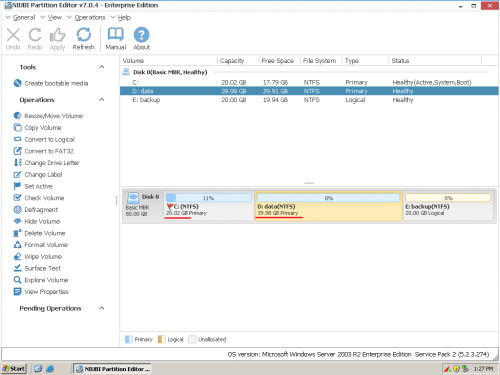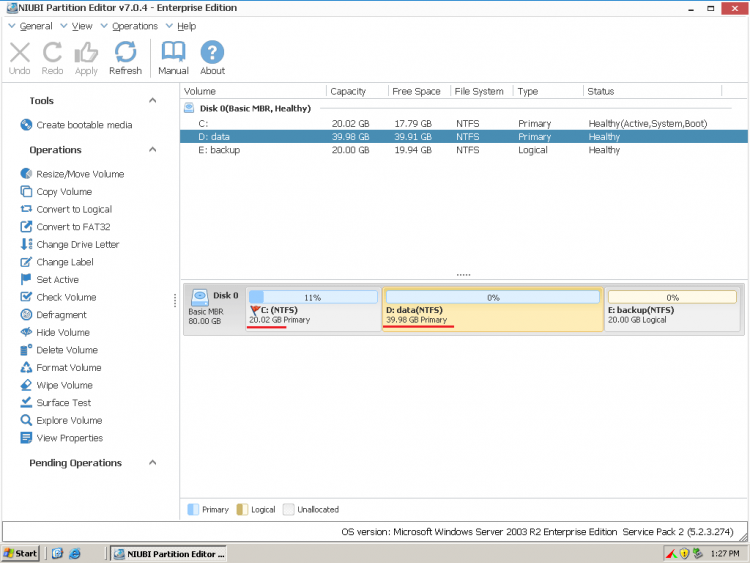 Step 1: Right click D and select "Resize/Move Volume", in the pop-up window, drag left border rightwards to shrink it.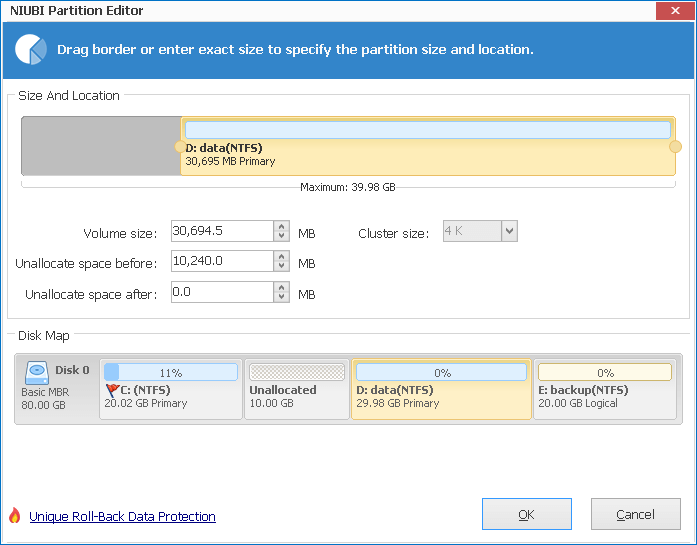 Click OK, 10GB Unallocated space generated behind C: drive.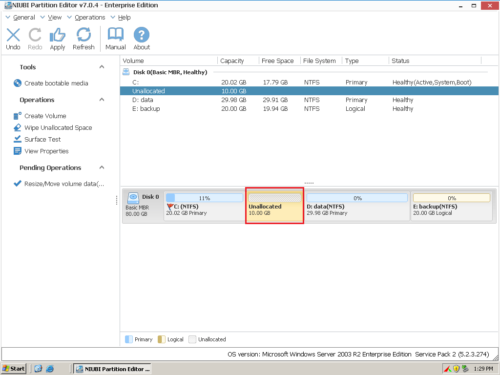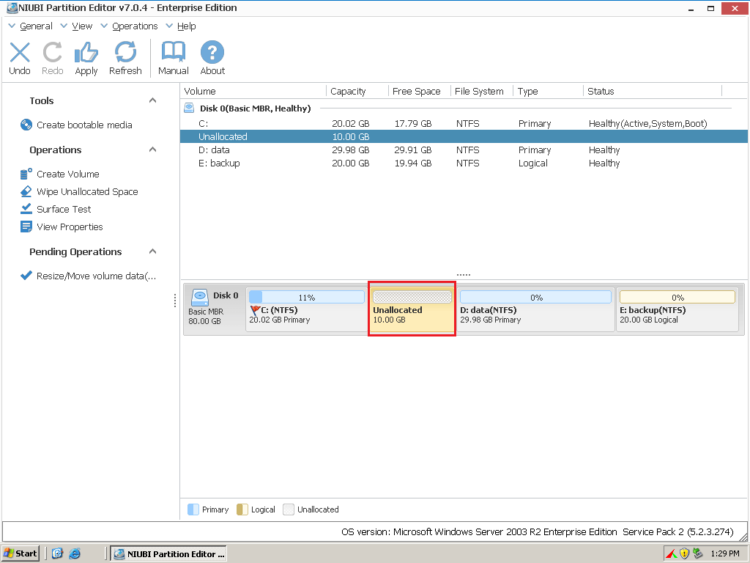 Step 2: Right click C and select "Resize/Move Volume" again. In the pop-up window, drag the right border rightwards to hold the Unallocated space.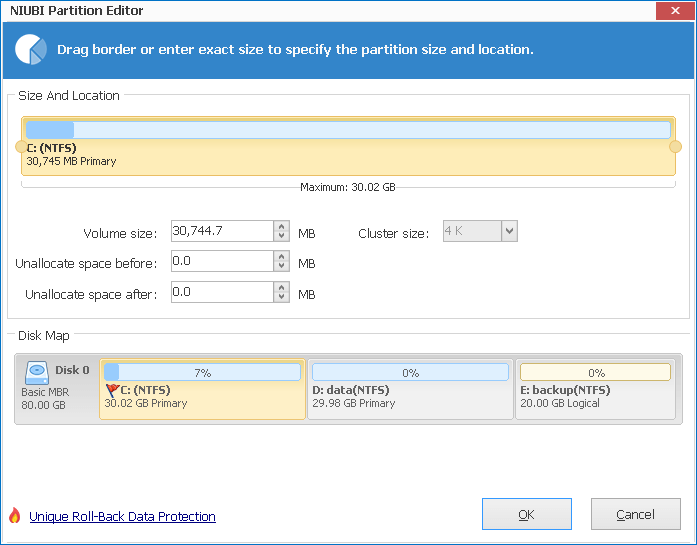 Step 3: Click OK, C drive increased to 30.02GB by getting 10GB free space from D, click Apply on top left to execute, done.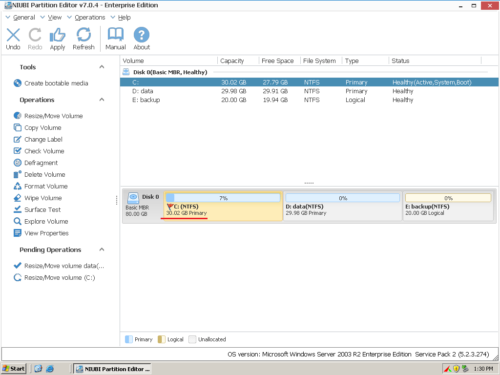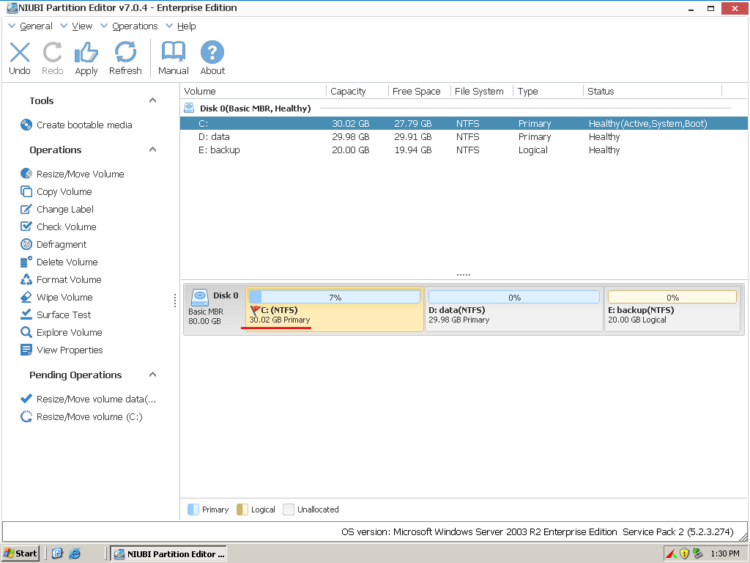 If there is not enough free space in the adjacent volume, you can get free space from any other volumes in the same disk. (Watch the video how to repartition hard disk)
Other benefits of Windows Server 2003 Partition Manager
Easy to use, just dragging and drawing on the disk map to resize, merge partitions.
Trusted product, many Fortune 500 companies select it to maintain their Servers.
90-day money back guarantee.
Free lifetime technical support and after-sale service & Fast Live Support.
Special Server partition manager
For enterprise users, Enterprise Edition can be installed on unlimited PCs and servers within your company (regardless or locations) to save time and cost.
If you are IT technical service provider, Technician Edition can be used to provide profitable service to unlimited companies and individuals.