How to expand/resize/extend C drive on VMware Server
Resize/extend C drive VMware Server
VMware is the most popular Virtual Machine software for now. It is easy to use and works like a physical computer. The most common problem of VMware is related to disk partition space. For example, after a period of time, you may find the system C drive running out space, so you have to resize/extend C drive VMware Server. To most of the people, it is extremely hard to extend C drive on VMware Server.
Common VMware Server disk partition space problem
1. System C drive runs out of space on the virtual disk and you need to expand it.
2. The VMware virtual disk is too small when you create it, now you need to extend the entire virtual disk.
3. Both the entire virtual disk and the system partition is too small, so you cannot extend C: drive by shrink other virtual data partitions.
No matter you use VMware workstation or VMware Server, to solve the problems above, you just need one tool - Partition Assistant Server. It is extremely easy to use, just drag and move on the disk map to resize and extend partitions. After several minutes, you'll have a "new" virtual Server without other operations.
How to extend C drive of Windows Server on VMware Workstation or Server?
Step 1, Launch Partition Magic Server, you'll see all disks and partitions that connected to your Server and free space, used space and other properties of each partition.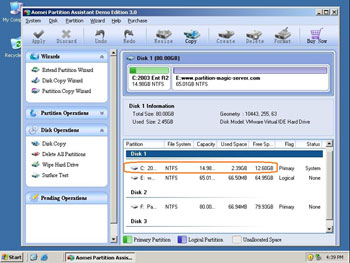 Right-click the data partition and select "Resize", in the pop-up window, drag the left border rightwards to shrink it.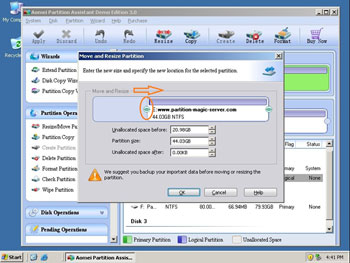 There will be some Unallocated space behind the system partition.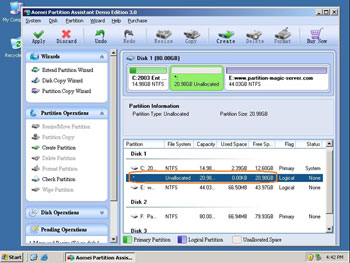 Step 2, Right-click the system partition and select "Resize", in the pop-up window, drag the right border rightwards to hold the Unallocated space.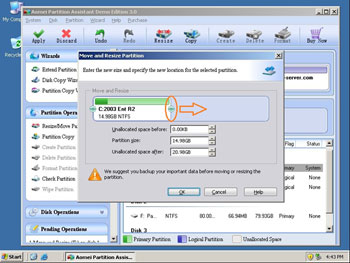 Click "Apply" to proceed, done.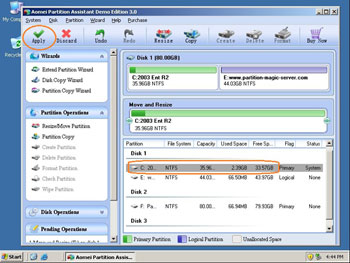 Now you have a "new" Server that can be used for a long time again.
How to allocate free space from any data partition and add to C drive?
How to extend entire virtual disk space?
Step1: Open up Run dialogue from the start menu (Start -> Run) or hold down the Windows key and press R. Type "cmd" and hit enter to open up the Command Prompt.

Step2: Run VMware disk manager tool, the format is like this: "AA\vmware-vdiskmanager.exe" –x BB.GB(MB) "CC\DD.VMDK".

AA: The absolute path of vmware-vdiskmanager.exe (for example C:\Program files\Vmware Workstation or C:\Program files\Vmware Server)
BB: What size you want to extend the VMware virtual disk to
CC: The absolute path of the virtual disk you want to extend
DD: The name of the virtual disk want to extend
Input the command and press enter to proceed, after that, the virtual disk will be extended and there will be "BB.GB(MB) Unallocated space at the end of the virtual disk.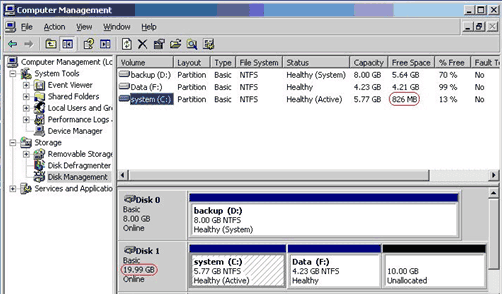 How to extend entire virtual disk and C drive?
After extending the virtual disk, the new disk space will be added to the end of original virtual drive and displayed as Unallocated, which can be used to extend the system C drive.