Extend C drive in Windows Server 2003 without data loss
This article introduces how to resize partition and extend system C drive on Windows Server 2003 (R2). NIUBI Partition Editor can help you expand C drive 100% safe, fast and easily.
Low disk space in C drive
Today's hard drives feature jaw-dropping amounts of space. But no matter how big your drive, you'll be amazed at how quickly application installs, browser caches, and temporary files eating up your free space and clutter your system. When C drive is running out of space, Windows XP and Server 2003 displays the Low Disk Space warning – "You are running out of disk space on Local Disk (C:). To free space on this drive by deleting old or unnecessary files, click here."

Windows create the low disk space warning to alert computer users to indicate there is not enough space on the disk. When this warning pop up, it means that you will suffer a big risk of data loss and low work efficiency with the computer. The typical reason is without enough space for the system, the computer will not work efficiently and stably. Besides, defragment and more installation are not available.
You'd better fix this problem as fast as possible, the earlier and the better, as no one wants to see the System crash, in that case, you have to start over and keep the Server under offline for a long time.
Extend C drive in Windows Server 2003
You may consider freeing up disk space with Windows Cleanup utility, but it can only free up a little space in some cases. Don't try to delete Windows files or those files that you are not familiar with.
The best way to solve this problem is to extend C drive on Windows 2003 Server to optimize disk space usage. That is to say, shrink an existing data partition and get some Unallocated space to add into C drive. The first thing you should do is selecting a reliable and safe partition software, otherwise, there is risk of losing data while resizing partitions.
Expand C drive with reliable partition software
Data is most important to a server, so you should pay more attention to data safety. To resize volume and extend C drive, all partitioning software will modify parameters of related disk, partition and files, it also move all files in the partition in some condition. If anything cannot be handled by the software, it may cause system boot failure and data loss. Besides software related error, hardware issue such as low RAM memory, high CPU usage, especially power failure also could cause data loss.
To ensure 100% system and data safety, NIUBI Partition Editor is the only choice. It is integrated unique Roll-Back technology that is able to automatically roll back the server to the status before resizing in ONE second, if any software error or hardware issue occur while resizing volumes. Furthermore, its unique file-moving algorithm helps you resize partition and extend C drive at least 30% faster than any other tools.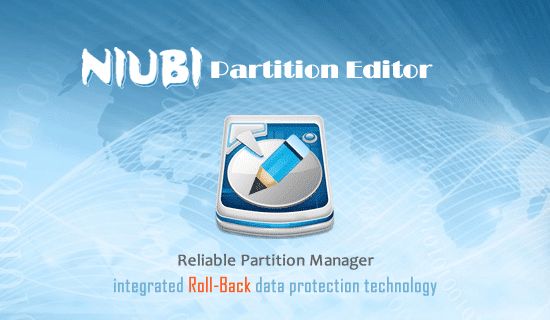 How to extend C drive in Windows Server 2003?
It is extremely easy to resize, extend partition with the server partition software, you just need to drag and move on the disk map to shrink an existing data partition to get some Unallocated space, and transfer to C drive, no other operations are required. If you use any types of hardware RAID array, such as RAID 0, 1, 5, the steps are the same, do not break RAID array or do other operations in raid controller.
Steps to extend Server 2003 C drive:
Download
Partition Editor Server, you'll see all connected disk partitions, as well as capacity and free space of each volume.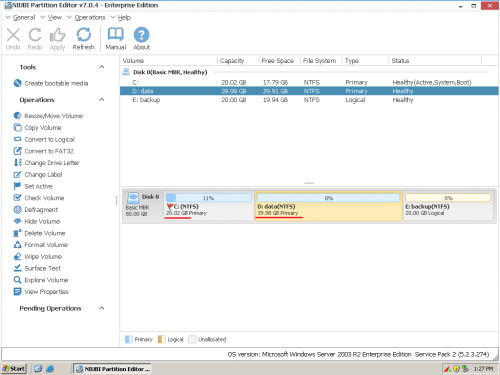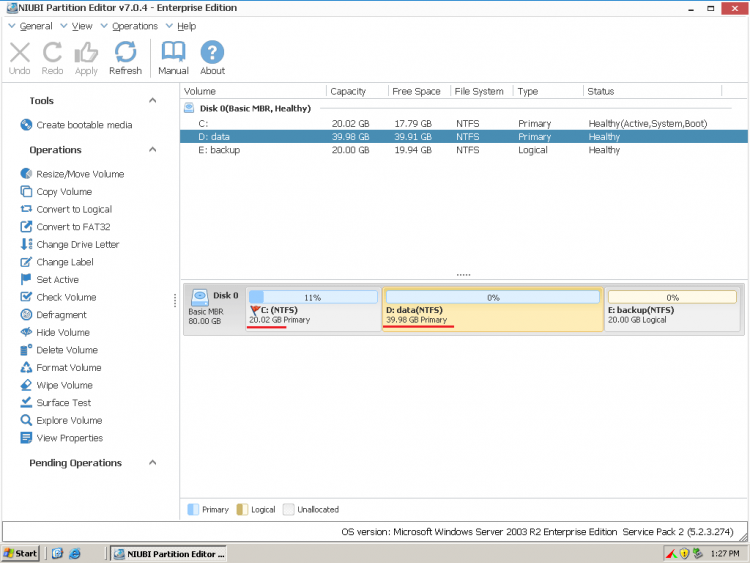 Step 1: Right click D and select "Resize/Move Volume", in the pop-up window, drag left border rightwards to shrink it.

Click OK, 10GB Unallocated space generated behind C: drive.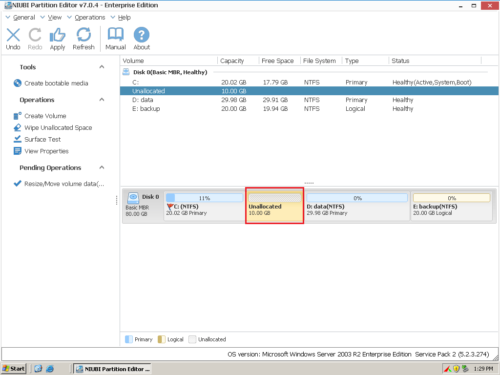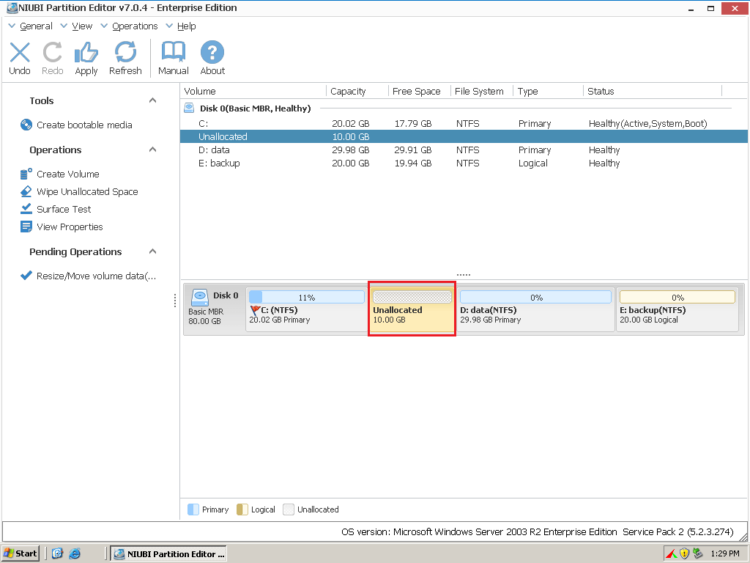 Step 2: Right click C and resize "Resize/Move Volume" again. In the pop-up window, drag the right border rightwards to hold the Unallocated space.

Step 3: Click Apply on top left to execute, done. C drive increased to 30.02GB by getting 10GB free space from D,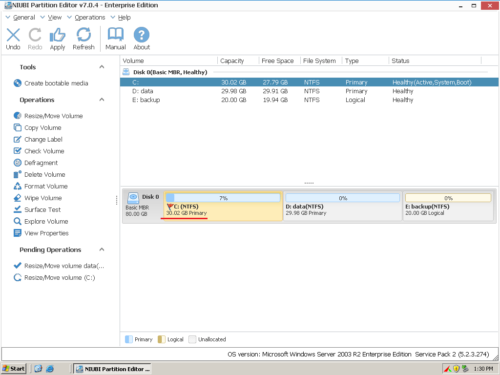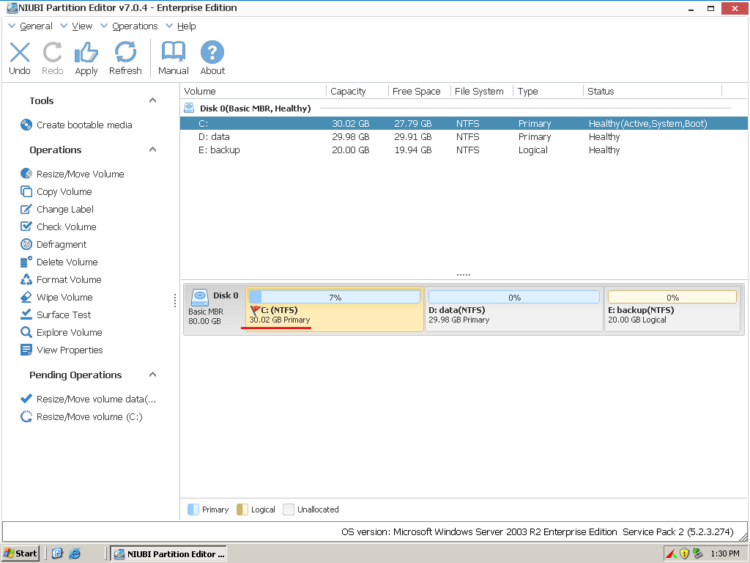 Note: all server partition manager software are commercial, that means you need to buy a license. Watch the video how to resize and extend volume on Windows Serve with registered version.
If you manage many servers, the Enterprise Edition can be installed on unlimited servers and PCs to save time and cost.