What is Partition Magic?
Partition Magic is a computer program for partition management from Power Quest corporation, which was acquired by Symantec in 2003. The program runs on Microsoft Windows Operating Systems or from a bootable CD-ROM. Partition Magic is compatible with Windows NT, 98, ME, 2000, and XP desktop editions. With Partition Magic, you can resize partition, merge partitions without data loss.
For Windows Server, you need Server Magic, but it doesn't support Windows Server 2008 and later editions, since being acquired by Symantec, Server Magic has not been upgraded. So Server Magic is not able to extend, resize Server partition under any advanced Operating System, such as Windows Server 2008/2012/2016.
Partition Magic Server 2008 Alternatives
Fortunately, there are Server Magic alternative for Windows Server 2008, with which you can also resize, merge, extend partitions without data loss.
Comparing with PowerQuest Server Magic, NIUBI Partition Editor Server Edition supports more Operating Systems. It is compatible with Windows Server 2003/2008/2012/2016 and SBS 2003/2008/2011. Hardware RAID, internal/external hard drive, removable storage are all supported.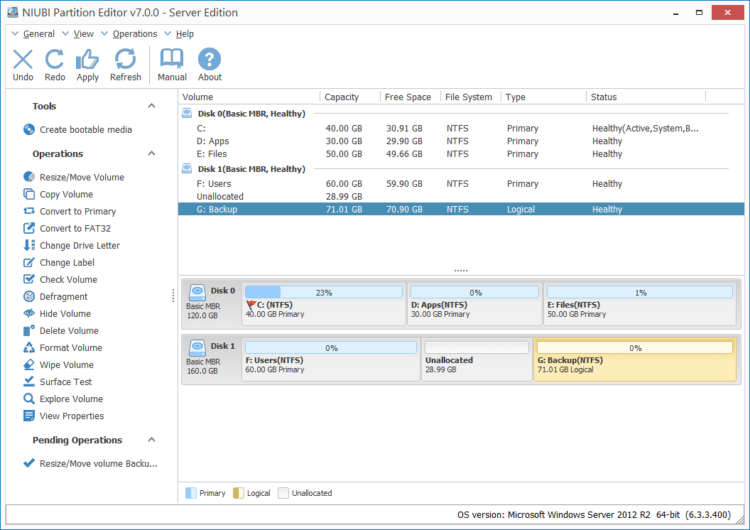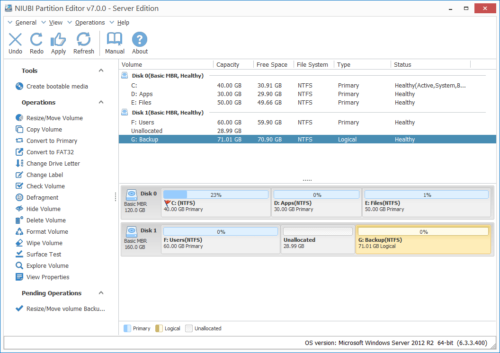 As Partition Magic Server 2008 alternative, Partition Editor Server Edition is an ALL-IN-ONE Windows Server partition solution and reliable disk management toolkit. It provides powerful features, such as resize existing volume, create, delete, format, copy, convert, defrag, explore, check disk partition and much more.
Ensure data safety with Partition Magic Server 2008
The security and stability are undoubtedly the most significant aspects for server computers since a server computer usually stores the most important classified and daily-used files. However, even a slight error on server computer might directly leads to exposure of the whole network to the outside. A bad designed software may cause system boot failure or data loss.
Based on the unique Roll-Back protection technology, NIUBI Partition Editor can ensure 100% data safety, because it is able to roll back the server to the status before resizing automatically and rapidly. You don't need to worry about data safety, even if power failure or other hardware issue occurred during resizing.
Furthermore, it is 30% – 300% faster that other tools because of its unique file-moving algorithm. So it is recommended as the best partition magic alternative for Windows Server 2008
Resize Server 2008 partition without rebooting, fast and safely
Step 1: Download NIUBI Partition Editor, right click drive D: and click "Resize/Move Volume".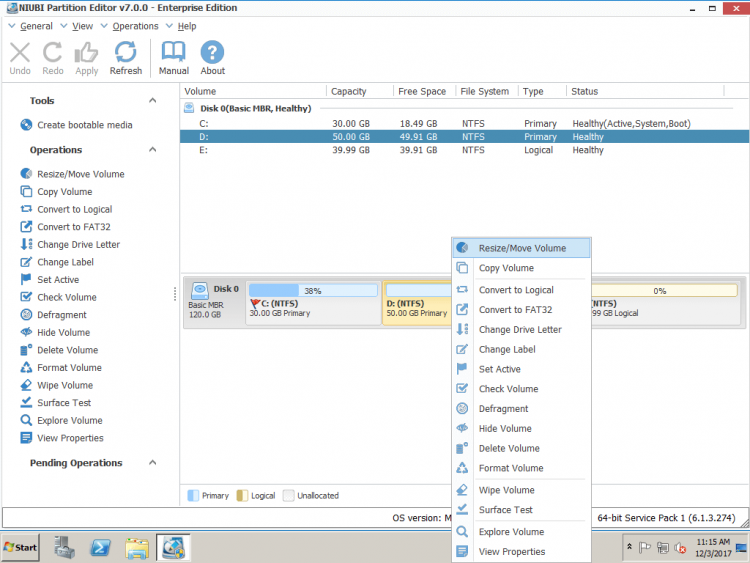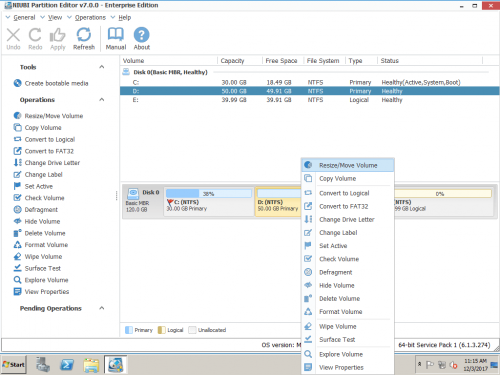 Step 2: In the pop-up window, drag the left border rightwards to generate free Unallocated space.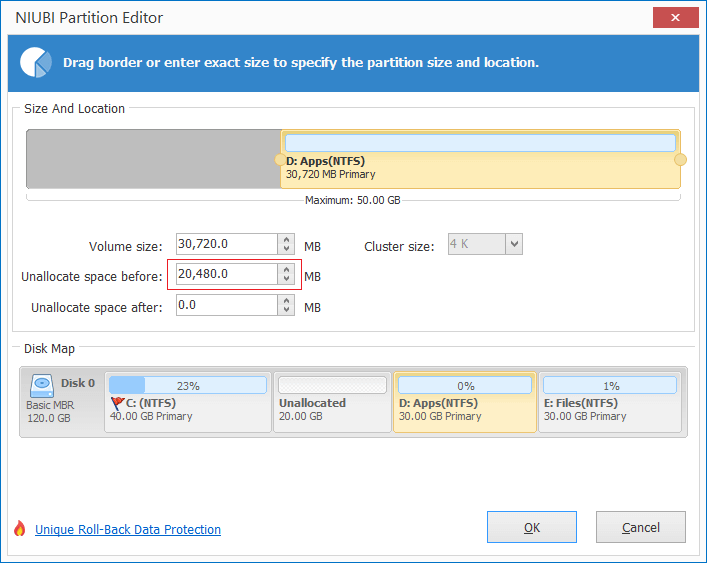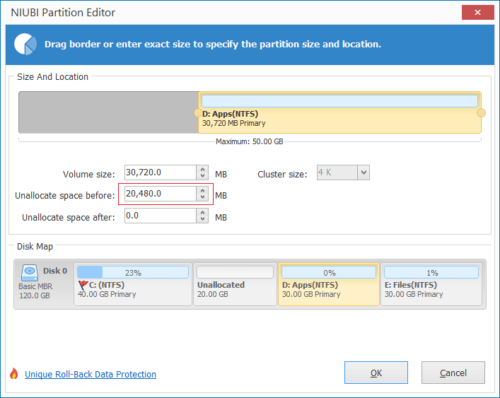 Click OK and back to the main window, where 20GB Unallocated space created behind C: drive.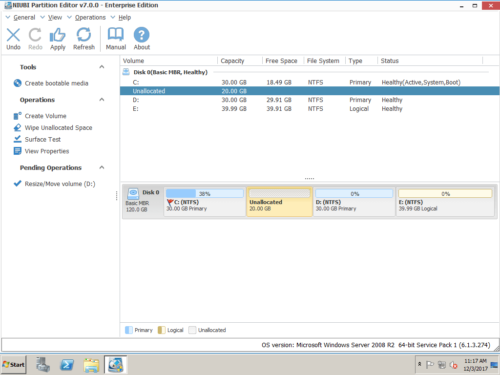 Step 3: Right click C drive and select "Resize/Move Volume" again, in the pop-up window, drag the right border rightwards to hold the Unallocated space.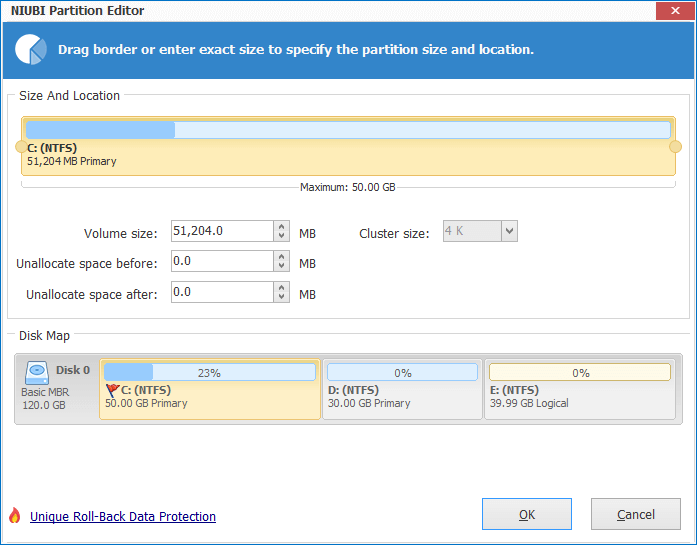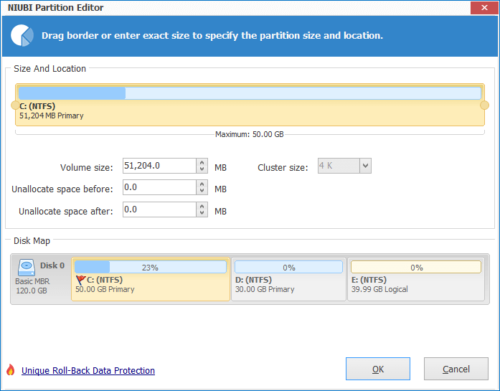 Step 4: Click OK and back to the main window, where C drive increased to 50GB by holding the 20GB free space from D. Press Apply on top left to execute, done!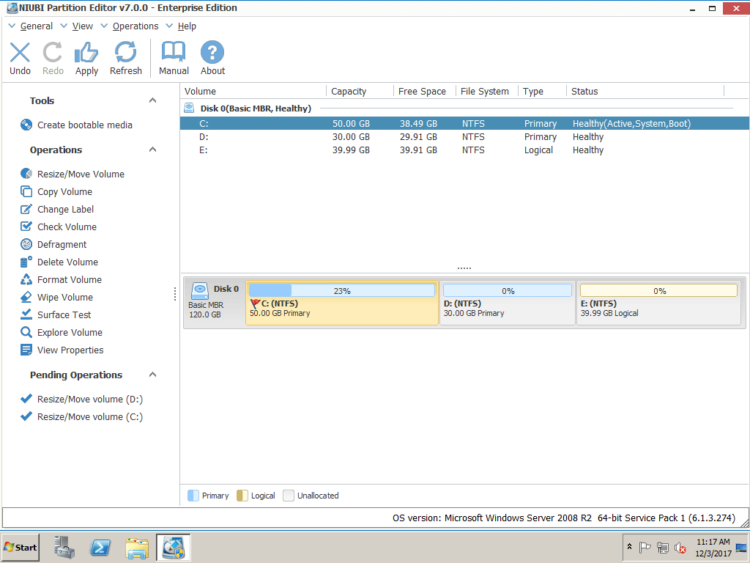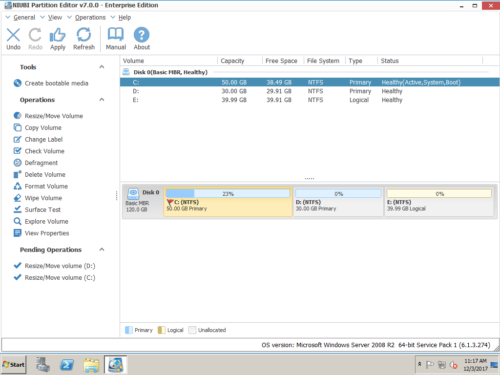 If there is not enough free space in D, simply get free space from other drive in the same disk.
As the best Windows Server 2008 partition magic alternative, NIUBI Partition Editor supports all kinds of local and removable hard disk, USB disk and memory cards, VMware and Hyper-V virtual machines, as well as all types of hardware RAID, such as RAID 0, 1, 5, 10.
Note: For enterprise users, Enterprise Edition allows unlimited usage within your company to save time and money.