How to resize partition in Windows 2012 server
Updated on: May 13, 2021
To many Windows users including server administrators, it is a headache when they need to change size of allocated partition. Some people want to shrink a large volume to create more, some people want to extend partition. The most common disk space issue is C drive running out of space. Many people ask whether it's possible to resize Server 2012 partition and extend C drive without losing data or reinstalling Windows and programs. To accomplish this task, remember to make a backup in advance and run safe disk partition tool. In this article, I'll share you everything about partition resizing in Windows 2012 server.
Resize partition with Server 2012 Disk Management tool
The same with previous Server 2008, Windows Server 2012 has a native Disk Management tool. Besides basic ability to create, format and delete partitions, it has advanced Shrink Volume and Extend Volume functions to help adjust partition size.
First of all, you should know that Disk Management is not 100% safe, although it's built in Windows. I've encountered at least 3 times that Disk Management destroyed my partitions when shrinking. Secondly, comparing with third party disk partition tool, Disk Management has many shortages.
Limitations of Disk Management to resize Windows 2012 server partition:
It can only resize NTFS partition, FAT32 and any other types of partitions are not supported.
It cannot change the start position of a volume, therefore, it can only shrink a partition towards left and make Unallocated space on the right.
If there are unmovable files or due to other reasons, it cannot shrink partition even if there's plenty of free space.
When extending a partition, there must be adjacent Unallocated space on the right, otherwise, Extend Volume option is grayed out. In other words, it cannot extend Unallocated space to the right contiguous or any nonadjacent partition.
If you don't like to use third party software and just want to shrink a NTFS partition, you may give Disk Management a try.
Press Windows and X keys together and then click Disk Management.
Right click a NTFS partition and select Shrink Volume.
Click Shrink button to shrink this partition with maximum available space, or enter a specified amount by yourself.
Using Disk Management, you cannot extend a partition by shrinking another one. For example, after shrinking D drive, Unallocated space is on the left of E drive and is nonadjacent to C drive, therefore, Extend Volume is grayed out to both partition.
Preparations before resizing Windows 2012 server partition
1. Find out your disk partition structure
If you want to extend a partition by shrinking another one, these 2 partitions must be on the same disk, no matter physical or virtual disk. If you open Files Explorer, you can see all partitions but don't know which partitions are on the same disk. Instead, you need to check in Disk Management.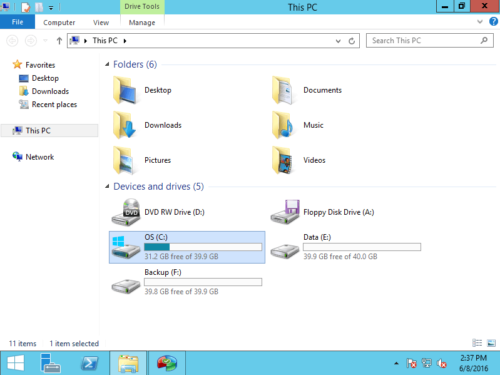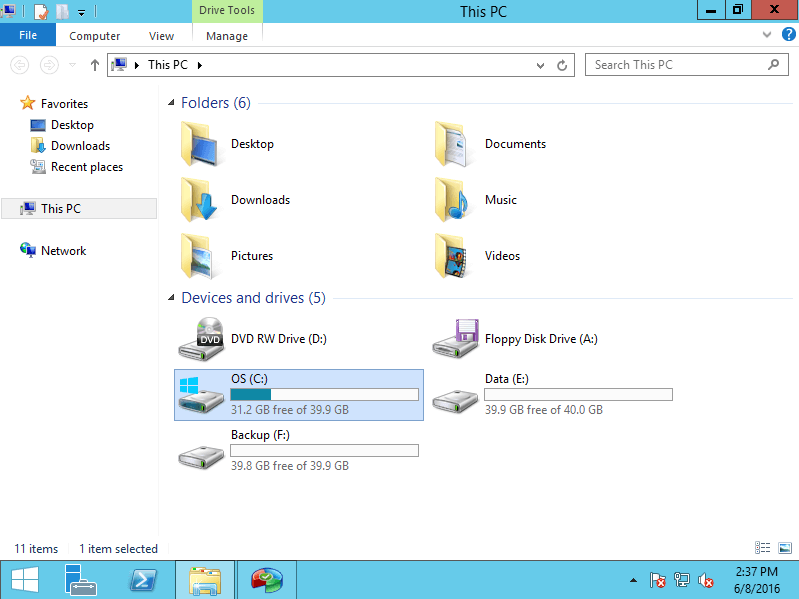 In Windows Server 2012 Disk Management console, you'll see more detailed information, such as disk partition layout, partition type, partition capacity and free space, etc.
2. Take care of your system and data
Most of server administrators know the importance to make backup before any operation to a server, but few know the importance to select a reliable partitioning tool. There's potential system damage and data loss risk when resizing partition in Windows 2012 server. If it happens, it costs such a long time to restore and verify.
Better than other tools, NIUBI Partition Editor has Virtual Mode, Cancel-at-well and 1-Second Rollback technologies to protect system and data. Virtual Mode lists all operations as pending before applying to real disk partition. With Cancel-at-well, you can cancel the ongoing operations without causing damage. 1-Second Rollback helps roll back server to original status in a flash if it detects any know error.
How to resize partition in Windows Server 2012 (R2)
Step 1: Download NIUBI Partition Editor, right click a NTFS or FAT32 partition (here is D: drive) and select "Resize/Move Volume".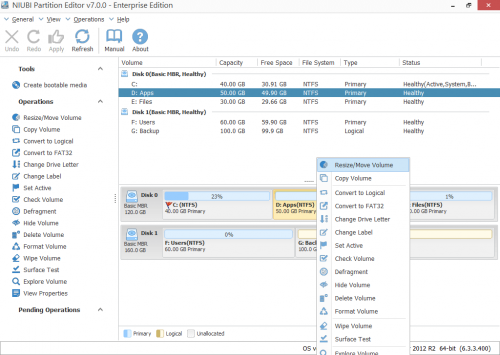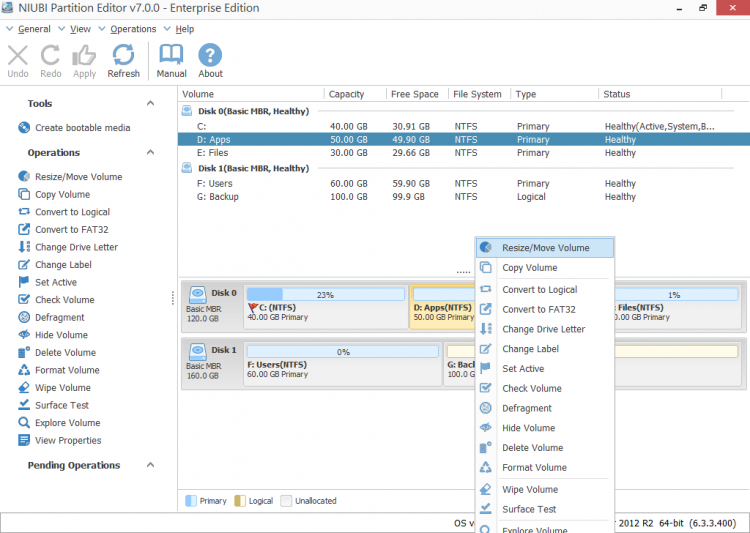 Step 2: In the pop-up window, if drag the left border rightwards, or enter an amount in the box of "Unallocated space before", Unallocated space is made on the left of D drive.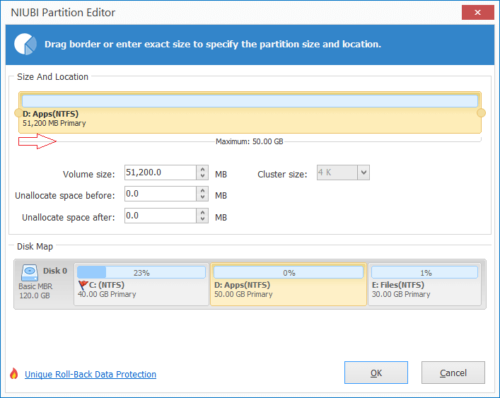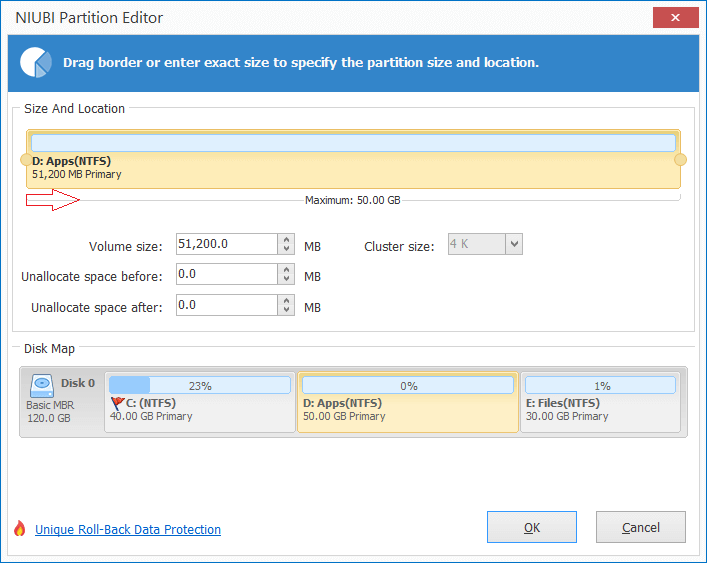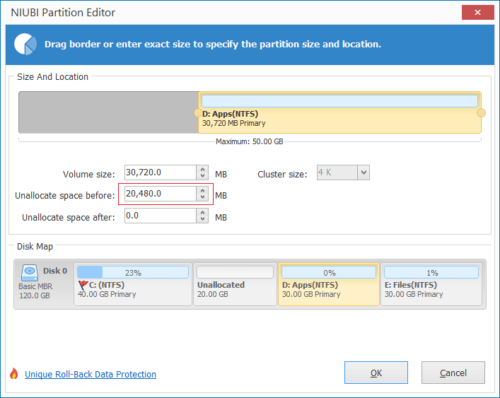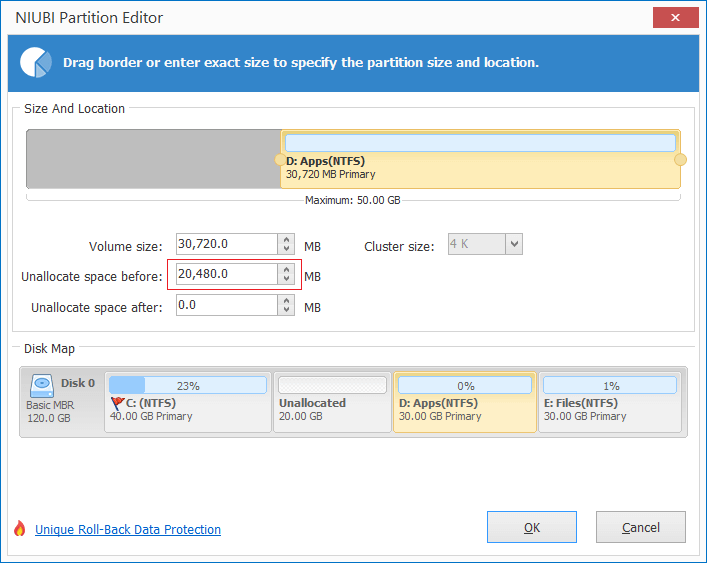 Click OK and back to the main window, there's a pending operation created on bottom left, click Apply on top left if you want to resize real partition like this. Otherwise, click Undo to cancel this operation.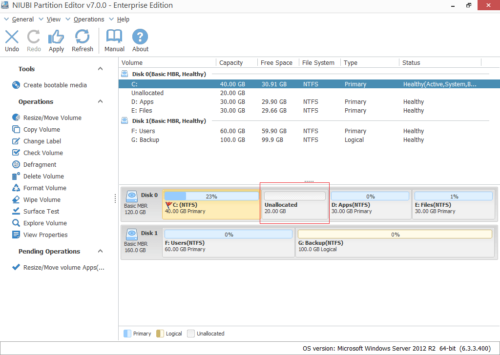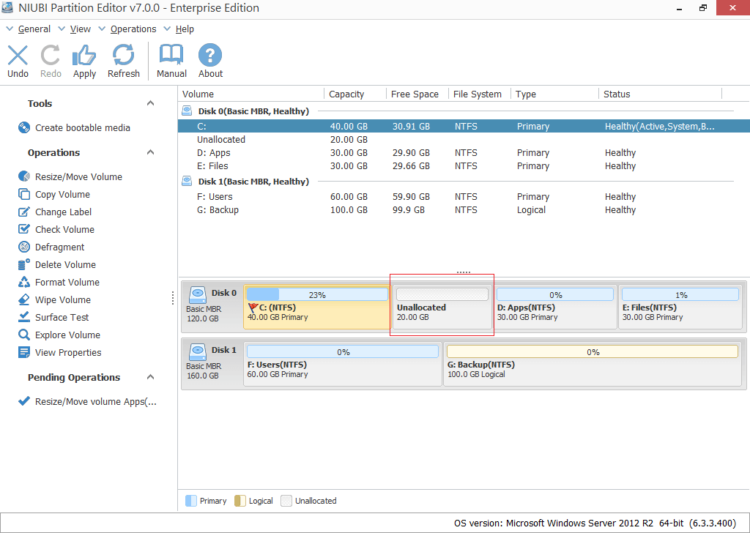 Step 3: Right click C drive and select "Resize/Move Volume" again. In the pop-up window, drag the right border rightwards to combine this Unallocated space.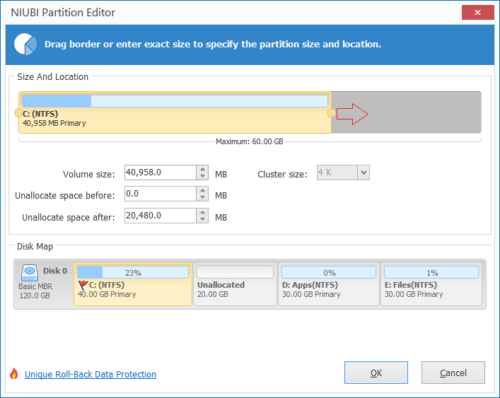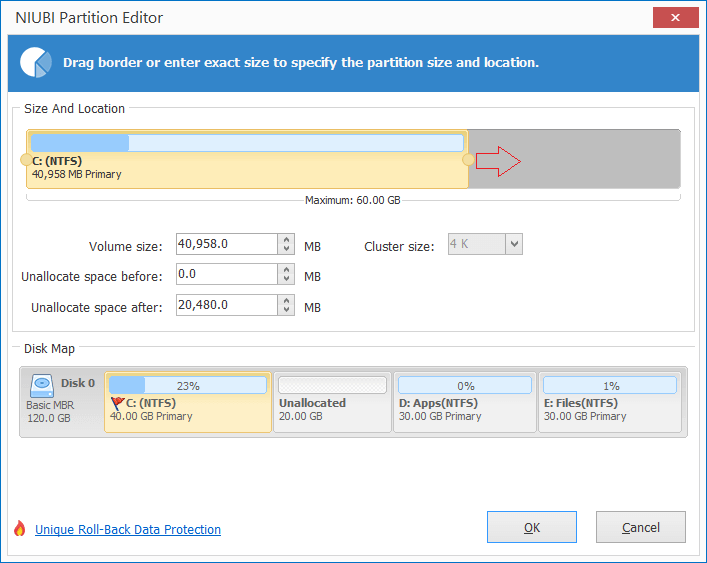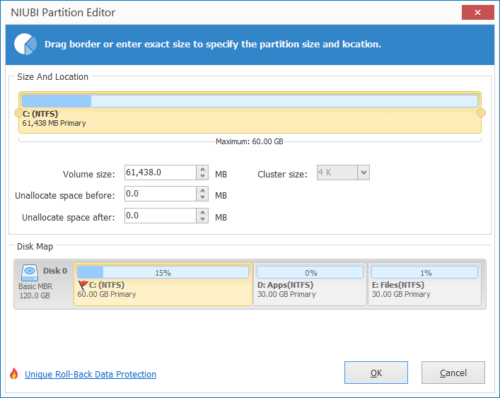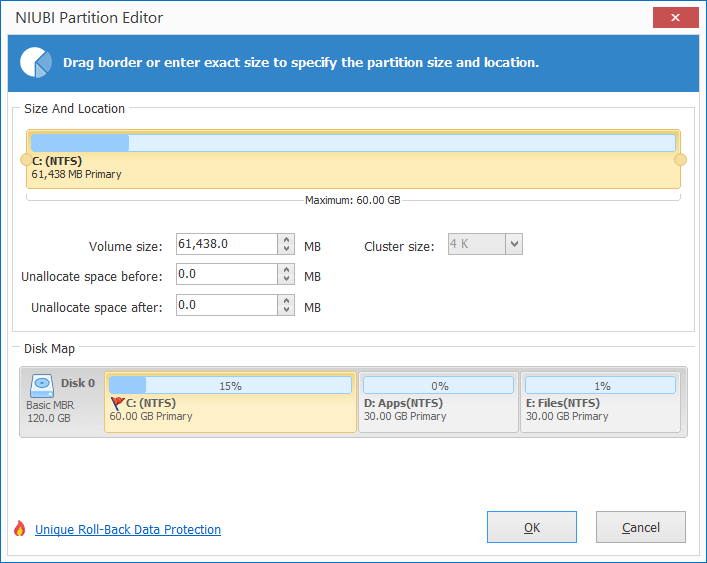 Step 4: Click OK and back to the main window, click Apply to take effect.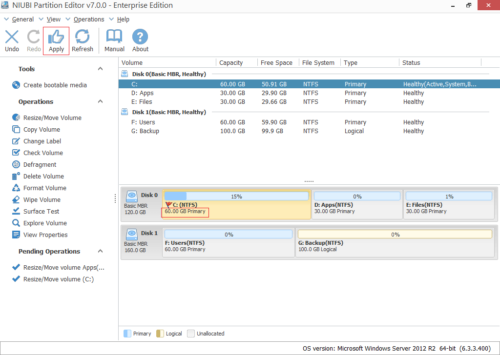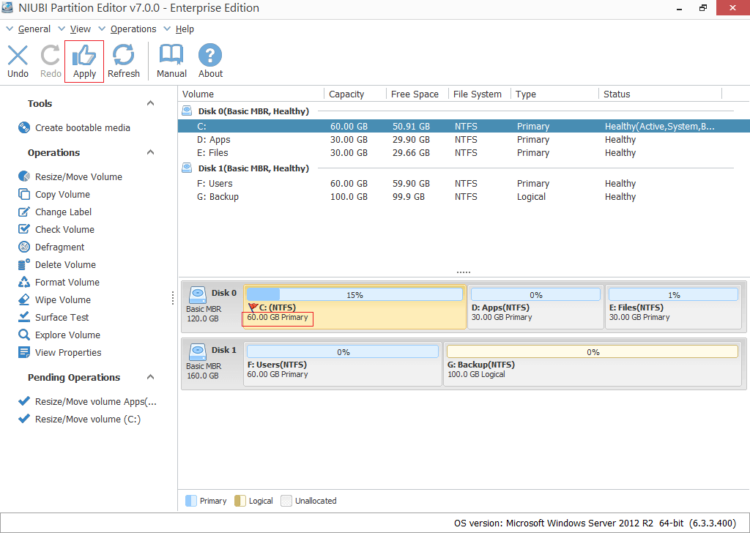 Tips when resizing partitions in Windows Server 2012 (R2):
If you want to shrink D to expand E drive, you'd better make Unallocated space

on the right

when shrinking D. To do this, right click D and run the same "Resize/Move Volume", in the pop-up window, you need to drag

right border towards left

.
If you want to extend C drive by shrinking E, make Unallocated space

on the left

when shrinking E. Before merging Unallocated space to C drive, there's an additional step to move partition D to the right.
If you use any types of hardware RAID array or run Server 2012 as guest virtual machine in VMware/Hyper-V, there's no difference, simply follow the same steps.
If you want to extend a partition but there's no available free space on the same disk, you can copy disk to a larger one and extend partition with extra disk space.
Video guide to resize volume in Windows Server 2012
Besides help resize partition in Windows Server 2012/2016/2019, NIUBI Partition Editor helps you do many other disk & partition management operations such as merge, copy, convert, defrag, wipe, hide partition, scan bad sectors, etc.