Extend system C: drive in Windows Server 2012 non-destructively
The same with previous Windows editions, After running Windows Server 2012 for a long time, you'll find that the system C drive becomes full and no free space to install Windows updates or applications. New technology make things easier, nowadays, you can extend the system C drive directly without starting from scratch. This page introduces how to extend system C: drive under Windows Server 2012 Disk Management console and using 3rd party partitioning software.
Extend C: drive in Server 2012 Disk Management
In Windows Server 2012 Disk Management console, you'll see the disk partitions that connected to this server, furthermore, you can do basic management, such as create, delete, format partition, etc. Beside the basic functions, the built-in "Extend Volume" and "Shrink Volume" can do some advanced partitioning operations. "Shrink Volume" is used to reduce the size of a partition and release unused space from it. "Extend Volume" can be used to extend a disk partition, however, there is limitation.
If there is adjacent Unallocated space behind, you can extend the system partition easily. Right click C: drive and select "Extend Volume", complete the Extend Volume Wizard.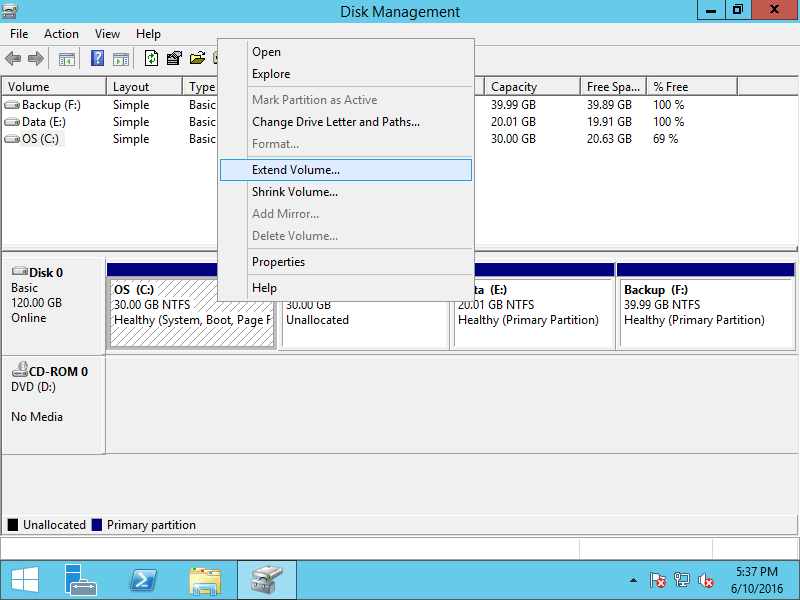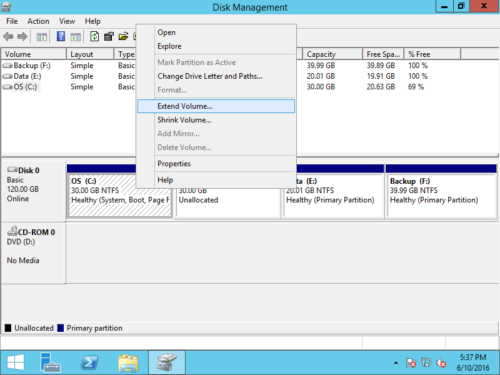 The scenario CANNOT extend C drive
You cannot extend a partition if there is no adjacent Unallocated space, such as below: (the Extend Volume function is grayed out when you right click drive E:)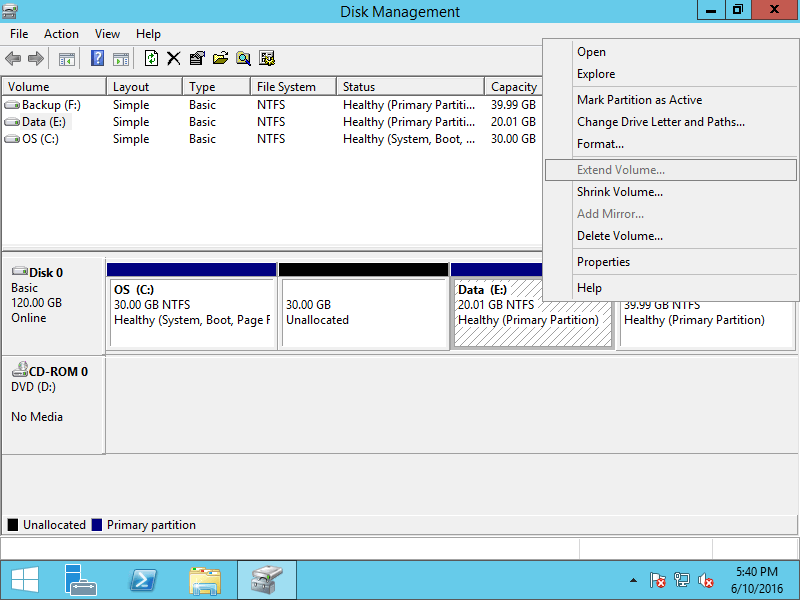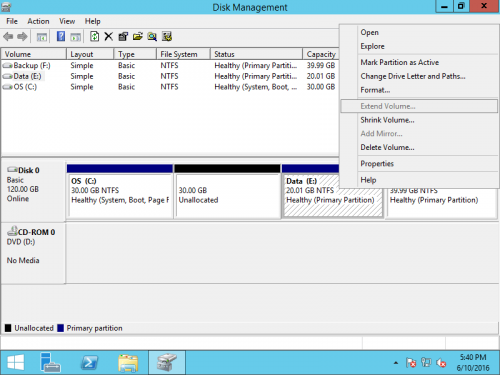 If you reduce drive E by Shrink Volume, the Unallocated space is behind E, which cannot be used to extend system C drive or the data partition F. So the only choice to extend system C drive in Disk Management is deleting the adjacent data partition to get Unallocated. It is NOT a good idea? The task becomes much easier if you use server partitioning software such as NIUBI Partition Editor.
Extend system partition with partitioning software
The first thing you should concern when selecting a 3rd party software for a server is its safety and stability. The server keeps the connection of your organization with the users, and it stores important data, so nobody would like to see damage caused by 3rd party program. NIUBI Partition Editor integrated unique Roll-Back Protection technology, which is able to roll back the server to the status before resizing partition, even if power failure or any other hardware issue occurred. So don't worry about Operating System and data safety.
Furthermore, the optimized file-moving algorithm helps resize partition 30% – 300% faster than ANY other tools, which is strictly tested.
Steps to extend C: drive in Windows Server 2012
Step 1: Download NIUBI Partition Editor, right click D: drive and select "Resize/Move Volume".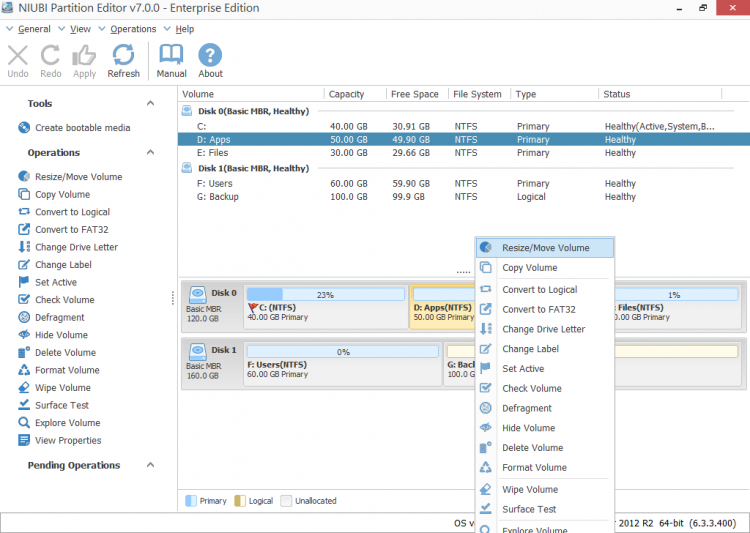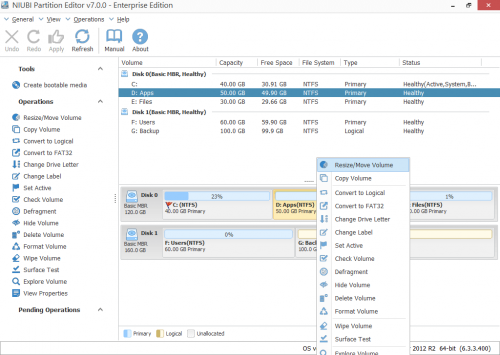 Step 2: In the pop-up window, drag the left border rightwards to generate free Unallocated space.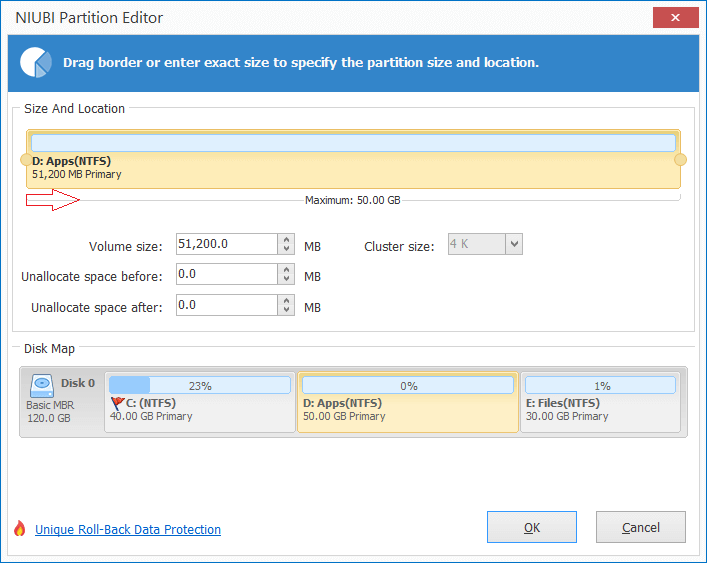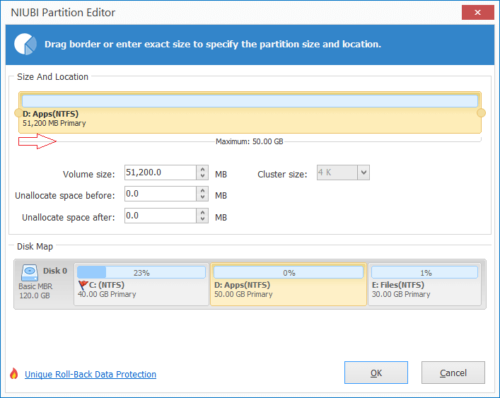 You may also input a value for the Unallocated space directly.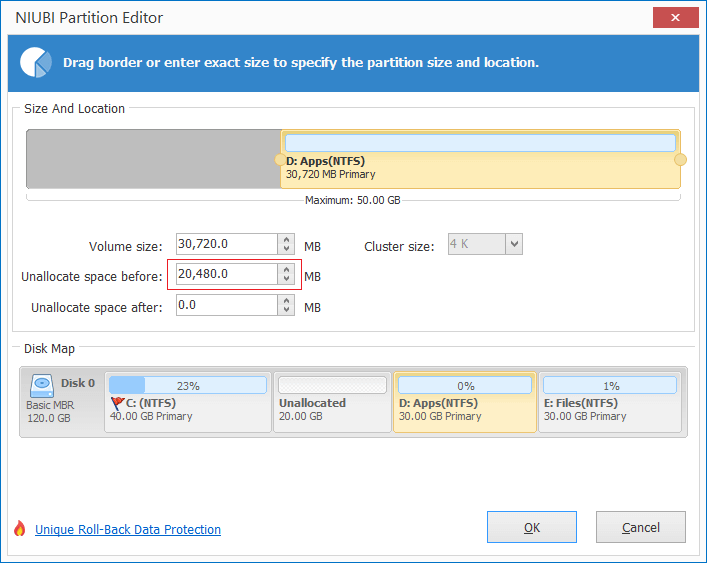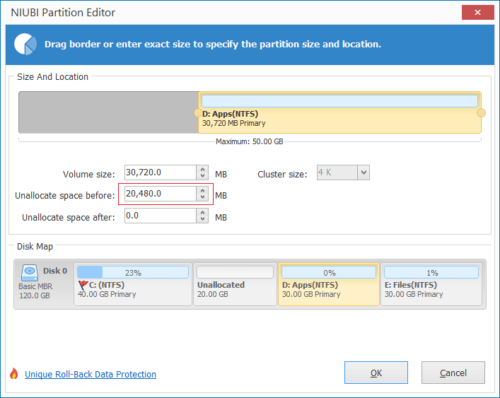 Click OK and back to the main window, where you'll see 20GB Unallocated space created behind C: drive.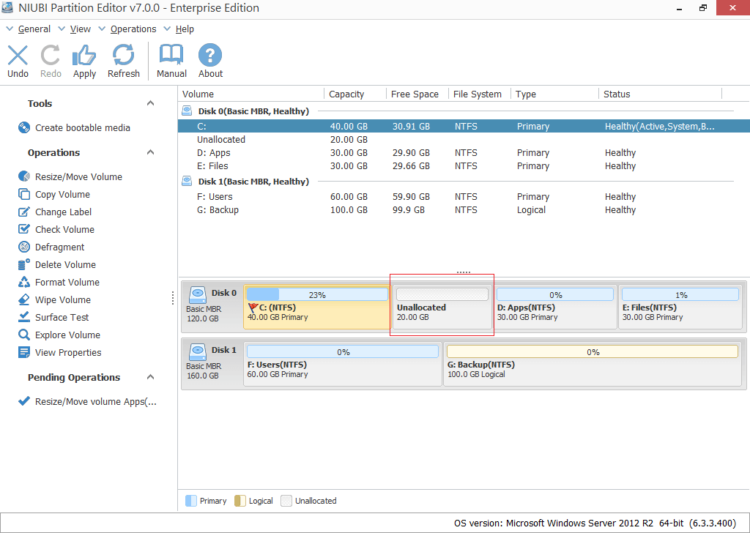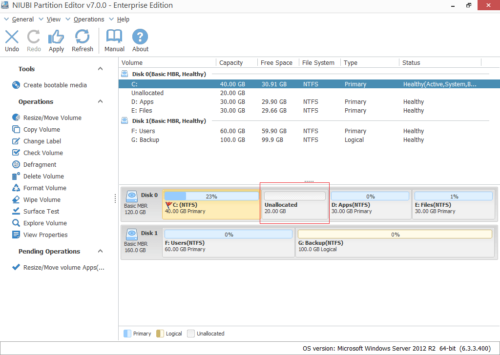 Step 3: Drag the right border rightwards to hold the Unallocated space.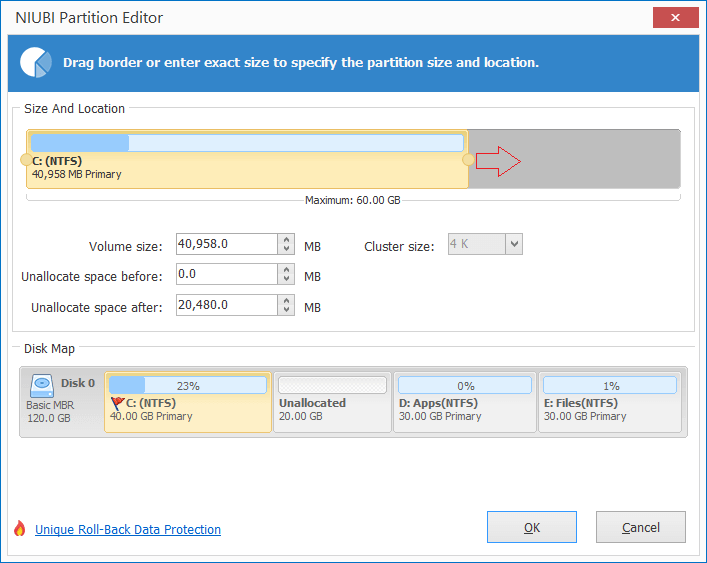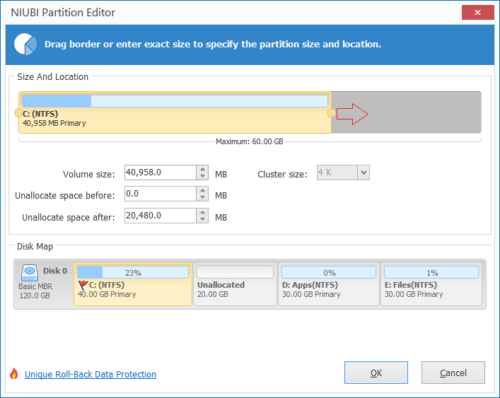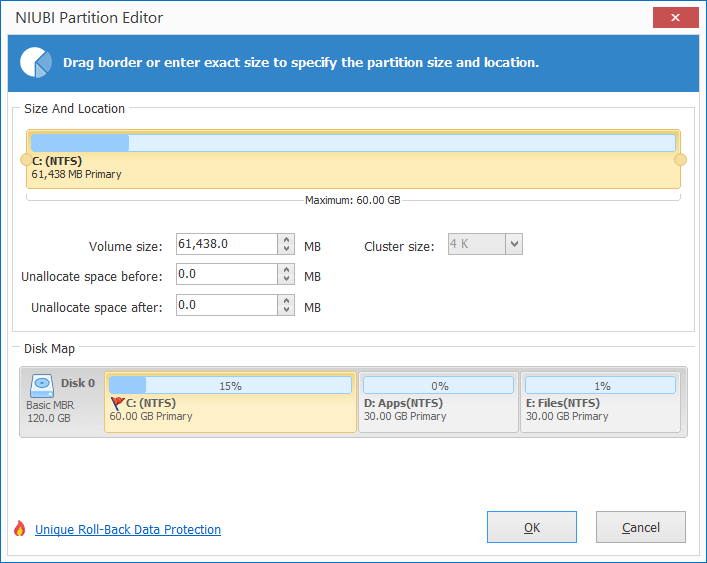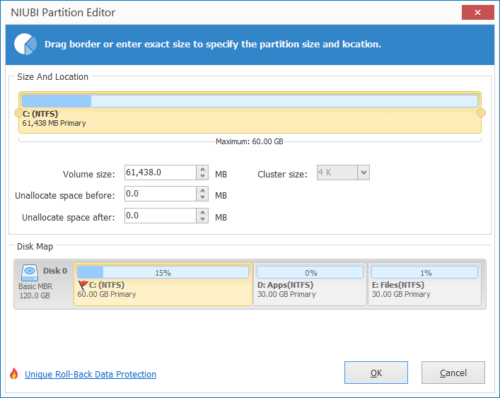 Step 4: Click OK and back to the main window, where you'll see C drive extended to 60GB by robbing 20GB free space from D. Press Apply on top left to execute, done!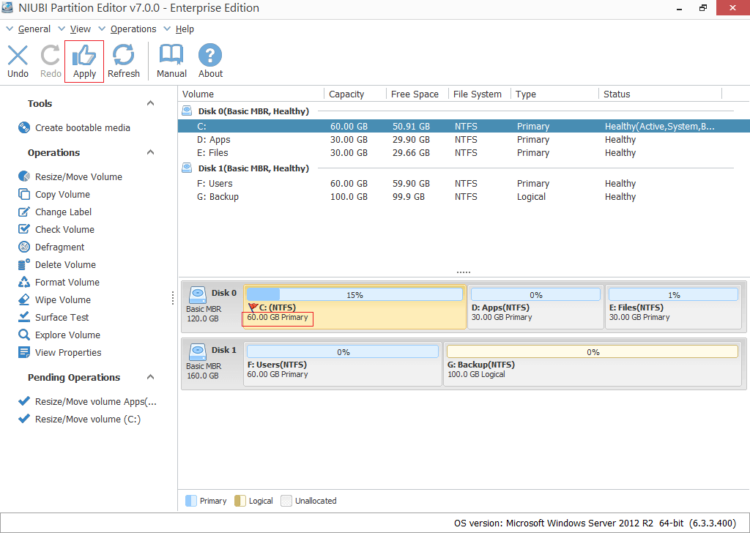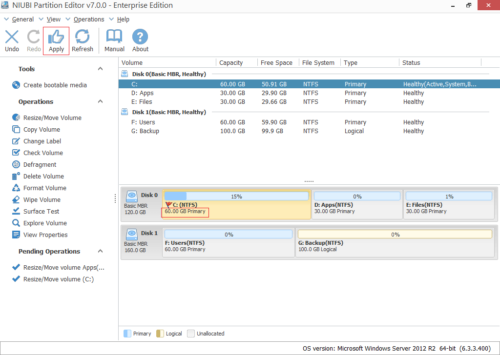 This server partition manager support all types of local and removable hard disk drive, VMware/Hyper-V virtual machine, all types of hardware RAID arrays, USB disk and memory cards. If you are running hardware RAID, remember do NOT do any operation in the RAID controller, just follow the steps below to resize disk partition.
Video guide to extend system volume on Server 2012 (R2)
Have Any Questions?
Support is ready for you 24*7, contact us via live chat or send message directly.