Extend C: Drive (System Partition) in Windows Server 2012 R2
Updated on September 14, 2021
The same with other Windows versions, after running Windows Server 2012 for a period of time, system C drive becomes full. In that case, there's no free space to install Windows updates or any applications. Nobody likes to back up, delete/recreate partitions, restore everything and verify data, because it costs such a long time. Many server administrators ask if there's a way to extend C drive for Server 2012 fast and safely. In this article, I'll introduce how to extend system partition C in Windows Server 2012 (R2) with Windows native tool and safest server partition software.
Extend C: drive with Server 2012 Disk Management
In Windows Server 2012 Disk Management console, you'll see all healthy disk partitions that connected to this server. With this native tool, you can do some basic operations, such as create, delete, format partition, etc. Beside the basic functions, the built-in "Extend Volume" and "Shrink Volume" can help you resize Server 2012 partition without losing data. "Shrink Volume" is used to decrease partition and release unused space from it. "Extend Volume" can be used to extend a NTFS partition, however, it only works when there is adjacent Unallocated space behind the system partition.
How to extend system partition C in Server 2012 r2 with Disk Management:
Press Windows + R keys together, input diskmgmt.msc and press Enter to open Disk Management.
Right click the contiguous partition that behind C: drive (such as D:) and select Delete Volume.
Right click system C: drive and select Extend Volume, click Next till Finish in pop-up Extend Volume Wizard window.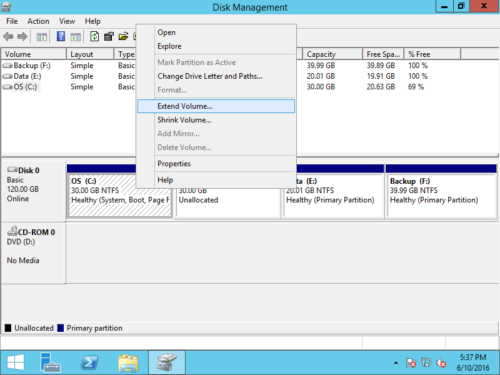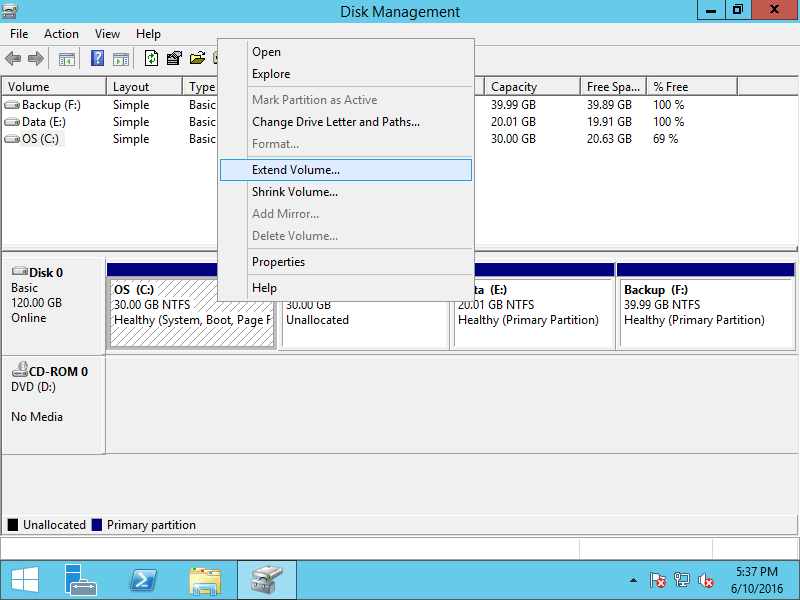 The scenario cannot extend C drive
Extend Volume function can only extend a partition when there's contiguous Unallocated space on the right side. This is the reason why you must delete partition D to get contiguous Unallocated space. As you see in the screenshot, there's no right adjacent Unallocated space, Extend Volume is grayed out to drive E:).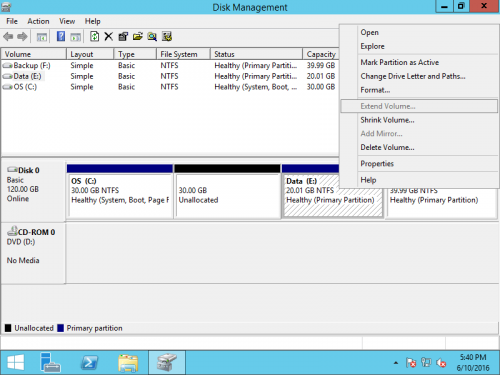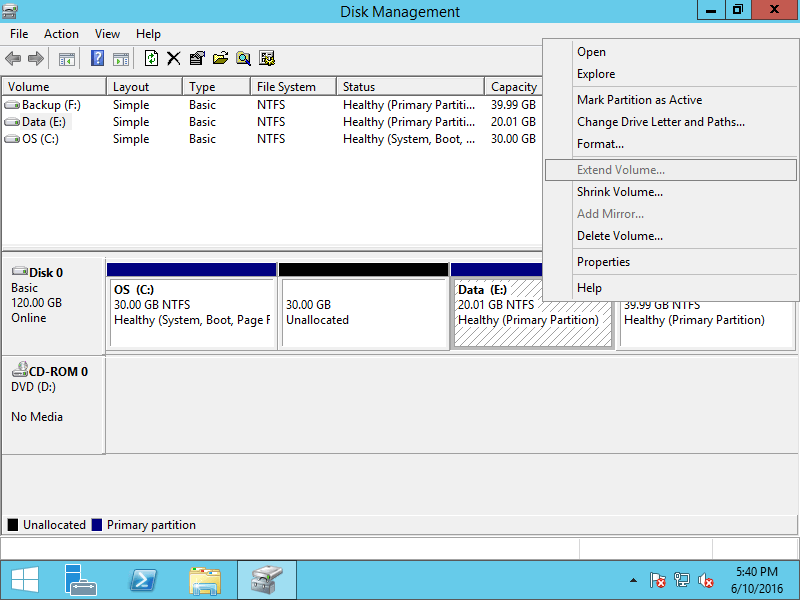 Note: if the contiguous D drive is a Logical partition, you still cannot extend C drive in Server 2012 Disk Management after deleting D.
Extend system partition with safe partitioning software
Comparing with Windows native tools, third party software is much more powerful. When extending partition volume, partitioning software is much easier and has no such restrictions.
The first thing you should concern when selecting a 3rd party software for a server is its safety and stability. The server keeps the connection of your organization with the users, and it stores important data, so nobody would like to see damage caused by 3rd party program. Better than other partition software for Server 2012, NIUBI Partition Editor has unique 1-Second Rollback, Virtual Mode and Cancel-at-well technologies to protect system and data. Furthermore, the advanced file-moving algorithm helps extend system partition 30% – 300% faster than any other tools, which is strictly tested.
How to extend C drive in Windows Server 2012 R2 with NIUBI Partition Editor:
Step 1: Download the Server Edition, right click D: drive (the contiguous partition) and select "Resize/Move Volume".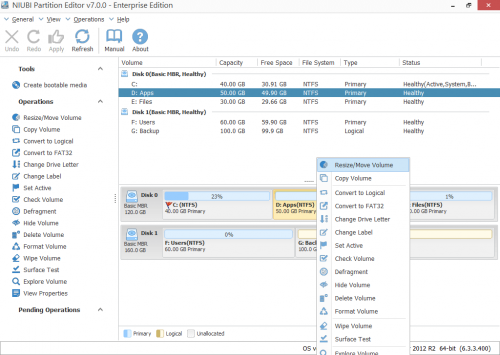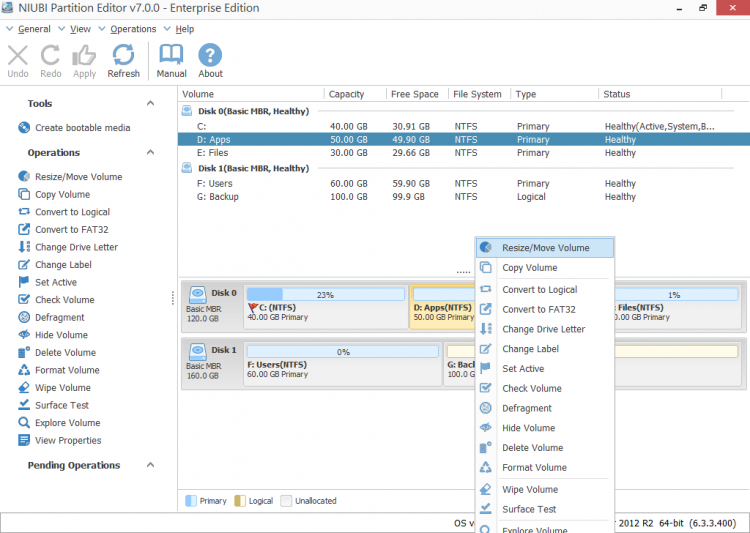 Step 2: In the pop-up window, drag the left border rightwards to shrink this partition and make Unallocated space on the left.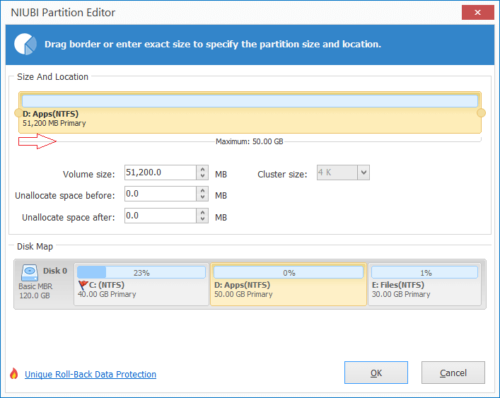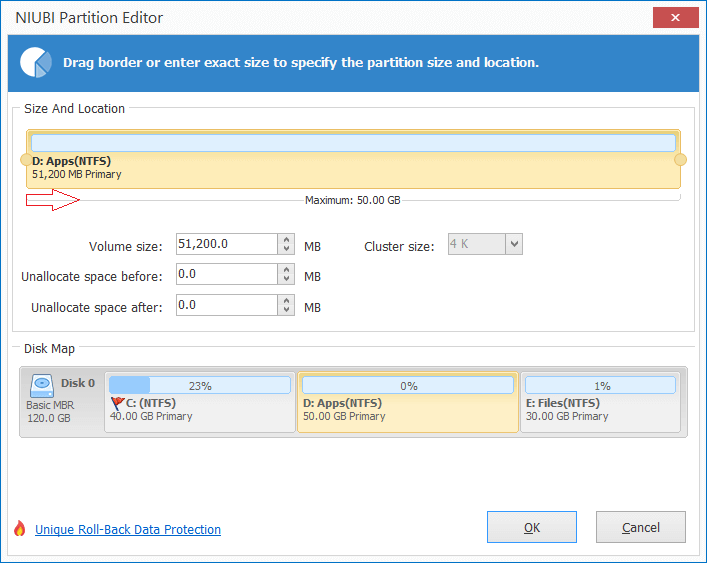 You may also input a value behind the box of "Unallocated space before".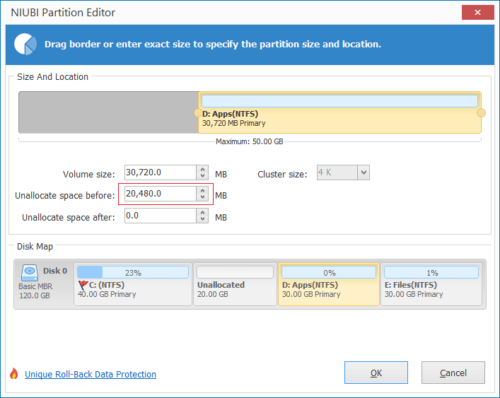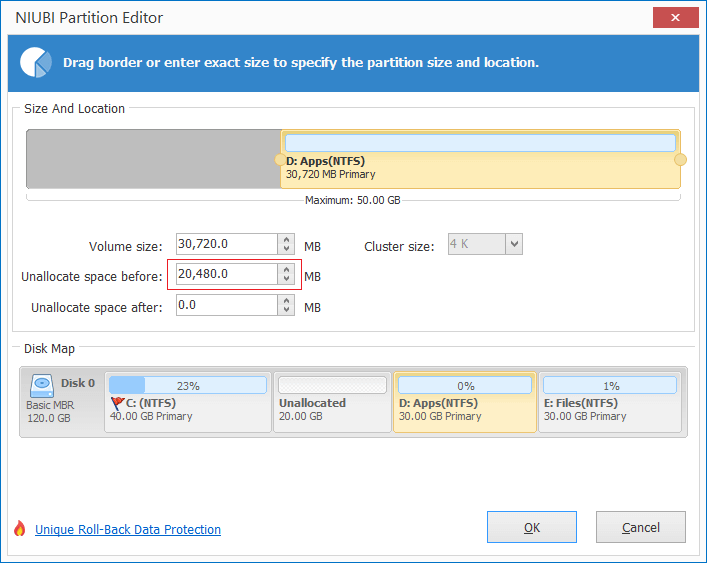 Click OK and back to the main window, a pending operation is listed. There's 20GB Unallocated space created behind C: drive in virtual mode.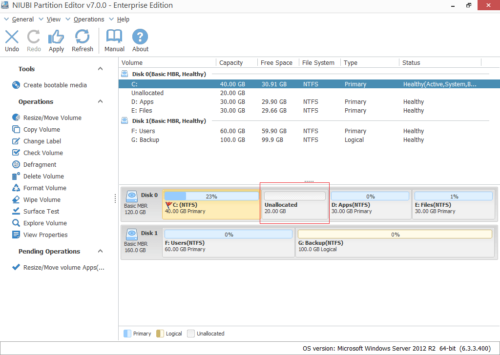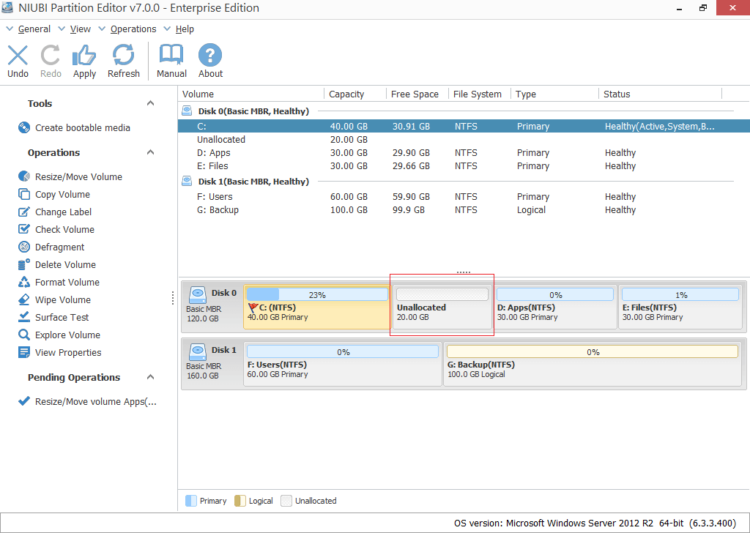 Step 3: Right click C: drive and run "Resize/Move Volume" again, drag the right border rightwards to merge this Unallocated space.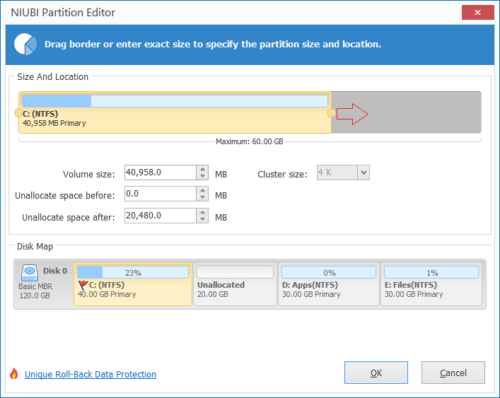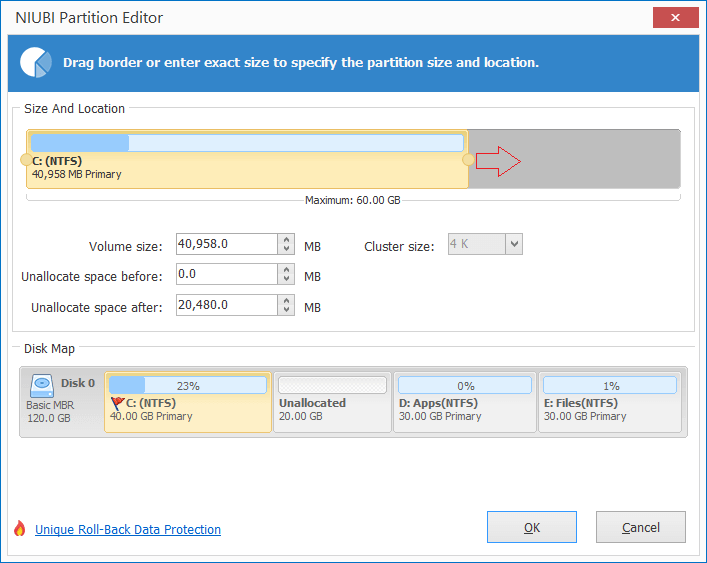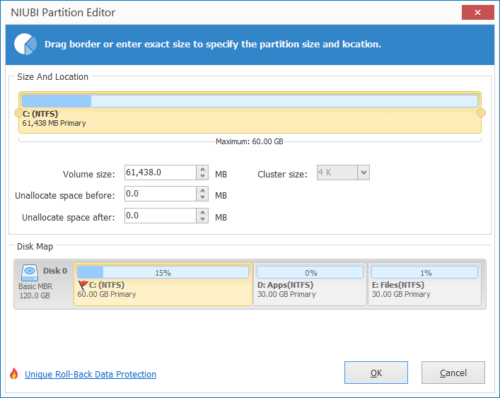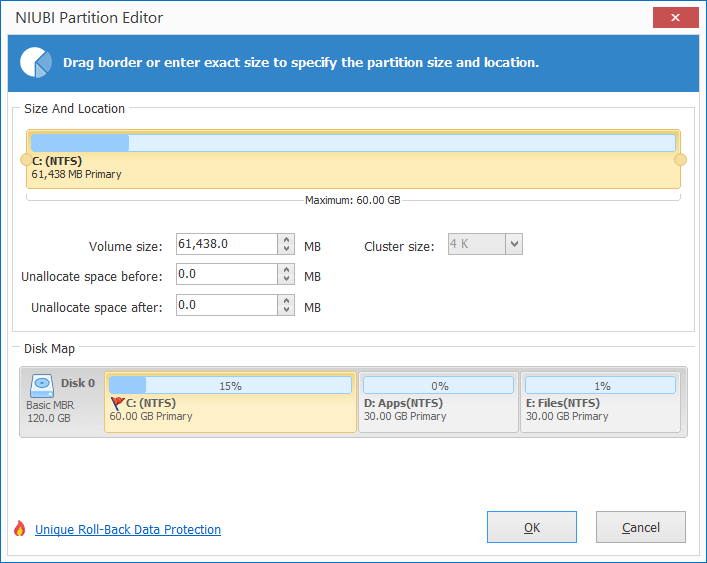 Step 4: Click OK and back to the main window, another pending operation is listed. Click Apply on top left to execute, done!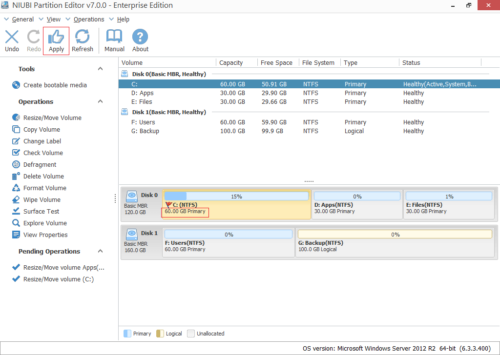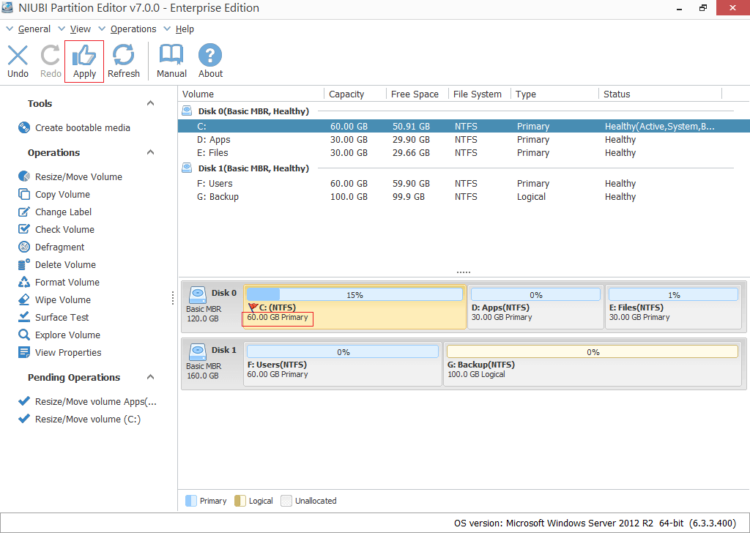 This server partition manager support all types of local and removable hard disk drive, VMware/Hyper-V virtual machines, all types of hardware RAID arrays, USB flash drive and memory cards. If you are running hardware RAID, do not do any operation in the RAID controller, just follow the same steps.
How to extend C drive in Server 2012 R2 (Video)