How to repartition hard drive in Windows Server 2016?
Windows Server 2016 has been released for several months, recently some people ask me if it is possible to repartition a hard drive without reinstalling Windows. The reason is because the existing partition layout is not the best, some drives created too small and some are too large. So today I write this article to answer this question, it's definitely YES. Actually it is very easy to do this. I'll show you detailed steps how to repartition disk drive in Windows Server 2016 without reinstalling Operating System or losing data. The aim to repartition hard drive is different, some people want to expand C drive, because it is running out of space. Some people want to split large drive, while others want to combine drives together. I'll give detailed steps for all.
Repartition hard drive in Disk Management
Besides basic operations to create, delete and format partitions, you can shrink and extend existing drives in Server 2016 Disk Management, however, due to the limitations, it is not the best tool to repartition disk drives. This method is just for the people who insist on using Windows built-in utility. To get better experience, jump to next paragraph.
Steps to shrink volume in Server 2016 DM:
Right click Windows on bottom left and select Disk Management.
Move mouse to the disk you want to repartition, right click the drive and select Shrink Volume.
Enter the amount of space to shrink and press Shrink to proceed.
In a short time, some free Unallocated space created behind the drive you shrank.
Steps to extend volume in Windows 2016 DM:
Check if there is adjacent Unallocated space at right side of the drive you want to expand, if there is not, the method below is invalid.
Open Disk Management.
Right click the drive and select Extend Volume.
Extend Volume Wizard will be launched, simply click Next to continue.
Select the available space to add.
Confirm this operation and proceed.
The key limitations to repartition hard drive with Disk Management:
Shrink Volume can only be used to reduce the size of a partition, moreover, the Unallocated space can only be created at the right side of this drive.
Extend Volume is disabled if there is no adjacent Unallocated space.
Unallocated space cannot be moved, so the only available option is creating new drives with it.
The task to repartition hard disk drive becomes much easier if you use server partition software.
Repartition disk drive with partitioning software
As I said above, the aim to repartition hard disk on Server 2016 is different. In this article I'll introduces how to shrink a volume to create new drives, and shrink a volume to expand other one.
Shrink to create new volume
Step 1: Download and install NIUBI Partition Editor, right click C drive and select "Resize/Move Volume".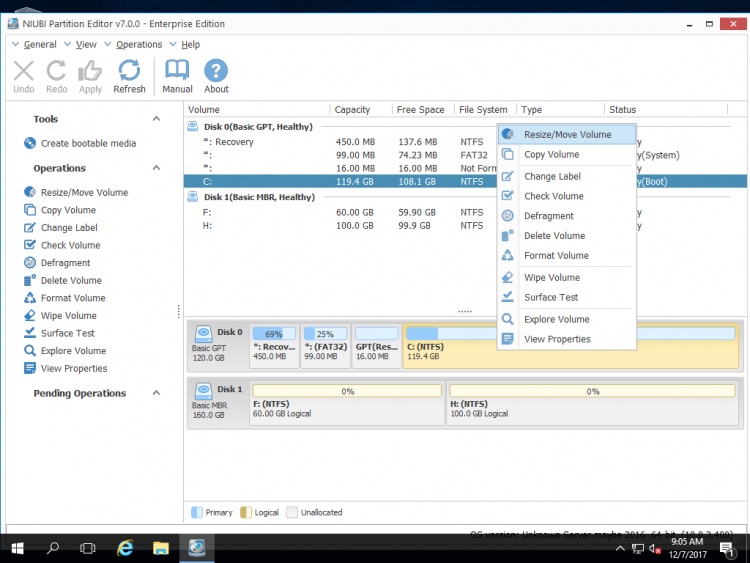 Step 2: In the pop-up window, drag right border leftwards to generate the Unallocated space.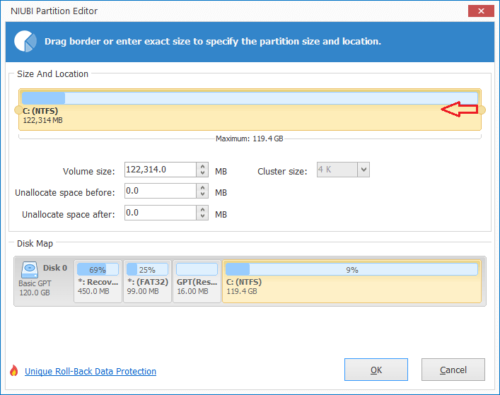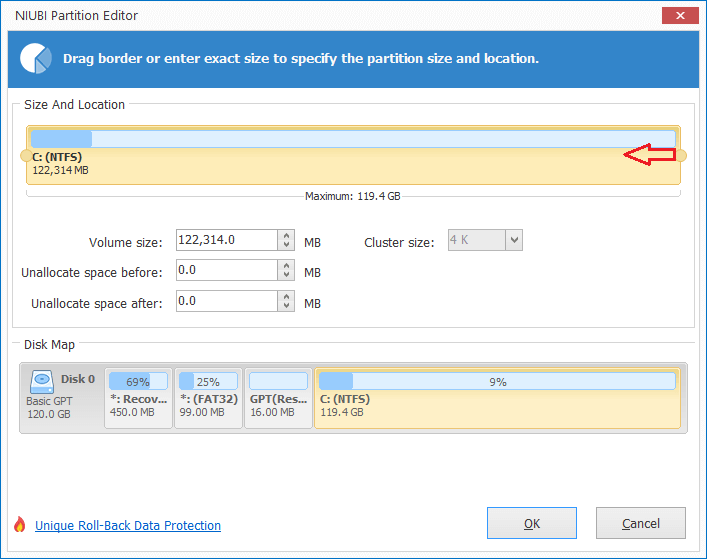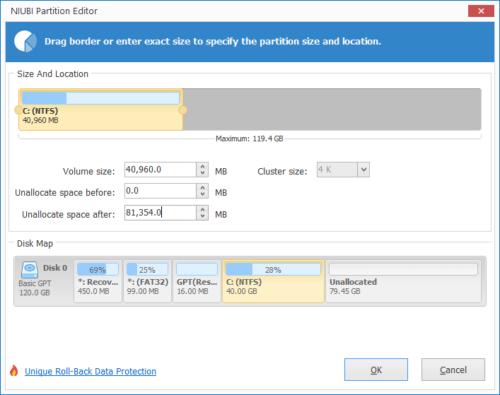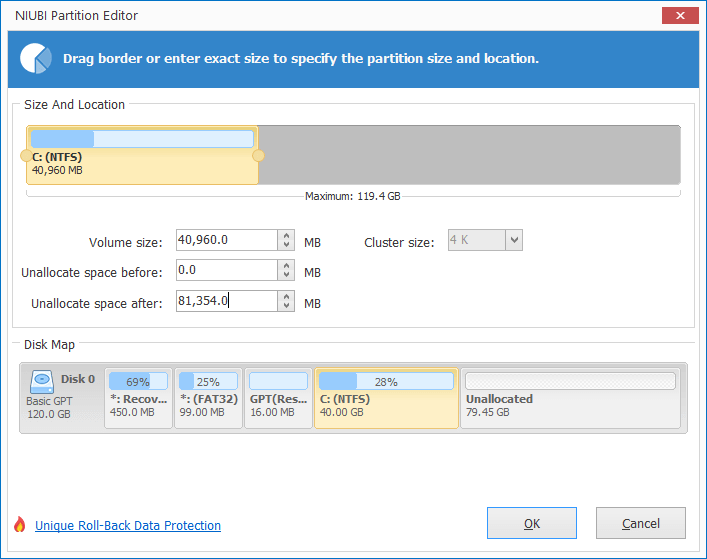 Unallocated space will be created behind C drive.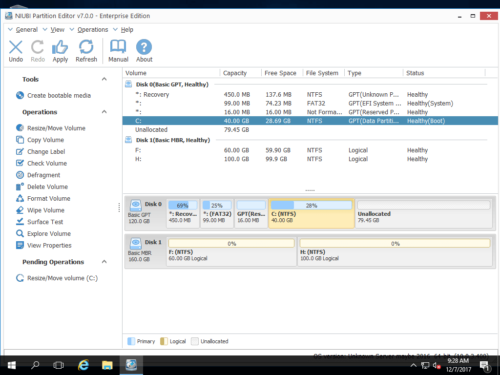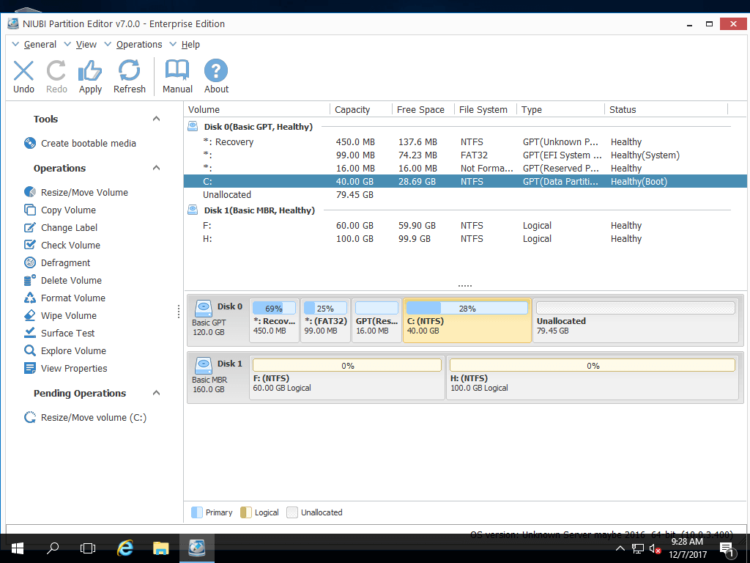 Step 3: Right click the Unallocated space, and select "Create Volume". In the pop-up window, click OK to use entire Unallocated space and all default settings, or do advanced operations:
Add label (name) to the new volume.
Select a drive letter
Select file system
Select cluster size
If the hard disk is MBR, you can select create new volume as Logical or Primary here.
Drag either border or input a value to specify partition size and location.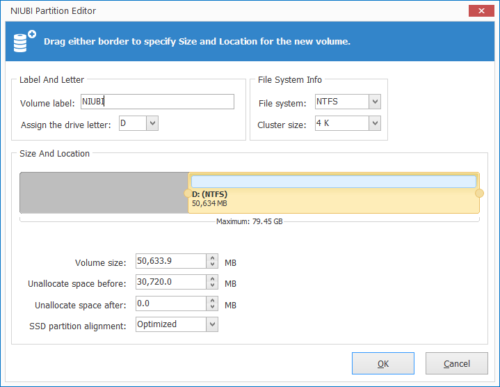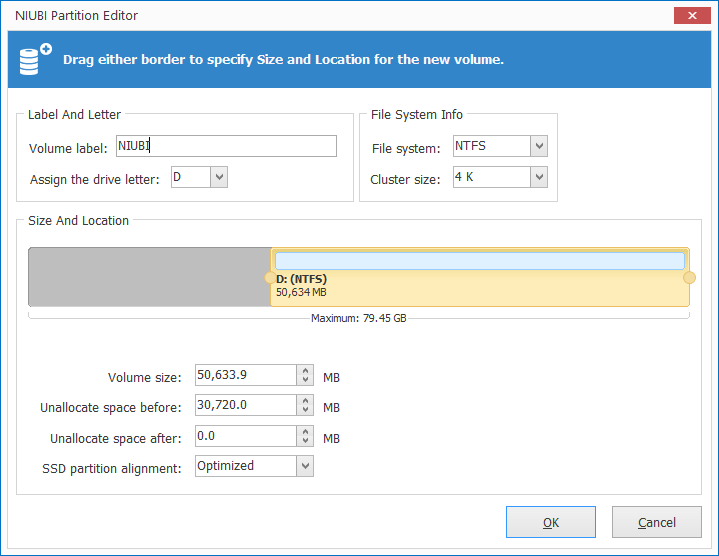 Shrink to extend other volume
In most cases, people want to shrink the volume that has large amount of free space and extend the volume that is running low, especially shrink D to expand C. Follow the steps in this video and you'll know how easy it is to repartition hard disk on Windows Server 2016.