How to add free space to C drive from other partitions?
The most common issue in all Windows operating system is lacking of free disk space, especially for system C drive. Windows updates, applications, temp files, cache, browser files, media files and many other kinds of files write to C: drive continuously, so C drive is getting full and not enough free space left. To solve this problem, there are two choice: free up disk space and add more free space to C drive from other volumes with partition software.
Freeing up disk space is very useful for the computer that never did this. However, not every computer can reclaim plenty of free space, in this case, the best choice is adding free space into C drive from other volumes in the same disk.
Pay attention to data safely
It is easy to resize partitions and add free space into C: drive, however, you should pay attention to data safety, no matter you use PC or server, data is always the most important. A bad program is likely to cause system boot failure or data loss while re-partitioning. Because to resize disk volumes, the partition software will move all files in the volume to other locations, modify the information in MBR, DBR and other place. There are many factors if cannot be handled well by the software could cause data loss, such as low computer memory, high CPU usage rate and very large amount of files in the volume that you want to resize. So you'd better select a reliable and safe partition software, then which one?
Here I recommend NIUBI Partition Editor, because it is integrated unique Roll-Back Protection technology, which is able to roll back the computer the status before resizing automatically and rapidly, even if power failure or other hardware issue occurred. Besides, its unique file-moving algorithm helps resize partition 30% – 300% faster than other tools.
Steps to add free space to C: drive
Actually, it is very easy to operate by simply clicking and dragging. To better explain how it works, I divide the guide into 2 parts.
Part 1: Shrink data volume to get free space
Step 1: Download and install NIUBI Partition Editor, right click volume D: and click "Resize/Move Volume".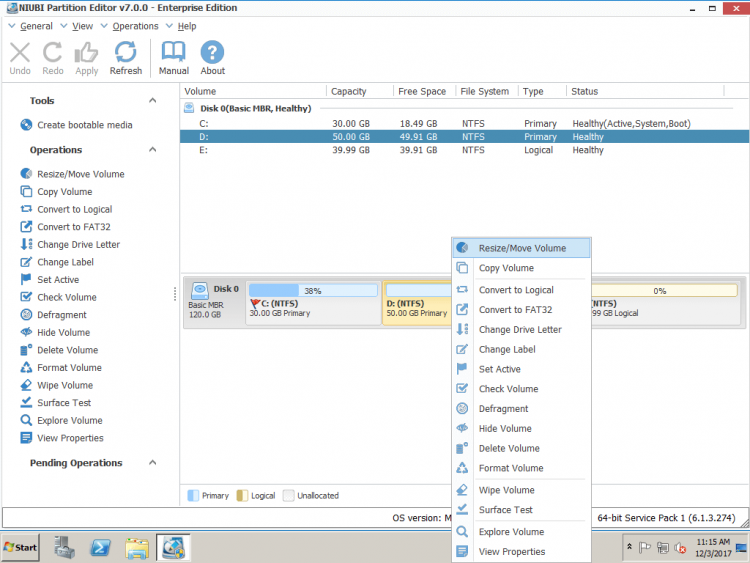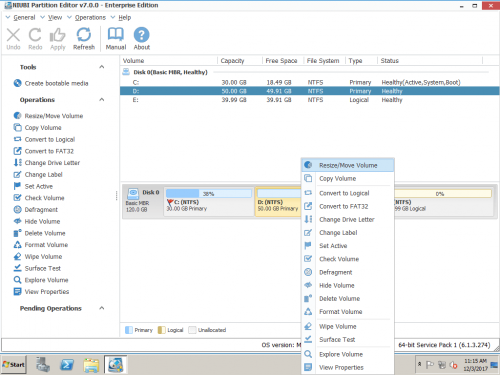 Step 2: In the pop-up window, drag the left border rightwards to shrink D.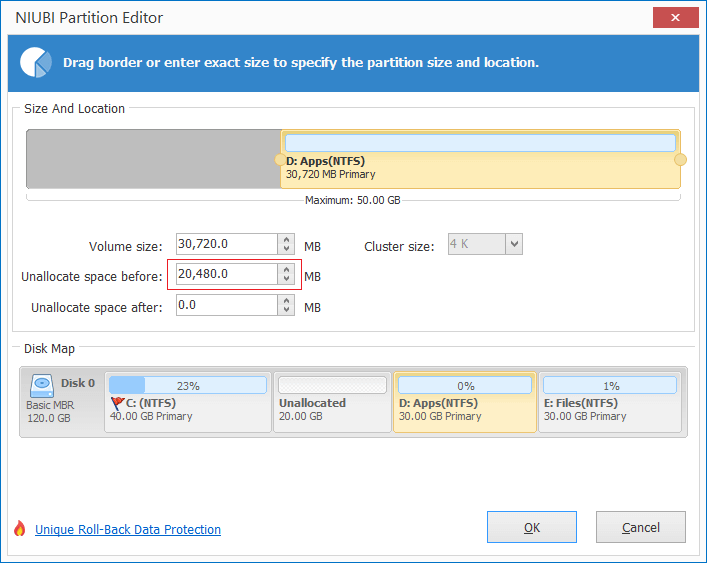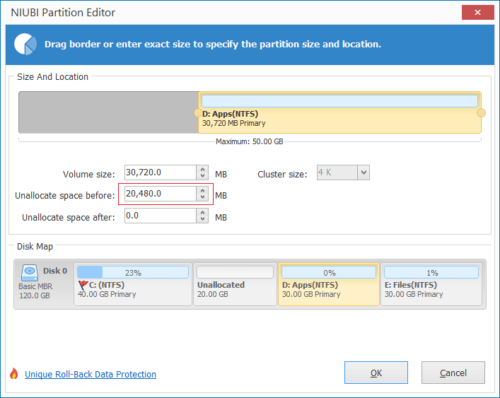 Click OK, 20GB free space took out from D and display as Unallocated behind C: drive.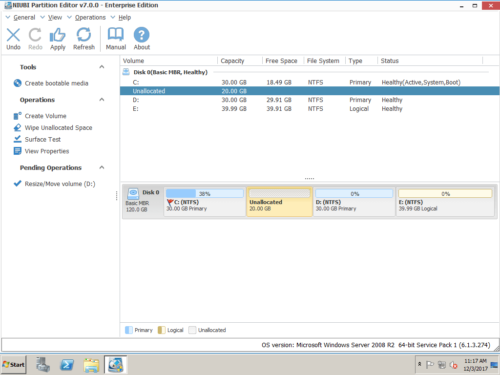 Part 2: Add free space into C: drive
Right click C drive and select "Resize/Move Volume" again, in the pop-up window, drag the right border rightwards to hold the Unallocated space.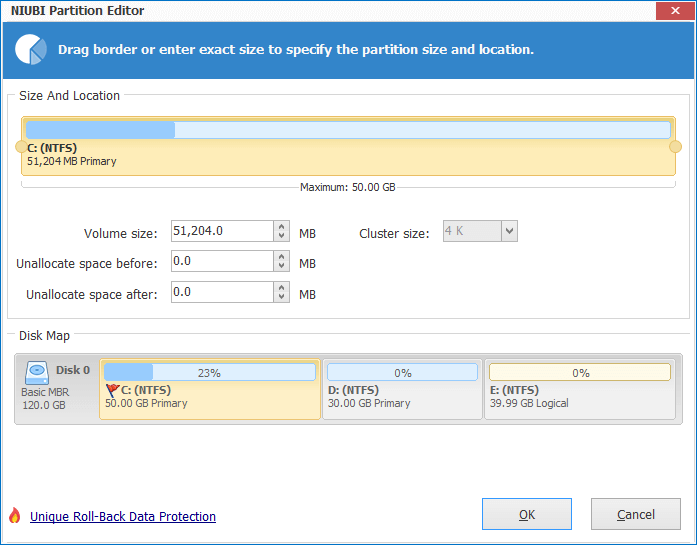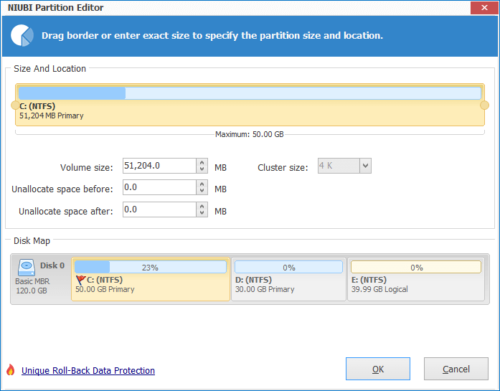 Click OK, 20GB free space that took from D added into C drive. Press Apply on top left to execute, done!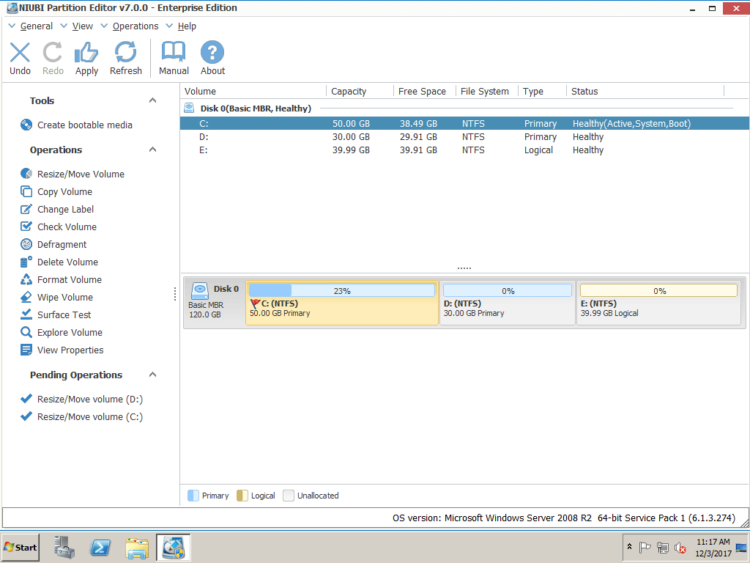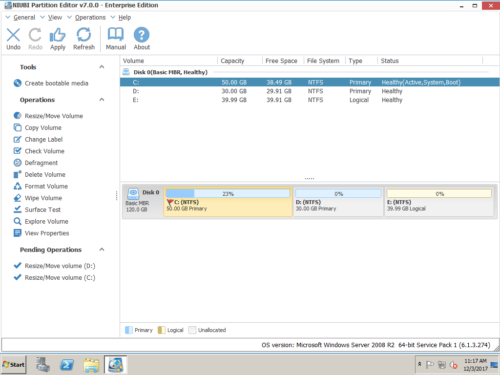 Is it easy to add free space to C drive from other volumes? If there is not enough free space in D, simply get from other drive in the same disk, watch the video:
Add free space to C drive from other volumes