Windows Server 2003 extend system C: drive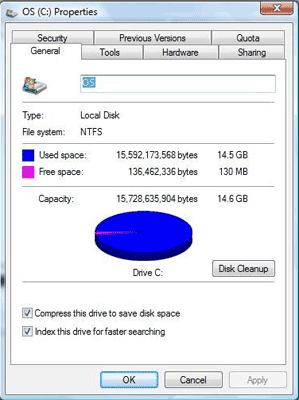 After years of Windows patching, application updates, etc, even a system that started with a healthy amount of free space on C: can find itself running low. In the "old days" when the C drive becomes full, the only option was to backup the system, repartition, reformat, reinstall, and restore the system.
Who can bear this annoying and time-consuming work, putting the server under risk of losing data? To solve this problem much faster and easier, many people want to extend the system C: drive by taking free space from other data drive such as volume D.
After searching by Google, you'll find that many people have this problem, but few pages give you detailed method and steps to extend C drive in Windows Server 2003.
How to extend the windows 2003 C drive ..? one of my server is running out of free space.
I'm running extremely low on the system partition of my win 2k3 servers.
My hard drive is divided in 2 partitions. I need to increase the size of C: partition. Is this possible without reinstalling.
The answer is yes and I'll give you detailed steps to extend Windows 2003 C drive without reinstalling or starting from scratch.
Before extending the c drive, of course you need to find a tool.
Windows Server 2003 built-in utilities
Unlike Windows Server 2008, there is no graphical user interface utility in Win 2K3 and the only choice to change partition size is Diskpart command prompt. However, "shrink" command is not integrated in this diskpart version and you cannot extend the system C: drive. (more about diskpart extend Windows 2003 partition)
Partition software to extend C drive
With 3rd party partitioning software, it is much easier to shrink drive D and extend C. The first and most famous partition software is Partition Magic, however, it isn't compatible with Windows Server 2003 and later editions. In the market, there are many alternatives, such as Acronis disk director server, PMS Partition Magic Server, Aomei Partition Assistant Server, etc.
Acronis has longer history to support Windows operating systems and file systems, but it is much more expensive (about $489) than the other two programs.
How to extend system C drive
Partition Assistant Server edition provides 1-step solution to resize partitions which helps you extend Server 2003 C drive easily. Before repartitioning, I suggest you open disk management (right click My Computer > Manage > Storage > Disk Management) to find out the disk partition layout.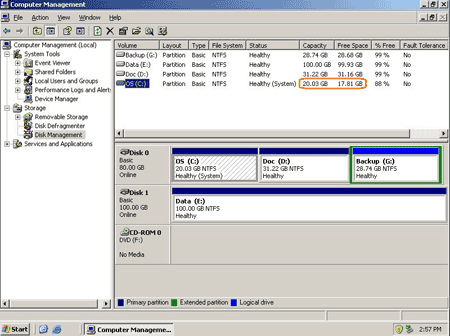 From the screenshot above, there is volume C: D: and G: on smae Disk 0, let's begin to extend C: drive by taking free space from a data partition.
Launch this program, right click drive G: (or any other drive) and select "Allocate Free Space".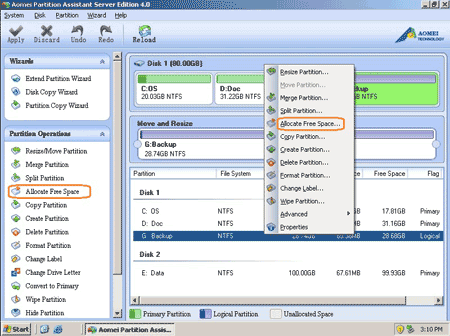 In the pop up window, specify the amount and select C: as the target partition.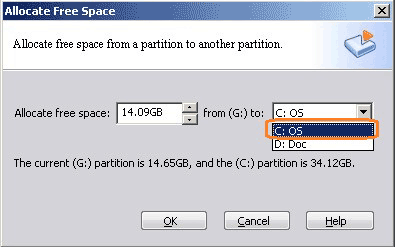 Click OK and back to main window, press "Apply" button on top left to proceed, within several minutes to half an hour the system C drive is extended.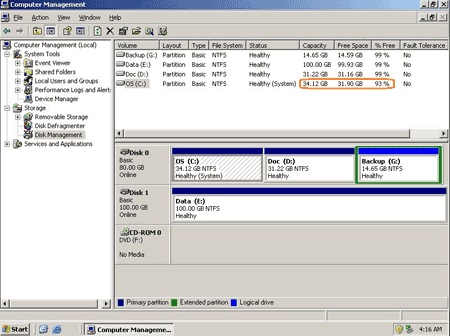 Unlimited edition allows unlimited installation within one organization.