Partition Magic Server for Windows Small Business Server 2011
For the people who want to change partition size and optimize server disk space usage for SBS 2011, the latest Partition Magic Server software is the best choice.
About Windows SBS 2011
Windows Small Business Server (SBS) 2011 is an affordable and easy-to-use server solution designed and priced for small businesses to help them reduce costs and be more productive.  There are two editions of Windows SBS 2011 - Standard and Essentials. Both editions provide solutions to help secure and protect business data with advanced, automated backup features, remote access, and simplified administration.
SBS 2011 Essentials is ideal as a first-server option that will support organizations with up to 25 users and minimal IT experience. SBS 2011 Standard can support up to 75 users, and offers a complete solution including integrated applications that meet small businesses' most important requirements.
Windows SBS 2011 will help small businesses protect, centralize, organize and access their business information from virtually anywhere while supporting the applications they need to run their business and make them more productive.
About Partition Magic Server
PMS Partition Magic Server is a "magic" partition manager software for Windows Server, SBS 2011 and all previous Server editions are all supported. With the help of this partition software, you can easily change any partition size without losing data.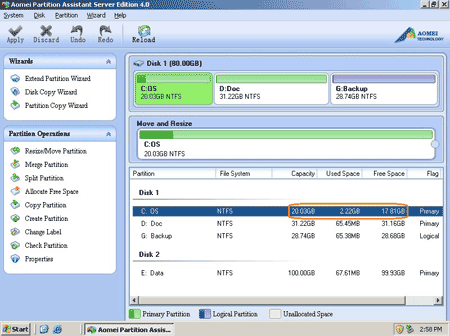 Download the trial of this partition magic SBS 2011 server and enjoy the powerful features.