Resize Windows 2003 partition without losing data or rebooting Server
After installing Windows updates and applications, there is no free space in system C: drive.
"Low Disk Space" warnning pops up.
System or data partition is too large when building the Server, you need to shrink it and create more drives.
Under these conditions, you'd better resize the Windows 2003 partitions, because by resizing volumes, you can solve this problem fast and easily, without starting over.
However, many people doubt if it is possible to resize a partition, as disk partitions have been allocated while buiding the server. Meanwhile, whether it is safe to resize a partition, as there is no Microsoft certified partitioning software.
Yes, it is not an easy task to resize a Windows 2003 drive for many administrators. Considering server data security, they have to think twoice before making any changes to the Servers, yet don't think how difficult it is. In this article, I'll tell you how to resize Windows 2003 partition without losing data or starting over.
Which tool to resize Windows 2003 partition
Windows 2003 diskpart command line
Diskpart.exe is built-in utility in Windows 2003 Server, so some people recommend resizing volumes with utility.
steps:
1. Press "Windows" and "R" key, type "cmd", in the pop-up window, type "diskpart" and press "Enter" to continue.
2. Type "list volume" to display the existing volumes on the disks.
3. Type "select volume X". X is the number of the data partition that you want to extend.
4. Type "extend size=XXX".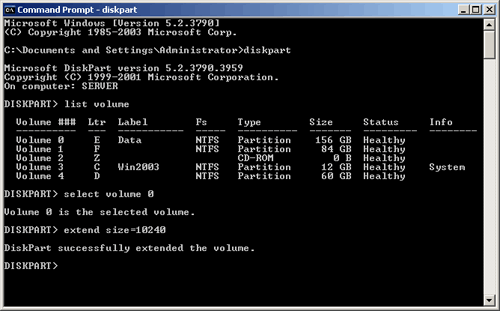 Diskpart limitations
Only DATA partition is possible to extend, if you extend system or boot partition, you will receive "Diskpart failed to extend the volume. Please make sure the volume is valid for extending".
The partition you would like to resize must be fomatted as NTFS file system.
There must be free Unallocated space behind a partition if you want to extend it. That is to say, to extend a data drive, you have to delete the next contiguous partition.
In most cases, system C: drive needs to be resized rather than a data drive, so diskpart is not the right choice.
Resize Windows 2003 partition with partitioning software
As the most popular server partition software, Partition Magic Server is able to resize partition in Windows 2003 Server (32 and 64 bit) easily. It is an ALL-IN-ONE Server disk management toolkit for Windows Server 2000, 2003, 2008 and Small Business Server 2003/2008/2011. Local and external hard disk drive, hardware RAID, VMware, Hyper-V, removable USB disk and memory cards are all supported.
Based on the unique enhanced data protection technology and built-in Disk partition Copy Wizard feature, you don't need to worry about data safety while resizing the Windows 2003 Server partitions.
It is also able to extend NTFS system C: drive without rebooting server to decrease downtime.
How to resize Windows 2003 partition?
To resize partitions easier, Partition Magic Server provides 3 ways:
"Resize Partition"

- Shrink a data partition to get free unallocated space, and then extend C: drive or other data drive with this free space.
"Allocate Free Space" - Just select which drives to shrink and extend, without resizing partitions manually.
"Extend Partition Wizard" - Best choice if you want to extend C drive by taking free space from two or more partitions.
Steps to resize Windows 2003 system C: drive with "Resize Partition" feature:
Step 1, Launch this program, you'll see all disks and partitions that connected to your Server and free space, used space and other properties of each partition.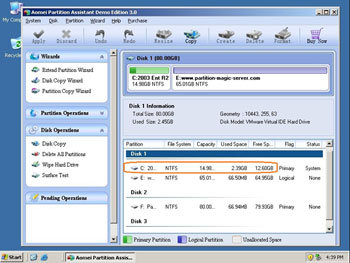 Right-click the data partition and select "Resize Partition", in the pop-up window, drag the left border rightwards to shrink it.
There will be some Unallocated space behind the system C drive.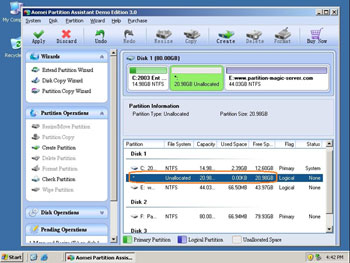 Step 2, Right-click the system partition and select "Resize Partition", in the pop-up window, drag the right border rightwards to hold the Unallocated space.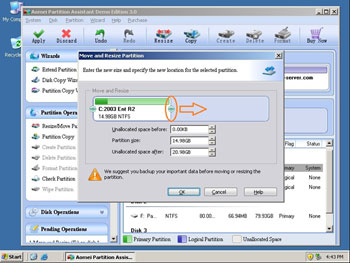 Click "Apply" to proceed, done.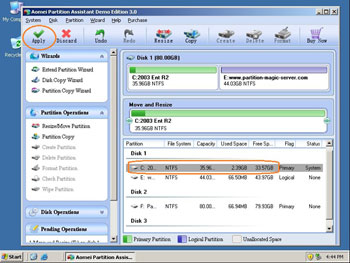 Within several minutes, you have a "new" Server without doing anything else.
For enterprise users, Unlimited Edition allows unlimited usage within your company to save time and money.