How to expand/extend partition on Windows Server 2008 32/64 bit?
About Windows Server 2008
Windows Server 2008 builds on the success and strengths of its Windows Server predecessors while delivering valuable new functionality and powerful improvements to the basic operating system. New Web tools, virtualization technologies, security enhancements, and management utilities help saving time, reduce costs, and provide a solid foundation for your information technology (IT) infrastructure.
Windows Server 2008 delivers valuable new functionality and powerful improvements to the Windows Server operating system to help organizations of all sizes increase control, availability, and flexibility for their changing business needs.
Why extend Server 2008 partition?
Windows Server 2008 has been released for several years and many companies updated to this new Server, but no matter how advanced it is, the system partition also runs out of space.
Today's hard drives feature jaw-dropping amounts of space, but no matter how big your drive, you'll be amazed at how quickly application/Windows update installs, browser caches, and temporary files can eat up your free space and clutter your system.
If there is few space on the system partition, Operating System runs much slower immediately and you cannot install any updates or other applications. The worst, system may crash if extremely low free space remains.
You'd better extend Server 2008 boot partition as fast as possible. The eariler and the better, as no one wants to see the System crash, in that case, you have to start over and keep the Server under downtime for a long time.
Nowadays, you can extend Server 2008 partition without deleting or formatting, fast and easily.
Ensure data safety when extending Server 2008 partition
There is no doubt that the fastest way to solve Server 2008 low disk space problem is by resizing and extending the boot partition, but you should choose the reliable partition software, no one would like to see boot failure or data loss after resizing.
Based on the unique enhanced data protection technology and Copy Wizard built in Partition Magic Server, you don't need to worry about the data safety. Our Server partition manager is highly recommended by many professionals and editors, besides, many Fortune 500 companies select it to manage their Servers.
How to extend Server 2008 partition fast and easily?
Step 1, Launch Partition Magic Server, you'll see all disks and partitions that connected to your Server and free space, used space and other properties of each partition.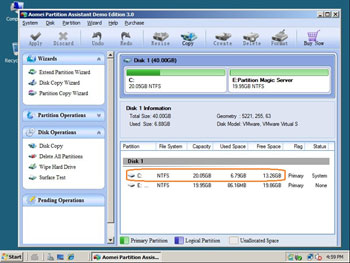 Right-click the data partition and select "Resize", in the pop-up window, drag the left border rightwards to shrink it.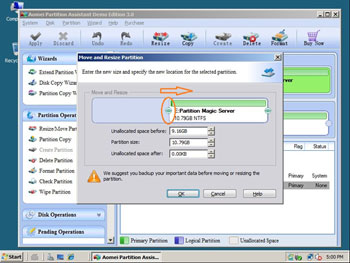 There will be some Unallocated space behind the system partition.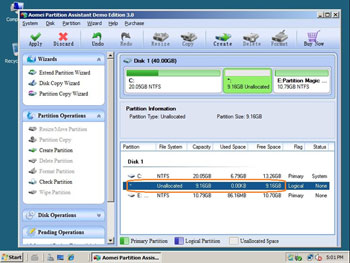 Step 2, Right-click C drive and select "Resize", in the pop-up window, drag the right border rightwards to hold the Unallocated space.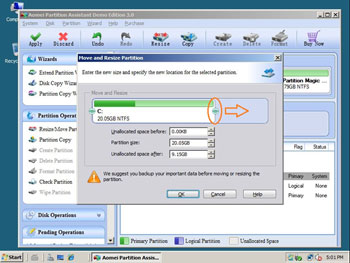 Click "Apply" to proceed, done. After several minutes, you'll have a "new" Server that can be used for a long time again.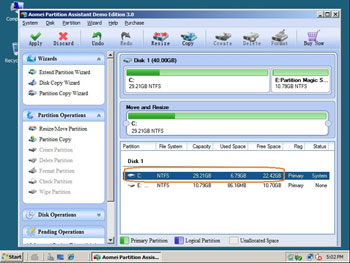 How to allocate free space from any data partition and add to C drive?
For enterprise users, Unlimited Edition allows unlimited usage within your company to save time and money.
Benefits to extend Server 2008 partition with Partition Magic Server software
All-in-one Partition Solution - All your partition and disk maintenance requirements can be fulfilled.
Enhanced Data Protecting - No Data Loss
Hot Resize - Extend NTFS system partition without rebooting
Easy to use & user-friendly interface
Related Articles