How to increase partition size in Windows 2003 Server easily?
All disk partitions are carefully allocated while building the Server, however, things are changing and the scheduled size may not always meet your needs, especially for the System C: drive. You'll be amazed at how quickly applications, Windows updates, browser caches, temporary files and many other kinds of files can eat up your free space and clutter your system.
Fortunately, nowadays you can resize partition and increase C: drive space in Windows Server 2003 without starting over. Many people including server administrators do not know how to increase partition size, so in this article I want to share my experience how to do this.
You should know before starting
Different with read-only software, partition resizing software will move files location and modify the parameters in MBR, DBR, etc. So to ensure 100% data safety, you'd better back up before any operations to a server.
No partition manager software can resize partitions beyond physical hard disk, that is to say, you CANNOT increase C partition size by taking free space from another physical disk.
Which tool to increase volume size?
Different with Windows Server 2008, which provides GUI function to shrink and extend volumes under Disk Management console. In Windows Server 2003, the only Windows built-in utility is Diskpart command line. However, few people use this tool to extend Server 2003 partitions due to many limitations.
Fortunately, there is 3rd party software such as the highly recommended Partition Magic Server software – NIUBI Partition Editor. This magic server partition manager is compatible with Windows Server 2016/2012/2008/2003 and Windows 10/8/7/Vista/XP all editions (both 32 and 64 bit). All types of hard disk drive, VMware, Hyper-V, all kinds of hardware RAID and USB disk are all supported.
It performs basic and advanced hard disk partition maintenance. Basic functions helps you Create, Delete, Format, Copy, Hide, Active, Convert partition, etc. The advanced functions help you safely Resize, Merge, Shrink, Extend partitions and much more to improve server performance.
Ensure data security
There is no doubt that the fastest way to solve Windows Server 2003 low disk space problem is resizing partition to increase C drive size, but you should choose the reliable software, I believe nobody would like to see boot failure or data loss after resizing. NIUBI Partition Editor integrated unique Roll-Back Protection technology, which can ensure 100% data safety even if power failure or other hardware issue occurred during resizing partition. Because it is able to roll back the server to the status before resizing automatically and rapidly.
Furthermore, NIUBI Partition Editor is 30% – 300% faster than other tools, because of its unique file-moving algorithm. Data safety and time are most important!
How to increase partition size on Server 2003?
Actually, it is very easy to increase partition size in Windows 2003 Server, as long as there is unused space in any other drives, you can expand this drive directly. If you use hardware RAID, do not break the array or do any operations in the controller, it is the same with resizing physical disk partitions.
Step 1: Download and install NIUBI Partition Editor, right click drive D: and click "Resize/Move Volume".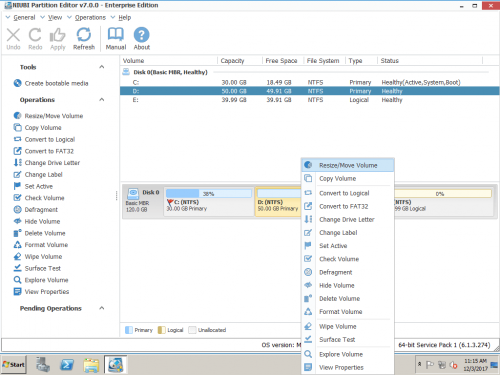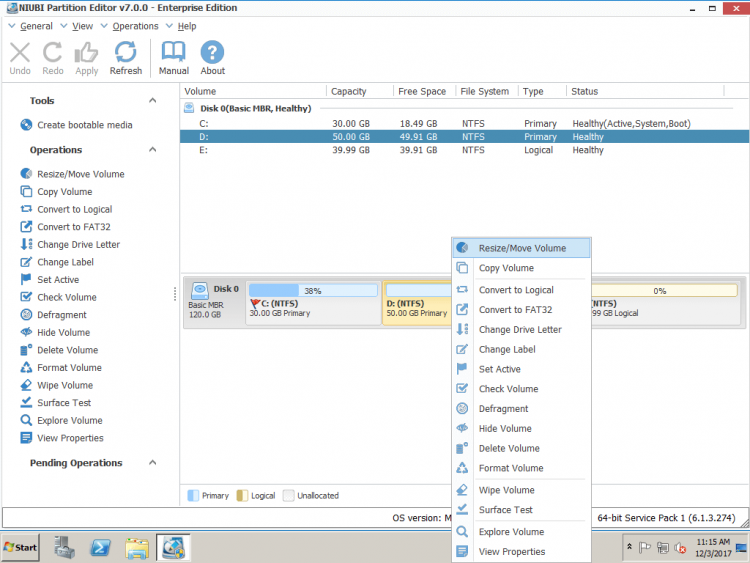 Step 2: In the pop-up window, drag the left border rightwards to generate free Unallocated space.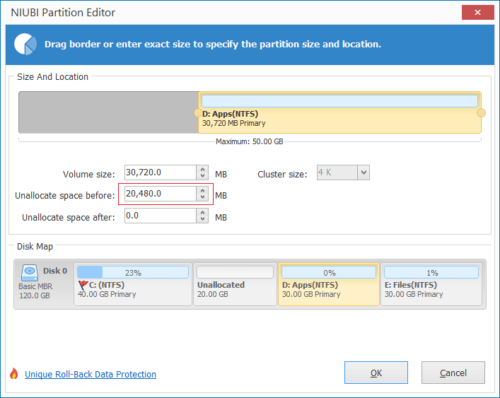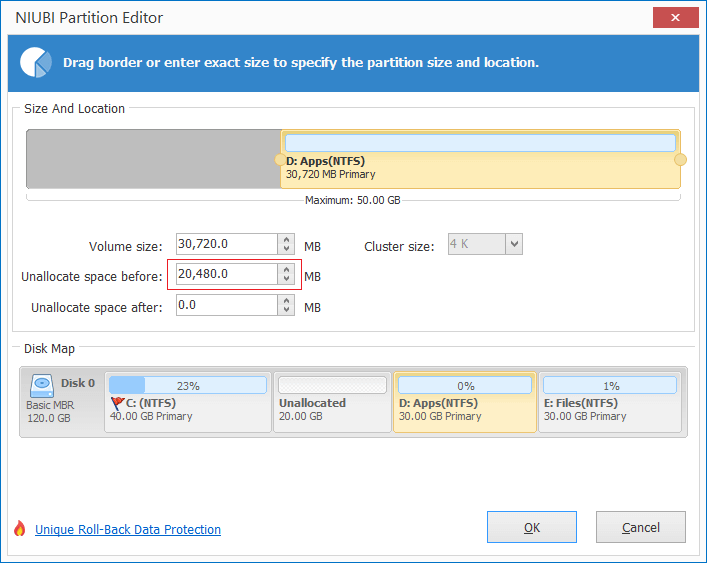 Click OK and back to the main window, where 20GB Unallocated space created behind C: drive.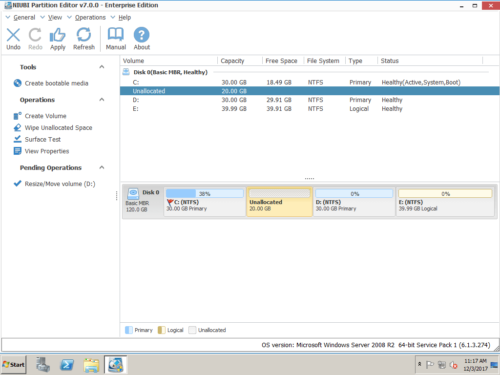 Step 3: Right click C drive and select "Resize/Move Volume" again, in the pop-up window, drag the right border rightwards to hold the Unallocated space.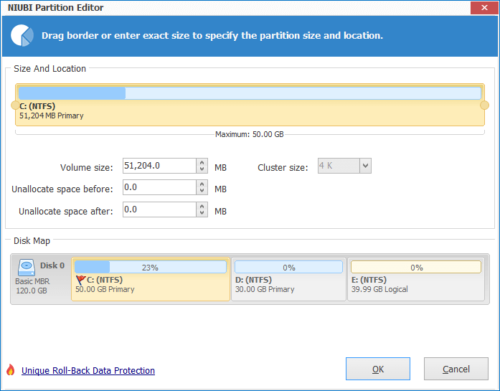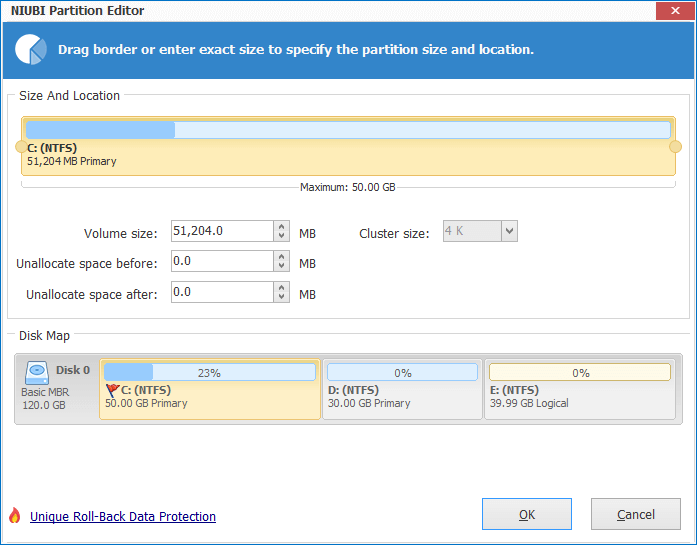 Click OK and back to the main window, where C drive extended to 50GB by holding the 20GB free space from D. Press Apply on top left to execute, done!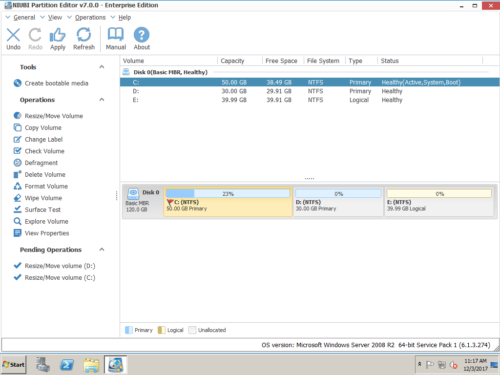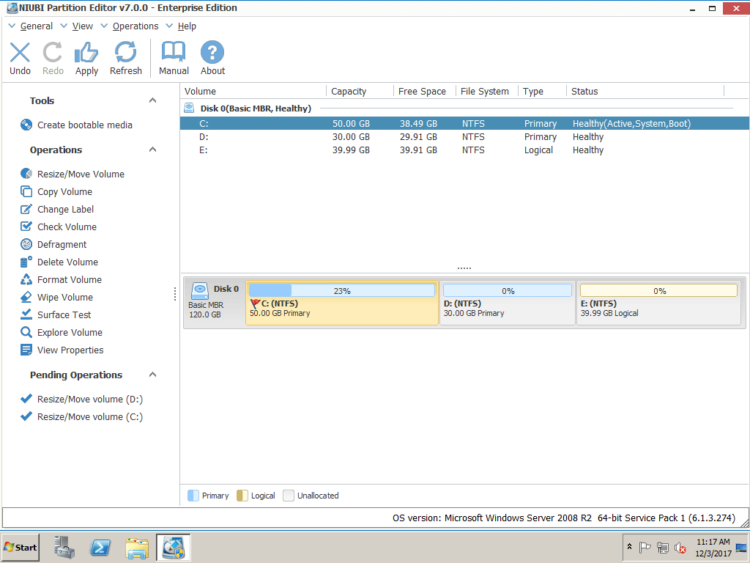 If there is not enough free space in D, you may get free space from other drive in the same disk.