3 tools to change partition size in Windows Server 2008 R2
When C: drive is getting full or if you want to create more partitions, it can't be better if you can change partition size without losing data. Nobody likes reinstall operating system and programs or recreate partitions can restore everything from backup. To adjust partition size in Server 2008 (R2), you'd better run safe tool, because there's potential system damage and data loss risk. In this article, I'll introduce how to change partition size in Windows Server 2008 (R2) with 3 kinds of tools.
1. Change partition size with diskpart command
Diskpart is an EXE tool running from command prompt, it has many commands for entire disk and single partition. If you want to change size of allocated partition, there are Shrink and Extend commands. They are able to resize partitions without losing data, but not all partitions can be resized.
Limitations of diskpart to resize Server 2008 partition
It only support resizing NTFS partitions, FAT32 and any other types of partitions are not supported.
It cannot or can only shrink little space in some environment.
Unallocated space can only be made on the right side after shrinking a partition.
Unallocated space can't be added to the right adjacent or any non-contiguous partition.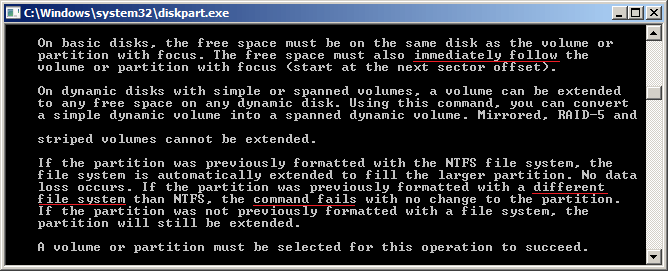 2. Resize partition in Server 2008 Disk Management
Better than previous Server 2003, Windows Server 2008 (R2) has new "Shrink Volume" and "Extend Volume" functions in Disk Management console. Unlike diskpart command, Disk Management has graphical interface and each function works with a wizard.
The benefit of Disk Management is that it can resize partition on the fly, but it has same limitations with diskpart command. It cannot extend a partition by shrinking another one. You must delete the adjacent partition on the right and merge Unallocated space to the left partition. Furthermore, these 2 partitions must be the same Primary or Logical drive.
Press Windows + R keys together, type diskmgmt.msc and press Enter, then Disk Management will be opened.
3. Change partition size with safe partition software
Comparing with diskpart and Disk Management, NIUBI Partition Editor is much more powerful.
It is able to shrink and extend both NTFS and FAT32 partitions.
It is able to make Unallocated space on either left or right side while shrinking a partition.
It is able to merge Unallocated space to either contiguous partition by 1 step.
It is able to move and merge Unallocated space to any non-adjacent partition on the same disk.
If there's no available free space in a disk, it helps you copy to a larger one and repartition with additional disk space.
There are many software that claims to be able to change partition size for Windows 2008 server, but NIUBI is much safer and faster because of its unique technologies:
Virtual Mode – operations will be listed as pending for preview, real disk partition won't be changed until click Apply to confirm.
Cancel-at-well – if you confirmed and started some incorrect operations, you can cancel the ongoing operations at any progress in a flash.
1-Second Rollback – it is able to automatically reverts server to original status in a flash if it detects any error. In that case, your server could back online without modification in a short time.
30% to 300% faster because of the advanced file-moving algorithm.
Watch the video how to change partition size in Windows Server 2008 (R2):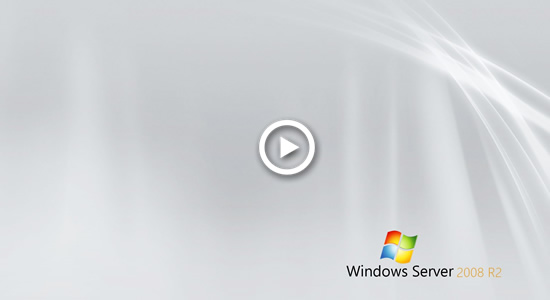 Besides resizing partitions in Windows Server 2008/2012/2016/2019/2022, it helps you copy, convert, defrag, wipe, hide partition, scan bad sectors and much more.