How to repartition hard disk drive in Windows Server 2008 (R2)?
Most of the Server 2008 users encountered the same problem that system C drive is running out of space, C drive become full and no free space left. What to do in this situation, start from scratch? No, nobody would like to do this. In this article I'll show you how to repartition existing disk drive without reinstalling Windows. There are two options to repartition hard drive: Windows Server 2008 built-in Disk Management console and 3rd-party professional partition software. In Disk Management console, you can only decrease and increase partition size. With server partition software, you can do much more, such as reallocate free space, shrink and extend partition, split and merge partitions, etc. Actually, it is very easy to repartition Windows Server 2008 hard drive.
Repartition hard drive in Disk Management console
Open this console by: click Server Manager on bottom left and next to Start, scroll down to Storage > Disk Management.
In Server 2008 DM, you can see all connected hard disks as well as all partitions in single disk. The only option to change partition size is Shrink Volume and Extend Volume.
To decrease partition size:
Right click this volume and select "Shrink Volume".
In next window, type the amount of space to shrink, all available space will be shrank by default.
Confirm and proceed.
Limitation of Shrink Volume:
You cannot shrink this volume beyond the position where unmovable files are located. From Microsoft explanation, the "unmovable" files could be page file, hibernation and other large files.
To increase partition size:
Not every partition can be expand, the precondition to use Extend Volume:
This partition should be NTFS or RAW format.
There is must be adjacent Unallocated space behind this partition.
Steps:
Right click this drive and select "Extend Volume".
Confirm the Extend Volume Wizard and continue.
Select the available disk and Unallocated space in next window.
Confirm and proceed.
If you try to extend C drive by shrinking the adjacent D (or other) drive, it is impossible, because the Unallocated space is behind D rather than C.
Repartition disk drive with partition software
With 3rd-party server partition software, you can easily repartition Server 2008 drive without so much limitations. As long as there is free space in any drive in the same disk, you can extend C drive by adding the free space.
Step 1: Download NIUBI Partition Editor, right click drive D: and click "Resize/Move Volume".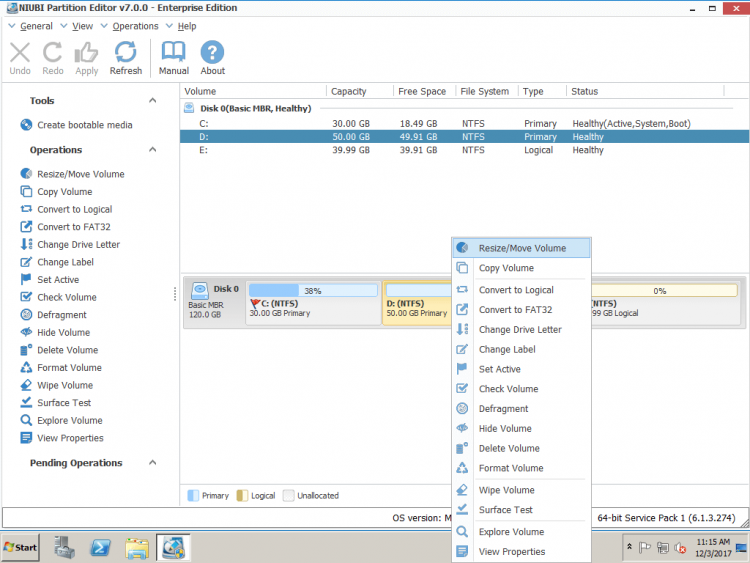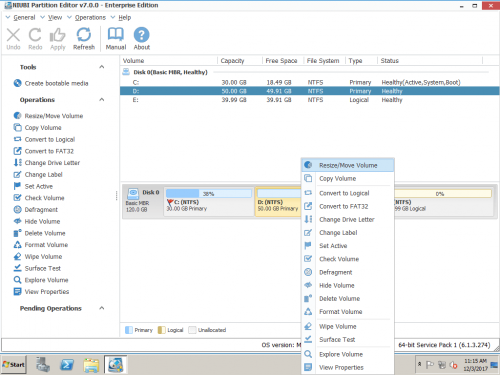 Step 2: In the pop-up window, drag the left border rightwards to generate free Unallocated space.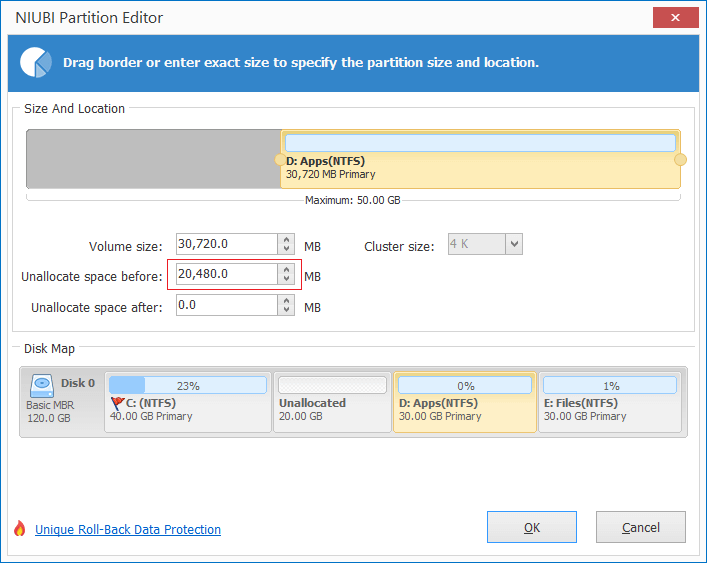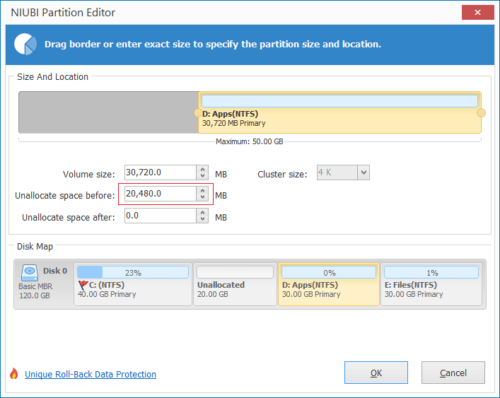 Click OK and back to the main window, where 20GB Unallocated space created behind C: drive.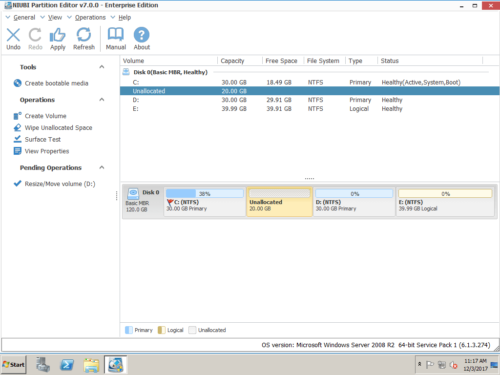 Step 3: Right click C drive and select "Resize/Move Volume" again, in the pop-up window, drag the right border rightwards to hold the Unallocated space.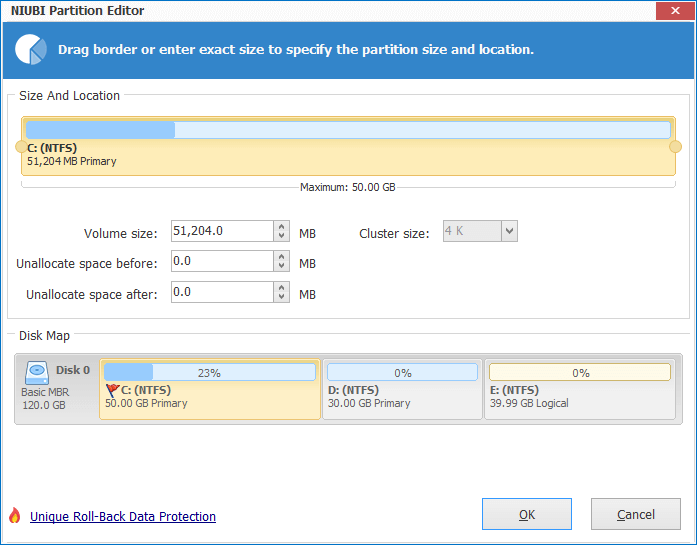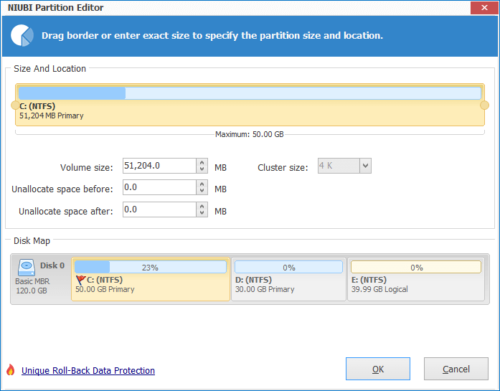 Click OK and back to the main window, where C drive extended to 50GB by holding the 20GB free space from D. Press Apply on top left to execute, done!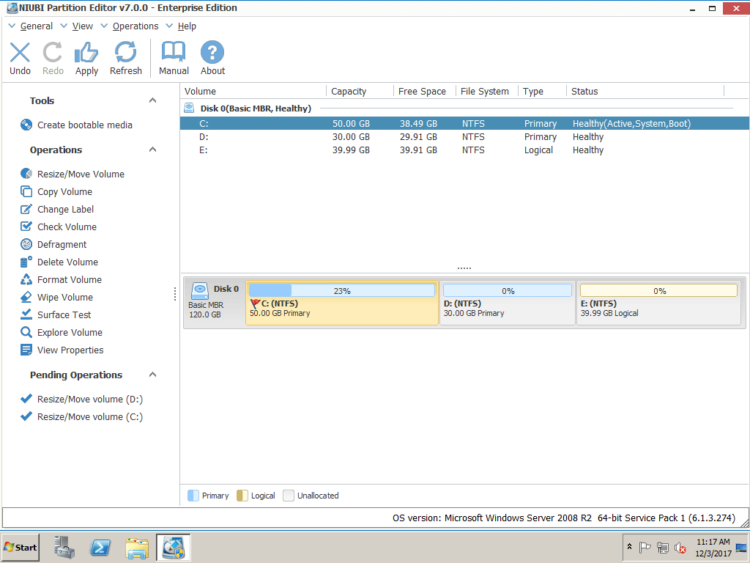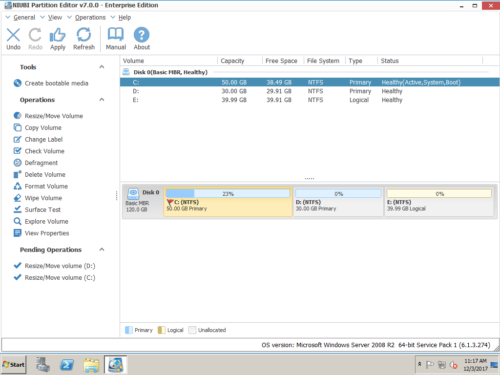 If there is plenty of free space in D, you may take more free space out and add into C drive. If there is not enough free space in D, you may get free space from other drive in the same disk.
Video guide to repartition Server 2008 hard drive: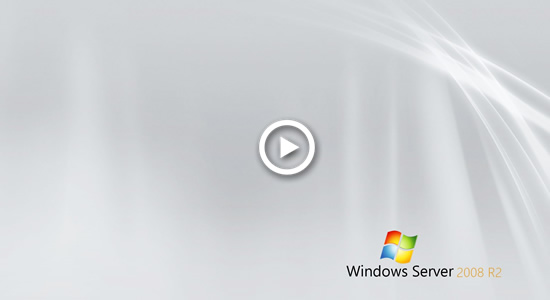 To repartition hard disk on Windows Server 2008, I always recommend NIUBI Partition Editor. Better than other tools, it integrated unique Roll-Back Protection technology, which is able to roll back the server to the status before resizing, even if power failure or any other hardware issue occurred during resizing. Besides, its unique file-moving algorithm helps resize partition 30% -300 faster than other tools, which is strictly tested. It supports all types of hardware RAID (such as RAID 0/1/5/10) with any raid controller. VMware/Hyper-V, HDD, SSD, USB disk are all supported.