How to extend/expand disk partition in Windows Server 2012
As the sixth Windows Server edition, Windows Server 2012 added and improved many features, but the Disk Management keeps the same with Windows Server 2008. Though Disk Management console integrates Extend Volume feature to extend a disk partition, it is useless in most of the cases. In this article I'll introduce how to extend partition on Windows Server 2012 (R2) without data loss.
Part 1 – Expand volume under Disk Management
Step 1: Right click "Windows" on the bottom left corner in Server 2012 desktop and select "Disk Management" and then the console will be opened.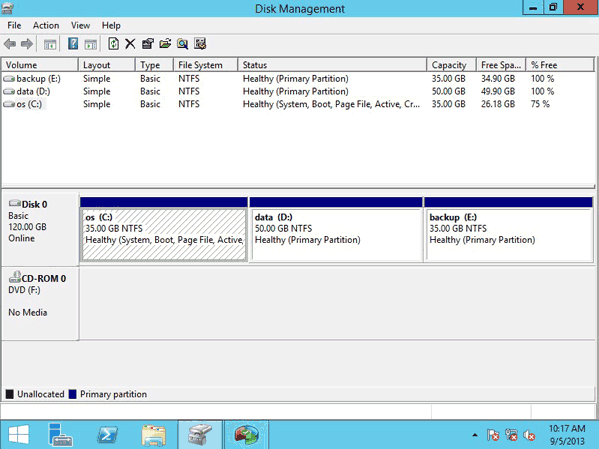 Step 2: Right click the drive you want to expand and select "Extend Volume". Finish the Extend Volume Wizard.
Please compare the following two screenshots carefully.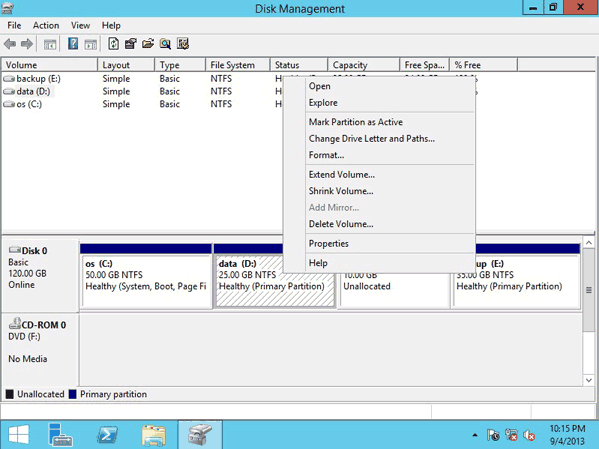 VS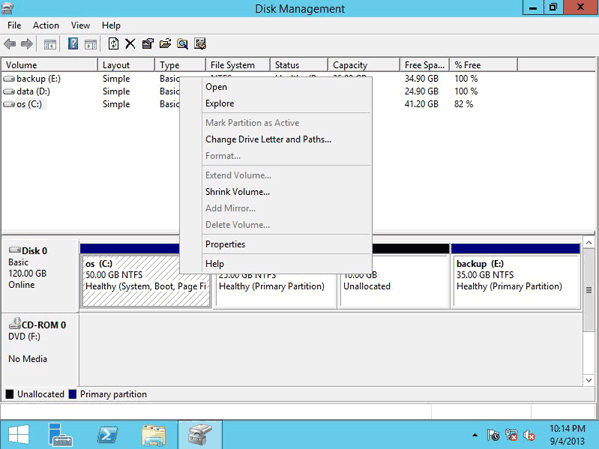 Have you found out the difference? When you right click drive D, the Extend Volume is available in first picture, but "Extend Volume" function is grayed out when you right-click the system C drive, why?
Because there is adjacent "Unallocated" free space next to Drive D, but no such space behind C. So this is the key limitation in Windows Server 2012 Disk Management: to extend/expand a partition, there should be contiguous free space. That is to say, if you want to extend system C drive by shrinking drive D, it is impossible.
Part 2 – Extend partition with 3rd party tool
With professional partitioning software, there are no such limitations, you can shrink and extend any disk partition. However, remember to back up before any operations to a server, and it is important to select a reliable program to complete the task.
Download and install AOMEI Partition Assistant Server, the main window is similar with Windows 2012 DM console.
This software provides several ways to extend partition on Windows Server 2012 (R2), such as "Resize/Move", "Allocate Free Space" feature, here I want to introduce another feature "Extend Partition Wizard" which is specially designed for extending partitions.
Step 1: Click "Wizard" > "Extend Partition Wizard" in menu bar, in the pop-up window, there are two options. The first choice is for extending system partition only, while the second one is for any drive in any disk.
Step 2: Click the check-box in front of the partition you want to extend ( I selected the system C).
Step 3: Drag the scroll bar (marked as orange) or type a value (marked as blue) directly to expand partition.
Step 4: Preview the partition extending operations, click "Proceed" if you want to expand drives like this, otherwise, click Back to change.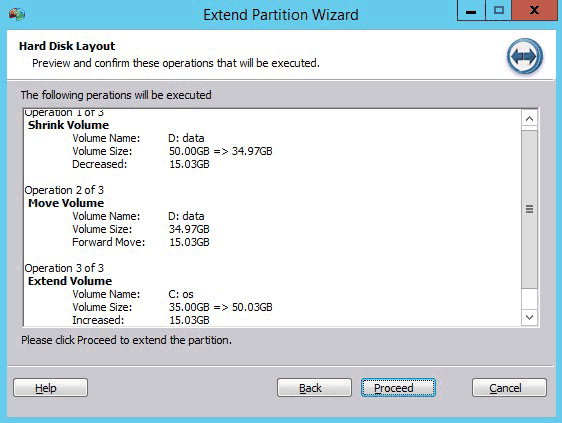 When partition extending operation complete, you'll receive successful message, open Disk Management to check again.
"Extend Partition Wizard" provides full option to extend either system or data drives, shrink a single or multiple drives to expand partition. If there is no other drives in the same hard disk, you can copy to another larger disk, during copy process you can extend partitions in target disk easily.
Video guide to extend partition in Windows Server 2012 (R2)
(Recommend full screen by clicking the square at bottom right of this video)
This disk partition management software support local/removable hard disk drive, USB disk/memory card, VMware, Hyper-V and all types of hardware RAID with any raid controller.