How to merge partitions in Windows Server 2012 (R2)?
Originally, after a hard disk drive was divided into several separate partitions, you cannot change the partition size. When a partition becomes full or due to other reasons, you have to back up everything, delete all partitions, recreate new partitions and finally restore everything. It may waste several days to complete the whole task. Nowadays, you can resize the existing disk partitions directly and everything keep intact. Windows Server 2012 (R2) has been released for a long time and many people ask about disk partition management on this platform, so we'll create a series of articles about it. Today, I want to show you how to combine/merge partitions on Windows Server 2012 (R2).
There are two solutions: combine drives under Server 2012 Disk Management console, or merge volumes with 3rd party partition software. Actually, it is easy to merge two partitions using either tool, but pay attention to data safety. It is a good habit to back up the server before any operations, a bad 3rd party program may cause data loss.
Combine drives in Server 2012 Disk Management
Windows Server 2012 (R2) inherited the feature to re-size a partition from the previous version – Server 2008. In the built-in Disk Management console, you can extend and shrink a drive on the fly. However, there is no merging feature, this is the reason why I said combine drives indirectly. The strategy is like this: copy all files of a partition to other place, delete this partition, and then the other partition hold the free disk space with "Extend Volume" feature, let's begin.
Step 1: Right-click Windows on bottom left and select "Disk Management", where you'll see all connected disk partitions. Transfer all files in drive E to other partitions. Right-click drive E and select "Delete Volume…", it will be changed to free Unallocated after deleting.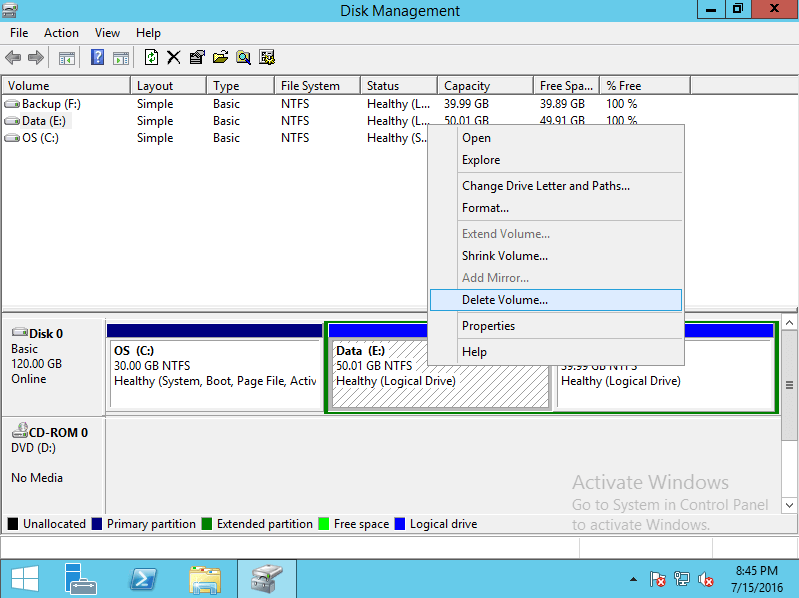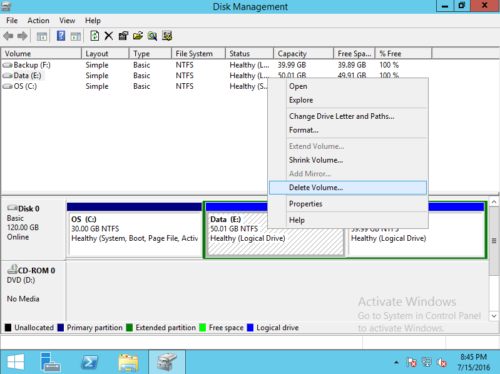 Step 2: Right-click drive C and select "Extend Volume…"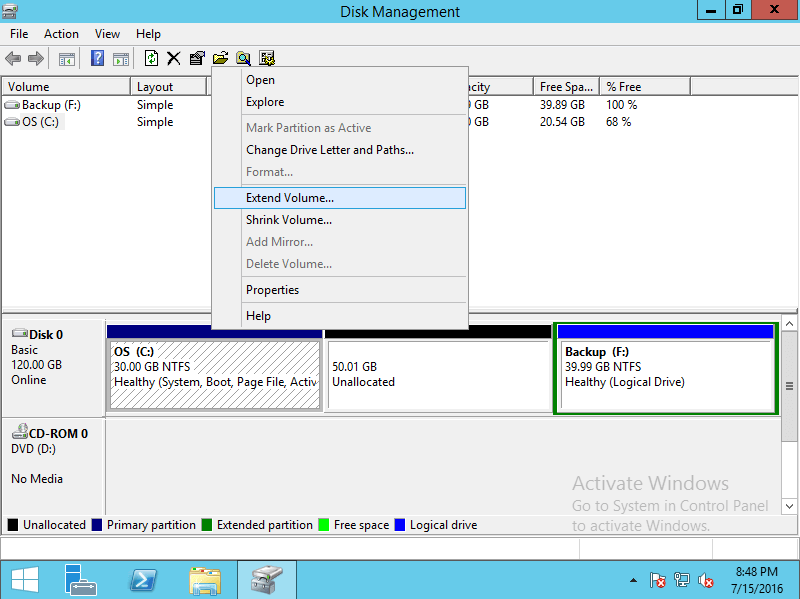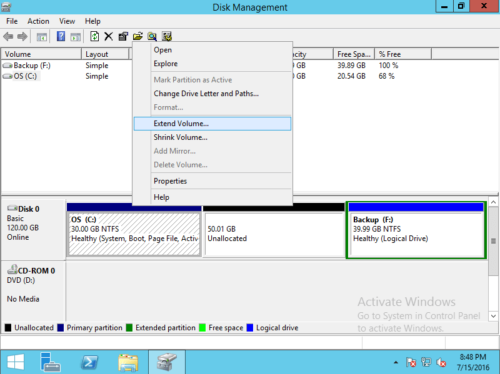 Extend Volume Wizard will be launched, click Next to continue.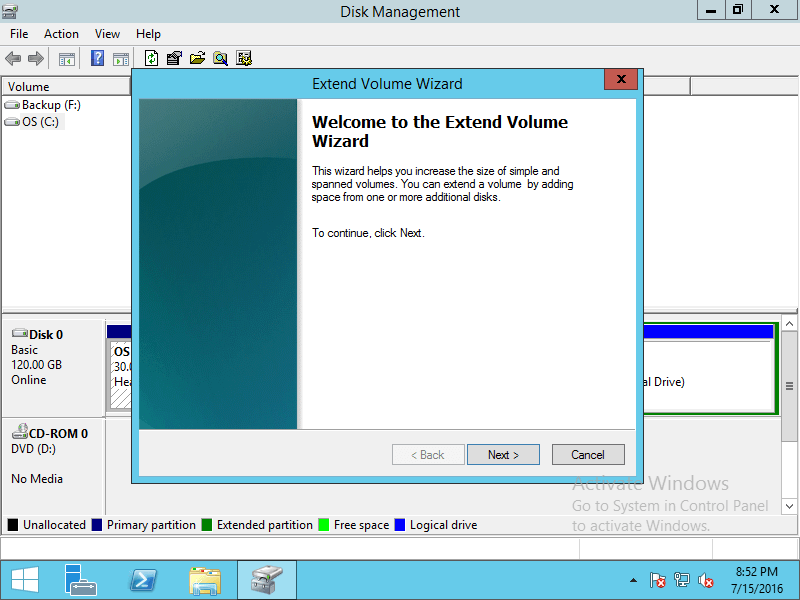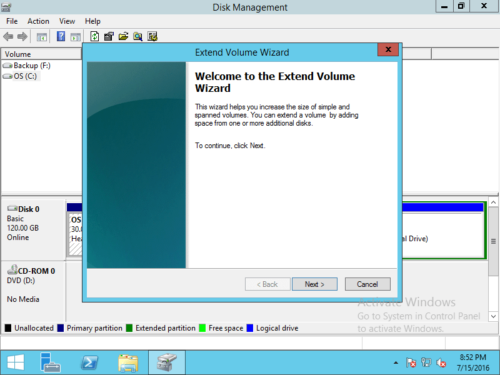 Step 3: If there is only one available Unallocated space, it will be selected automatically, otherwise, you need to select a disk, click Next to continue.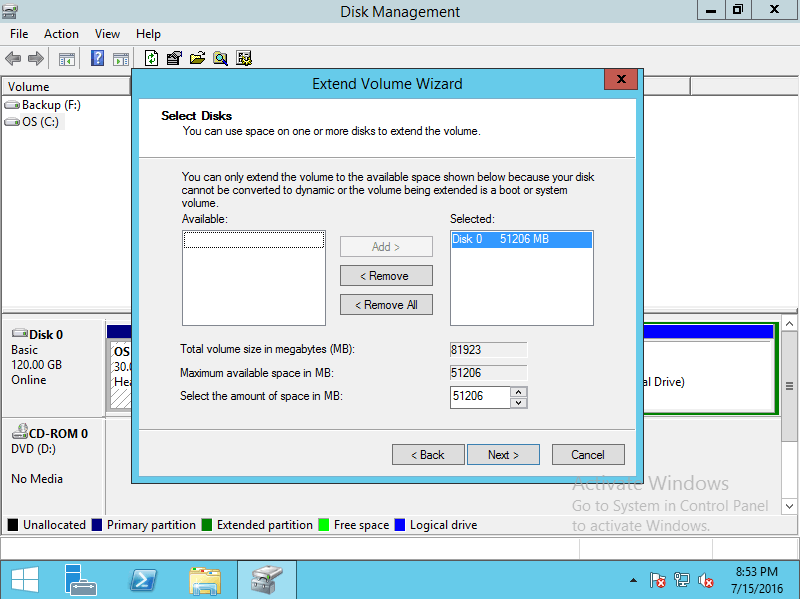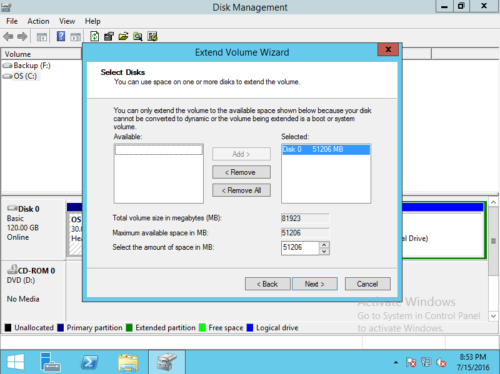 Step 4: Confirm the operation, click Finish to proceed.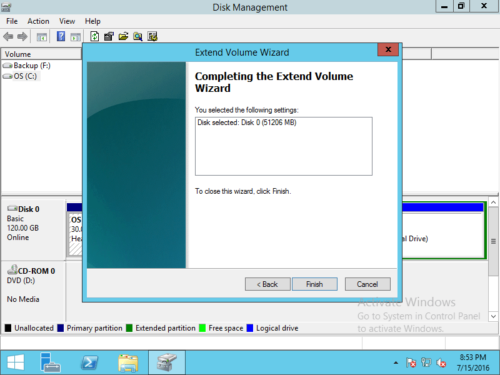 In a short time, original drive E merged into drive C.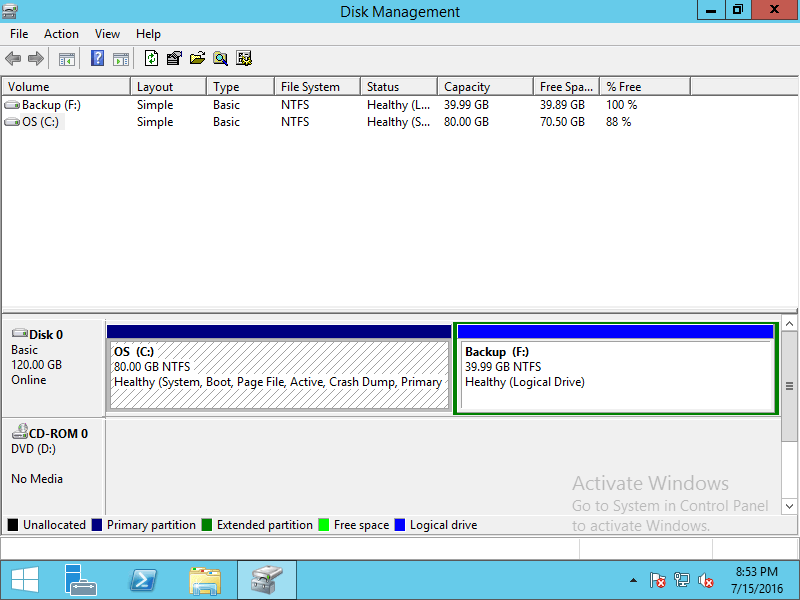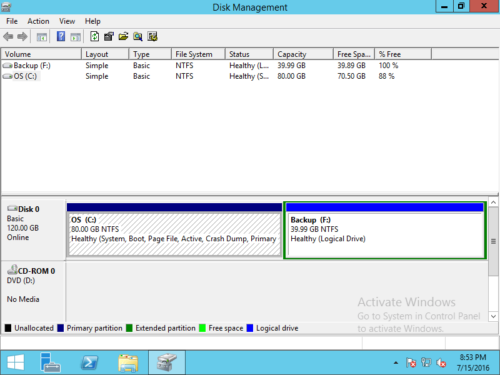 Merge Server 2012 partitions with partition software
Step 1: Back up or transfer data, launch NIUBI Partition Editor, right click drive D: and selcet "Delete Volume".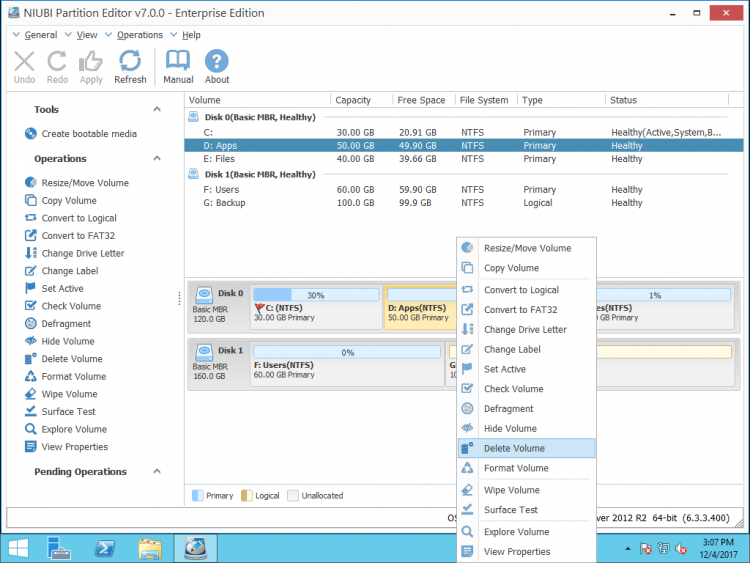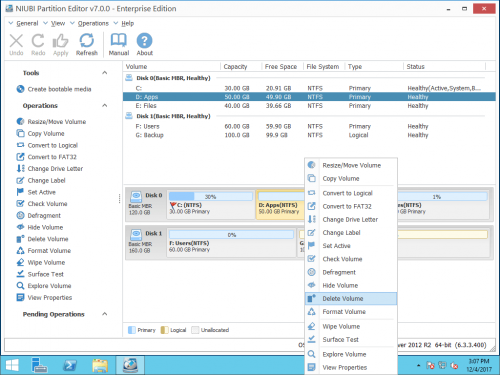 The disk space will be changed to Unallocated, which can be combined into other volumes.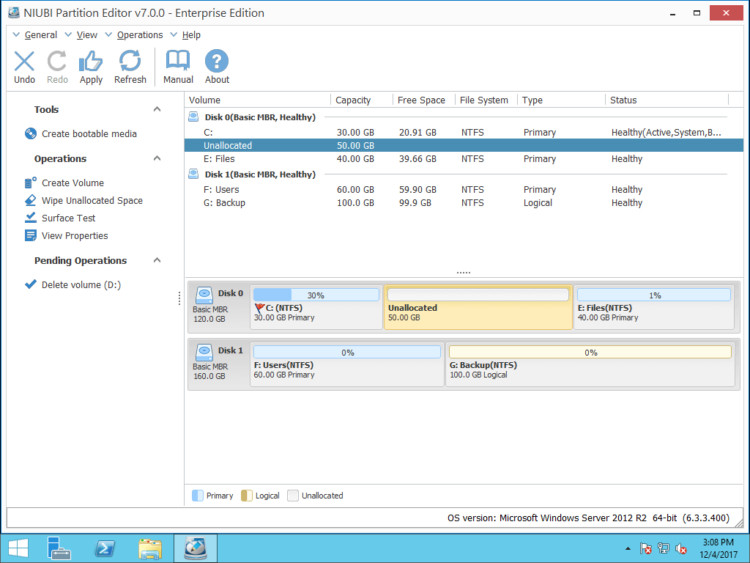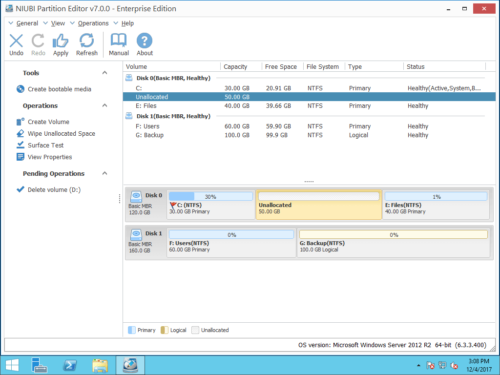 Step 2: If you want to merge the Unallocated space into C: drive, then right click C drive and select "Resize/Move Volume". In the pop-up window, drag the right border rightwards to hold the Unallocated space.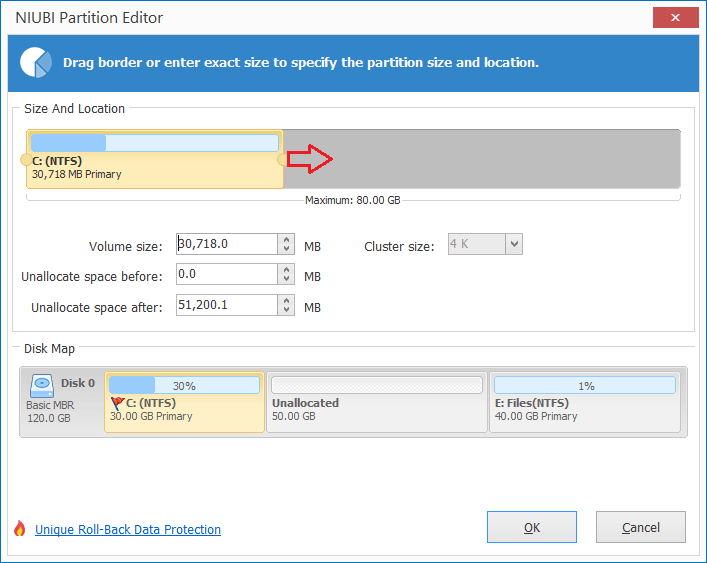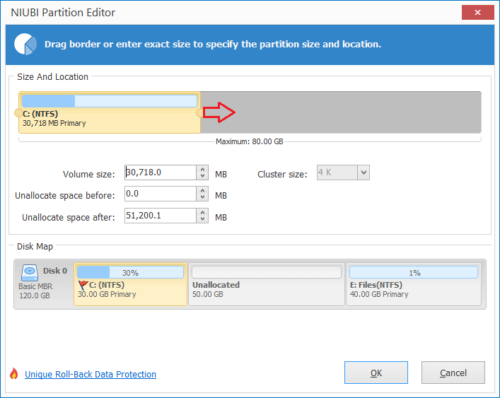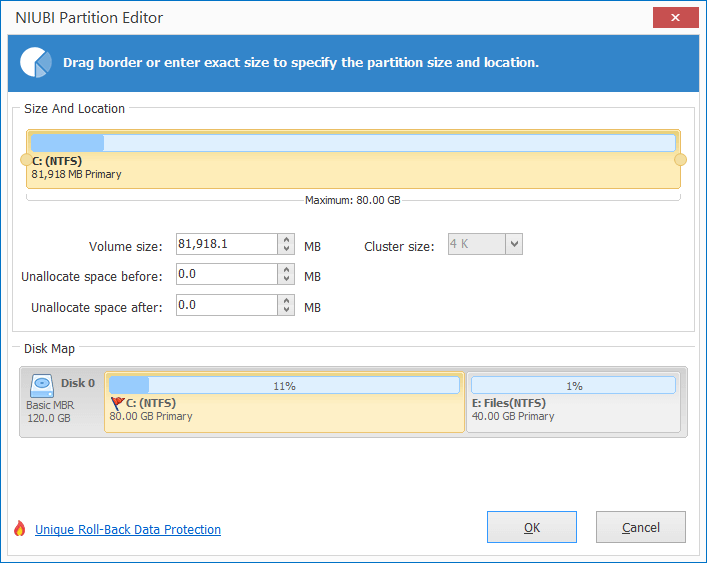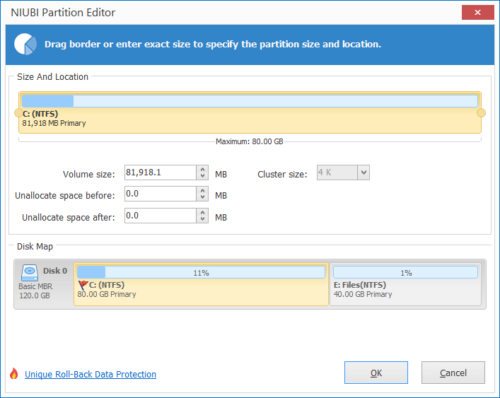 Step 3: Unallocated space will be merged into C: drive. Click Apply on top left to execute.
If you want to combine the Unallocated space to E: drive, right click E and select "Resize/Move Volume".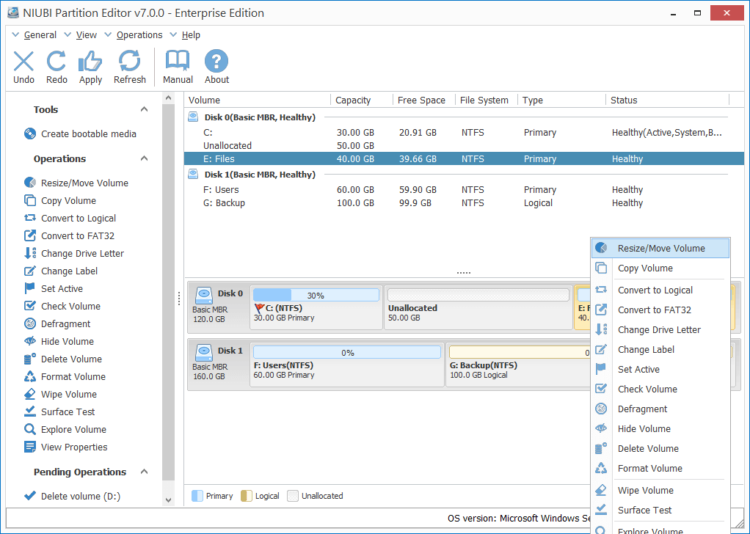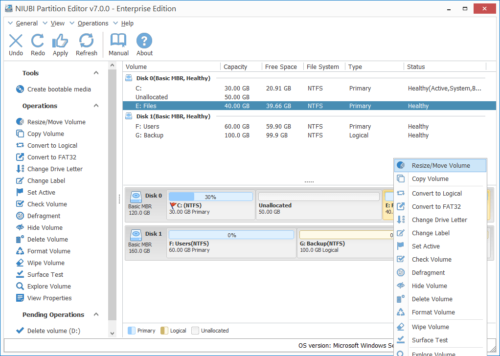 In the pop-up window, drag left border leftwards to hold the Unallocated space.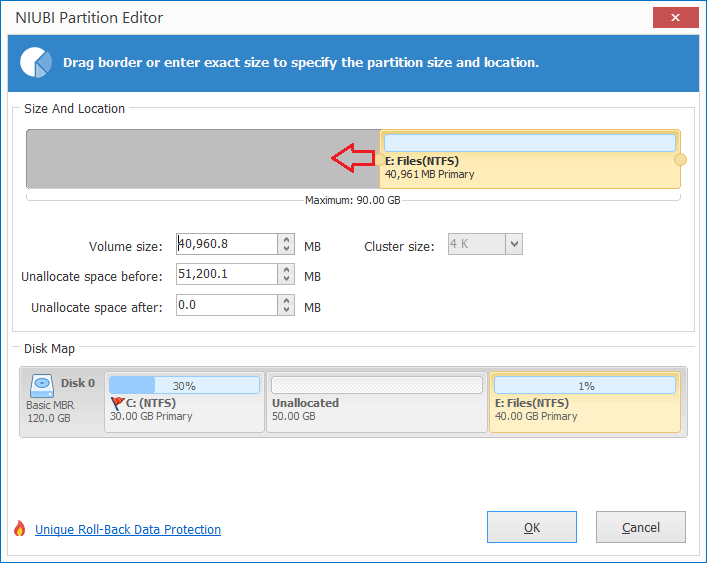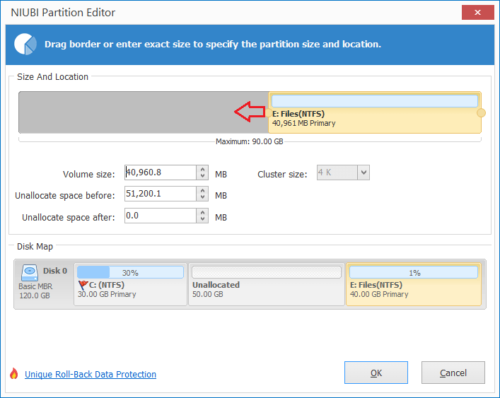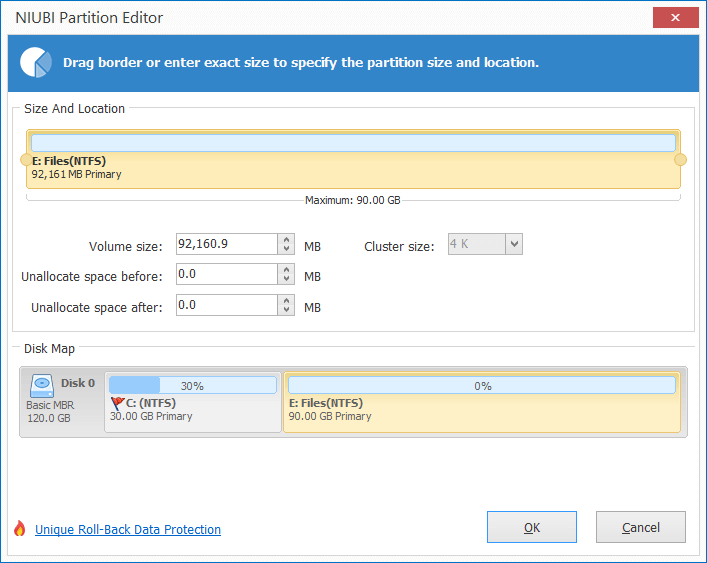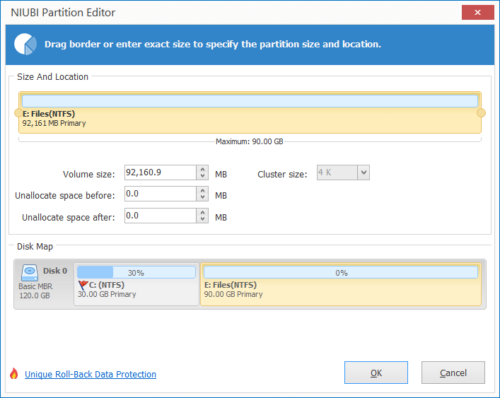 Click OK and back to the main window, the Unallocated space combined into E drive, remember to click Apply to execute.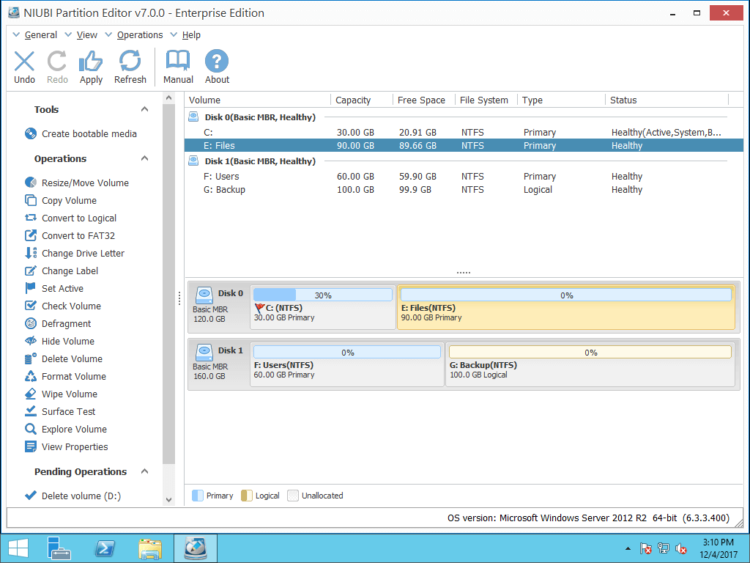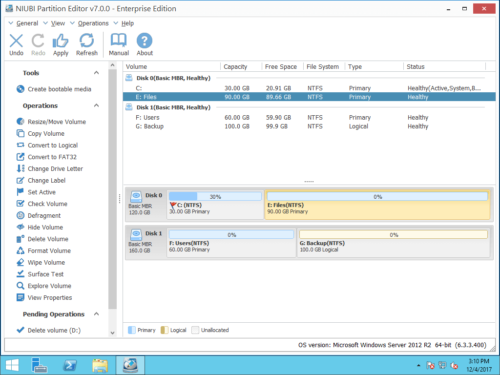 Have you found the difference?
In Server 2012 Disk Management, the Unallocated space that deleted from D can only be merged into the left drive. Partition software is able to merge into any drives.
Better idea than merging partitions
If you want to extend C drive by merging partitions, there is better way: shrink other data drive to get free space and then add into C drive. See how to do this:
By this way, you can increase C drive free space without deleting any drive, Operating System, applications and add data keep intact.