How to shrink volume in Windows Server 2012 (R2)
Windows Server 2012 inherited the same Shrink Volume and Extend Volume functions from previous Server 2008, so you can do part of partition resizing operations. If you forget to create more partitions when installing Windows Server 2012, all disk space will be used by the system C: drive. As we know, it is not a good idea to use single system partition and put everything into it. With Server 2012 Shrink Volume function, you can decrease C drive partition size to get Unallocated space, and then you can create more volumes easily. However, not every drive can be shrank via "Shrink Volume", in some cases only little space can be shrunk from the OS partition. In this article, I'll introduce how to shrink volume in Windows Server 2012 r2 with built-in Disk Management and 3rd party disk partition software.
How to shrink volume in Server 2012 Disk Management:
Step 1: Press Windows + X together on the keyboard and select Disk Management in the list.
Step 2: Right click the drive that you want to decrease and select "Shrink Volume".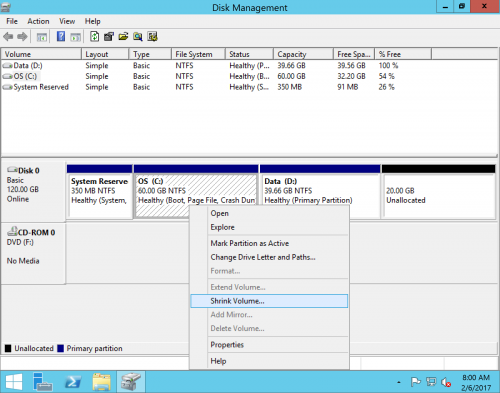 Step 3: Enter the amount of space to shrink. The default amount is all available size. Click Shrink to continue. In general, this partition will be shrunk in a short time.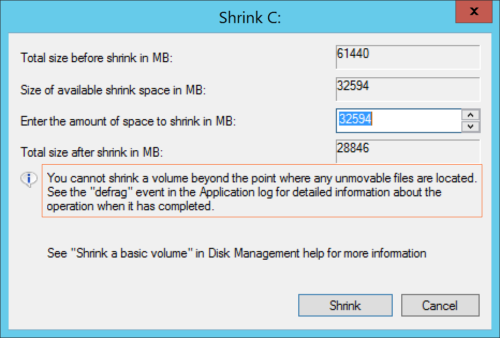 In some cases, you can only shrink little space, as the note says "You cannot shrink a volume beyond the point where unmovable files are located." Find out the reasons why cannot extend partition in Server 2012.
Limitations to shrink drive in Server 2012 with Disk Management
From Microsoft help document, when you shrinking a partition, certain files (for example, the paging file or the shadow copy storage area) cannot be automatically relocated and you cannot decrease the allocated space beyond the point where the unmovable files are located. If the shrink operation fails, check the Application Log for Event 259, which will identify the unmovable file.
Assume the drive you that want to shrink is consist of 4 blocks – 1, 2, 3 and 4, the unmovable file is in block 3. You cannot shrink volume to block 1 or 2, even if there is free space. Better than Disk Management, 3rd-party tool such as NIUBI Partition Editor is able to move the "unmovable" files, this is the reason why it is able to shrink much more space than Disk Management.
If there are no unmovable files or no file system error in a NTFS partition, you can shrink it easily in most cases. But, if you want to extend a volume, Disk Management cannot help you. To extend a drive with Disk Management, there must be adjacent Unallocated space on the right. The Unallocated space shrunk from a partition is nonadjacent or on the left of another drive. Therefore, Extend Volume function is always grayed out.
Only NTFS partition can be shrunk, FAT32 and any other types of volumes are not supported.
How to shrink volume with partition software
To shrink partition in Windows Server 2012 (r2), third party software is better choice, you just need to drag and drop on the disk map. Here I'll show you how to shrink Server 2012 volume and how to create new or extend another one after that.
1. Shrink volume to create new drive
Step1: Download NIUBI Partition Editor, right click C drive (or any one you want to shrink) and select "Resize/Move Volume".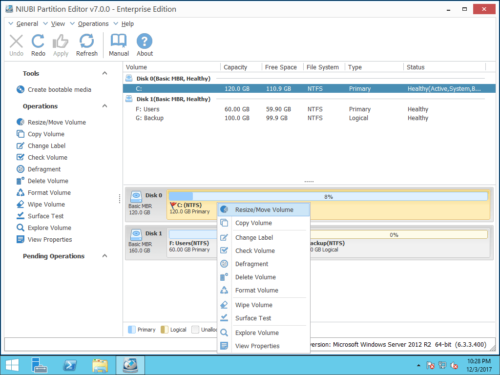 Step2: In the pop-up window, drag the right border leftwards.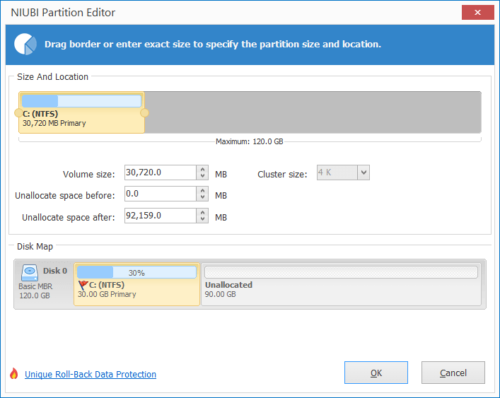 The Unallocated space will be created on the right side of C: drive. If you drag left border towards right in previous step, Unallocated space will be made on the left side.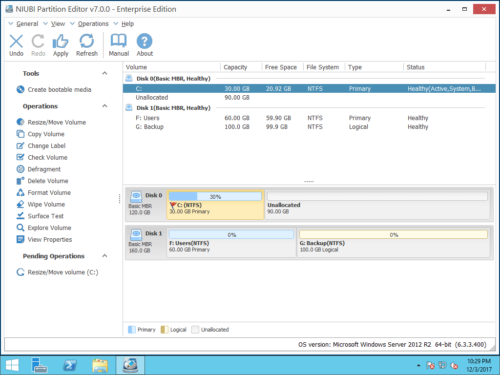 Step 3: Right click the Unallocated space and select "Create Volume".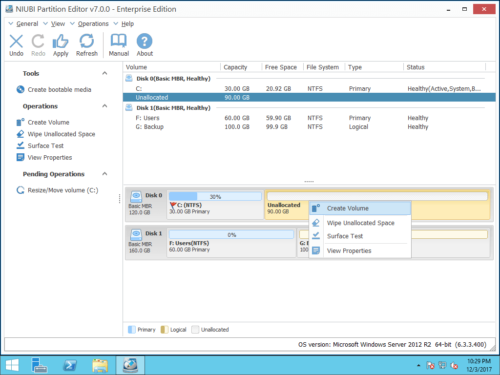 Step 4: In the pop-up window, click OK to create partition with default settings. Or change each setting by yourself, available operations including:
Add label (name) to this new volume
Select a drive letter
Select File System and cluster size
Select to create this drive as Logical or Primary
Drag either border to change the partition size.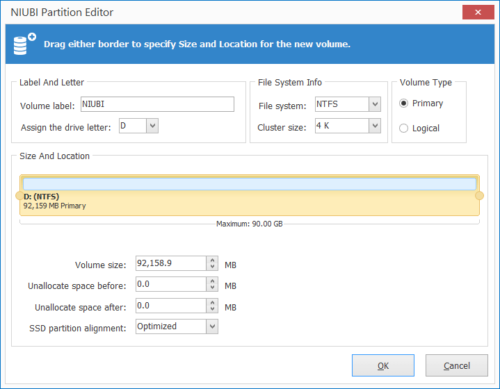 Step 5: Click OK and back to the main window, click Apply on top left to execute, done.
2. Shrink volume to extend other drive
Step 1: Right click D: drive and select "Resize/Move Volume".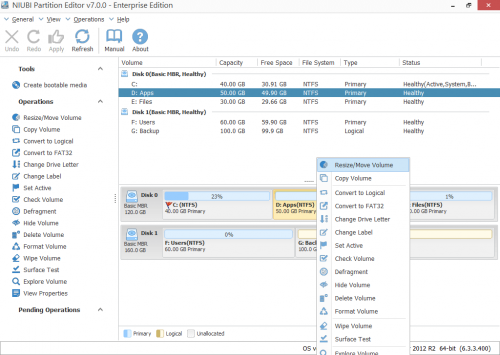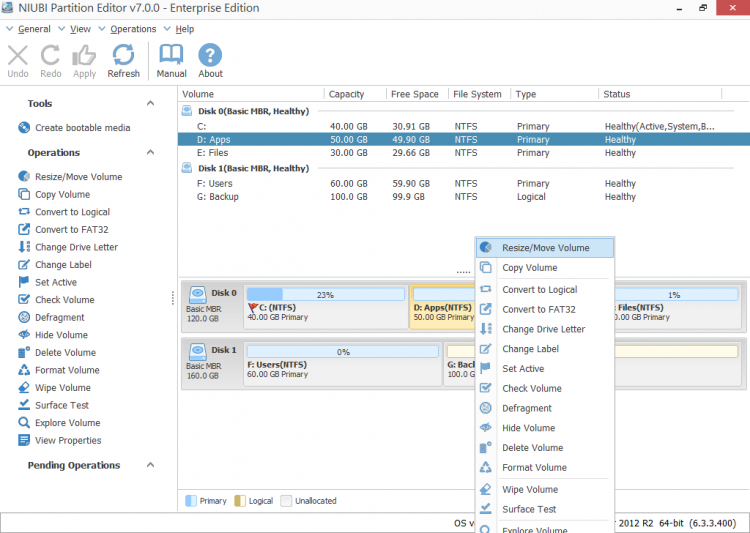 Step 2: In the pop-up window, drag the left border rightwards to shrink D and make Unallocated space on the left.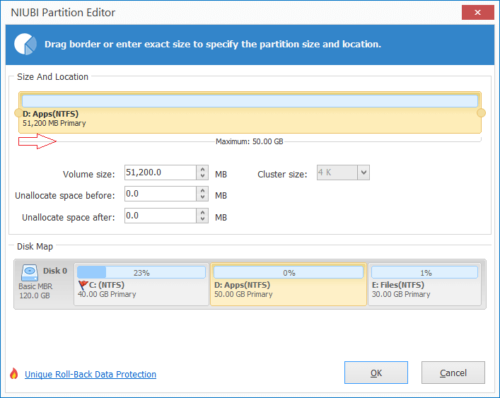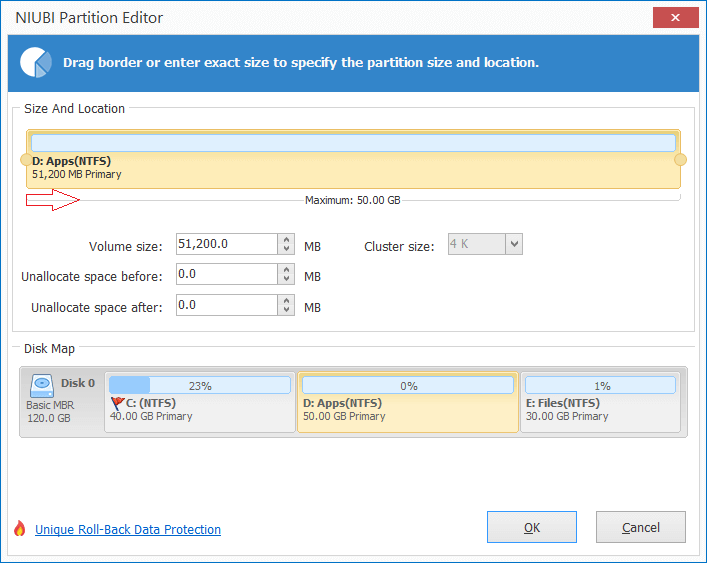 If you want an accurate value or integer, enter an amount in the box by yourself.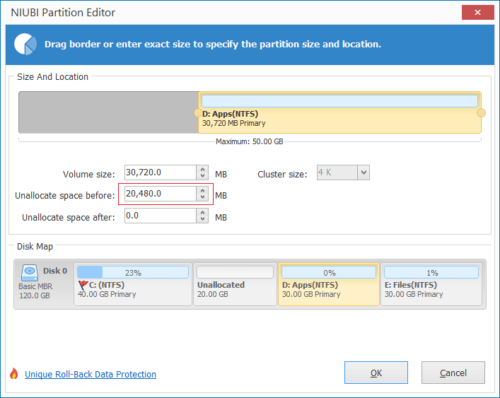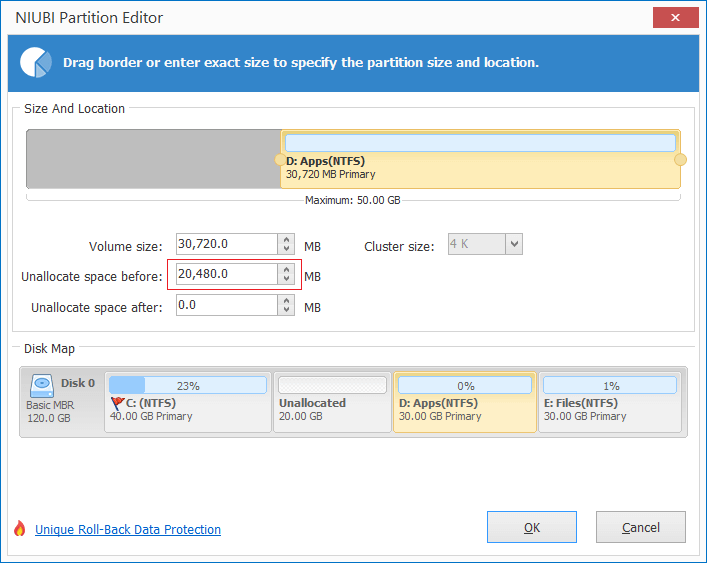 Click OK and back to the main window, a pending operation is added on bottom left.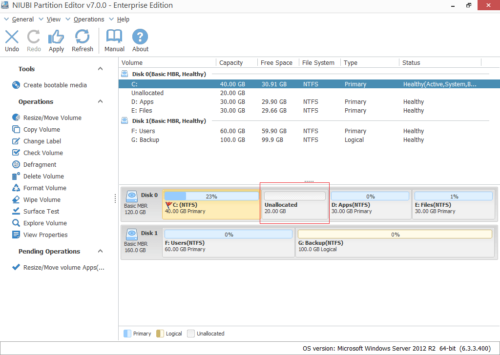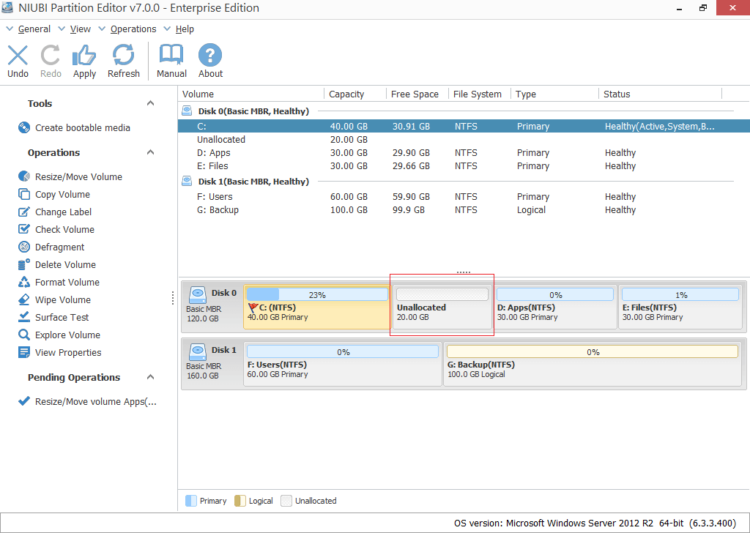 Step 3: Right click C drive and select "Resize/Move Volume", drag the right border rightwards to merge this Unallocated space.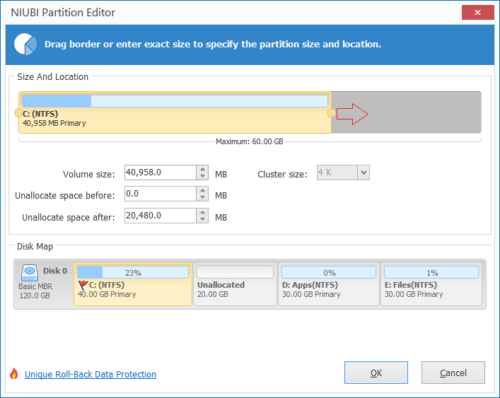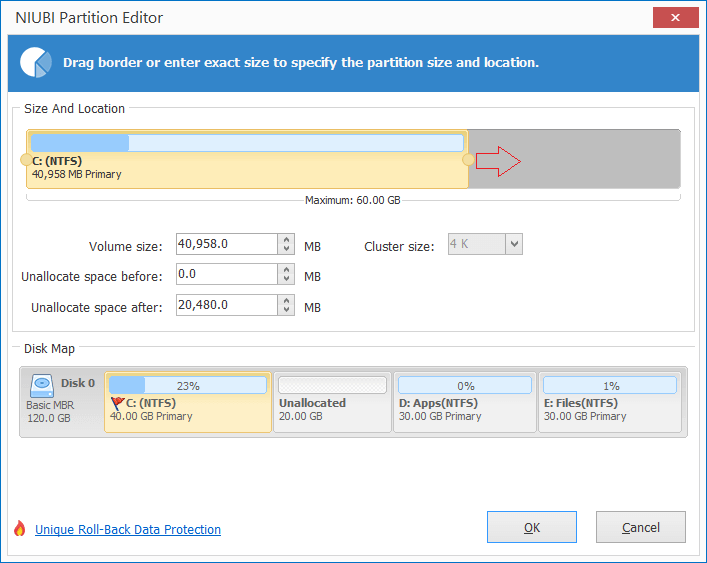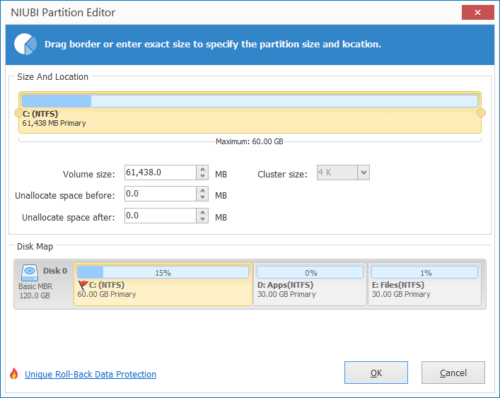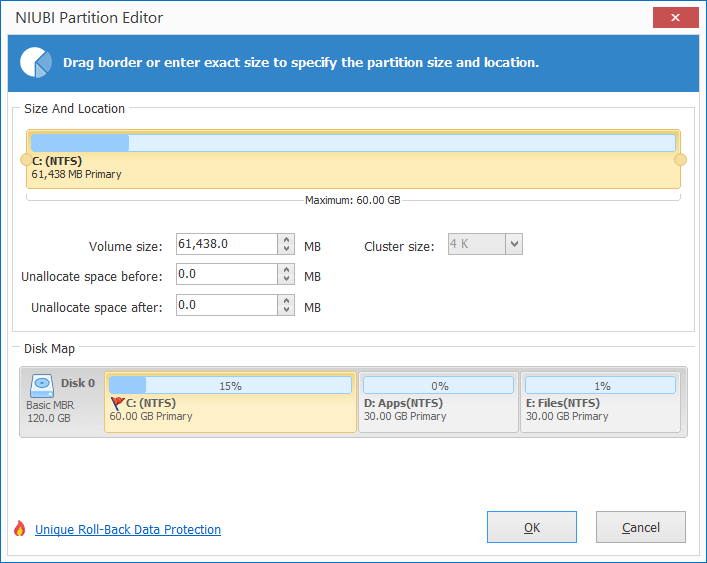 Step 4: Click OK and back to the main window, click Apply on top left to take effect, done!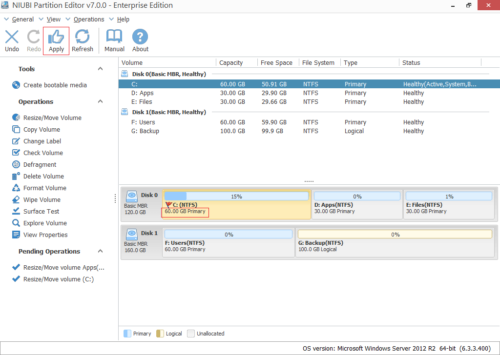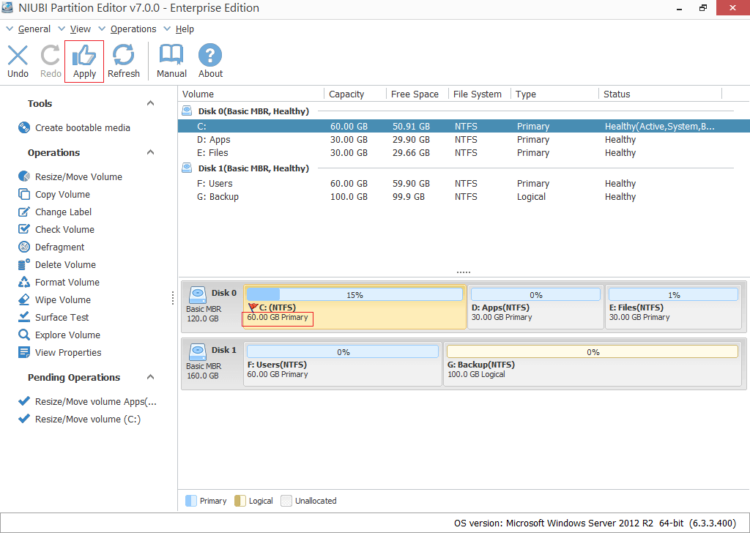 When shrinking partition in Windows 2012 server, there's potential system/partition damage risk, so it's important to make a backup in advance and run a safe partitioning software. Better than other software, NIUBI Partition Editor has powerful 1-Second Rollback, Virtual Mode and Cancel-at-well technologies to protect your system and data.
Video guide to shrink and extend volume on Server 2012
Besides shrinking and extending partition in Windows Server 2012/2016/2019, NIUBI Partition Editor helps you do many other disk partition management operations, such as merge/move/copy/convert/defrag/wipe/hide partition, scan bad sectors.