How to repartition hard disk drive in Windows Server 2012?
The disk partition layout will not meed your needs after running the server for a period of time, the typical issue is system C drive running out of space, so there is not enough free space left to install Windows updates and applications. When C drive is full, the server could stuck or crash. Luckily, you can repartition hard disk drive without starting from scratch. With professional partition resizing software such as Partition Magic Server, you can change the size of disk drives and keep everything the same. In this article, I'll give detailed steps to repartition hard drive in Windows Server 2012 (R2).
Why repartition hard drive is possible?
For example, there are some important parameters in a MBR hard disk. From the parameters in MBR and DBR, Operating System will know how many volumes in this disk, the start and end location of this disk. From the parameters in DBR, Operating System also find files list as well as the area of each file. So it is easy to understand: if a tool could modify the parameters and move all files to the right position, it could resize this partition.
Which tool to repartition disk drive?
Though it is easy to understand the theory, but not every tool could complete this task always in right way. A bad designed program may spend a long time to move files if the algorithm is not good, especially when there are tons of files in this partition. Furthermore, it may cause system boot failure or data loss in some special situations. Remember, data is most important to a server, so back up before any operations, and select a reliable partitioning software.
To repartition a hard disk, you may either use Server 2012 built-in Disk Management or 3rd-party program. Shrink Volume and Extend Volume function is Disk Management is safe to decrease or increase partition size. However, either function is for single volume, that is to say, you can simply shrink a volume or expand a volume if there is adjacent Unallocated space. If you want to shrink D to expand C, impossible. The key reason is because Disk Management cannot move the Unallocated space.
To shrink a volume and extend the other one, 3rd-party software is needed such as NIUBI Partition Editor. Why this tool? NIUBI Partition Editor integrated unique Roll-Back protection technology, which is able to roll back the server to the status before resizing automatically and rapidly if power failure or any other hardware issue occur, so you don't need to worry about Operating System and all data safety. Furthermore, it is 30% – 300% faster than ANY other tools, because of its unique file-moving algorithm.
Then how to repartition disk with this tool?
Steps to repartition hard disk on Server 2012
Step 1: Download NIUBI Partition Editor, right click D: drive and select "Resize/Move Volume".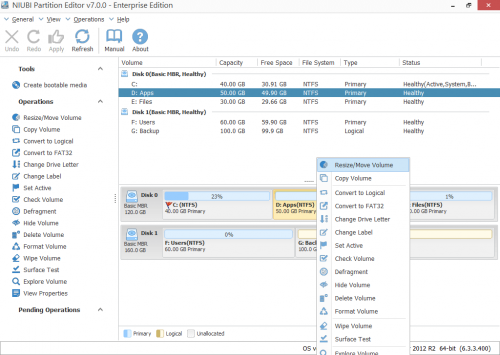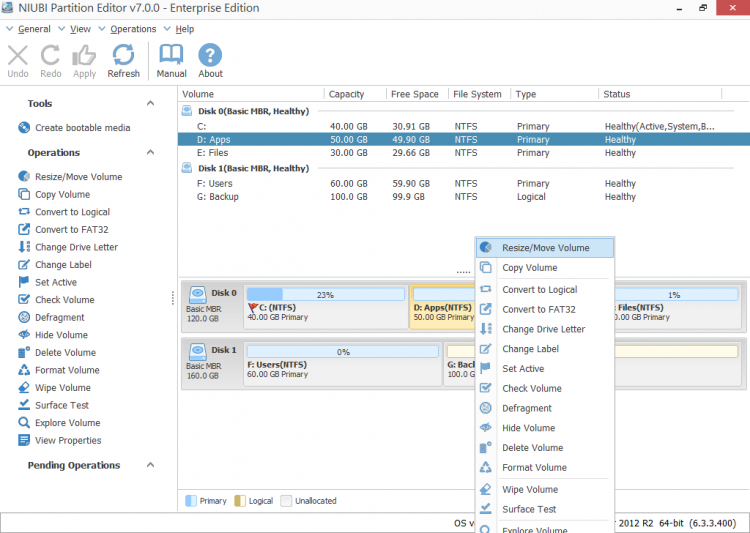 Step 2: In the pop-up window, drag the left border rightwards to generate free Unallocated space.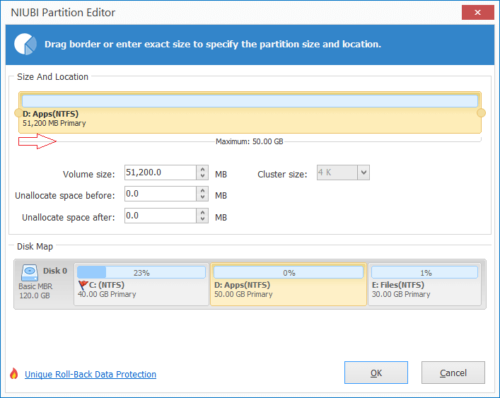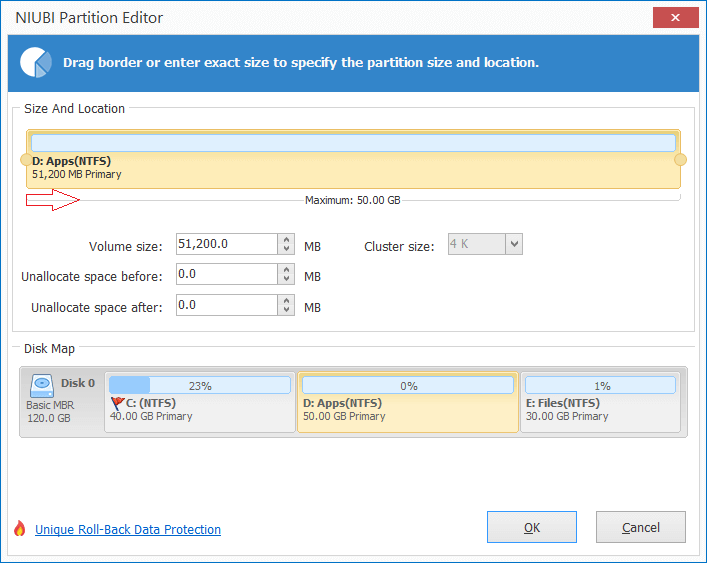 You may also input a value for the Unallocated space directly.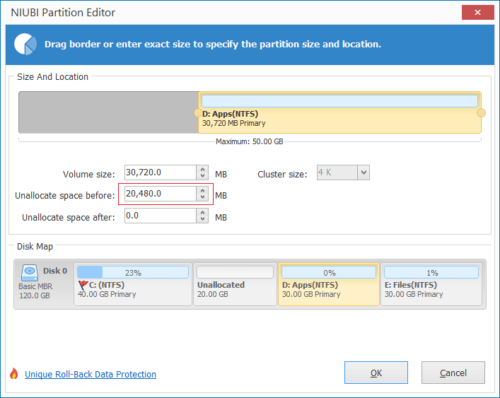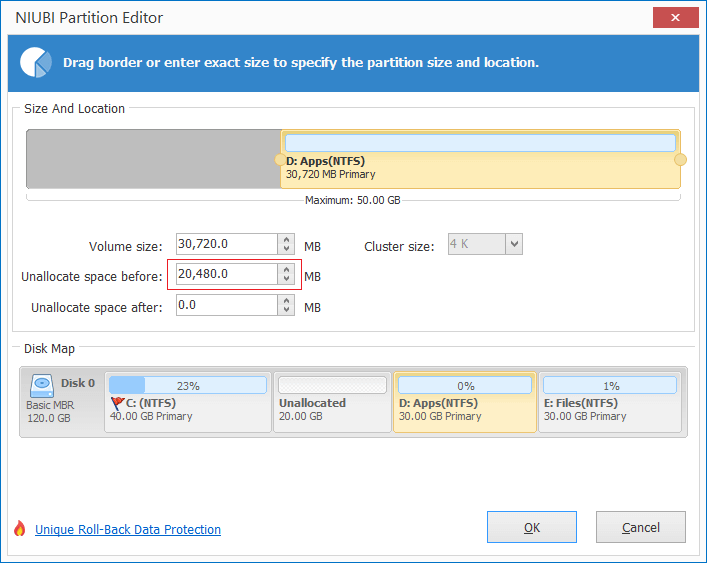 Click OK and back to the main window, where you'll see 20GB Unallocated space created behind C: drive.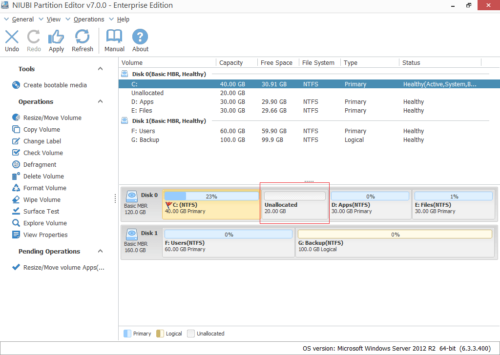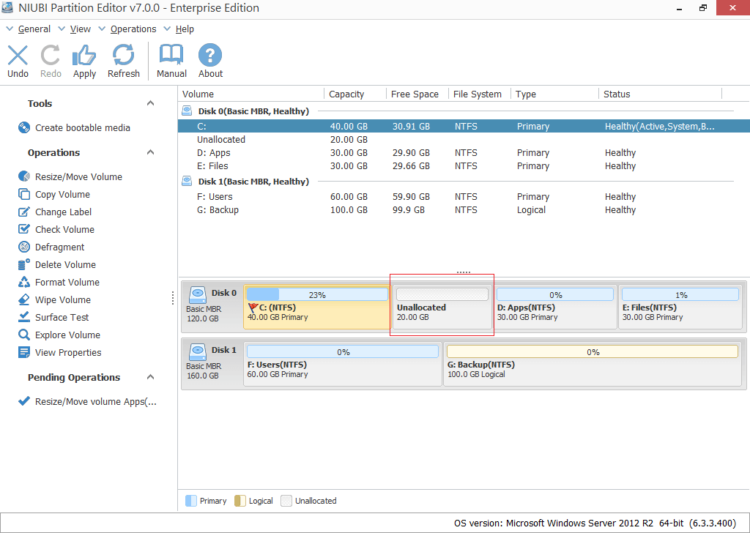 Step 3: Drag the right border rightwards to hold the Unallocated space.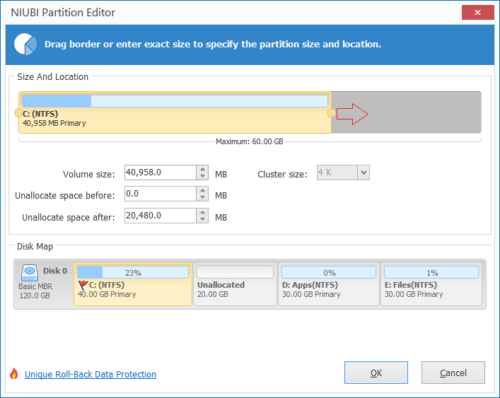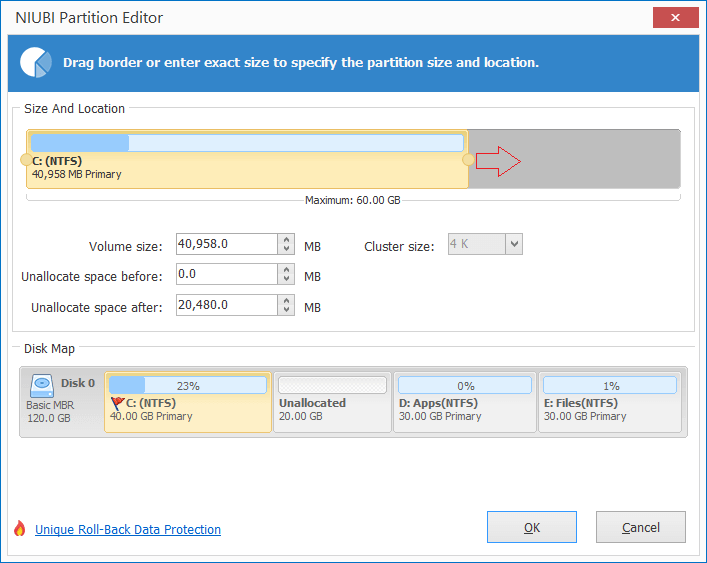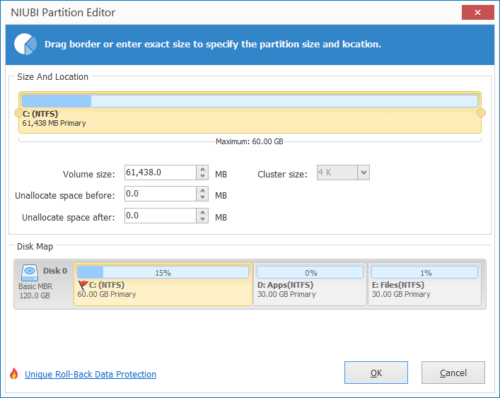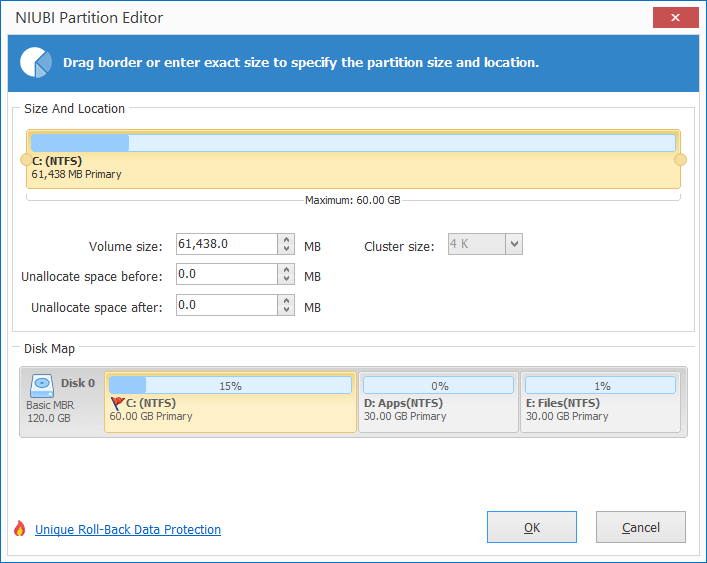 Step 4: Click OK and back to the main window, where you'll see C drive extended to 60GB by robbing 20GB free space from D. Press Apply on top left to execute, done!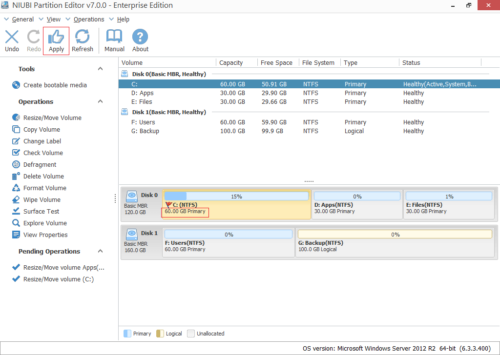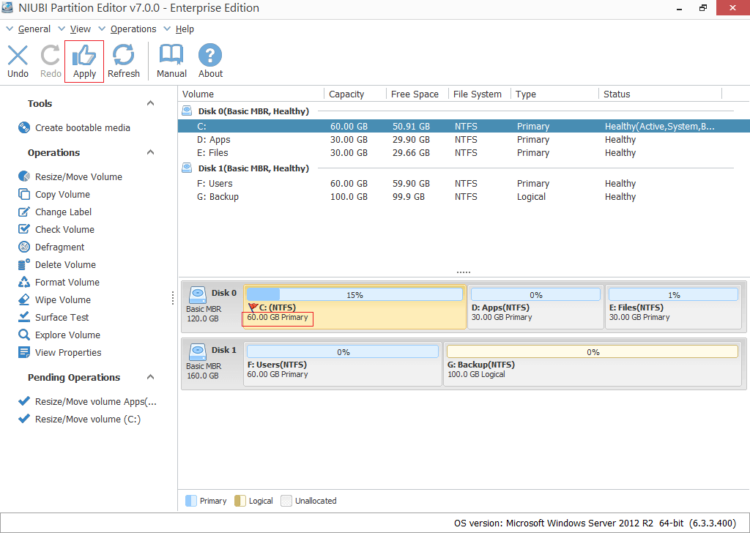 If there is not plenty of free space in drive D, you can expand C by taking free space from any other drives in the same disk.
Video guide to repartition on Server 2012 (R2)