How to resize volume in Windows Server 2016?
Resize partition means change the size of existing disk volume, of course the precondition is no data loss. There are many questions asked by computer users including server administrators, such as: are you sure partitions can be resized without losing data? Is it difficult to resize partition? Which software is better to resize server volumes? How long will it cost to complete resizing? Is reboot required or on the fly? I've written some articles on this topic and many Server 2008/2012 users feedback they are helpful. So in this article, I want to talk about resizing partition on Windows Server 2016, because more and more people installed or upgraded to this new Server.
Benefit of resizing disk partition
One word – FAST! Originally, when the system C drive is running out of space, you have to back up everything, delete all disk volumes, recreate a larger C drive, finally restore everything. It may cost a whole day, if there is something wrong, your whole weekend will be wasted. By resizing partition with right tool, it may complete within 1 hour to several minutes (depends on how much used space in the volume).
Why partition can be resized on Server 2016?
A hard disk is used to store variety of files, to read and write files, there are many records or parameters in MBR, DBR or other place, which can be handled by the Operating System. A partition (also called as drive or volume) is a block of entire hard disk. To manage a partition, Operating System should know the information, such as:
file system of this drive
total size
start and end location
used area and unused area
used area include all files of this drive
Windows Server 2016 can easily locate a file though these parameters, meanwhile, it is able to modify this file by updating related parameters. When C drive is running low, partition software can:
moving all files in this partition to new area (if moving is required)
update parameters of these files in file system
modify start or/and end location of this volume
update the parameter of total size
update other related parameters in the file system
After everything was modified correctly, Operating System can read and write files without issue from the new parameters.
Pay attention to data safety before resizing
It is not difficult to understand the theory, however, it doesn't mean every software can finish this task well. Many factors if cannot be handled by the software could cause data loss or partition corruption, for example: large amount of files, low memory, high CPU usage rate, etc. Another big risk is hardware issue such as power failure! You can image what happen if power failure when moving file or updating the parameters. Operating System cannot read the unfinished or damaged information, it means partition corruption and data loss.
NIUBI Partition Editor is the ONLY software than can roll back the server to the status before resizing automatically and rapidly, if these issue occurred, so Operating System and data keep intact. This is the reason why it is recommended as the safest partition software.
Furthermore, its unique file-moving algorithm helps resize partition 30 – 300% faster that other tools. In some situations such as large amount of files or low computer memory, it can be 500% faster!
How to resize Server 2016 partition?
It is very easy to resize volume, anyone without computer skill can complete this task well. The most common situation in a server is that C drive becomes full but there is plenty of free space in volume D, so here I introduce how to shrink D to expand C.
Steps to resize partition on Windows Server 2016:
Step 1. Download and start Partition Editor Server, right click volume D and select "Resize/Move Volume".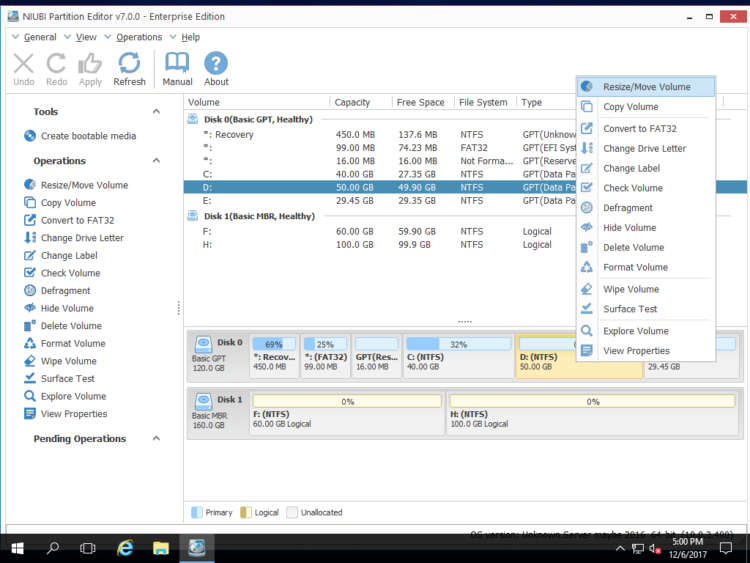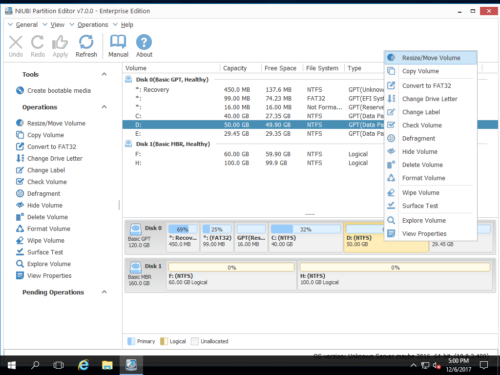 Step 2: In the pop-up window, drag left border rightwards to take free space out from D. (here I shrink 20GB)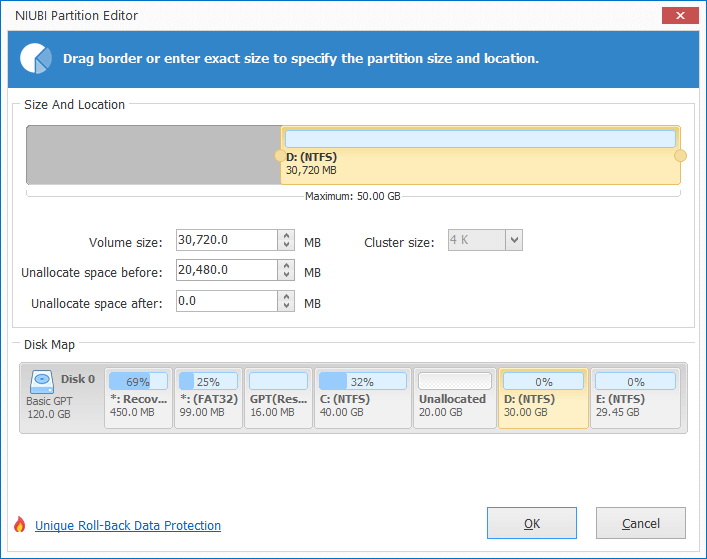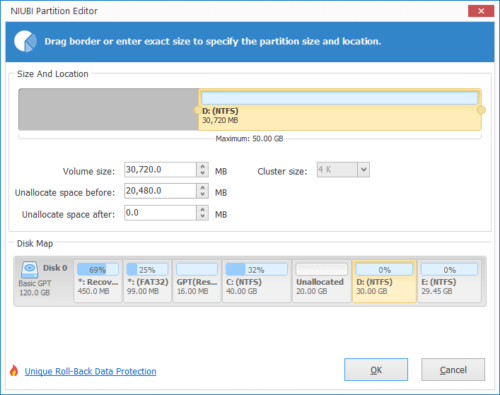 Click OK, the Unallocated space is generated behind C: drive.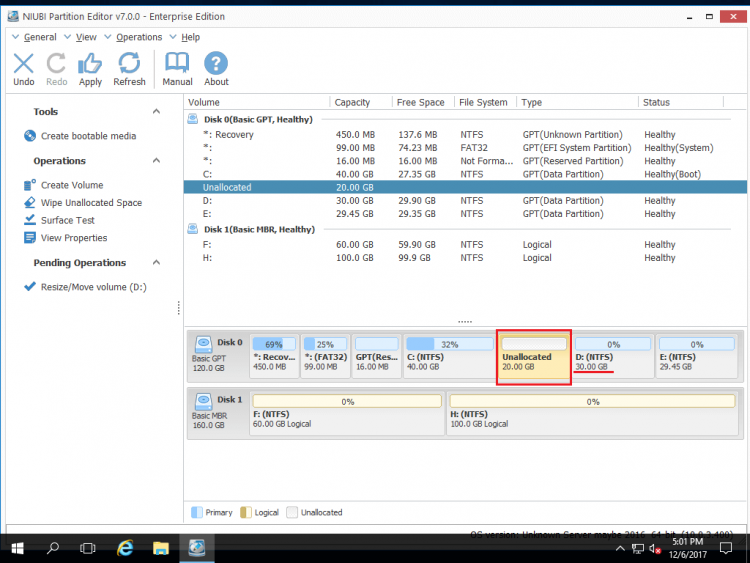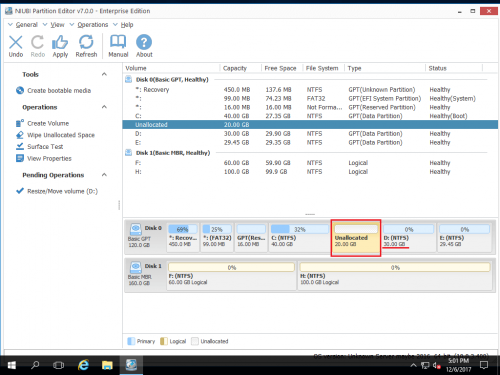 Step 3: Right click C and select "Resize/Move Volume" again. Drag right border rightwards to hold the Unallocated space.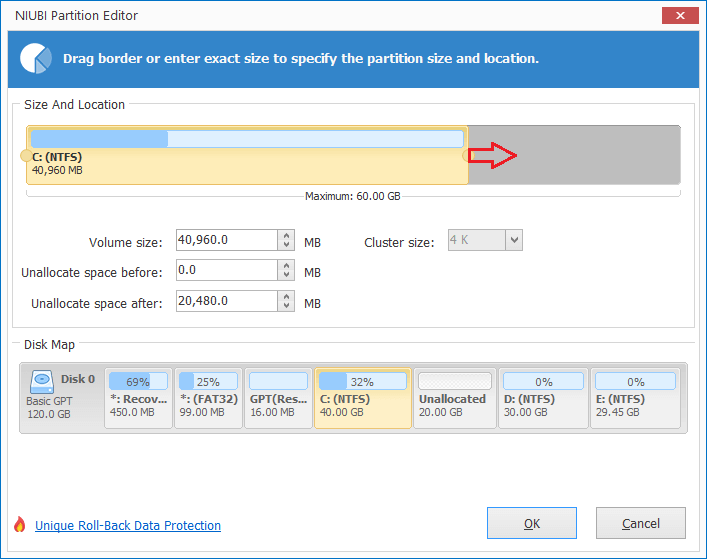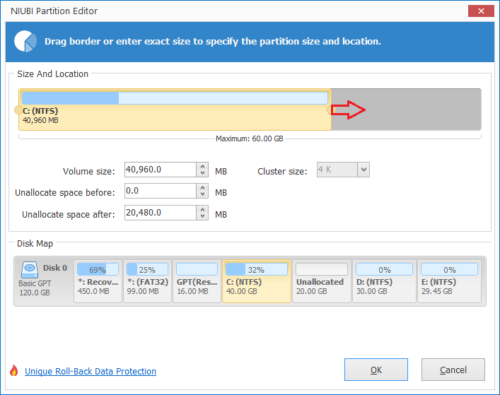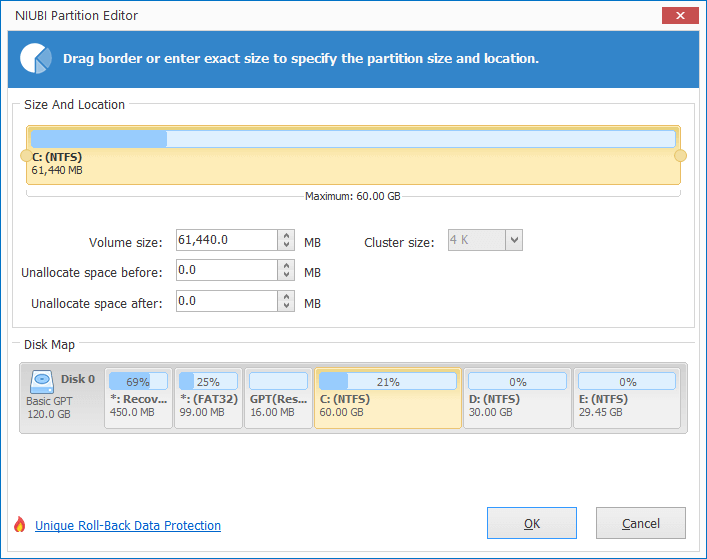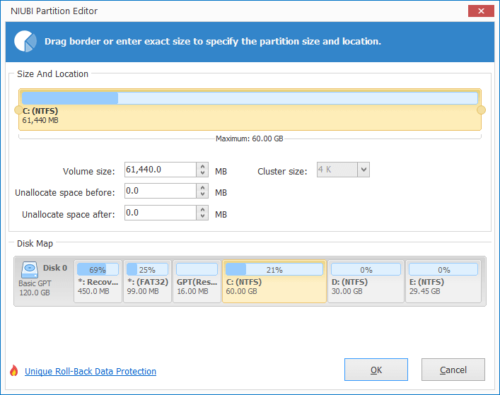 Step 4: Click OK, as you see C drive extended to 60GB by adding the free space from D. Click Apply on top left to execute, done.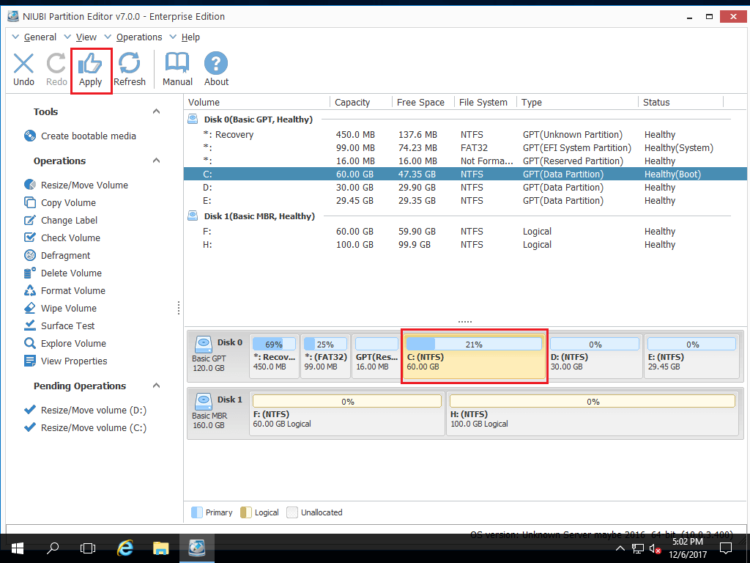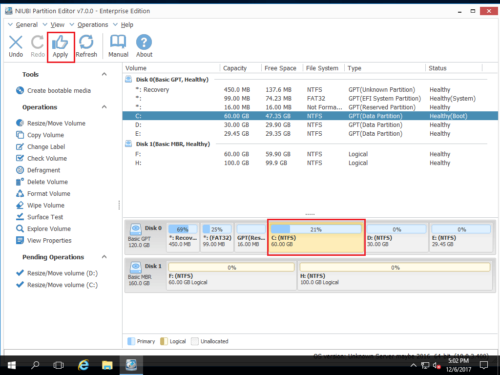 You may also refer to the video – how to resize Server 2016 volumes for all disk partition layout.
BTW, this partition software supports local/removable hard disk drive, USB disk/memory card, VMware/Hyper-V and all types of hardware RAID with any raid controller.