How to resize RAID 5 partition on Windows Server without losing data?
RAID 5 is seen by many as the ideal combination of good performance, good fault tolerance and high capacity and storage efficiency. It is best suited for transaction processing and is often used for "general purpose" service, as well as for relational database applications, enterprise resource planning and other business systems. However, the same with physical disk drive, RAID 5 also runs out of space, especially if you install operating system on this RAID array. Database also eat up free space very quickly.
When a virtual drive of this RAID is out of free space, it cannot better if you can resize the partitions, because it'll save much time. Otherwise, you have to rebuild the RAID array, reinstall operating system and large amout of applications.
Resize RAID 5 drives
Some people create a single RAID 5 array for both Operating System and data, but others may use it for storage only. Fortunately, no matter you want to resize RAID 5 system or data partition, nowadays you can resize RAID 5 partitions directly without the annoying works. Just shrink a virtual data partition to extend the system drive or another partition.
Get ready to resize raid 5 array
- If there are several virtual partitions on the same RAID-5 array, you can simply shrink another RAID 5 data partition and then extend the system partition. In this condition, don't break the RAID array, just operate like resizing partition on physical hard disk.
- If there is no free space in all other virtual drives on the RAID 5 array, you have to add another disk to this RAID 5 array. After that the new disk space will be displayed as Unallocated at the end of the raid array, you can extend any partition with the free space.
In this condition, make sure the RAID controller has the ability to re-configure RAID 5 without data loss.
How to resize RAID 5 array virtual partitions
Before resizing RAID 5 drives, you'd better open the raid controller and Disk Management, because you'll better understand the disk partition layout.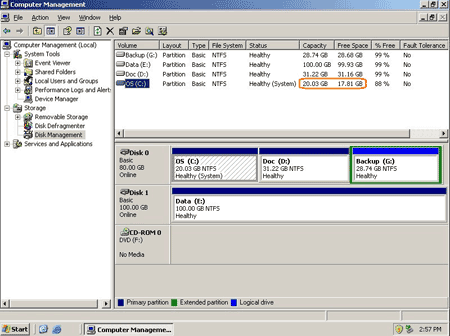 Under disk management, a hardware RAID array shows as "Basic" "Disk X". In my server, there are 3 virtual drives on theRAID 5 array. The example is how to extend system C: drive by taking free space from other data drive(s).
Step by step to resize raid 5 partitions
Step 1, Launch Partition Assistant Server edition, you'll see the physical and RAID 5 virtual drives, the disk layout is the same with disk management.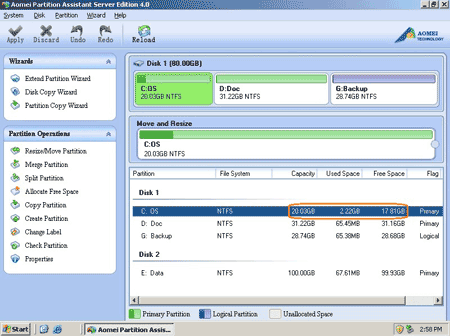 Step 2: Right click drive D: or G: and select "Allocate Free Space", in the pop up window, type the value how much space to shrink and then add the free space to C: drive.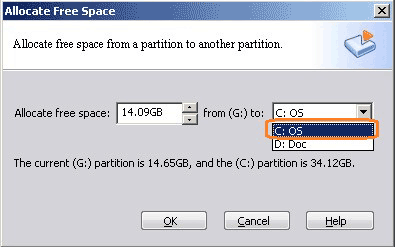 Step 3: Click "OK" and back to main window, press "Apply" button on top left to proceed.

Within several minutes, the partitions resized and C: drive space increased to 34.12GB.
Brief summary of the process
1. If there is free space in any drive, to resize RAID 5 partitions, you just need to shrink this drive and add the free space to another.
2. If there is no free space in other drives, add a new hard disk to this raid array, and then extend system or other data drive with free space in the new drive.
3. Within several minutes, you have a "new" raid array without doing anything else.
Based on the unique built-in Enhanced Data Protection technology and Copy Wizard, you don't need to worry about data security when resizing partitions.
Unlimited Edition allows unlimited installation and usage within your organization to save time and money.