How to resize partition on Windows SBS 2008 without data loss?
Some people asked me about partition resizing several days ago – is it possible to resize SBS 2008 partitions without destroying data? If yes, how to resize SBS 2008 system partition? It seems that many Microsoft Windows users encountered the same issue of insufficient free disk space, so they want to resize or extend system C: drive without starting over. Today, I decided to write an article and share some experiences resizing partition on Windows SBS 2008.
About SBS 2008
Windows Small Business Server 2008 (SBS 2008 for short), like its name, is a limited product. Comparing with Windows Server 2008, SBS 2008 is limited to 75 users and not able to create a trust. It comes with additional software like Exchange Server and SQL Server depending on  the license you use.
However, the same with regular version, in SBS 2008 there is built-in Disk Management to do basic and advanced partitioning operations. Basic management to create, format, delete partition, etc. Advanced management to shrink and extend partitions.
Low free space in system partition
The minimum partition size to install Windows SBS 2008 is 60GB, so you have at least 30GB free space left after installing. Many people think it is enough, but in fact, even if you create a 100GB partition to install Windows, it runs out of free space quickly. The low disk space is common issue in all Windows versions. To solve this problem faster and easier, try to resize partition and extend system C: drive.
What you should know about resizing partition
1.No partition software can resize partitions beyond physical hard disks, that is to say, the partitions to reduce and increase size should be in the same disk. To find out the disk partition layout, you should open Disk Management, Windows Explorer and SBS Console cannot help you, because you can only see single partitions.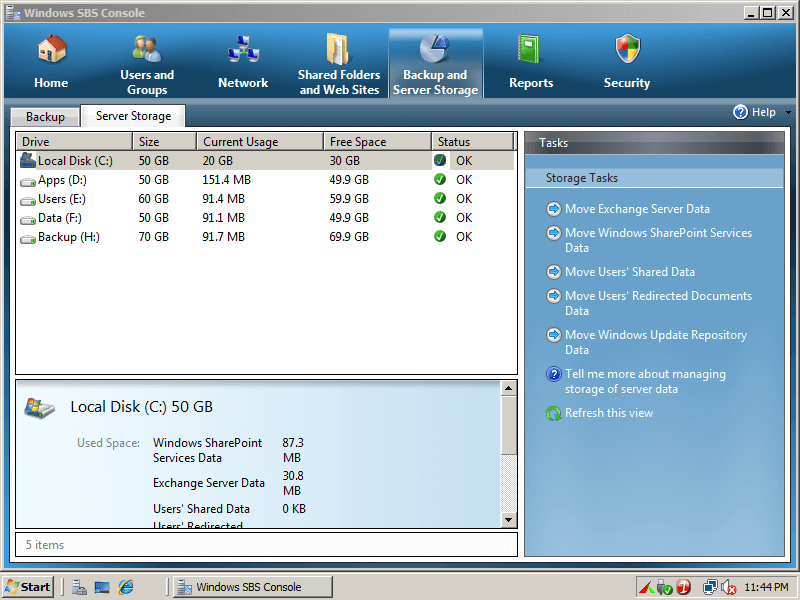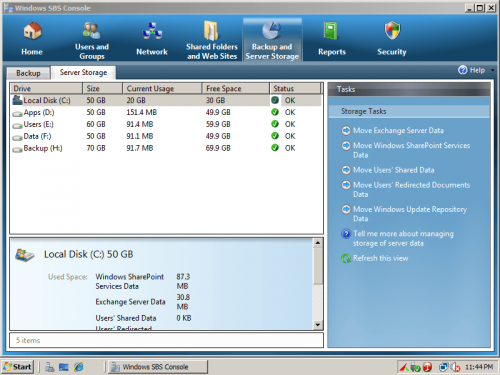 In SBS 2008 Disk Management, you can see all disk partitions and detailed info of them.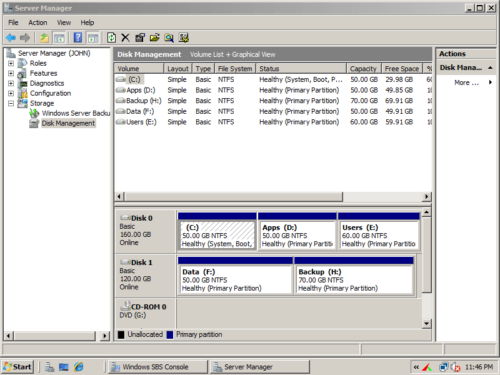 2. SBS 2008 built-in Disk Management cannot help you shrink D to expand C, because free space shrank from D is not adjacent to C drive.
3. If you use VMware or Hyper-V, the steps are the same with resizing physical disk partition .
4. If you use hardware RAID array, such as RAID 0, RAID 1, RAID 5, RAID 10, do not break the array or do any operation in raid controller.
5. Select reliable 3rd party program to complete the task, nobody likes to see system failure or data loss.
How to resize partition in Windows SBS 2008?
It is very easy to operate, simply select and drag. As long as there is free space in other volumes in the same disk, you can resize partition to transfer the free space into C drive.
Steps to resize SBS 2008 partitions:
Step 1: Download and install NIUBI Partition Editor Server, right click drive D: and click "Resize/Move Volume".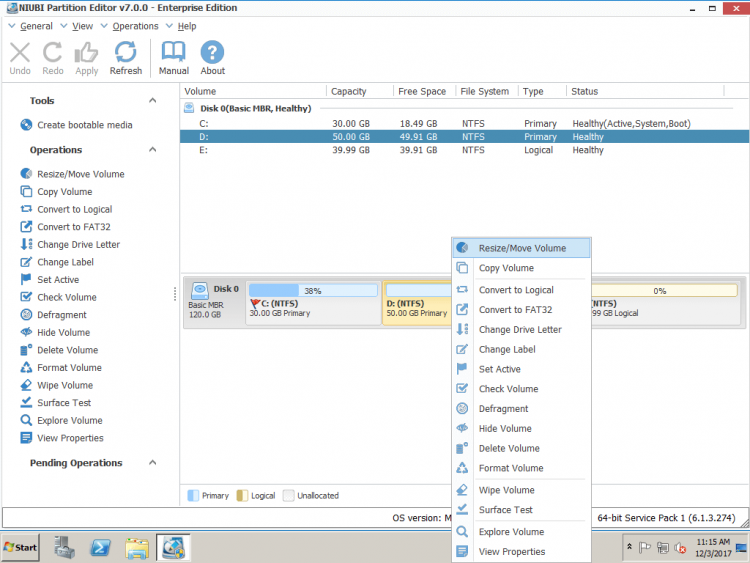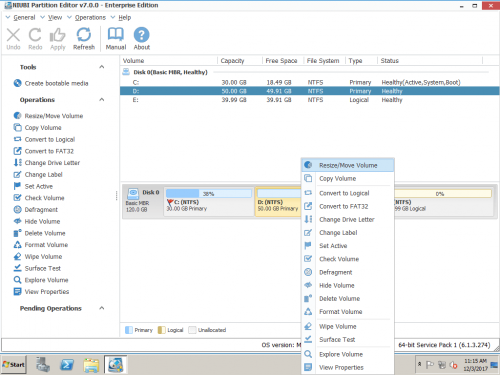 Step 2: In the pop-up window, drag the left border rightwards to resize this partition.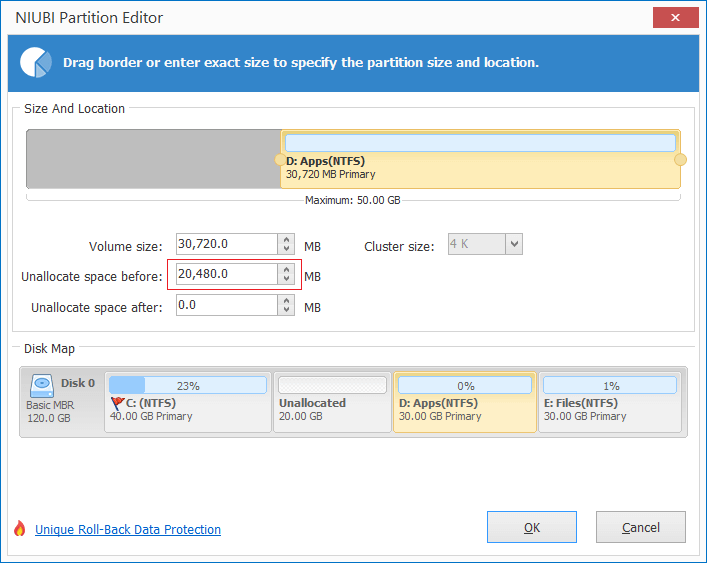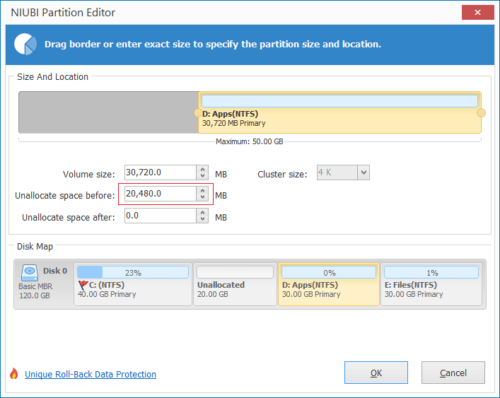 Drive D resized to 30GB and 20GB free space took out from it, which shows Unallocated next to C drive.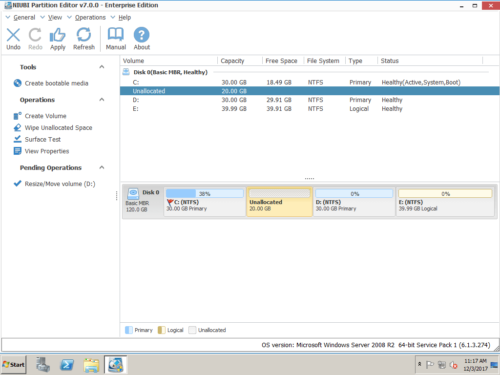 Step 3: Right click C drive and select "Resize/Move Volume" again, in the pop-up window, drag the right border rightwards to hold the Unallocated space.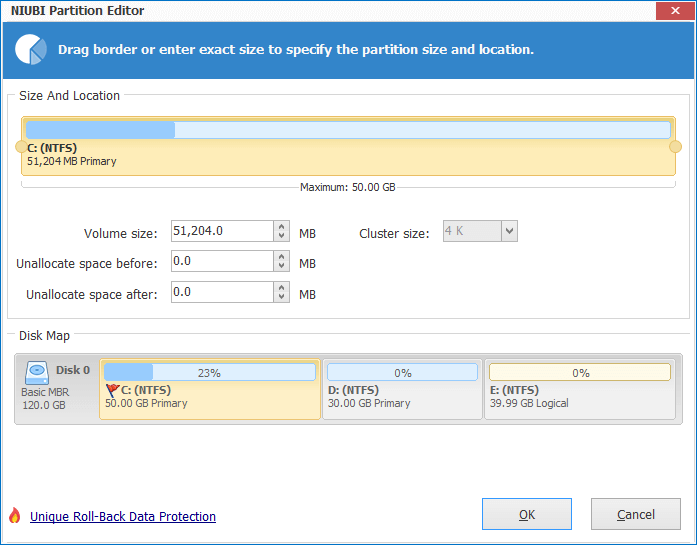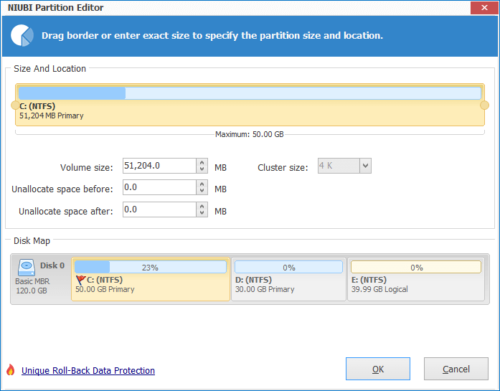 Click OK, C drive resized to 50GB by holding the 20GB free space from D. Press Apply on top left to execute, done!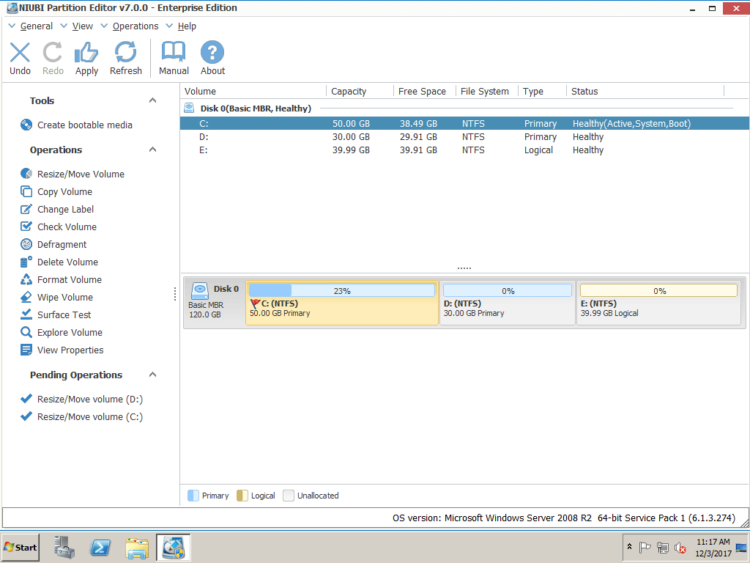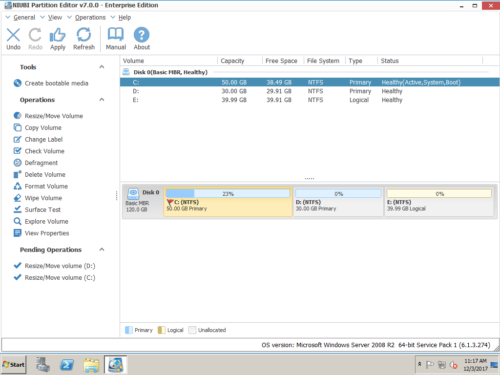 If there is not plenty of free space in D, you may get free space from other drive in the same disk.
To resize SBS 2008 volume, I always recommend NIUBI Partition Editor. Better than other tools, it integrated unique Roll-Back Protection technology, which is able to roll back the server to the status before resizing, even if power failure or any other hardware issue occurred during resizing. Besides, its unique file-moving algorithm helps resize partition 30% -300 faster than other tools, which is strictly tested.