How to resize Server 2008 partitions without losing data or starting over
With partition magic server software, it is very easy to resize server 2008 partition. Firstly, open Server 2008 disk management and find out the partition configuration.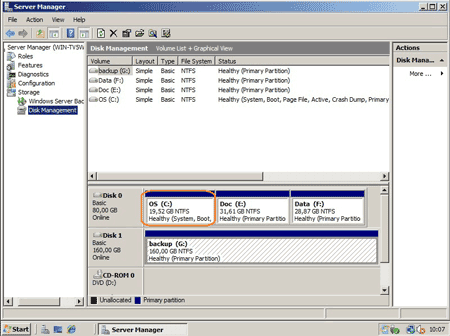 There are 3 drives C: E: and F: on Disk 0, let's see how to resize server 2008 partitions and extend system C: drive.
Step1, launch partition assistant server, right click partition E: and select "Resize Partition".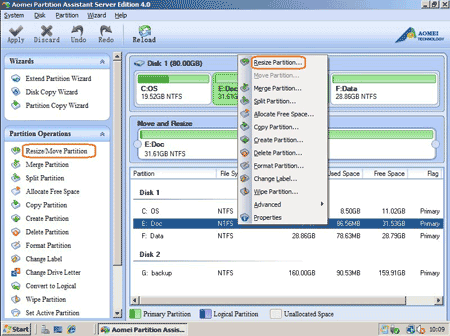 In the pop-up window, drag the left border rightwards to shrink it.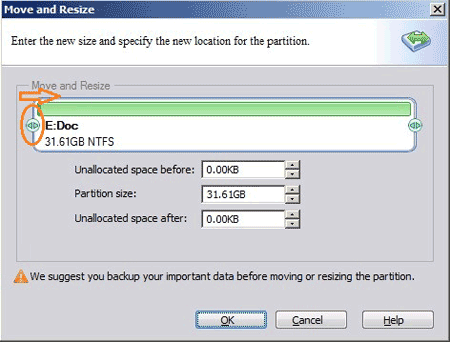 Click OK, there is 14.19GB free space created behind the system volume.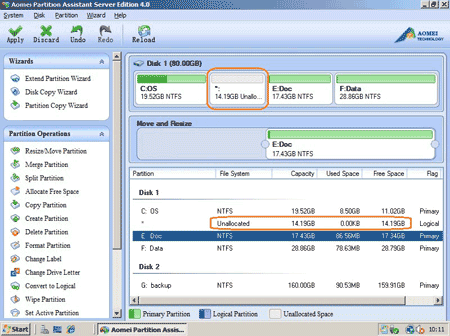 Step2, right click partition C and select "Resize Partition" again, in the pop up window, drag the right border rightwards to hold the free space.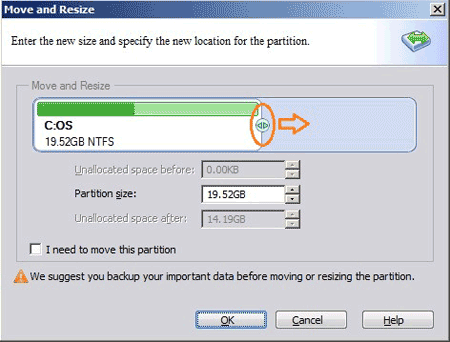 Click OK and back to main window, where you'll find that the partition resized.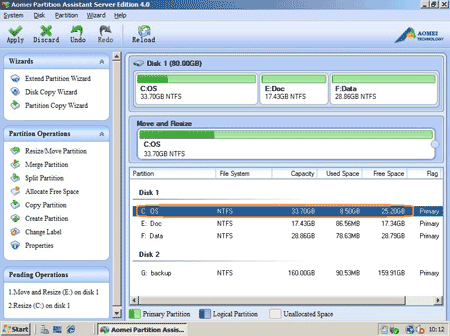 Step3, previous operations are in virtual mode, you may click "Undo" or "Discard" to resize partition again, if you want to resize partitions like this, click "Apply" to proceed. Very quickly, partition resizing complete, open disk management to check.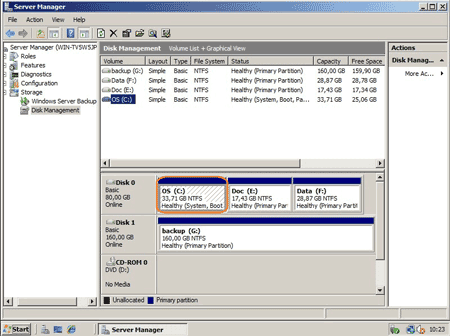 If there is plenty of free space in the next contiguous data drive (such as E: above), you can easily resize server 2008 partitions and extend the c drive. However, in some servers, the disk partition layout is more complicated, for example:
1. You can only shrink a non-contiguous data drive.
2. You cannnot get enough free space from any one of the data drives.
3. The disk is small and you cannot get free space from all data drives.
4. There is no other data drive in the same hard disk.
Don't worry, no matter which situation you are in, there is easy solution for you.
For case 1, "Allocate Free Space" is the best choice, you just need to select which drives to shrink and extend without resizing by yourself and no matter the partitions are contiguous or not, follow the steps how to resize partition in Windows 2008 Server.
For case 2, "Extend Partition Wizard" helps you shrink more or all data drives at the same time to extend system partition.
For case 3 and 4, you need to copy the old disk to another larger one with "Disk Copy Wizard" feature, then you can extend any partitions with the extra disk space, see how to copy hard disk.
With this powerful partition software, you can resize server 2008 partition with any layout. If you want to resize server 2008 drives in RAID array, VMware/Hyper-V virtual environment, no problem, see supported Operating Systems and storage media in system requirements.
This partition manager software is not only a resizer helps you resize server 2008 partition easily, but also a toolkit helps you improve server performance, see full features.