How to resize partition in Windows Server 2008 (32 and 64 bit)
To resize a Windows 2008 partition, you may either use Server 2008 disk management or 3rd party partition software. Windows Server 2008 improved the ablity to manage disk partitions and you can resize partition with its Shrink and Extend volume features, however, there are limitations. With professional partitioning software, the task to resize Windows 2008 Server partition is much easier.
Some people like to use Windows built-in utilities while others like to use 3rd party special designed tools, so in this article, I'll introduce how to resize Windows 2008 partitions under Disk Management and via most popular server partition software.
How to resize partition in Windows Server 2008 disk management
Firstly, open disk management (right click My Computer > Manage > Storage > Disk Management).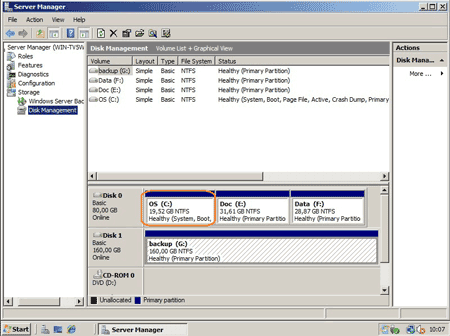 You can only extend a drive by taking free space from other drives on the SAME disk.
To shrink a partition, right click it and select "Shrink Volume".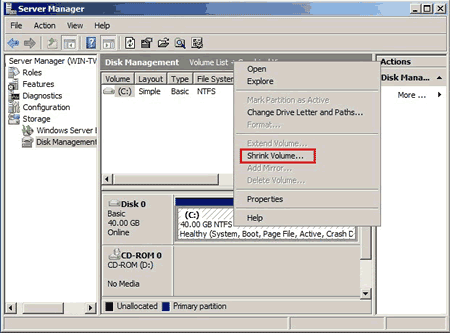 To extend a partition, right click it and select "Extend Volume".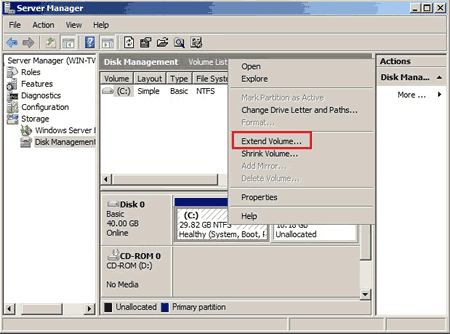 Only when there is next contiguous free "Unallocated" space, you can extend a partition, otherwise, "Extend Volume" is grayed out.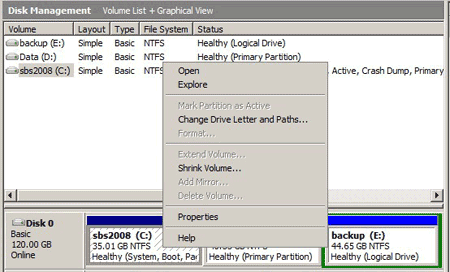 This is the key shortage and the reason why disk management is not the best tool to resize Windows 2008 partitions. If you still want to resize partitions in Windows 2008 disk management, you may follow the steps.

To better explain, let's see the disk partition layout. There are 3 drives in Disk 0, steps to extend system C: drive:
1. Backup files in partition D: and then delete it. (the disk space changes to be Unallocated)
2. Right click drive C and select "Extend Volume", in next window, use part of the free unallocate space.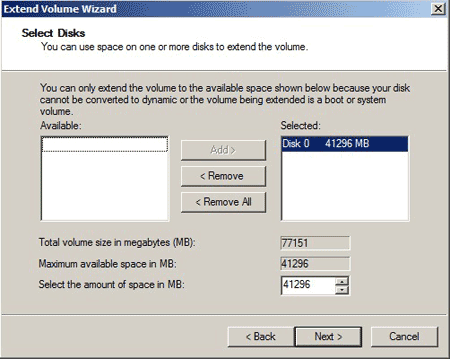 3. After clicking Next, C: drive will be extend, after that, create "new" partition D with the remainder free space.
4. Restore files to partition D.
If there is no plenty of free space in volume D, to extend C, you have to backup, delete and restore both partition D and G.
By this method you can resize Windows 2008 server partition without 3rd party application, however, it is complicated and cost a long time. Why not use partition software for server 2008? It is much faster and easier.
Resize Windows 2008 partition with partitioning software
The most important is selecting a reliable partition software, nobody wants to see data loss or boot failure after resizing partitions. Here, I recommend partition assistant server, because it is not only reliable itself with built-in enhanced data protection technology, but also integrated "Disk/partition Copy Wizard" to backup, "Partition Recovery Wizard" feature to recover lost partitions.
Another reason is because it provides multi-ways to resize partition in Windows 2008 Server:
"Resize Partition" is the common partition resizing method in most of the partition software. You need to shrink a data drive to get free space at the end of system C drive, and then extend C drive with this free space. If you cannot shrink the next continuous partition, you have to resize partitions one by one, seems complicated to many people, I suggest resize Windows 2008 partitions with "Allocate Free Space" feature, steps:
Step1, launch partition assistant server, right click any data drive (on the same disk) and select "Allocate Free Space".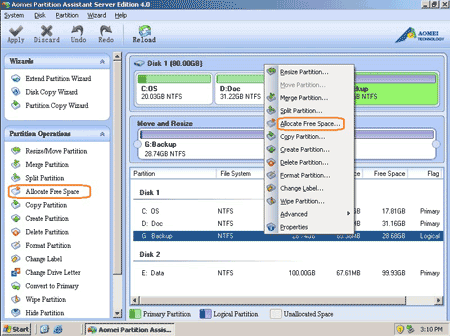 In the pop up window, specify the amount of free space to add in C drive.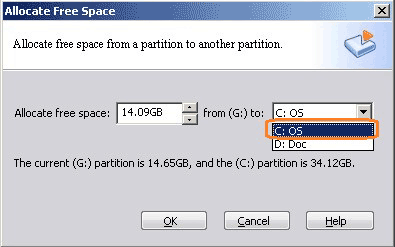 Step2, click OK and back to main window, press "Apply" button to proceed.

Very quickly, partition resizing complete and you have a "new" server now.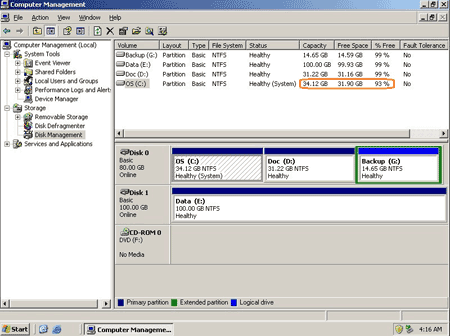 With 2 steps, you can resize Windows Server 2008 partitions, no matter whether the partition is continuous or not. However, in some old servers, you cannot get large amount of free space in any ONE of the data drive, then what to do?
In this situation, "Extend Partition Wizard" is the best choice, which helps you shrink more or all data drives at the same time.
Another choice is copy the old and small hard disk to another larger one with the build-in "Disk/partition Copy Wizard" feature. During copy process, you can resize any drives with the extra disk space.
All-in-one partition management toolkit
This program is not only a resizer to resize Windows 2008 drives, but also a toolkit helps you better manage server disk partition and improve server performance. (learn full features)
As a server administrator, you may manage many servers, then Unlimited edition is the best choice, which allows unlimited installation and usage in your organization, so with one copy of this product you can resize many server partitions, no matter how complicated the disk partition configuration is. As a magic server partition manager, local/external hard disk, RAID array (all types with any raid controllers), VMware, Hyper-V, USB disk and memory cards are all supported.
Download trail or purchase full version to resize Windows Server 2008 partitions now.