How to resize SBS 2008 system partition
When resizing a SBS 2008 partition, the first you should concern is keeping data intact, as data is most important for a server. This is the reason why many people want to change SBS 2008 partition size with Windows built-in utility such as diskpart command, though this tool is weak.
Here I want to introduce a magic server partition manager - Partition Assistant Server. This partitioning software integrates unique Enhanced Data Protection technology (of course you cannot "see" it) which ensures your data safety. Furthermore, you can clone disk and partition with "Disk/Partition Copy Wizard" to backup or migrate data, "Partition Recovery Wizard" helps you recover partitions, so don't worry about the data security.
Disk space issue on SBS 2008
Windows Small Business Server 2008 is widely used by many companies, however, the same with other Server editions, you have to face to the disk space issue, especially for system C: drive and SQL Server, Exchange Server data partitions. Windows updates and 3rd party applications eat up the free space of system partition quickly, and the data in Exchange/SQL Server partition keeps growing.
It is troublesome when a partition runs out of free space, if don't fix this issue as fast as possible, it causes many problems, such as:
Server reboot abruptly and system crash.
Windows services stop running.
Users disconnect from this server.
Nobody likes waste hours or days to start from scratch, as there is penty of free space in other partitions why not resize the sbs 2008 partitions directly? Yes, it cannot be better if you can resize the partitions in an easy and safe way.
How to resize SBS 2008 partition
As system volume low disk space issue is more likely occure, in this page I introduce how to resize sbs 2008 system partition, it is similar to resize other data drives.
Firstly, open the SBS 2008 disk management where you can see the disk partition layout. (in "My Computer" and "Server Storage" you just know the capacity, used and free space of a partition, you don't know which partitions are on the same disk, especially when several hard disks are connected.)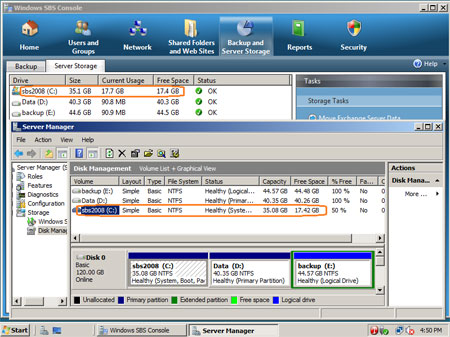 From my server, there are 3 drives on Disk 0, now let's see how to resize sbs 2008 partitions and increase the C drive space.
Step1, launch the partition magic server, right click drive E: (or any data drive on the same hard disk/RAID array) and select "Allocate Free Space".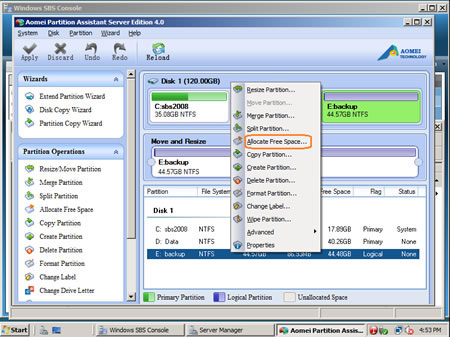 Step2, in the pop-up window, specify how much free space to rob from the data drive, select boot C: in the drop-down box.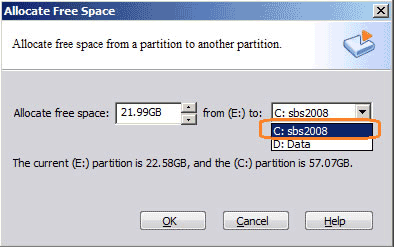 Click OK and back to main window, where you'll find that c drive space increased.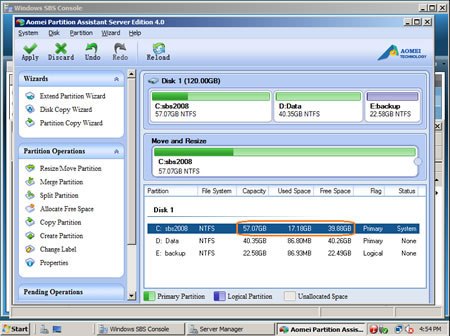 However, these operations are virtual executed, to real resize the sbs 2008 partitions, you need to press "Apply" button on top left to proceed. Of course, you can undo the last operation or discard all.
Step3, after clicking Apply, you can review the pending operations, click "Proceed" or cancel.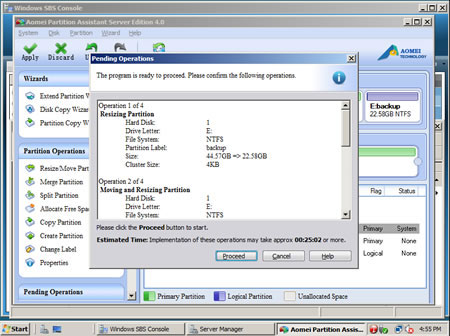 Very quickly, partition resizing complete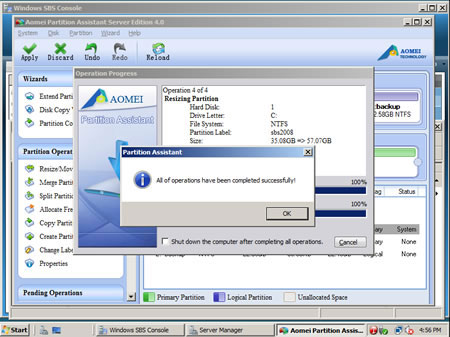 Now, open disk management to check, yes C drive space extended to 57.1GB.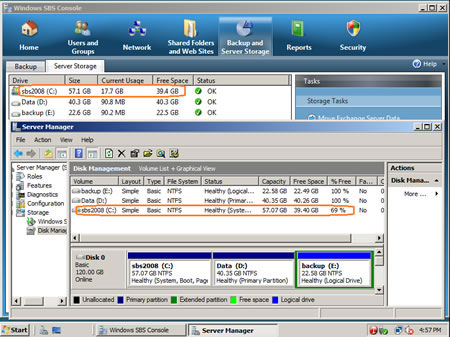 In conclusion, it is very easy to resize SBS2008 partition for both system and data drive. You just need to select which drive to get free space from and then add the space to other partition. No other operations are required. As you see, partition resizing complete in Windows even without rebooting (close open files and running applications before starting this program and C drive should be NTFS). Within several minutes to half an hour you have a "new" SBS 2008 server.
This magic partition software is not only a server partition resizer, but also an all-in-one toolkit that helps you optimize disk space usage and improve server performance.
Check full features, download trial or purchase full version online and start resizing Windows sbs 2008 partitions.