How to merge partitions in Windows Server 2008/2003, XP/Vista/7without losing data?
For Windows Vista, Windows 7 or Windows Server 2008
You can merge partitions under Disk Management (right-click "My Computer" > "Manage" > "Storage" > "Disk Management"). Microsoft provides Shrink and Extend feature to merge partitions under these operating systems.
1. Right 'My Computer' and select 'Manage'
2. Click 'Disk Management' under 'Storage'.
3. Delete partition D or other partition that you want to merge.
4. Right click C drive or other partition you want to increase and select 'Extend Volume'.
Note: You cannot extend C drive by shrinking Partition D.
The disadvantages of Disk Management to merge partitions:
1. There is no such extend feature in old Windows XP/2003 Server Disk Management.
2. You have to delete a partition to extend another one.
3. You cannot merge partitions with C and E if partition D is behind C drive.
Inclusion, only when there is Unallocated space behind a partition, you can extend this partition.
How to merge partitions in Windows 2008 Server?
For Windows XP, Windows 2003 Server
You cannot merge partitions under Disk Management of these Operating System, but you may try Diskpart command line, which is free, but it has many shortages as well.
With third party partition software, such as Partition Magic Server there are no such limitations.

How to merge partitions with Partition Magic Server?
Launch Partition Magic Server, you'll see all disks and partitions that connected your computer. Click "Merge Partitions" feature on left "Partitions Operations" box.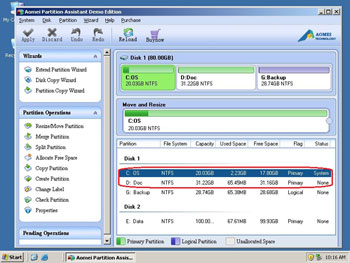 Step 1: Select Partition C: and D:, select the target partition that you want to merge the partitions to in the drop-down box.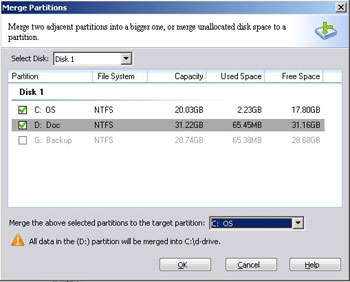 After clicking OK, the two partitions will be merged into one partition, click Apply to proceed.
How to allocate free space from any data partition and add to C drive?
For enterprise users, Unlimited Edition allows unlimited usage within your company to save time and money.