How to merge disk partitions in Windows Server 2008 (R2)?
Windows Server 2016 has been released, but many companies still running Windows Server 2008. Some people ask me if it is possible to merge two drives, because the free space in volume D can be added into C drive by combing D and C? The answer is yes, however, it is not the best idea to increase C drive free space by merging partitions. In this article I'll introduce how to merge partitions in Windows Server 2008, as well as the shortage. To merge Server 2008 volumes, there are two choices: Windows built-in Disk Management and 3rd-party software.
Why merging partitions
Merge partitions means combine two drives together to make a larger one. By merging disk partitions, you can increase the free space of a drive by adding from the other one.
As I said in the beginning, if you want to extend system C: drive by merging partitions such as D, it is not the best idea, because D will be deleted. If you created too many data volumes and made it difficult to recognize, it is good idea to combine some volumes.
How to merge partitions in Windows 2008
To merge partition in Server 2008 (R2), you can complete in Disk Management without 3rd-party software. But because it is destructive, I do not suggest. The guide below is just an example for the people insist on combining volumes with Windows built-in utility.
Combine partitions in Server 2008 Disk Management
Step 1: Click Server Manager on bottom left to open Disk Management console.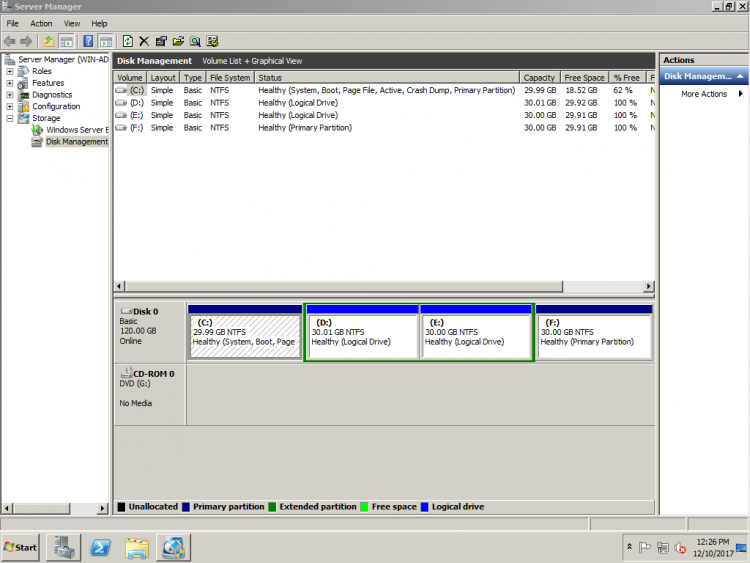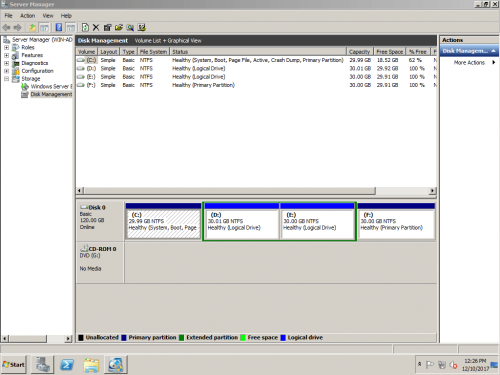 Step 2: Back up or transfer all files in D to other place.
Step 3: Right click drive D and select Delete Partition, it will be changed Unallocated space after deleting.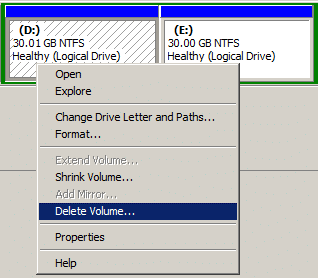 Step 4: Right click drive C and select Extend Volume, finish the Extend Volume Wizard. Disk space of D will be merged into C drive.
Shortage of merging partitions
1. As I said above, this method is destructive, the applications or Windows services that point to this drive stop working after deleting.
2. If the adjacent volume D is Logical, the disk space will be changed to Free space instead of Unallocated after deleting.

If you right click C drive, Extend Volume is grayed out. It means you cannot merge the free space into C drive.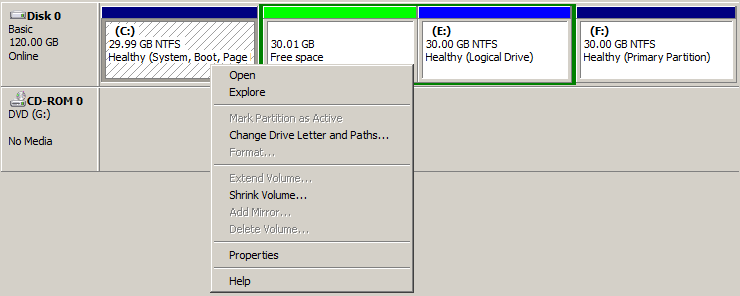 Reason: volume D is Logical, to convert the Free space to Unallocated, you have to delete other logical volume E, as well as the entire Extended partition.
It is NOT a good idea to expand C drive by merging partitions, because of the shortages.
Resize instead of merging partitions
By resizing partition, the free space in volume D can be transferred to C drive without deleting.
Step 1: Download and install Partition Editor Server, right click drive D: and click "Resize/Move Volume".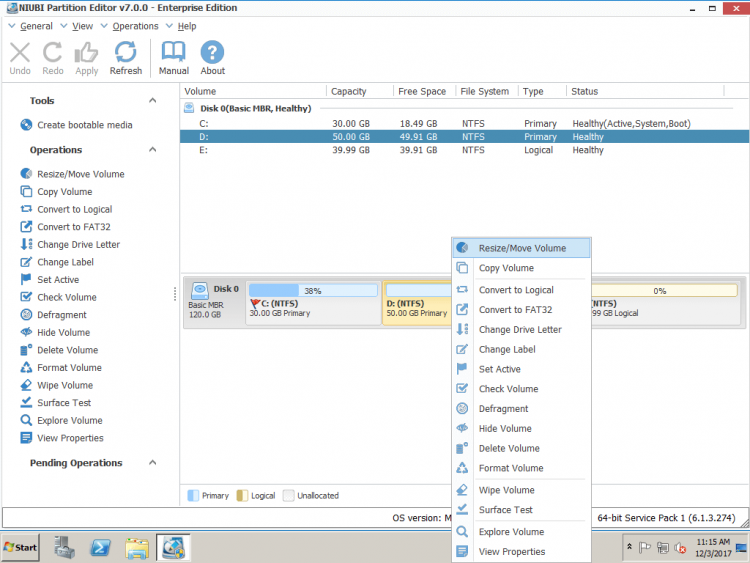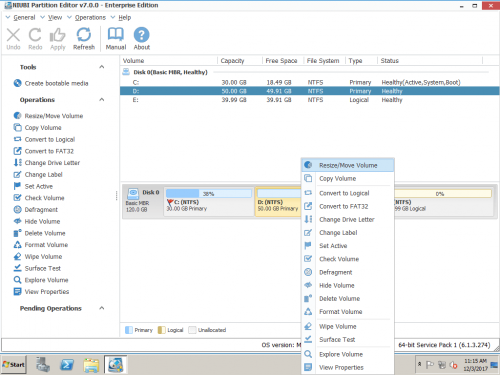 Step 2: In the pop-up window, drag the left border rightwards to take free space out from D.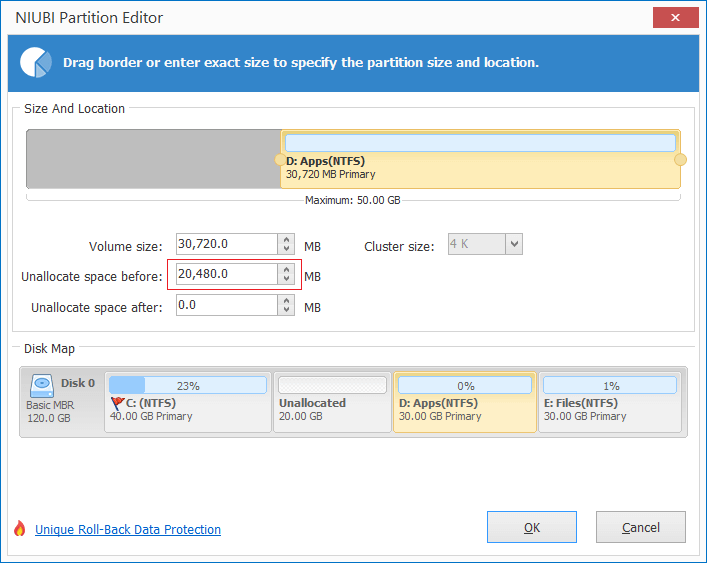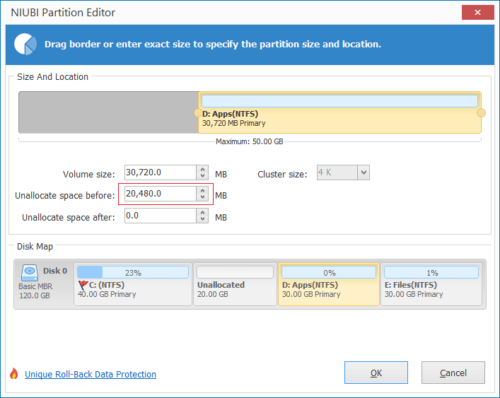 Click OK and back to the main window, 20GB Unallocated space generated behind C: drive.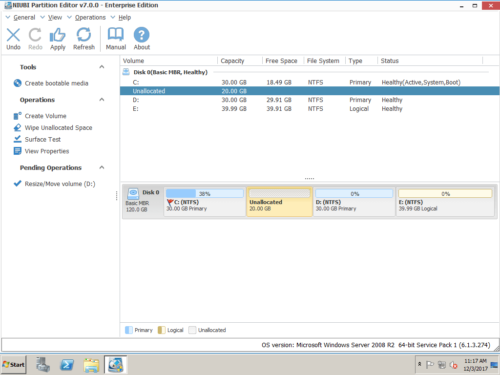 Step 3: Right click C drive and select "Resize/Move Volume" again, drag the right border rightwards to hold the Unallocated space in the pop-up window.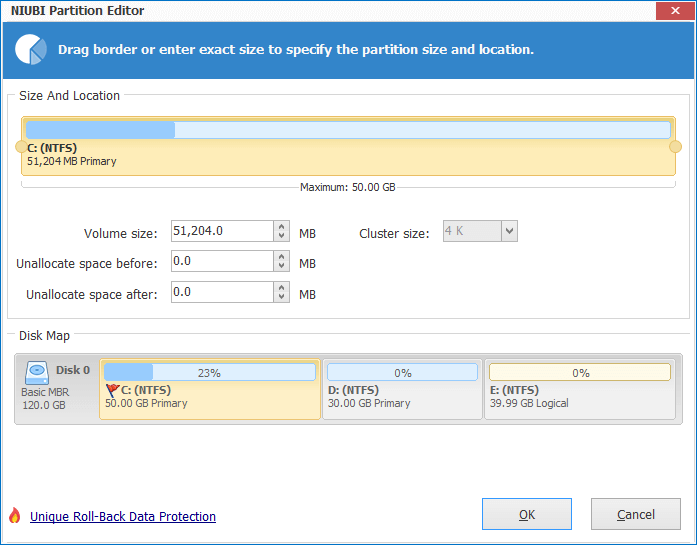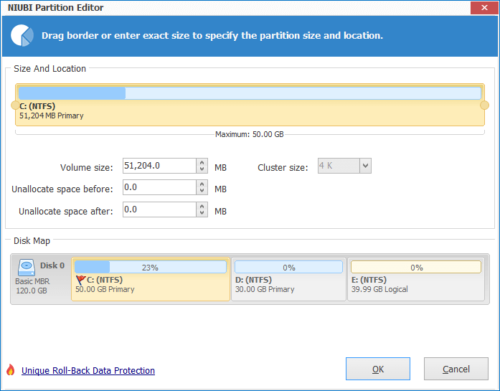 Step 4: Click OK, as you see, C drive increased to 50GB by holding the 20GB free space from D. Press Apply on top left to execute, done!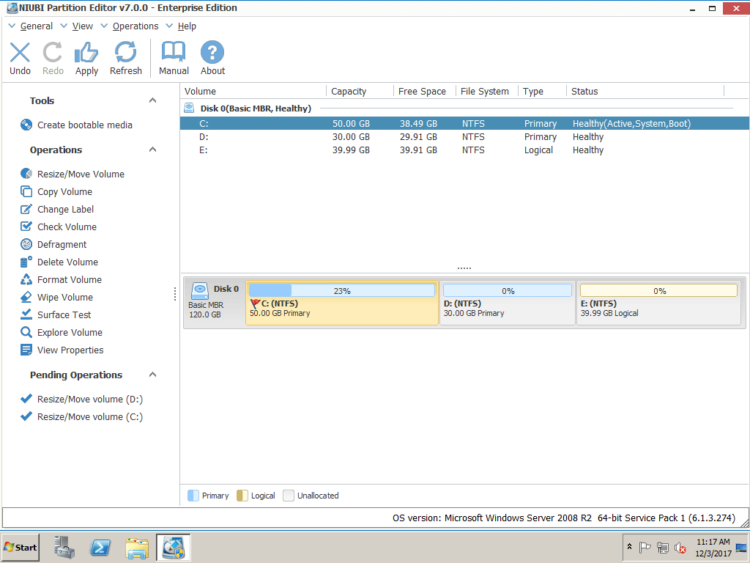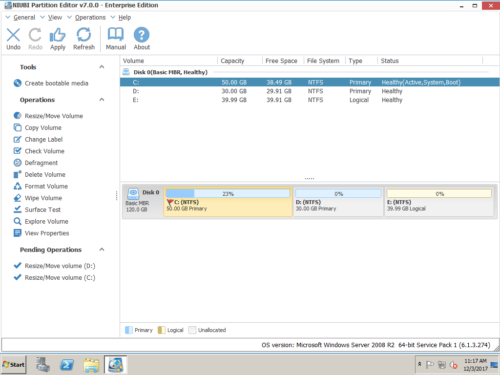 In Summary
To merge partitions in Windows Server 2008, either Disk Management or 3rd party software is possible. However, only combining data drives is suggested. If you want to increase C drive space by merging a data volume, it is not suggested. The best idea is resizing instead of merging. The built-in Roll-Back technology of NIUBI Partition Editor can ensure 100% data safety, even if power failure or other hardware issue occurred during resizing partition. The unique file-moving algorithm helps resize partition 30% – 300% faster than other tools, so it is recommended as the best software to resize server partitions.