How to extend partition in Windows Server 2008 R2?
All disk partitions are created when building the server, is it possible to resize or extend partition after running the server for a period of time? Because the system C drive is running out of space, it will save much time if it is possible to extend C drive without starting over. The answer is yes. Today, I'll show you the EASIEST way to extend volume on Windows Server 2008 (R2) without losing data.
Why disk partition can be re-sized?
Some people doubt if the disk drives really can be extended, especially for system partition, because Operating System runs from there. The theory is easy to understand: every partition has used and unused space, all files are stored in used space and controlled by File System of this partition.
Windows Operating System know the information of a disk partition from the parameters in File System. It is also able to locate a file though other parameters. You shrink a drive by:
modify its start or/and end location to release unused space
move all files of this partition to new area
update all related parameters in the file system
Meanwhile, you can extend another partition by holding the unused area.
Knowledge of extending volume
The partitions to shrink and extend should be in the same hard disk, no partitioning software can resize partitions beyond two physical disks.
Windows Server 2008 built-in Disk Management cannot help you extend C drive by shrinking D.
The steps to extend virtual disk partition in VMware are the same with resizing physical disk partition.
If you use hardware RAID (RAID 0, RAID 1, RAID 5, RAID 10 .etc), do not break the raid array or do any operation in raid controller, the steps are the same with resizing physical disk volumes.
Back up the server and select reliable program to complete the task, nobody likes to see partition corruption or data loss.
How to extend disk partition?
With partition software you can transfer free space from other drives into C drive easily. However, as I said above, data is most important to a server, so you'd better select a reliable and safe software to resize and extend partition. Here I recommend NIUBI Partition Editor, because the built-in Roll-Back Protection technology can ensure 100% data safety, even if power failure or other hardware issue occurred during resizing. It is able to roll back the server to the status before resizing automatically and rapidly.
Better than other tools, NIUBI Partition Editor is 30% – 300% faster to resize partition because of its unique file-moving algorithm, which is strictly tested. It saves much time especially when there are large amount of files in the partition that you want to take free space from.
Steps to extend volume on Server 2008
Step 1: Download and install NIUBI Partition Editor, right click drive D: and click "Resize/Move Volume".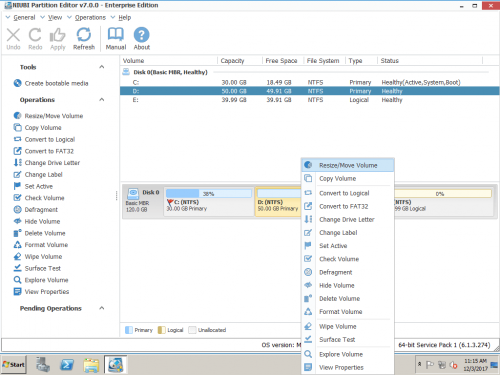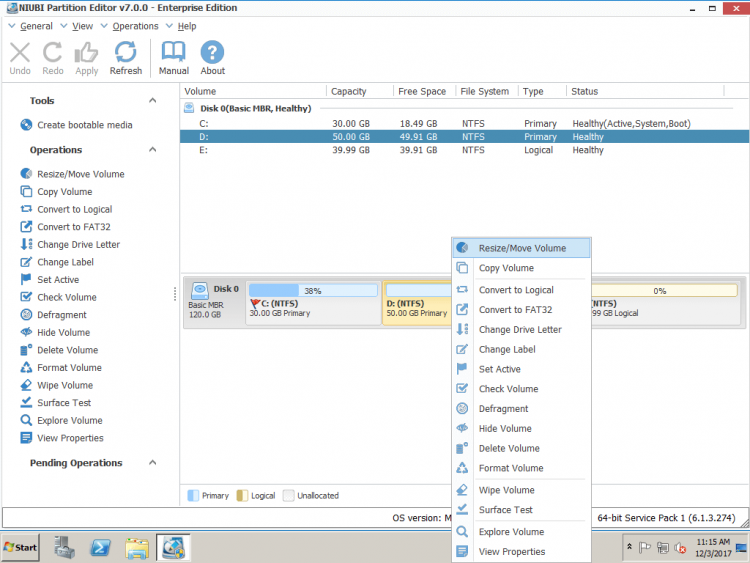 Step 2: In the pop-up window, drag the left border rightwards to shrink D and take free space out.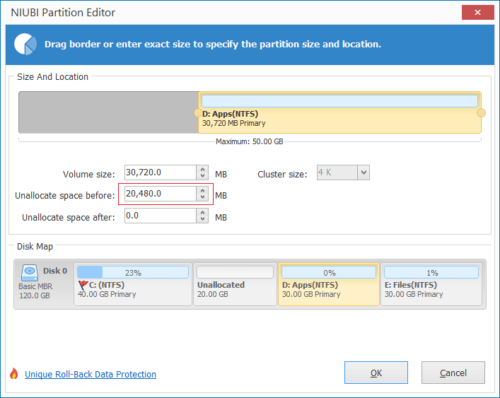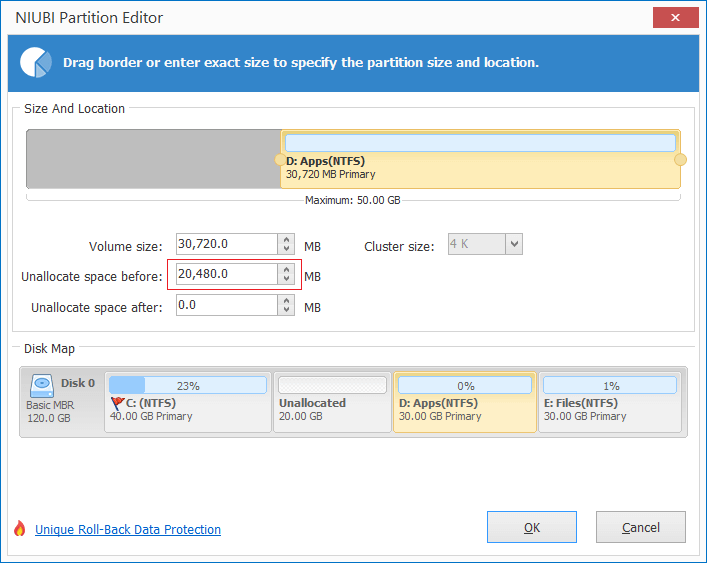 Click OK and back to the main window, where 20GB Unallocated space created behind C: drive.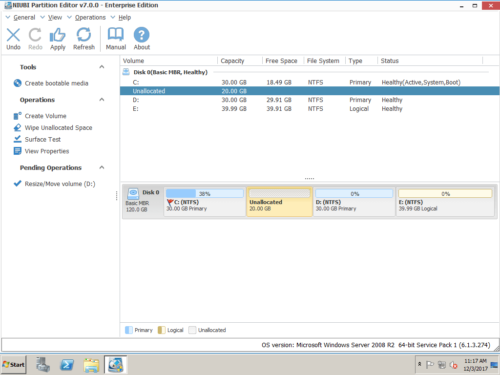 Step 3: Right click C drive and select "Resize/Move Volume" again, in the pop-up window, drag the right border rightwards to hold the Unallocated space.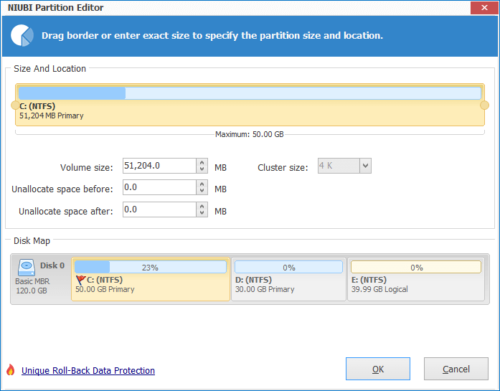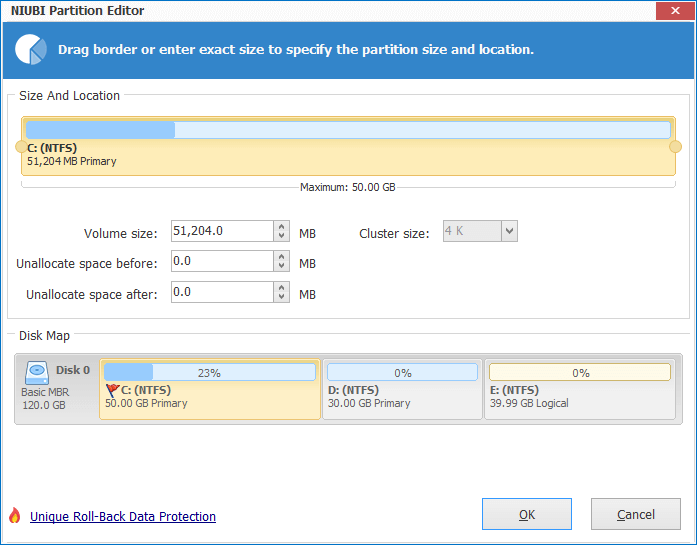 Click OK and back to the main window, where C drive extended to 50GB by adding the Unallocated space. Press Apply on top left to execute, done!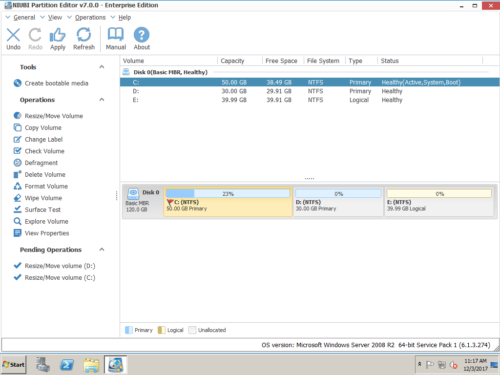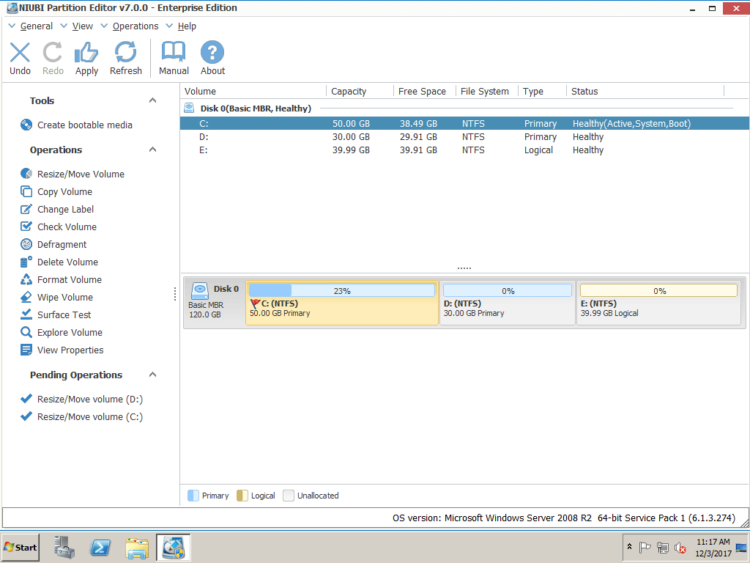 If there is not enough free space in D, you may get free space from other drive in the same disk.
Note: There is no difference to extend partition on Windows Server 2008 or 2008 R2. If you use hardware RAID array, such as RAID 0, 1, 5, 10, do not break the array or do other operations in the RAID controller. The steps are the same with extending physical disk partitions.