How to extend volume in Windows Server 2012?
When you open Windows Explorer, do you found C drive changed to be red? If you do, it means the system C drive runs out of space and little free space left.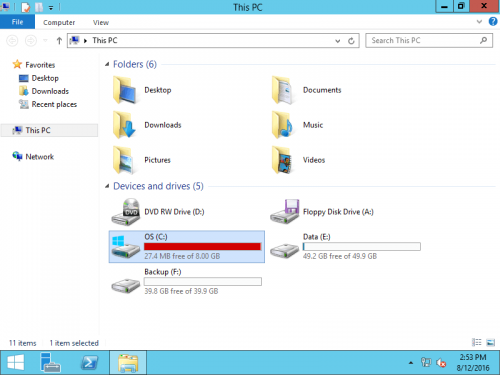 In this situation, you'd better extend this volume with free space in other drives. Otherwise, there is no free space to install Windows Updates, system stuck or even crash.
Benefits to extend volume
By extending volume, you can increase C drive space directly without starting over to reinstalling operating system. As long as there is Unallocated or free space in any drive of the same disk, you can extend C drive. In this article, I'll show you how to extend volume on Windows Server 2012 (R2).
Methods to extend disk drive in Server 2012
To extend partition in Windows Server 2012, there are 3 options: diskpart common line, Disk Management snap-in and 3rd party partitioning software.
Diskpart has been added from Server 2003, which works from common prompt and is able to do basic and advanced partition management operations such as shrink and extend volume. However, command prompt is difficult for most of the computer users, so from Windows Server 2008, Microsoft added GUI function to shrink and extend volume in Disk Management console. Resizing volumes or re-partitioning hard drive become much easier. However, there are still limitations that will require you to use third party applications.
Way 1 – Diskpart extend volume
Extending a volume or partition can be done via command line interface, and the steps to extend volume in Windows Server 2012 as below:
Step1: Press Windows and R to open Run, type CMD and press Enter.
Step2: Type Diskpart in the command prompt window.
Step3: Type list disk, press Enter, and then type list partition. (This operation is to view your existing disks and partitions.
Step4: Type select disk 0, then select partition 1 (Select the disk volume to work on, typically this should be disk 0 and partition 1)
Step5: Type extend size=1024 (1024MB=1GB, if you do not specify the size, the command will extend partition by using all available space on this disk.)
Note: ONLY when there is adjacent Unallocated space on the right side, you can extend a volume.
Way 2 – Extend volume in Server 2012 Disk Management
The task to extend volume in Server 2012 Disk Management becomes much easier, all steps can be done in GUI wizard.
Step 1: Right click "Windows" on the bottom left in desktop and select "Disk Management.
Step 2: Right click the drive you want to expand and select "Extend Volume". Finish the Extend Volume Wizard.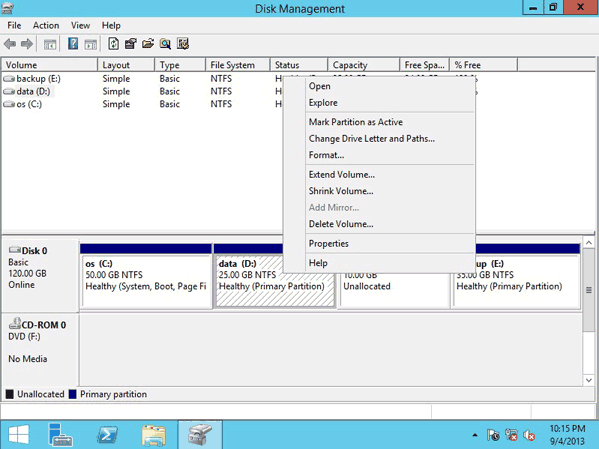 If you right click C drive, Extend Volume is greyed out, why?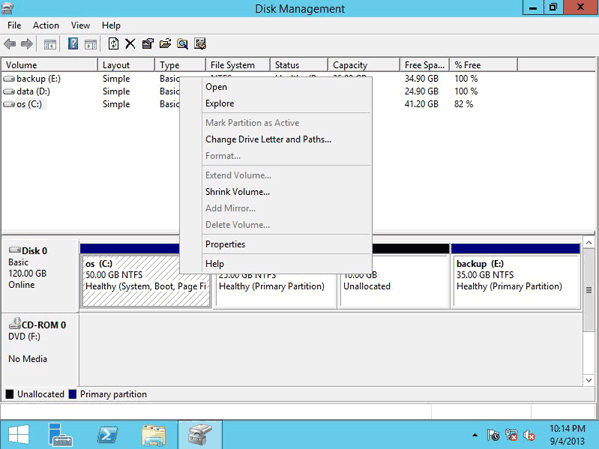 Because there is adjacent Unallocated free space next to Drive D, but no such space behind C. So this is the key limitation in Windows Server 2012 Disk Management to extend disk partition. If you want to extend C drive by shrinking D or other drives, impossible in DM.
Way 3 – Extend partition with 3rd-party program
To resize and extend volume on Windows Server 2012 with 3rd-party software, the first thing is selecting a reliable and safe partition software, because there is risk of losing data when resizing disk partitions. All partitioning software will modify all parameters of related disk, partition and files. An unreliable program is very likely to cause system boot failure, partition damage and data loss. Actually, besides software related error, some hardware issue such as very low RAM memory, high CPU usage, especially power failure could cause data loss, too.
NIUBI Partition Editor is the ONLY program that can ensure 100% system and data safety, because it is integrated unique 1 Second Roll-Back protection technology, which is able to automatically roll back the server to the status before resizing in ONE second, if any software error or hardware issue occur while resizing partition, so no longer to worry about Operating System and data safety.
Some people say "it doesn't matter, I have backup". Really? If damage occur, it may cost several hours or a whole day to restore Operating System and/or data, verify data integrity and back everything to normal, keeping server offline for such a long time?
Steps to extend Server 2012 partition:
Step 1: Download NIUBI Partition Editor, right click D: drive and select "Resize/Move Volume".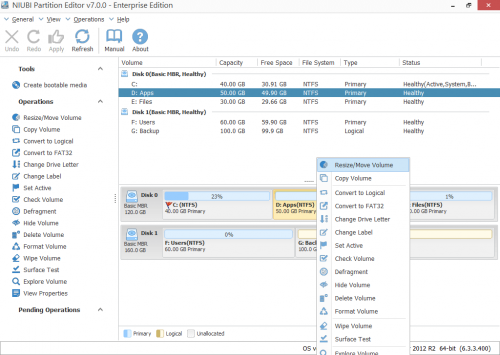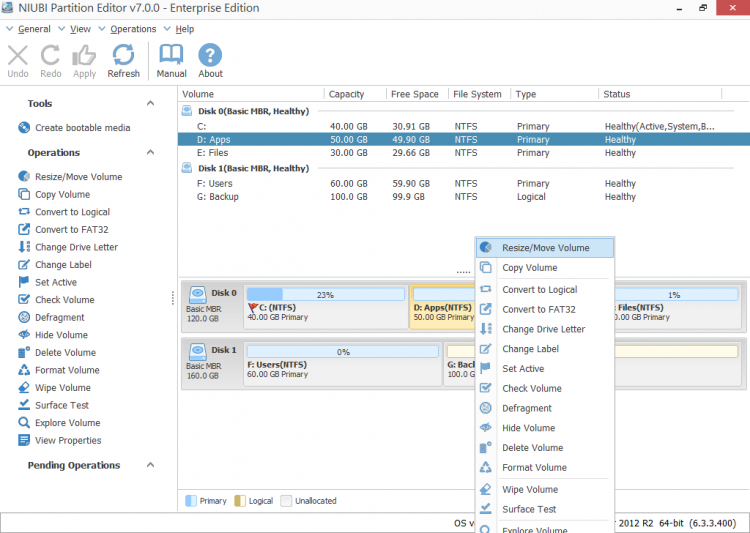 Step 2: In the pop-up window, drag the left border rightwards to generate free Unallocated space.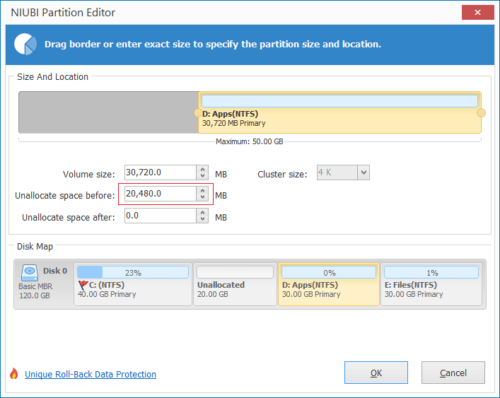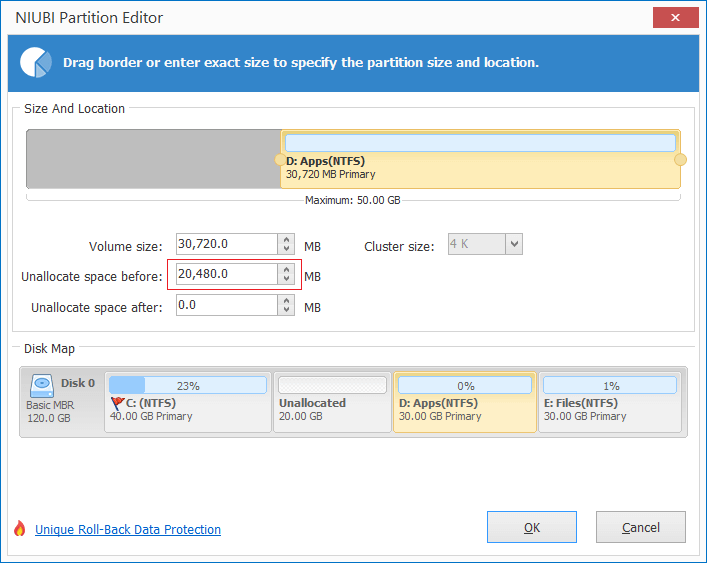 Click OK and back to the main window, where you'll see 20GB Unallocated space created behind C: drive.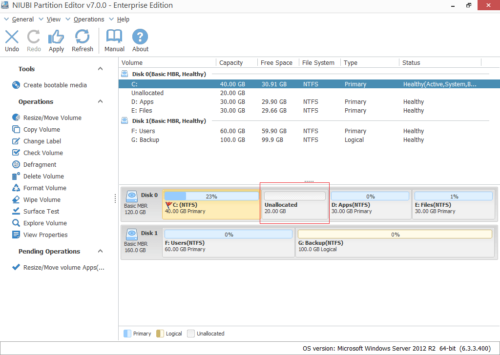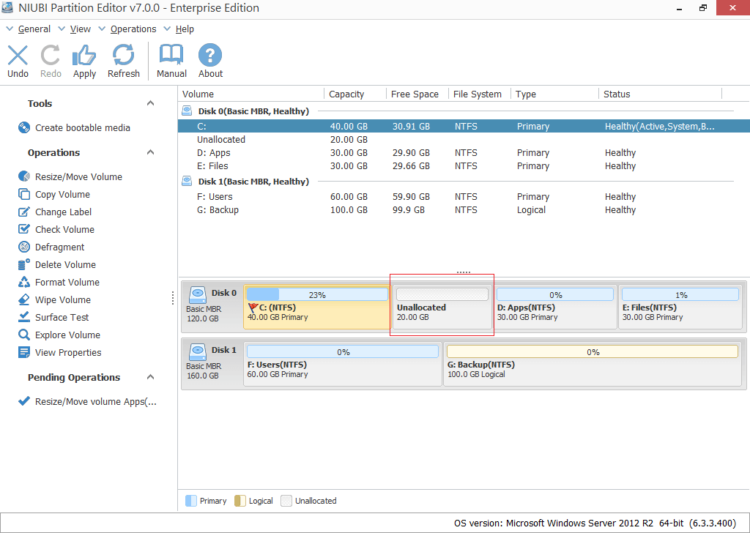 Step 3: Right click C drive and select "Resize/Move Volume" again, in the pop-up window, drag the right border rightwards to hold the Unallocated space.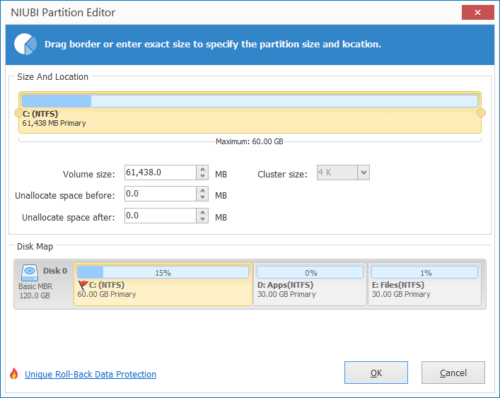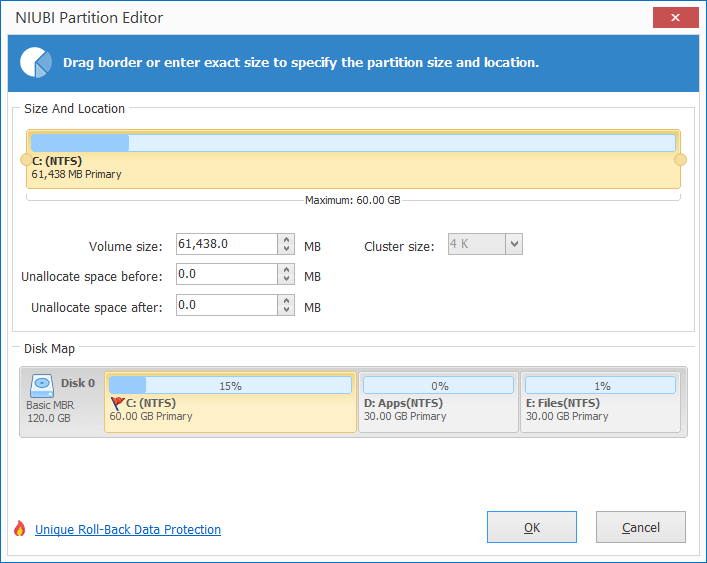 Step 4: Click OK and back to the main window, where you'll see C drive extended to 60GB by robbing 20GB free space from D. Press Apply on top left to execute, done!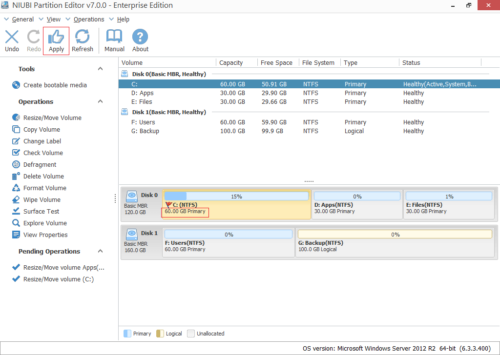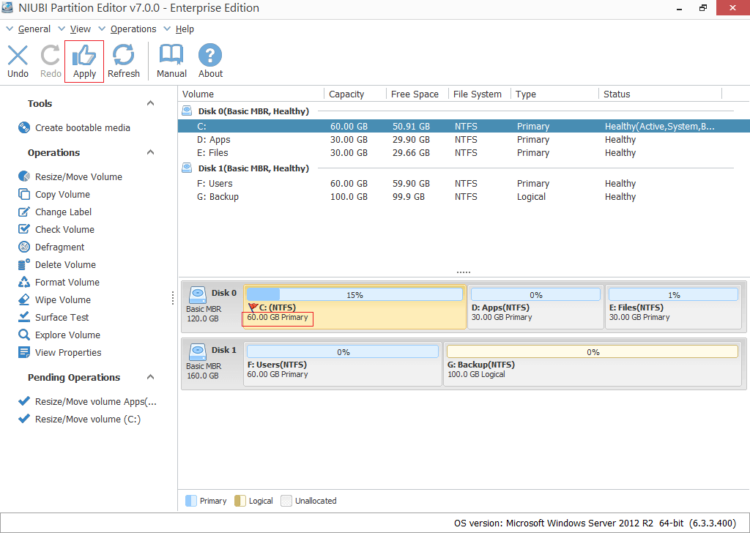 Besides the unique 1 Second Roll-Back protection, NIUBI Partition Editor has many advantages such as:
It is 

30% – 300% faster

than ANY other tools, because of its unique file-moving algorithm. It is also important to reduce operation time on a server.

Hot Resize technology helps extend NTFS partition in Windows without rebooting server.
Virtual Mode help you preview, cancel or redo any pending operations before clicking Apply to execute.
Cancel-at-Will technology enables you to cancel operations at any progress without losing data. (You cannot cancel with other tools even if you find the operations you did are incorrect, otherwise, you'll lose data)
Local/removable hard disk, all types of hardware RAID with any RAID controller, VMware/Hyper-V virtual machines, USB disk and memory cards are all supported.
90 day money back guarantee and 24*7 online chat support.
Video guide to extend volume on Server 2012 (R2)
Note: If you manage many servers, NPE Enterprise Edition can be installed to unlimited Servers and PCs in your organization, regardless of locations.