How to extend Server 2003 partition on without losing data?
After running the Server for a period, you may see the problem that the Windows Server 2003 system C drive runs out of space and low disk space warning pops up regularly.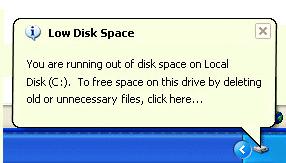 What will you do if you encountered this problem, rebuild the Server? No one wants to waste the whole happy weekend to start over again. Furthermore, there is big risk of losing data if you reinstalling the operating system. Longer Server downtime means fewer customers and less income.
Then how to solve this problem fast and easily? Try Partition Magic Server software, with which you can extend Server 2003 partition without losing data, fast and easily.
How to extend Server 2003 partition?
Two choices: merge system partition and another data partition directly, or shrink a data partition to extend the system drive.
As by merging partitions, you'll loss an existing partition (though the files will be transfered to another partition when merging partitions), I do not suggest extend system partition by merging partitions, but if you insist on doing this, please refer how to merge Windows Server 2003 partitions.
It is also extremely easy to extend system partition by resizing partition. You just need to drag and move on the disk map to shrink an existing data partition and get some Unallocated space to extend the system C drive, there is no need to delete, format partition or rebuild the Server.
All operations can be previewed and cancelled to avoid incorrect operations. You can even extend Server 2003 system partition without reboot if it is NTFS.
How to extend partition Server 2003 with Partition Assistant
Any operations you do on the Server will be listed in the "Operations Pending" column and no changes will take place on your partitions before you click "Apply". So if you are not sure about your operation, just close this partition manager Server and nothing will be changed.
Steps to extend Server 2003 system partition fast and easily
Step 1, Launch Partition Magic Server, you'll see all disks and partitions that connected to your Server and free space, used space and other properties of each partition.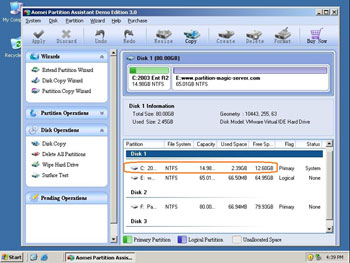 Right-click the data partition and select "Resize", in the pop-up window, drag the left border rightwards to shrink it.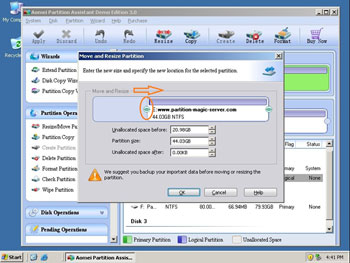 There will be some Unallocated space behind the system partition.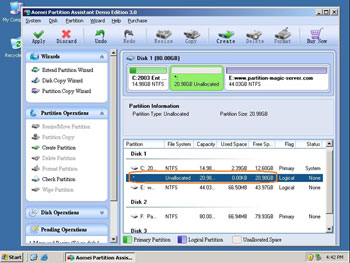 Step 2, Right-click the system partition and select "Resize", in the pop-up window, drag the right border rightwards to hold the Unallocated space.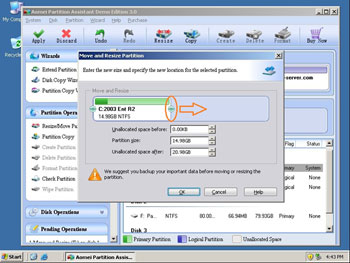 Click "Apply" to proceed, done.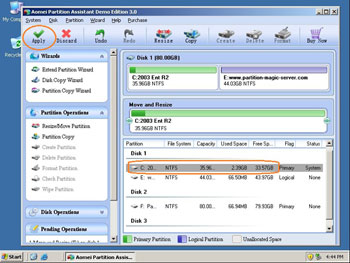 Now you have a "new" Server that can be used for a long time again.
How to allocate free space from any data partition and add to C drive?
For enterprise users, Unlimited Edition allows unlimited usage within your company to save time and money.