Solution to increase partition size in Windows 2008 Server
All the size of the hard disk partitions are carefully allocated while building the 2008 Server. However, things are changing and the scheduled size may not always meet your needs, especially for the system partition, you'll be amazed how quickly applications, Windows updates install, browser caches, and temporary files eating up your free space and clutter your system.
When there is not enough free space in a disk drive, you can reduce a drive to increase another one. Forget the old stupid method to back up and start over. In this article, I'll show you how to increase partition size on Windows Server 2008 (R2) without losing data, fast and easily.
Which tool to increase Server 2008 partition size?
Better than previous Windows Server 2003, Server 2008 Disk Management console provide new function to resize disk partition. Shrink Volume is used to reduce a drive space, and Extend Volume is used to increase partition size. However, these functions cannot help you in most cases, I'll tell you why in next paragraph.
Professional partition resizing software
The task to resize partition and increase C drive space becomes much easier if you use 3rd party software, here I recommend Aomei Partition Assistant from Partition Magic Server. This program is compatible with Windows Server 2016/2012/2008/2003 and Windows 10/8/7/Vista/XP (32 and 64 bit).
It performs basic and advanced operations such as Resize, Merge, Split, Extend system and data partition. Create, Delete, Format partition and much more.
Benefits for Windows Server users
All-in-one solution – all your disk partition maintenance requirements can be fulfilled.
Built-in Enhanced Data Protection technology to keep OS and data intact.
Built-in Hot Resize technology to extend NTFS partition without rebooting.
Preview all partitioning operations before proceed.
How to increase partition size on Windows Server 2008 (R2)?
Increase partition size under Disk Management
Step 1: Right-click the partition you want to expand and select "Extend Volume…"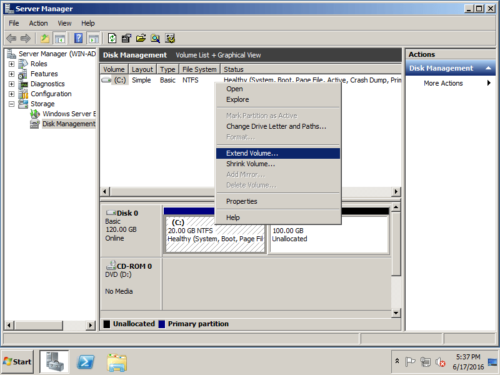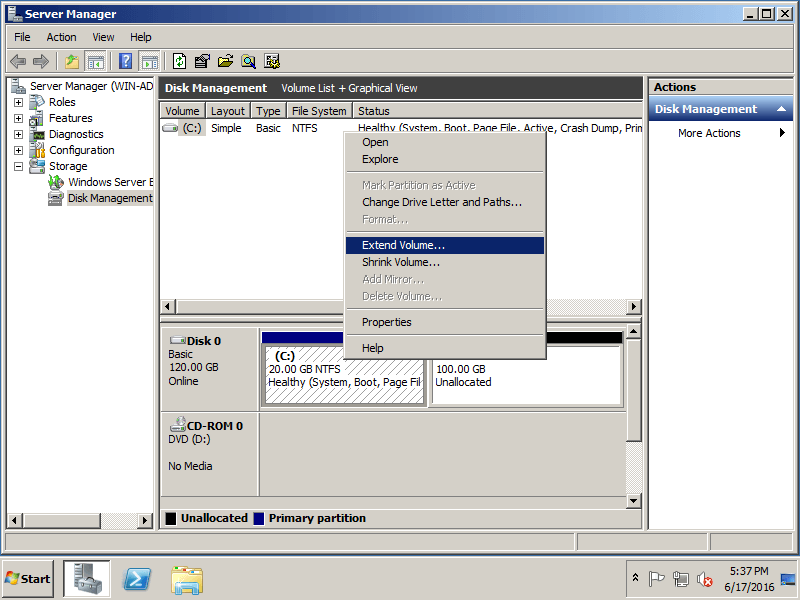 Step 2: In the pop-up window, select the available disk and free space, click Next.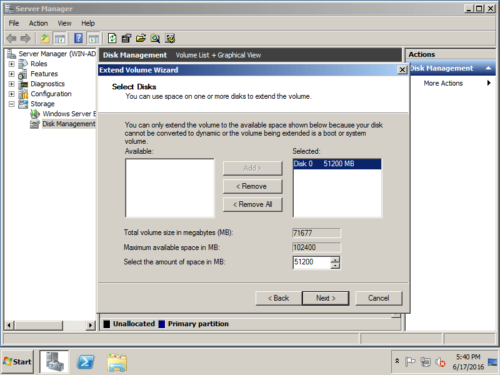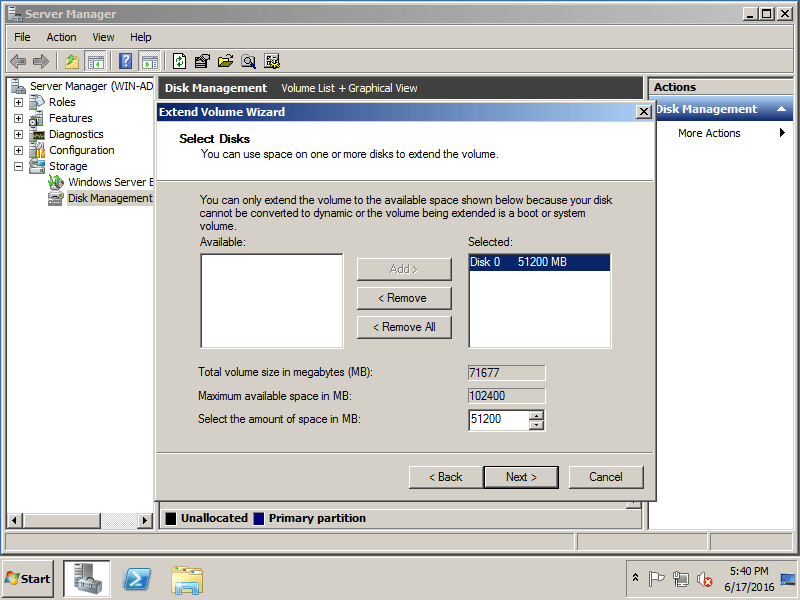 Step 3: Confirm the operation and click "Finish" to proceed.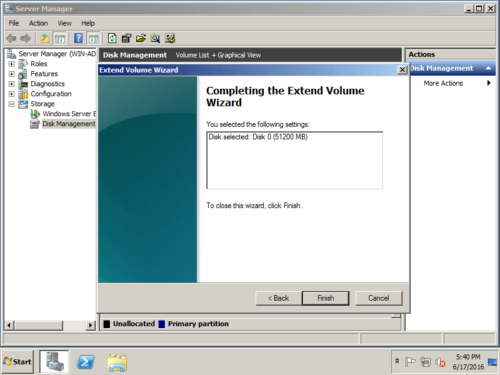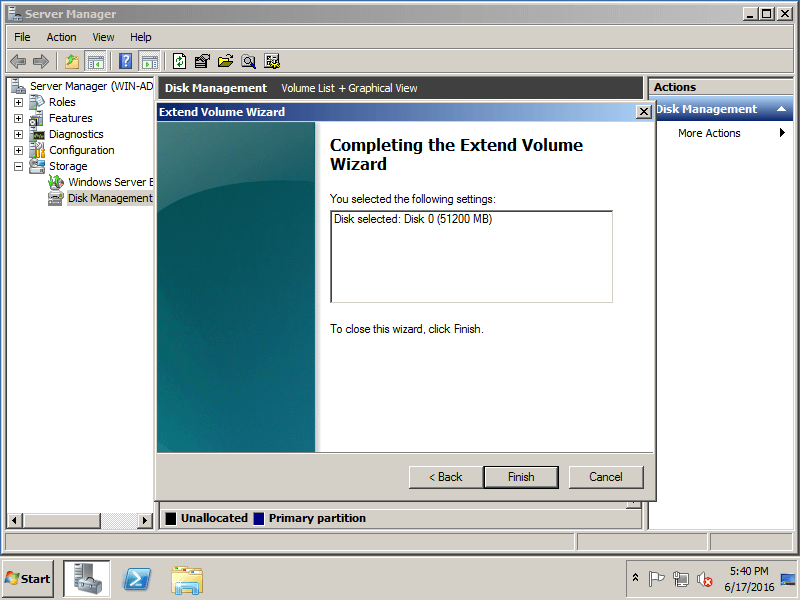 However, not every drive can be extended.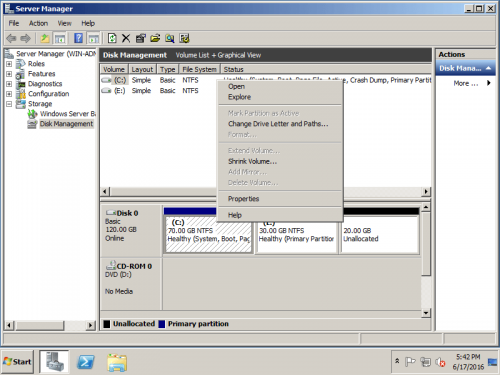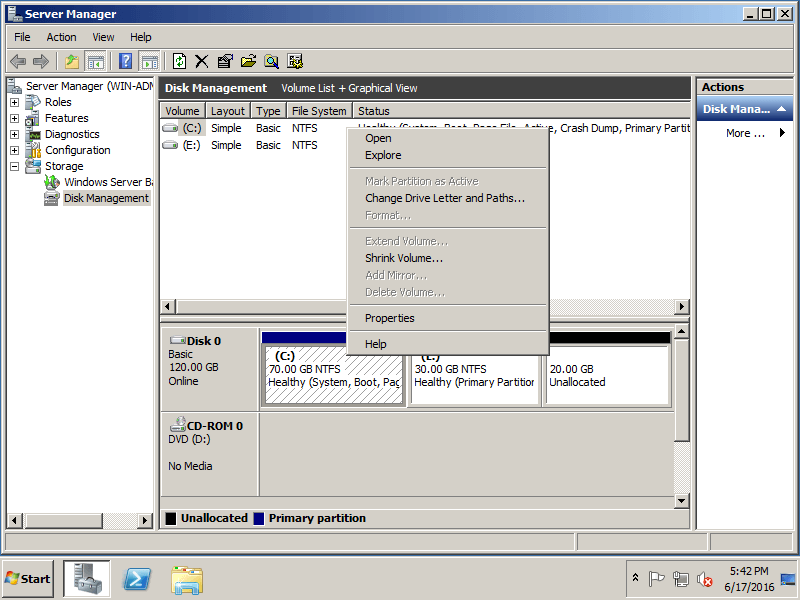 When right click C drive, the Extend Volume is greyed out. From Microsoft explanation, only when there is adjacent Unallocated space behind, you can expand this NTFS partition. This is the reason why I said above these functions are useless to resize disk partitions.
Increase partition size with repartition software
If there is already Unallocated space
Download and launch the partitioning software, right click the Unallocated space and select "Merge Partition".
2. In the pop-up window, click the check-box of C drive (or other one you want to increase partition size).
3. Click OK and back to the main window, where you'll find that the C drive space increased with the Unallocated space. Remember to press Apply on top left to proceed, otherwise, the operations just work in virtual mode.
If there is no Unallocated space
You can increase C drive space by taking unused space from any data drives directly.
1. Right click a data drive and select "Allocate Free Space".
2. In the pop-up window, type the amount of unused space to increase C: drive.
3. Click OK and back to main window, press "Apply" button on top left to proceed.
In summary
To increase partition size on Windows Server 2008 (R2), Window built-in Disk Management is useless. Partition Magic Server helps you easily resize partitions without data loss.