Resize C drive for Windows 2003 Server safely
C: drive is the default partition to install Windows 2003 Operating System. After running this server for a period of time, you may find that the system C: drive is running out of space. Experienced server administrators know the fast way to solve this problem is by resizing volumes – extend C drive by taking free space from other volumes. In this article I'll introduce how to extend/resize C drive in Windows Server 2003 (R2) without losing data, fast and easily.

Why resizing Server 2003 C drive
After installing Operating System only 2-3GB disk space was used by system C drive, so many people think 20GB for C drive is enough. However, Windows continuously download Updates and most of which are hundreds of MBs. Besides the vital server services and applications that eat up large amount of free space, many other kinds of files fill up C drive quickly, too.
If "Low Disk Space" warning pop up, you'd better resize partition and expand C drive as fast as possible, otherwise, you'll see server performance down in  short time.
New computer technologies make life easier, nowadays you can change size of existing disk partition without wasting a whole day to back up, recreate volume and restore everything, however, you should pay attention to server data safety.
Which utility to resize Server 2003 C drive
Different with Server 2008, there is no "Extend Volume" feature under Windows 2003 Disk Management. Diskpart is unable to extend system boot partition, the only choice is third party partitioning software.
Among the server partition utilities, NIUBI Partition Editor is the safest, because it is the ONLY tool that can ensure 100% data safety while resizing volumes. How? If any software error or hardware issue including power failure occur during resizing, the unique 1 Second Roll-Back technology can automatically roll back the server to the status before resizing in ONE second, so system and data always keep intact.
This technology is very important and useful for a server. It may cost several hours to a whole day to restore backup, verify data and back everything to normal if system damage or data loss caused by other software. Backing up is important but it doesn't mean everything, it is also important to avoid server offline for a long time.
Furthermore, the built-in unique file-moving algorithm helps resize partition 30% to 300% faster that ANY other software, it save much time especially when there are large amount of files in the volume you want to shrink, such as drive D.
How to resize Windows 2003 C drive
Download
Partition Editor Server, you'll see all connected disk partitions, as well as capacity and free space of each volume.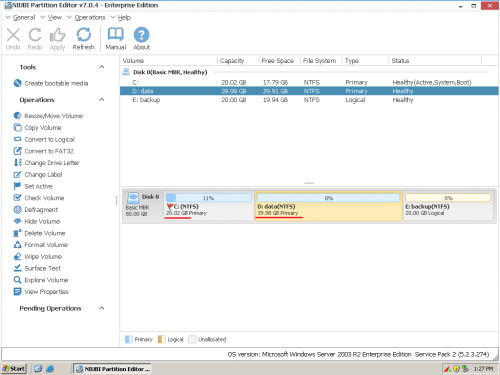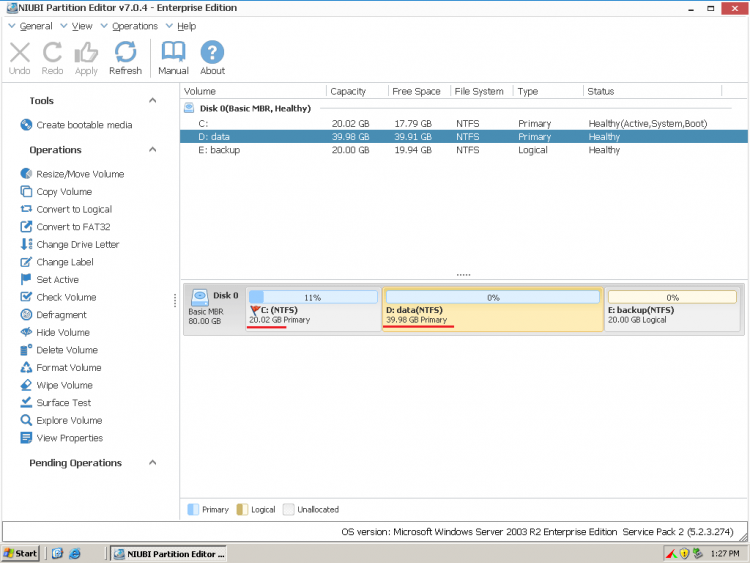 Step 1: Right click D and select "Resize/Move Volume", in the pop-up window, drag left border rightwards to shrink it.

Click OK and back to the main window, some Unallocated space will be generated behind C: drive.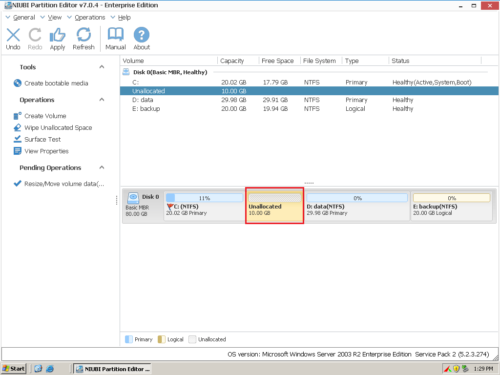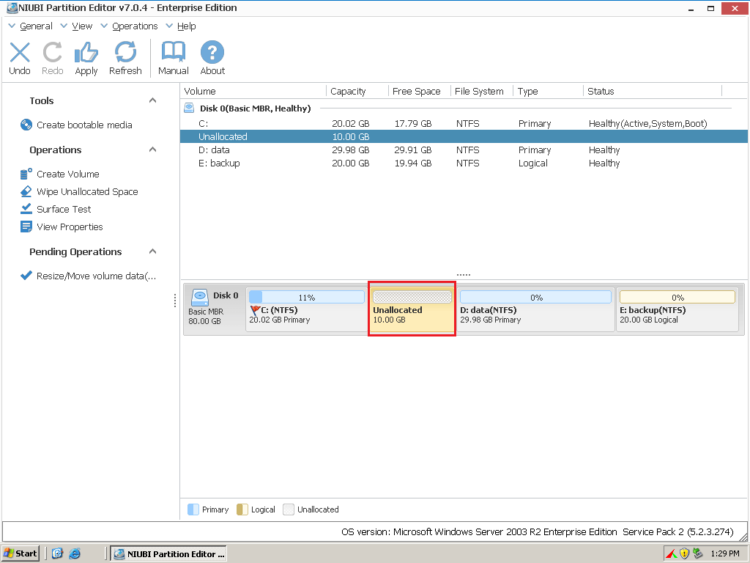 Step 2: Right click C and resize "Resize/Move Volume" again. In the pop-up window, drag the right border rightwards to hold the Unallocated space.

Step 3: Click OK, and then click Apply on top left to execute, done. C drive increased to 30.02GB by getting 10GB free space from D. Is it easy to resize C drive in Windows Server 2003?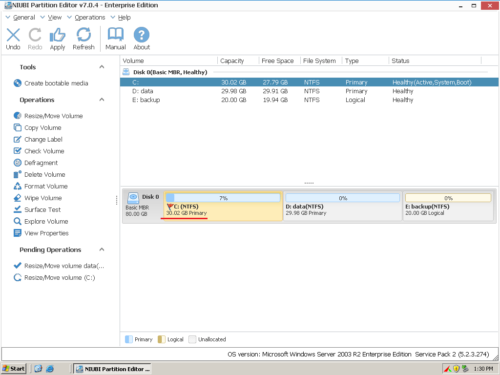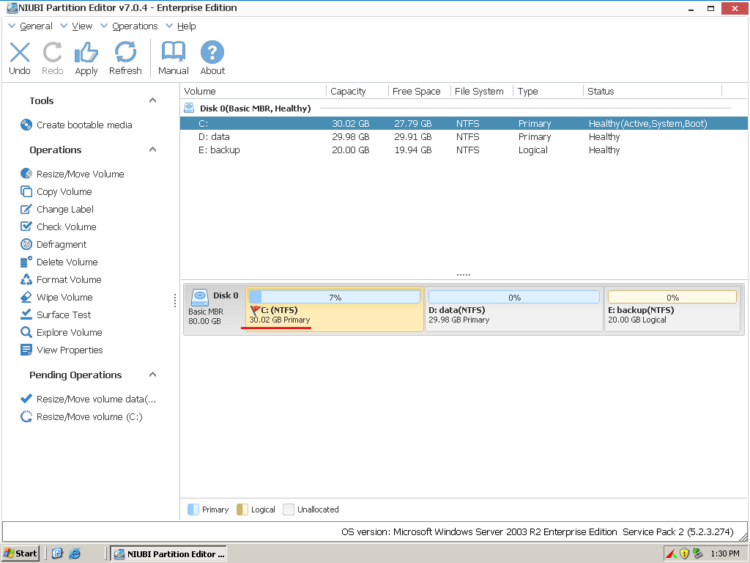 If there is not enough free space in the adjacent volume, you can get free space from any other volumes in the same disk. Watch the video how to resize partitions.
Besides the data protection and fast resizing ability, Hot Resize technology of NIUBI Partition Editor can extend NTFS partition in Windows without reboot. (close other running applications and open files before starting this program). All types of hardware RAID array with any RAID controller, VMware/Hyper-V virtual machines are all supported.
Note: do not break RAID array or do any other operations in the controller, just follow the steps above to resize C drive in 2003 Server, it is the same with resizing physical disk drives.
For enterprise users, Enterprise Edition allows unlimited installation on PCs and servers within your company to save time and cost.