How to resize Server 2008 partition without reinstalling?
It is indeed a headache for many server administrators when system C drive running low of free space. Because Windows clean up utility cannot free up large amount of free space, the Server computer is still fighting for the precious space and system is running much slowly. You must do something before system crash. Many people heard of Partition Magic to resize partition on Windows PC, but for Server 2008, what to do, as Partition Magic isn't compatible with Windows Server 2003 and 2008.
Don't worry, today I'll share the experience how to resize Server 2008 partition with reliable Partition Magic Server software. You can extend the system C: drive by taking free space from any data drives, without formatting or reinstalling, and no other operations are required. Within several minutes to half an hour, this low disk space problem can be solved easily.
Ensure data safety while resizing Server 2008 partitions
For a Windows Server, the data safety is most important. An unreliable partitioning software is very likely to cause data loss or system crash, so many people want to resize partition with Server 2008 built-in utility, such as Diskpart command, Disk management. However, these Windows tools aren't the right choice, because you have to delete partition before extending a server 2008 partition.
Resize Server 2008 system partition with Diskpart
In previous Windows Server 2003, there is no GUI utility to change partition size, many people have to try diskpart command prompt. Better than the version in Windows 2003, Server 2008 diskpart is able to extend system drive besides a data partition. To extend the system drive:
Open the Start Menu and type cmd in the Start Menu search box. Then press Enter.
Type diskpart in the command prompt.
Type list volume and press Enter.
Type select volume * and press Enter.
Type shrink/extend desired = (* MB) and press Enter.
Detailed steps of diskpart to extend Server 2008 partition.
Main shortage of diskpart
Only when there is next contiguous Unallocated free space you can extend a partition. The free space shrank from drive D: is not behind C, so you cannot extend the system partition except you delete volume D.
Resize Server 2008 drives under Disk Management
Microsoft improved the ability of Windows Server 2008 Disk Management to manage partitions. New "Shrink Volume" and "Extend Volume" feature can help you change partition size to some extent. Actually, disk management is GUI of diskpart and you cannot extend a volume by shrinking another drive.
With 3rd party partition software, there are no such limitations and you can resize any partitions on the same hard disk. Based on the unique enhanced data protection technology and Copy Wizard built in Partition Magic Server, it is highly recommended by many professionals and editors while resizing Windows Server 2008 partitions.
How to resize Server 2008 partition?
Step 1, Launch Partition Magic Server.
Right-click the data partition and select "Resize Partition", in the pop-up window, drag the left border rightwards to shrink it.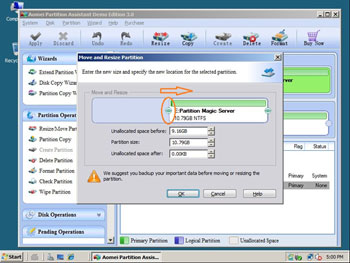 Step 2, Right-click C drive and select "Resize Partition", in the pop-up window, drag the right border rightwards to hold the Unallocated space.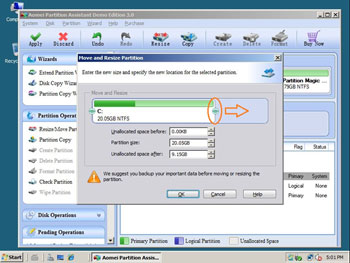 Click "Apply" to proceed, done.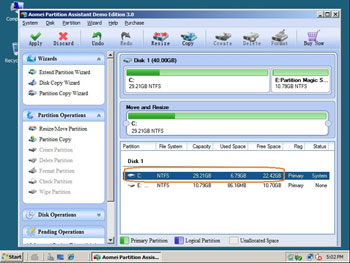 If you want to resize C drive by taking from space from a noncontiguous data drive, there is another easier way - "Allocate Free Space".
System Requirements
Windows Server 2008 and R2 (64 bit), Small Business Server 2008 and other Windows Server editions are all supported.
Local and external hard disk drives, RAID array, VMware, Hyper-V, Virtualbox, USB disk and memory cards are supported.
Learn more || Download trial || Buy now (30-day money back guarantee)