Extend system partition in Windows Server 2008 r2
It is headache to many people when system partition C is running out of space in a server. To solve this problem faster, many server administrators want to resize partitions and extend C drive. However, they don't know which tool is better, whether it's safe to reallocate partition size, and will programs and any settings be changed. In this article, I'll introduce how to extend system partition in Windows Server 2008 (R2) without losing data, fast and easily.
About system partition
The system partition is the Primary partition that is used as the active boot partition. System partition must be located on the disk where the computer boots from. One disk can only have one active system partition. System partitions refer to disk volumes containing defined files for the boot of Windows. The system partition in newer Windows such as Windows 10 is also name as System Reserved.
The Boot partition is the volume where Windows is installed. It includes a Windows directory. In most cases, C drive is the boot partition.
A single partition may be both a system and a boot partition. System partition here refers to system C drive, if you want to resize/extend System Reserved partition, follow the the steps here.
System partition low disk space
Today's hard drives feature jaw-dropping amounts of space, but no matter how big your drive is, you'll be amazed at how quickly Windows updates, applications, browser caches, and temporary files can eat up your free space in system C drive. Sooner or later, C drive becomes full and the Low Disk Space alert pops up. In this situation, expand system partition as fast as possible, otherwise, there is no free space to install critical Windows updates, system also runs much slower or even crash.
Which tool to extend Server 2008 system drive?
In Windows Server 2008, Microsoft added new "Extend Volume" function in Disk Management console to help expand partition without losing data (in most cases). However, because of many limitations, Disk Management is not the best choice. The common issue is that Extend Volume always greyed out after shrinking a partition, because:
Shrink Volume function can only generate Unallocated space on the right when shrinking a partition.
Extend Volume can only extend a NTFS partition when there's adjacent Unallocated space on the right.
Unallocated space that shrunk from any volume is non-adjacent to C drive, so Disk Management cannot extend system partition in that way. The only option is deleting drive D (or E) to get contiguous Unallocated space, then Extend Volume is enabled for C drive. However, it still doesn't work if D is a Logical drive. Find out the reasons why cannot extend C drive in Server 2008 Disk Management.
1. Extend system partition in Server 2008 Disk Management
Before starting, check your disk partition layout if it meets all requirements below. If doesn't, Disk Management cannot help you, then jump to the second section.
There's a

contiguous

partition on the

right

of system volume.
This contiguous partition must be

Primary

.
There are no programs or any Windows services running from this contiguous partition, so you can

delete

it.
There's a

third

partition to save all files in the contiguous partition.
How to extend system partition in Server 2008 R2 with Disk Management:
Step 1: Transfer all files in drive D (the right contiguous volume) to other place.
Step 2: Press Windows and R keys together, type diskmgmt.msc and press Enter to open Disk Management. Right click drive D and select Delete Volume. (Make sure you can delete it.)
Step 3: Right-click the system partition C and select "Extend Volume…"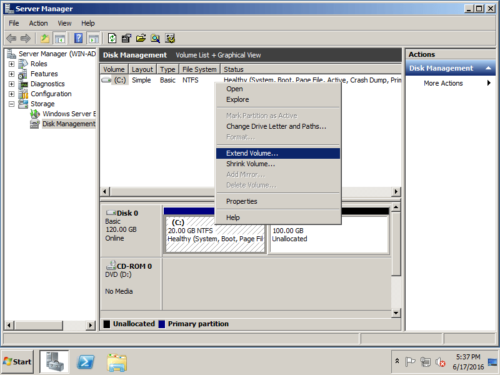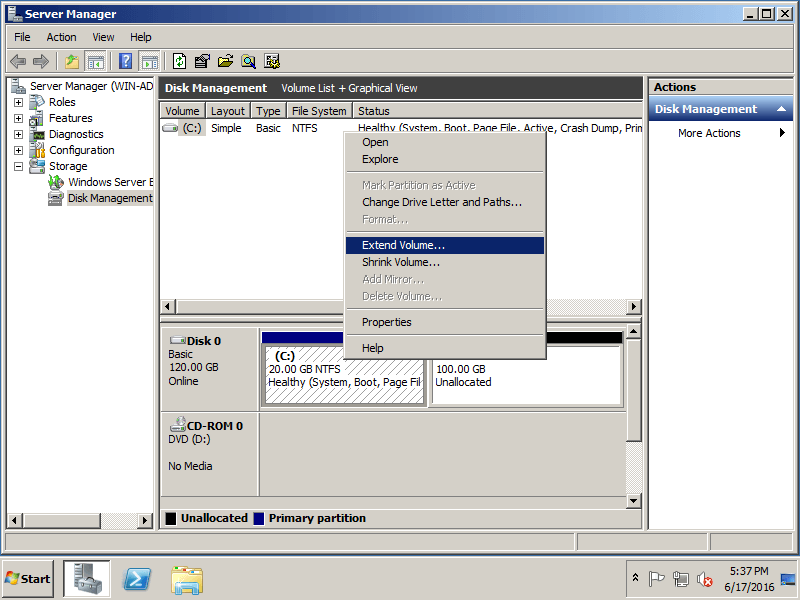 Step 4: In the Extend Volume Wizard window, select the available space and click Next. (If you do not want to use all space, enter an amount by yourself on the bottom.)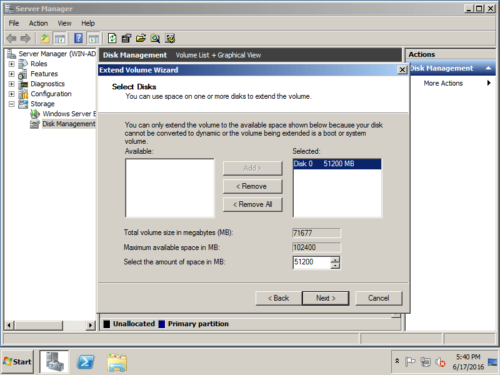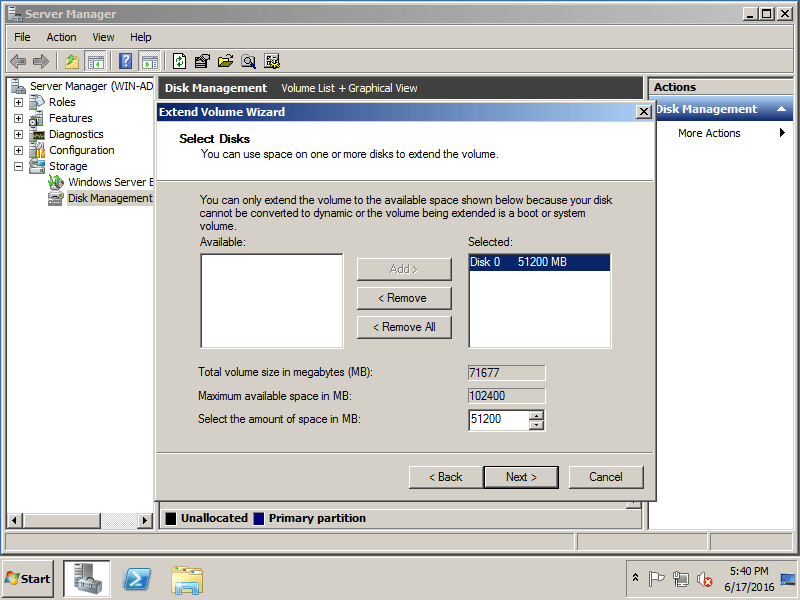 Step 5: Confirm the operation and click "Finish" to proceed.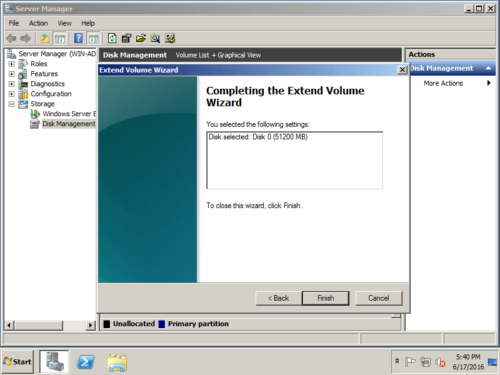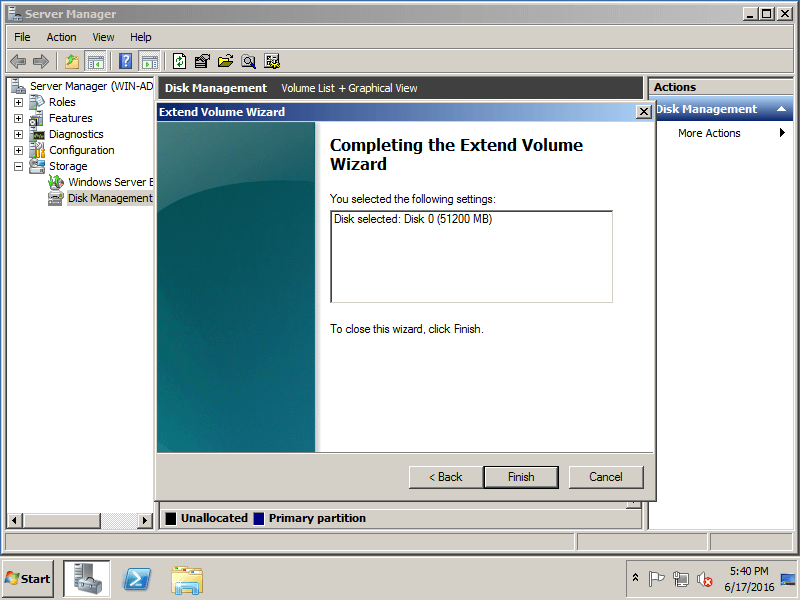 The extending operation complete in a short time.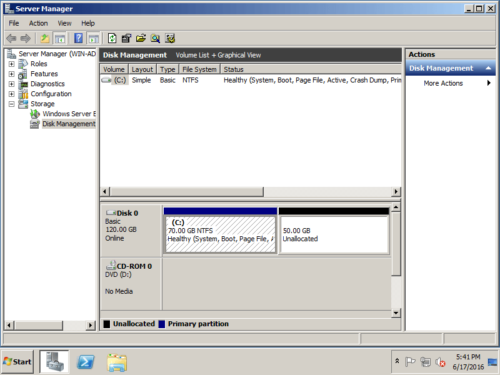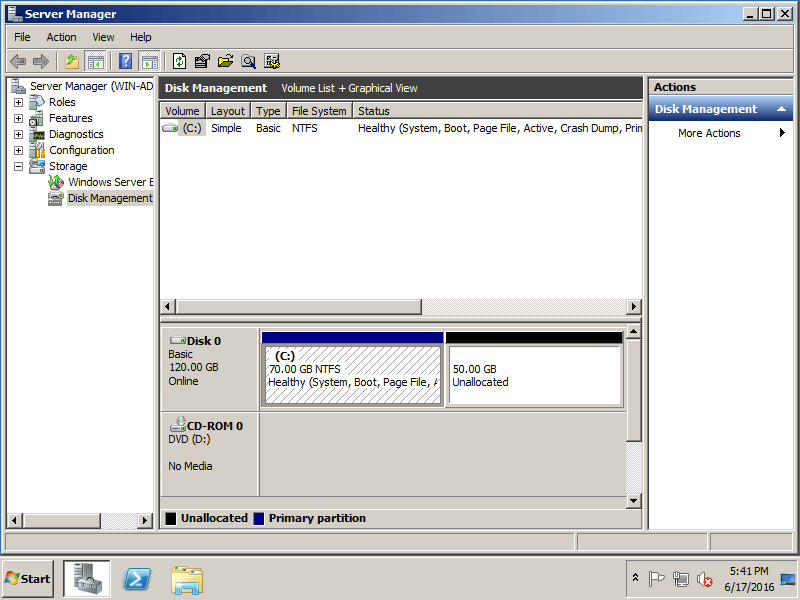 If there is no contiguous partition on the right, or you cannot delete it, or this contiguous partition is Logical, you have to run 3rd-party software.
2. Extend Server 2008 system volume with partition software
There are many programs that can help you extend system volume in Windows 2008 server, however, you'd better back up first and run safe software, otherwise, there's potential data loss risk. Better than other tools, NIUBI Partition Editor has innovative technologies to protect system and data.
Virtual Mode – all operations you do will be listed as pending for preview, if you did something wrong, simply click Undo to cancel the pending operations, nothing will be changed until click Apply to confirm.
Cancel-at-well – if you confirmed and started some incorrect operations, you can cancel the ongoing operations at any progress without damaging disk partitions.
1-Second Rollback – it is able to automatically reverts server to original status in a flash if any known error occur while resizing partitions. In that case, your server could back online without modification in a short time.
30% to 300% faster because of the advanced file-moving algorithm.
To extend system partition in Windows Server 2008/2012/2016/2019/2022, you just need to drag and drop on the disk map. Operating system, programs and anything else (except partition size) keep the same with before.
How to extend system partition C in Windows Server 2008 R2 with NIUBI:
Download the server edition, right click drive D: (the contiguous partition) and click "Resize/Move Volume".
In the pop-up window, drag the left border rightwards to shrink D, or enter an amount in the box of Unallocated space before, then Unallocated space is made behind system partition.
Right click system partition C and select "Resize/Move Volume" again, in the pop-up window, drag the right border rightwards to combine this Unallocated space.
Press Apply on top left to execute, done!
If there's not plenty of free space in the contiguous volume, you can shrink any nonadjacent partition on the same disk. Follow the method in the video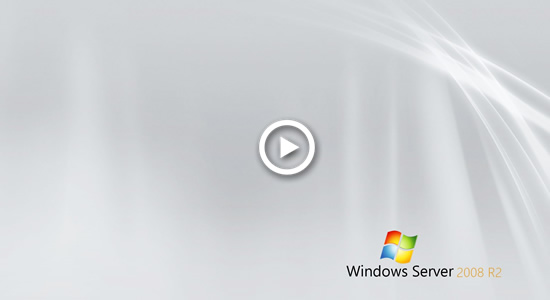 Tips:
If you use any types of hardware RAID arrays such as RAID 1/5/10 or virtual server in VMware/Hyper-V, simply follow the steps in the video, there's no difference.
If there's no other partition or no available free space on the same disk, you can extend system partition (and other volumes) by cloning to another larger disk.
In Summary
To extend system partition in Windows 2008 server, native Disk Management is not the best tool, because it only works under a destructive way. To accomplish this task, you'd better back up server and run a safe partition software. Because of the advanced data protection technology and unique file-moving algorithm, NIUBI Partition Editor is much safer and faster. It also helps you do many other disk partition management operations.