How to extend system partition in Windows Server 2008 R2?
It is headache for many people including server administrators to resize or extend partition. The main concern include: which tool is the right choice, and is it safe to resize partition. Here I'll share detailed steps to extend system drive on Windows Server 2008 (R2) without losing data, fast and easily. Actually, the steps are also valid for extending system partition in Windows Server 2016/2012 R2.
About system partition
The system partition is the primary partition that is used as the active boot partition. System partition must be located on the disk where the computer boots from. One disk can only have one active system partition. System partitions refer to disk volumes containing defined files for the boot of Windows. The system partition in newer Windows such as Windows 10 is also name as System Reserved.
The Boot partition is the partition where Windows is installed. It includes a Windows directory. In most cases, C drive is boot partition.
A single partition may be both a system and a boot partition. System partition here refers to system C drive, if you want to resize/extend System Reserved partition, the steps are similar.
System partition low disk space
Today's hard drives feature jaw-dropping amounts of space, but no matter how big your drive is, you'll be amazed at how quickly Windows updates, applications, browser caches, and temporary files can eat up your free space in system C drive. Sooner or later, C drive becomes full and the Low Disk Space alert pops up. In this situation, expand system partition as fast as possible, otherwise, there is no free space to install critical Windows updates, system runs much slower or even crash.
How to extend partition?
In Windows Server 2008, Microsoft add new Extend Volume function under Disk Management to expand disk drives. To the users who do not like to use 3rd party software, try Disk Management. However, the Extend Volume function has many limitations, I always suggest use 3rd party professional partition resizing software such as Partition Magic Server.
Extend system partition under Server 2008 Disk Management
Click Server Manager on bottom left and next to Windows Start, and then scroll down to Storage > Disk Management, click it.
Step 1: Right-click the system partition (C drive) and select "Extend Volume…"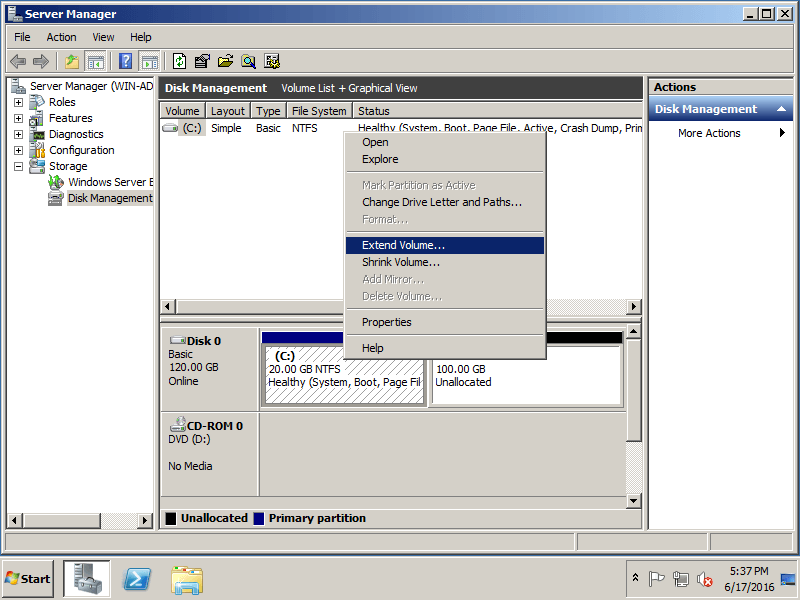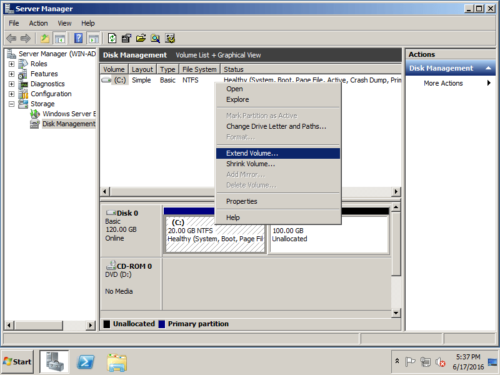 Step 2: In the Extend Volume Wizard window, select the available space and click Next. (the maximum available space is the entire 100GB, I just use 50GB)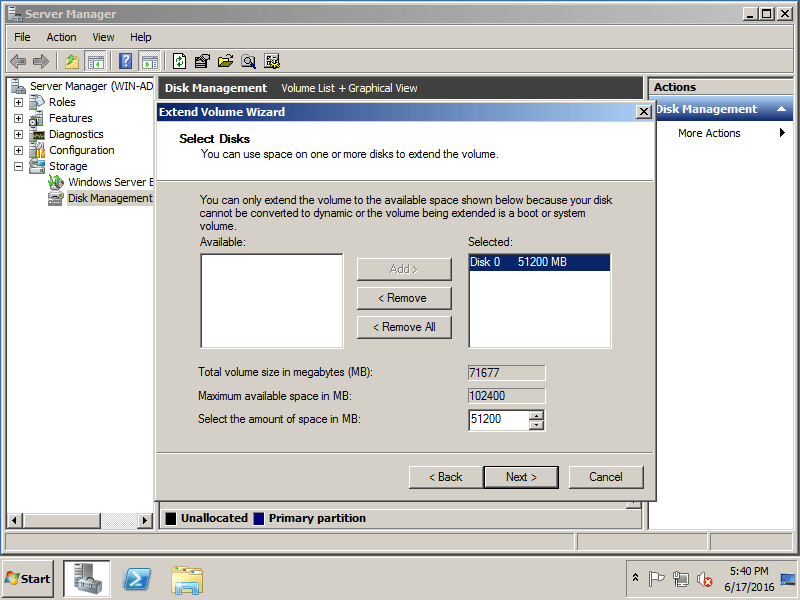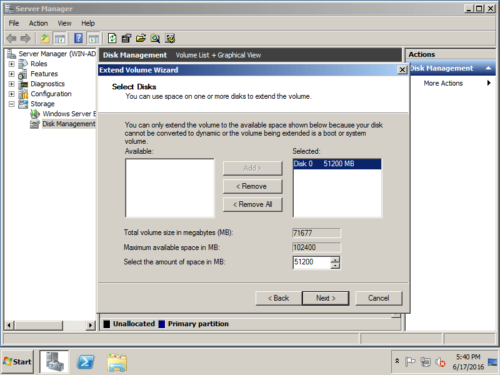 Step 3: Confirm the operation and click "Finish" to proceed.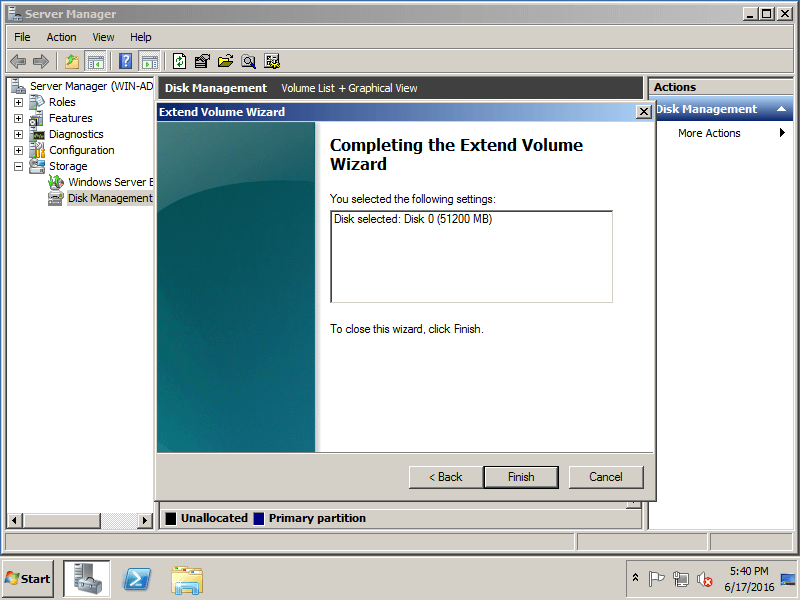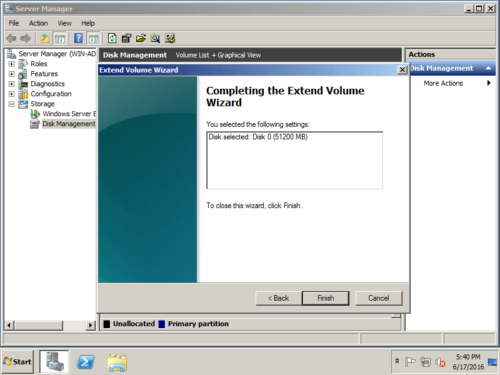 The extending operation complete in a short time.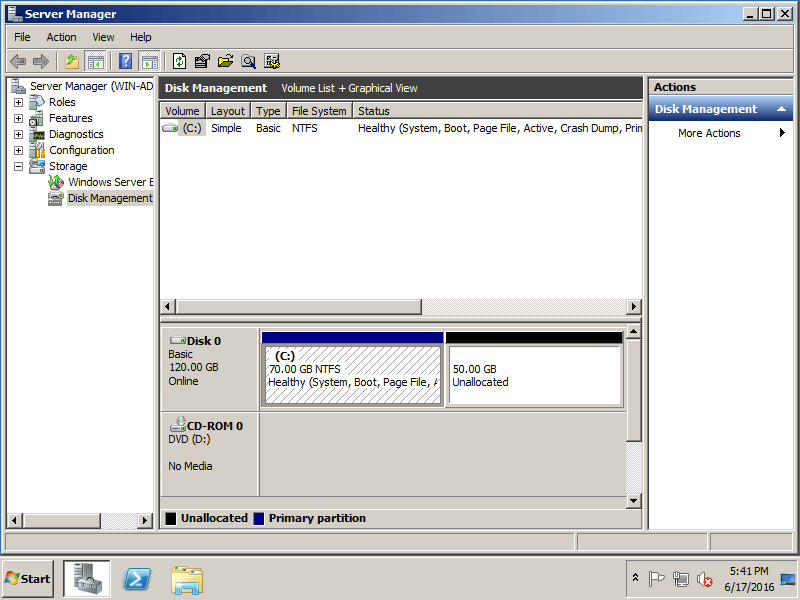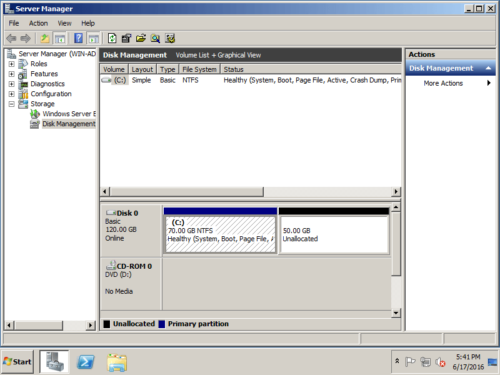 However, Extend Volume is greyed out/disabled if there is another data drive between system partition and the Unallocated space.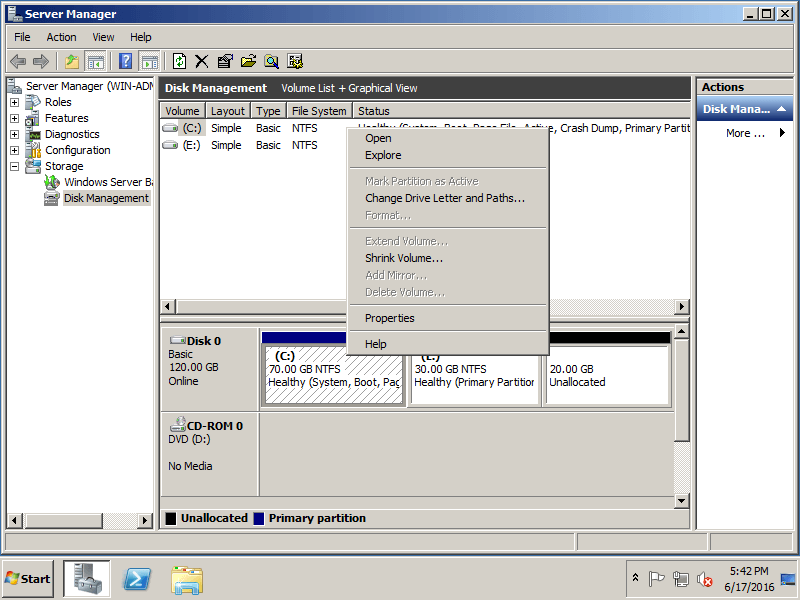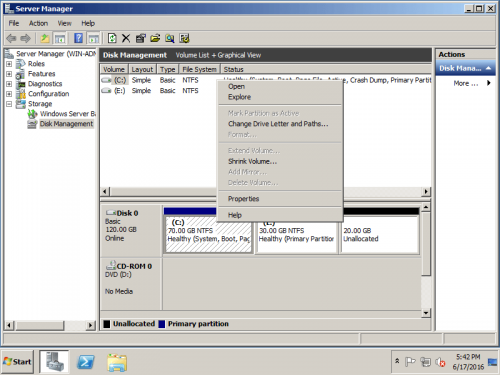 This is the key limitation in Windows Server 2008 Disk management – only when there is adjacent Unallocated space behind, you can extend the system C drive. The system partition is FAT32, Extend Volume is disabled, too. The best idea is use 3rd party program.
Extend Server 2008 system partition with software
Step 1: Download and install NIUBI Partition Editor, right click drive D: and click "Resize/Move Volume".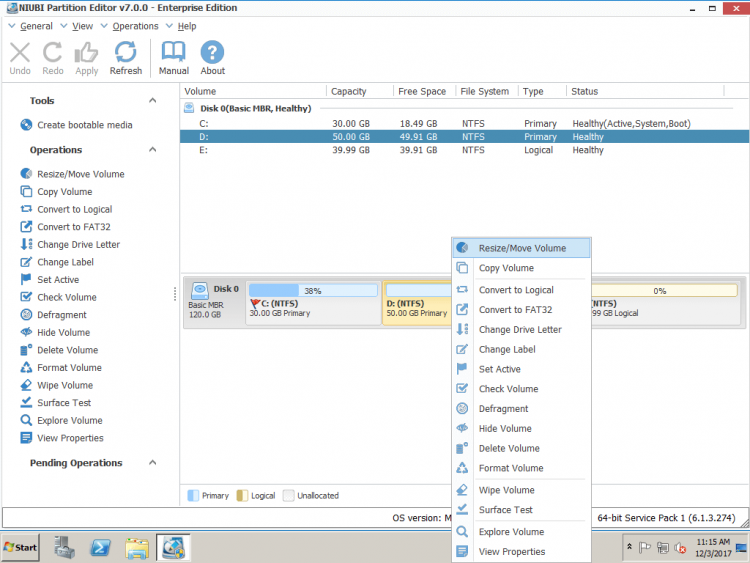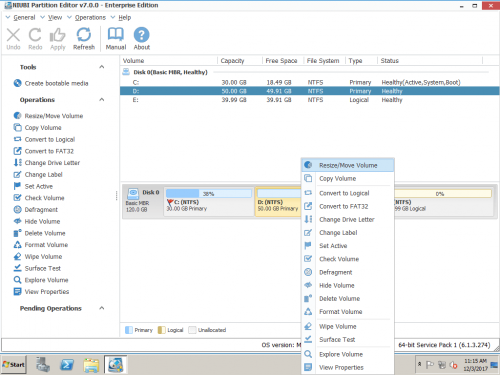 Step 2: In the pop-up window, drag the left border rightwards to generate free Unallocated space.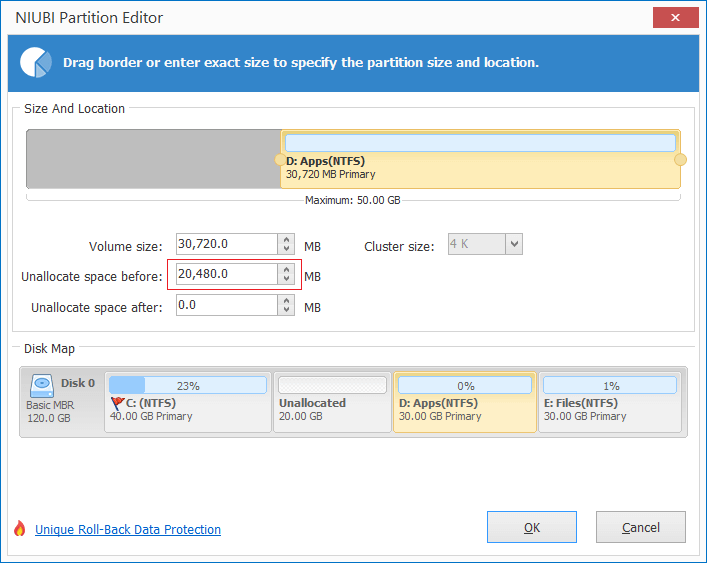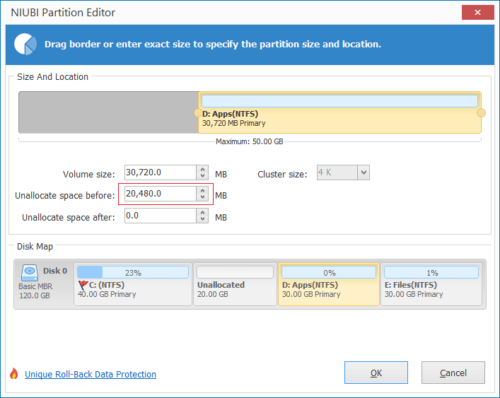 Click OK and back to the main window, where 20GB Unallocated space created behind C: drive.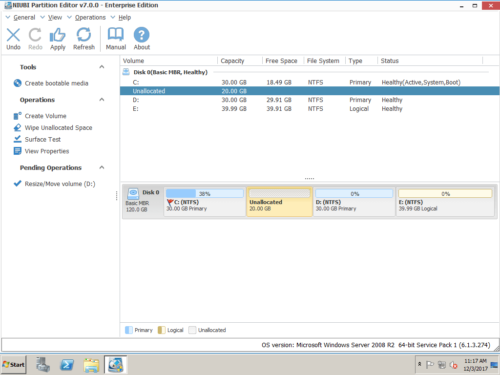 Step 3: Right click C drive and select "Resize/Move Volume" again, in the pop-up window, drag the right border rightwards to hold the Unallocated space.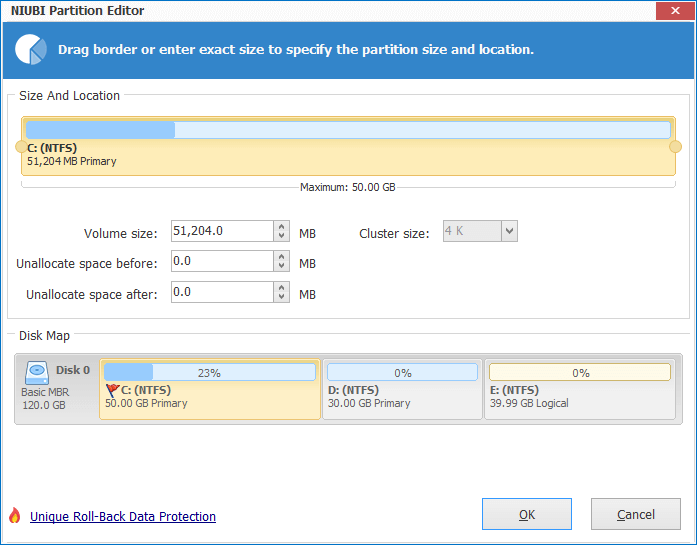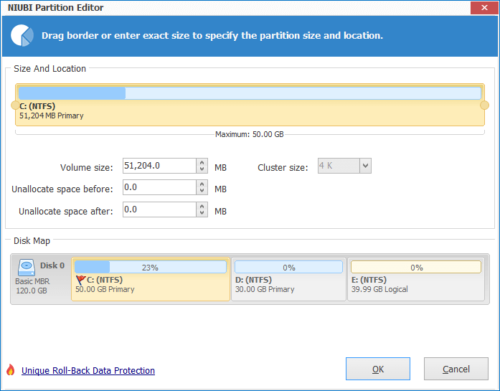 Click OK and back to the main window, where C drive extended to 50GB by holding the 20GB free space from D. Press Apply on top left to execute, done!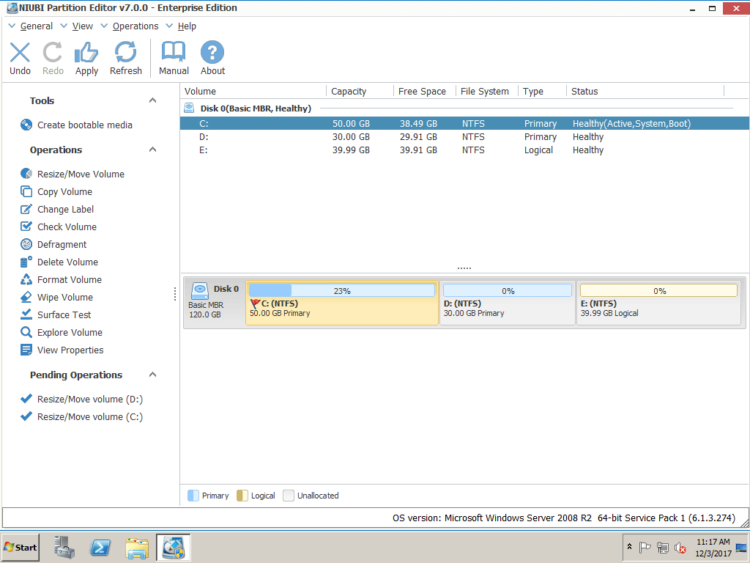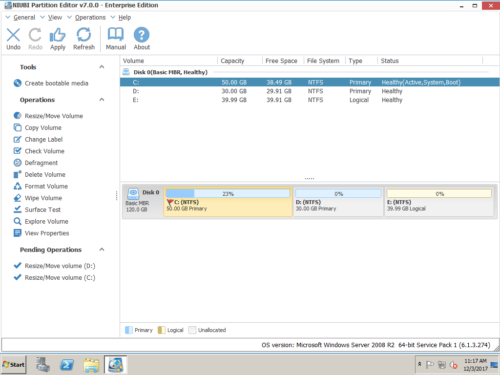 In Summary
Due to the limitations of Server 2008 Disk Management, it is not the best choice to resize partition. It is much easier to extend system partition on Windows Server 2008 with partition software.
Better than other tools, NIUBI Partition Editor integrated unique Roll-Back Protection technology, which is able to roll back the server to the status before resizing, even if power failure or any other hardware issue occurred during resizing. Besides, its unique file-moving algorithm helps resize partition 30% -300 faster than other tools, which is strictly tested.